How is made the tissue paper? Is a tissue paper business profitable? Which brand of tissue paper machine is better? Here you will find all answers about the tissue paper machine.
Tissue Paper making machine is the general name of a complete set of equipment that makes the pulp from the paper web. It includes the headbox, wire section, press section, drying section, calendar, paper reel, and transmission section, vacuum, lubrication, heat recovery, and other auxiliary systems.
YG Tissue Paper Making Machine not only has higher production efficiency, less manual use but also higher operational safety. A Fully automatic tissue paper production line has greater benefits in the long run. The tissue paper making machine is mainly composed of an automatic paper rewinder, automatic paper cutter, and automatic paper packaging machine. Click here you can check our tissue paper making machine for sale.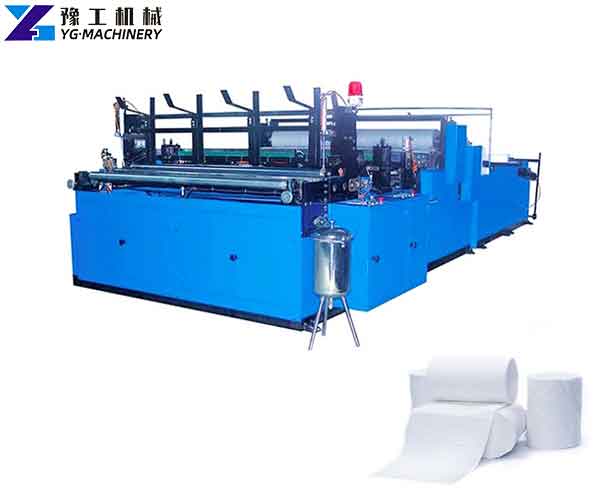 Paper Rewinding Machine
The automatic toilet paper rewinder adopts PLC computer programming, frequency conversion speed regulation, pneumatic control, rewinding, punching, automatic paper pushing, automatic upper bar, pumping shaft flattening, automatic trimming, and glue spraying to make the paper roll Automatic cutting is performed on the rotary automatic paper cutter; the whole process does not require manual operation!
In terms of production function, toilet paper rewinder equipment can be divided into automatic rewinder and semi-automatic rewinder. Since semi-automatic rewinders are worse than fully automatic in terms of productivity and efficiency, they are slowly being eliminated from the market. Now many buyers will directly choose fully automatic rewinder equipment. It can complete and automatically load paper, roll paper, trim, cut paper, spray glue, and seal glue. Now contact us to get a cheap tissue paper making machine factory price.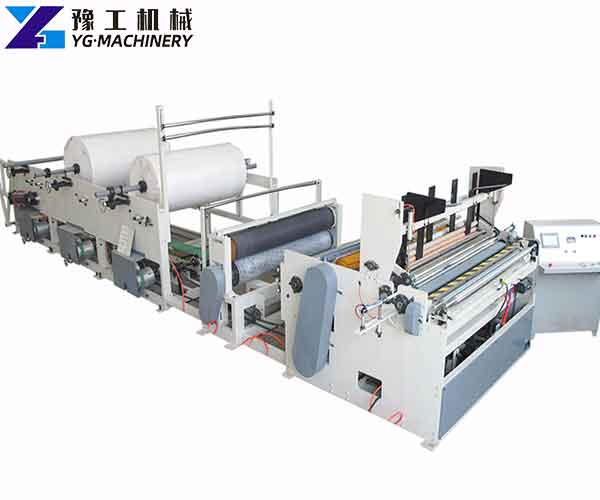 Parameter of Paper Rewinding Machine:
| | |
| --- | --- |
| Width of base pape | ≤2100mm |
| Finished product diameter | Φ60~150mm (adjustable elasticity) |
| The inner diameter of the finished paper core | Φ 32~50mm |
| Diameter of base paper | Φ1100mm |
| Inner diameter of base paper core | 3″ |
| Punching pitch (please specify) | 4 knives, mechanical adjustment 90~180mm |
| Rewinding speed | 0-200 m/min |
| Punching method | pneumatic separation |
| Paper ejection rack |  1-3 layers |
| Dimensions (L×W×H) |  6500×3100×2600 (mm) |
| Machine weight | 3500kg |
| Total power | 4kW |
| Pneumatic system | 3 HP air compressor, minimum pressure 5kg/cm2 Pa (customer provided) |
Features of Automatic Rewinding Machine:
Automatic paper feeding, pneumatic wide belt feeding, greatly reducing labor intensity, and easy to adjust the tension of different papers when feeding;
It can be added with automatic shutdown function for paper break or prompt to continue adding paper tube function;
Double-sided embossing and gluing compound, which can make the paper softer than single-sided embossing, the double-sided effect of the finished product is consistent, and each layer of paper does not fall apart during use.
Using the latest rewinder technology, the product can be tightened first and then loosened during the rewinding process, achieving multiple stages of different tightness, and solving the phenomenon that the paper roll and the paper core are loose during long-term storage of the product;
Automatic tube change, automatic delivery of finished products, free adjustment of any paper tube of Ø25mm~35mm, high-speed rewinding, and automatic delivery of each roll of paper;
The automatic trimming, glue spraying, and sealing can be completed instantly and synchronously so that the roll paper is transferred to the band saw paper cutting machine to reduce paper loss when it is packaged, thereby improving efficiency.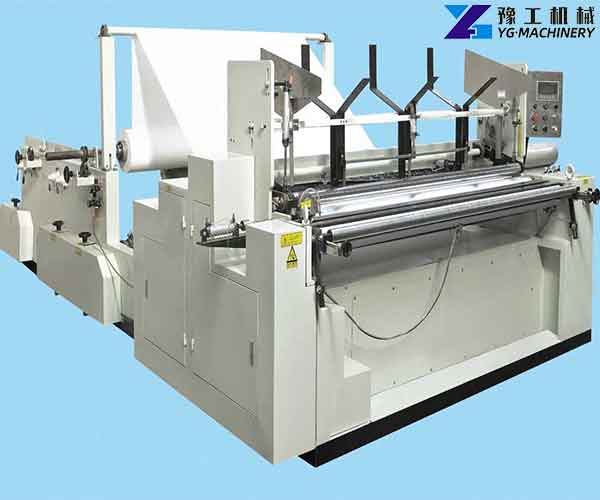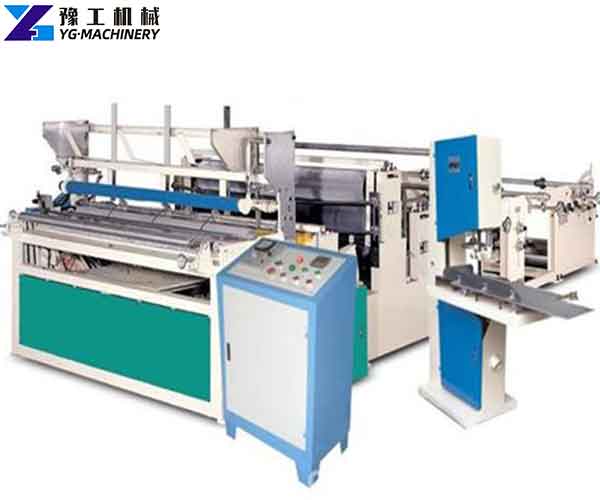 Toilet Paper Cutting Machine
The toilet paper cutting machine is used in conjunction with a fully automatic tissue paper rewinder machine. The whole machine has a strong structure, beautiful design, accurate paper cutting machine action, and a smooth cut surface. Compared with ordinary paper cutters, it is fast and stable, with a stable 50-70 cut per minute. And it can be used for multiple purposes in one machine. It can cut round toilet paper, flat toilet paper, and pumping paper.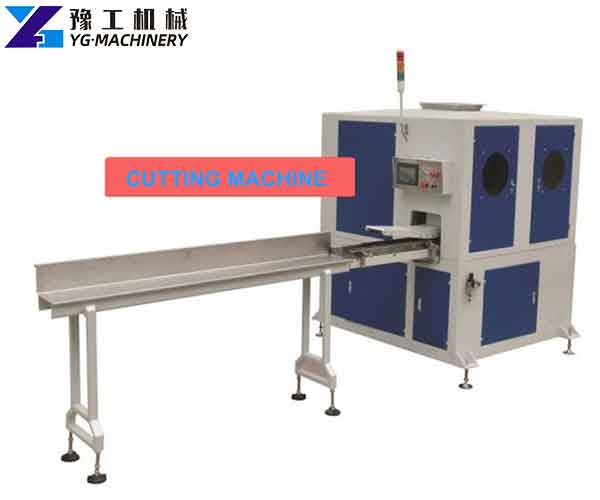 Parameter of Automatic Paper Cutter Machine
| | |
| --- | --- |
| Rated speed | 150 cuts/min |
| Design speed | 170 cuts/min |
| Cutting diameter | φ60—φ130(mm) |
| Total power | 6.2kW |
| Cutter motor | 2.2kW |
| Conveying servo motor | 1kW |
| Rotary cutter motor | 3kW |
| Machine noise | ≤65dB |
|  Compressed air | 0.5-0.8MPa |
| Overall dimensions (L×W×H) | 5350×1500×1850(mm) |
| Machine net weight | 1500kg |
|  Power supply | 380V/50Hz |
Toilet Paper Packaging Machine
The automatic tissue paper packaging machine is used in conjunction with the rotary automatic paper cutter to automatically bag and automatically seal the slit tissue paper; the machine adopts a PLC controller and servo motor control, the whole machine is reasonable in design, fine processing, convenient and reliable in configuration, The performance is mature and stable, and the applicability is wide. Instead of manual operation, the bagging is automatically completed, and the finished product is beautiful. Various bagging and packaging machinery can be customized according to the user's actual specifications.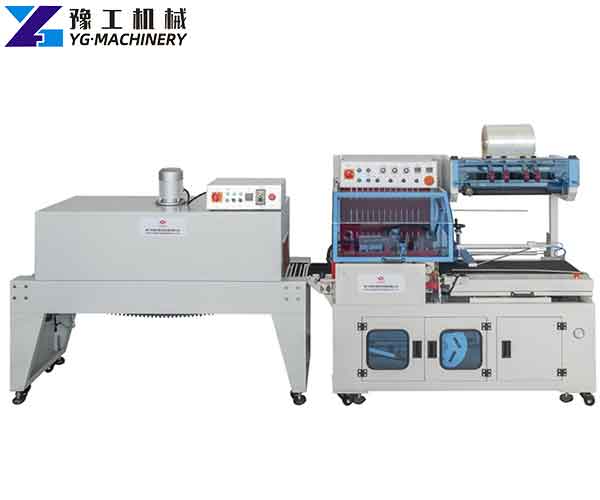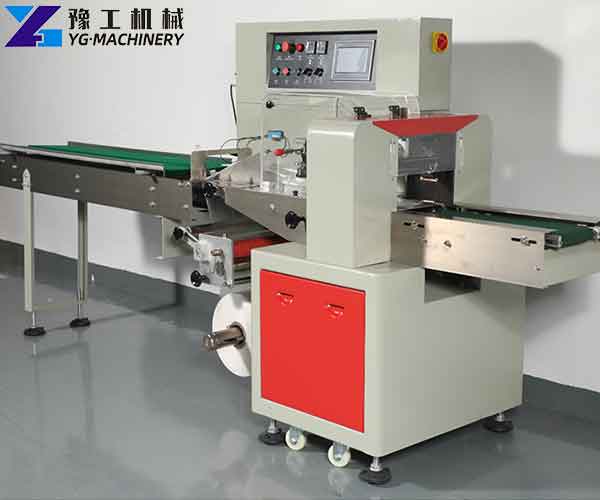 Parameter of Toilet Paper Packaging Machine
| | |
| --- | --- |
| Rated speed | 110bages/min |
| Design speed | 120bages/min |
| Packing specification | length 100-140mm, diameter φ60-φ140mm |
| Total power | 4.24kW |
|  Machine noise | ≤70dB |
| Machine net weight | about 1500kg |
| Overall dimensions (length×width×height) |  6730×1310×1480 (mm) |
| Power supply | 380v, 50Hz |
| Packaging materials | BOPP, PE/OPP, CPP, PP, etc. |
Tissue Paper Making Machine Supplier
YG Machinery sells not only tissue paper making machines, but also automatic toilet paper rewinder machine, wet wipe machine, disposable PE glove making machine, medical glove making machine, mask making machine, meltblown cloth machine, and others.
Our products sell well in South Korea, Peru, Turkey, Italy, Singapore, and other countries. With complete processing equipment and thoughtful after-sales service, we can install, debug, and provide related technologies for customers until qualified products are produced. Contact us to get tissue paper making machine price right now.