Asphalt sealer machine is an indispensable road maintenance machinery. Filling asphalt cracks in your driveway or parking lot surface will be a very important part to extend the life of your asphalt surface. Effective crack sealing keeps water from entering and weakening the base or sub-base. The crack sealing machine can melt asphalt material with overheating and cleaning the crack and fills the sealant into the tank uniformly with a caulking gun to complete the filling work.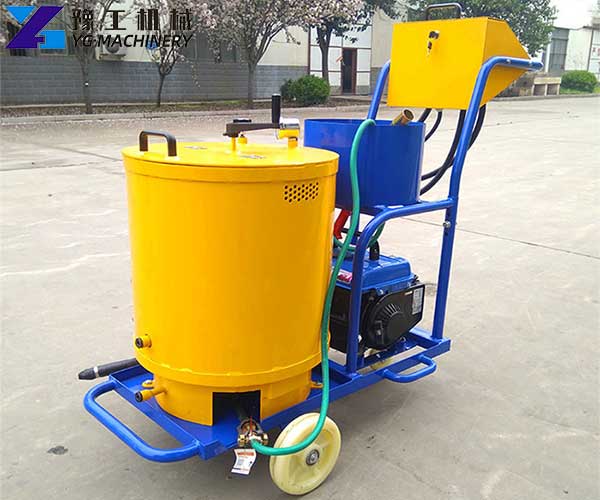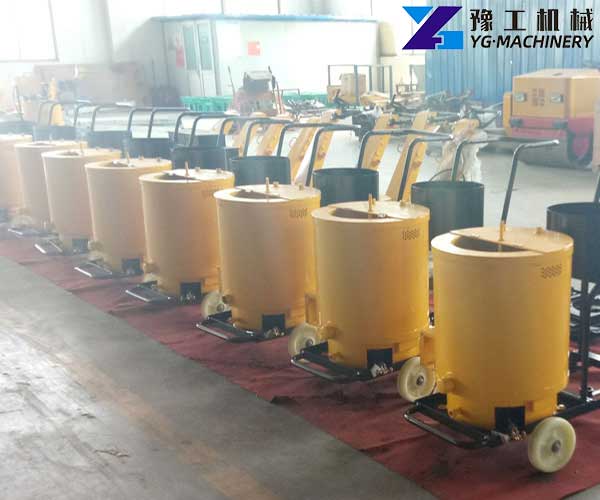 Structure
The asphalt seal coating equipment adopts an automatic heating control system. It can not only greatly reduce the emission of pollutants, but also effectively improve the efficiency of the filling. In addition, the pavement asphalt filling machine also adopts an intelligent control system, which makes operation flexible, accurate flow output, and ensures smooth and beautiful pouring. YG asphalt crack filling machine plays an important role in road maintenance.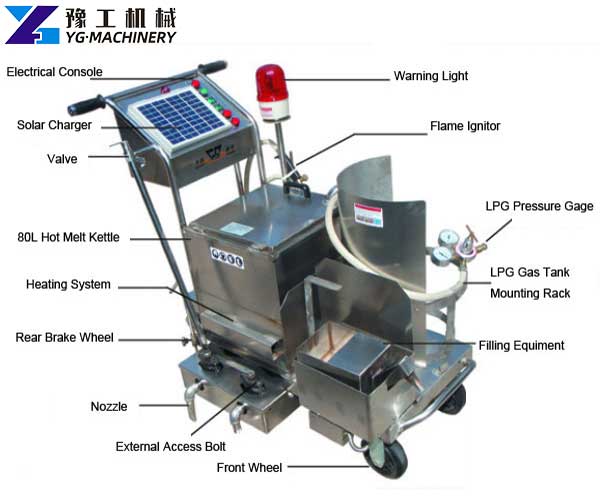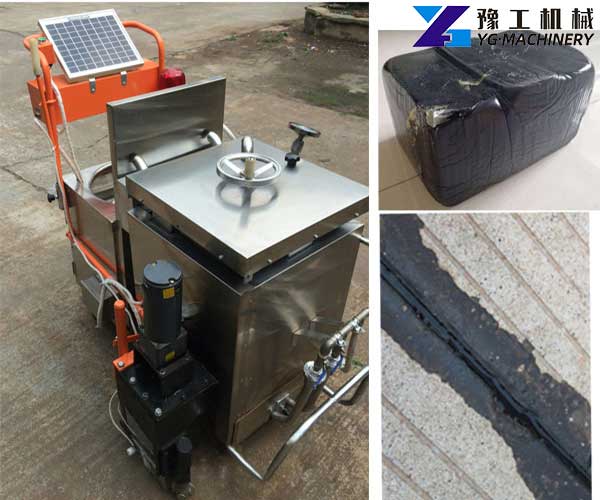 Parameter of Small Crack Sealing Equipment
Model
YG-50
YG-80
Filling Capacity
50L
80L
Discharge method
Self flow
Asphalt pump feed
Heating method
Liquefied gas
Temperature
Temperature sensor 180 °
Filling speed
10m/min
15m/min
Walking mode
Push-type + brake device
Mixing method
Manual mixing
Power
Solar panels+ batteries
Yamaha Gasoline+ batteries
Dimensions
1200*700*1200mm
1370*980*1200mm
Weight
120kg
165kg
Features of Crack Sealing Equipment
Adopts a liquefied gas heating system, and the heat-conducting oil circulates so that the filling material is melted quickly.
The material and the seam wall are combined tightly by the pressure injection type filling, and the flexible universal wheel is turned to track the crack so that the filling effect is beautiful.
The filling material uses asphalt or potting glue, it is easy to solidify when the temperature is lower.
Equipped with the Yamaha generator set to provide the whole machine power, adopts the constant temperature control system to ensure the normal discharge for the material.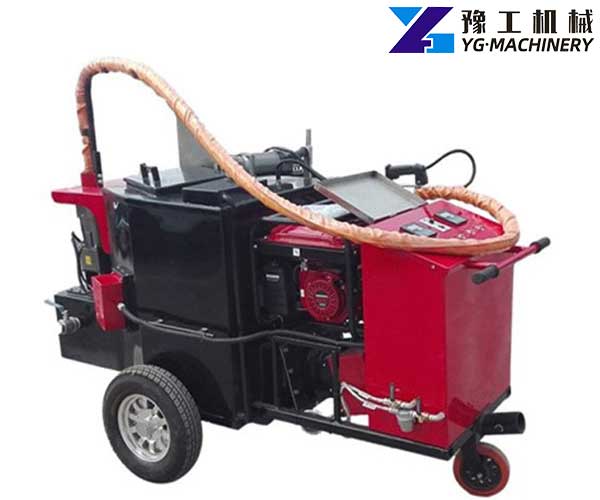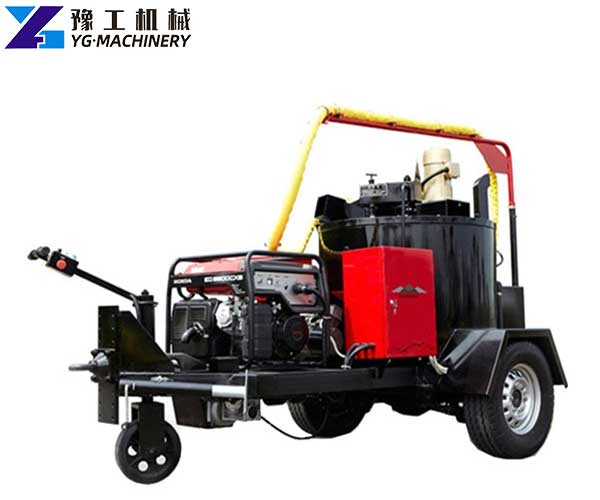 Traction Crack Sealing Equipment
Using steam-electric integrated hybrid, electric drive technology, low emission, low energy consumption, energy-saving, and environmental protection.
Advanced intelligent ignition and temperature control technology.
Unique oil jacket hot melt kettle.
The only thermal cycle heating system: the hot air in the kettle is double-circulating and convectively heated, high heat transfer efficiency with the multi-metal sheet.
Efficient discharge system.
The whole machine is the safe and low center of gravity. It is safer to turn, makes the operation more comfortable, and reduces the labor intensity.
Electric stirring: dissolve time for materials is reduced by nearly half.
Hot melt kettle anti-blocking design.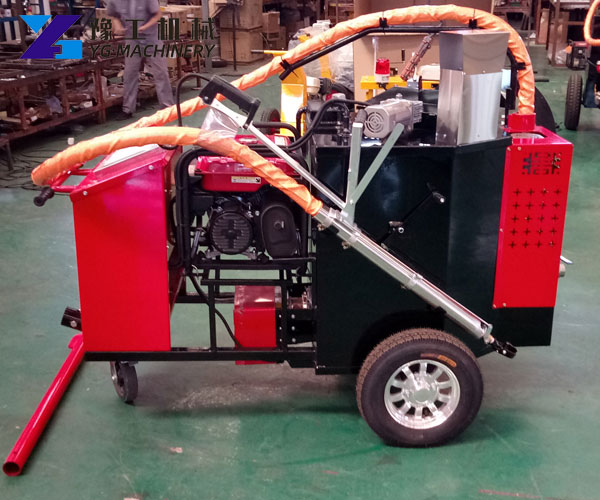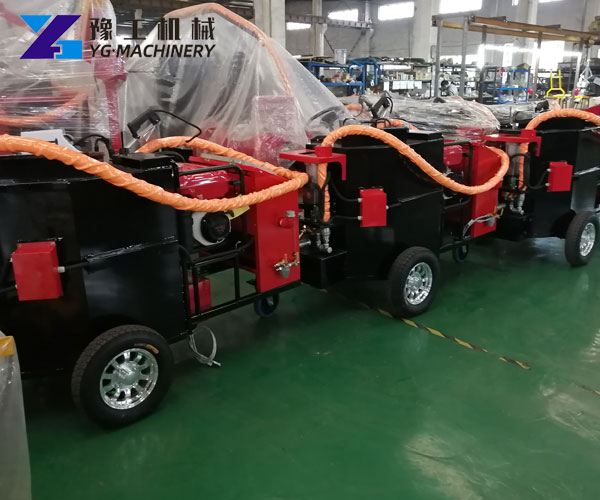 Parameter of Traction Asphalt Crack Filler Machine
Model
YG-100
YG-200
YG-350
Filling Capacity
100L
200L
350l
Heating Time
30min
30-40min
30-40min
Temperature Range
0-200°C
0-200°C
0-230°C
Discharge Capacity
0-12 L/min
8L/min
0-30 L/min
Generator
2.3 kW
2.8 KW
5kw
Walking Mode
Manual or Traction
Manual or Traction
Trailer or Self
Burner
Riello 445T1 Diesel Engine
Thermostat Control
SLA-5000 Temperature Controller
Length of Electric Heating Tube
4-5 m
4-5 m
6-7 m
Hot Melt Kettle
100 L
200L
350 L
Dimensions
1350*1000*1900mm
2400*1400*1700mm
3500*1000*2000mm
Weight
240kg
860kg
1000kg
Why Repair Cracks?
The most important reason you need to maintain and repair the cracks is that you don't want the water to infiltrate under the pavement, which will cause more damage to your driveway or parking lot. Even worse, if water seeps under the asphalt surface, then the water under the asphalt surface will freeze at lower temperatures and push the road up. Another reason is that plants will begin growing in cracks. As the roots get bigger, the plant root can actually push the road up, break the pavement surface, and even create more damage. And now pavement asphalt filling machine will be your road maintenance expert. Filling asphalt cracks is not a difficult job, but asphalt crack sealer machine sure will save you money and keep your asphalt pavement surface looking good for many years. Cracks filled with asphalt can stop water and debris from entering the crack, protect the longevity of the pavement.
How to Prolong Road Life?
Pavements are often defective and damaged due to the effects of rolling, impact, wear, and weather changes on the road. The damaged road surface has a detrimental effect on the vehicle's driving speed, load capacity, fuel consumption, mechanical wear, driving comfort, as well as traffic safety and environmental protection.
Road damage is divided into many types, road cracks are just one type. In order to prolong the life of the road and keep it in good condition, it is necessary to take appropriate engineering and technical measures according to different requirements. On the one hand, it is necessary to repair damaged parts in time, and always keep the road intact, smooth, clean, and beautiful. On the other hand, periodic preventive repairs are carried out, which can improve the quality of the road.
Crack Sealing Equipment Manufacturer -YG Machinery
YG company has produced and sold the corresponding machinery and equipment for pavement maintenance, such as floor shot blaster, road marking machine, road roller, asphalt crack filler machine, floor grinder, spraying machine, etc..If you have any questions, we will have a dedicated sales manager to contact you as soon as possible.