The thermoplastic road marking machine is a kind of marking equipment with a high degree of automation. It is widely used in marking construction on highways, parking lots, squares, and sports fields, marking different restrictions, guidelines, and warning signs. The road marking machine has played a huge role in urban planning and highway construction with its advantages of fast, efficient, accurate, etc., saving them time and economic investment of road construction to the greatest extent. Now contact us to get a cheap thermoplastic road marking machine factory price.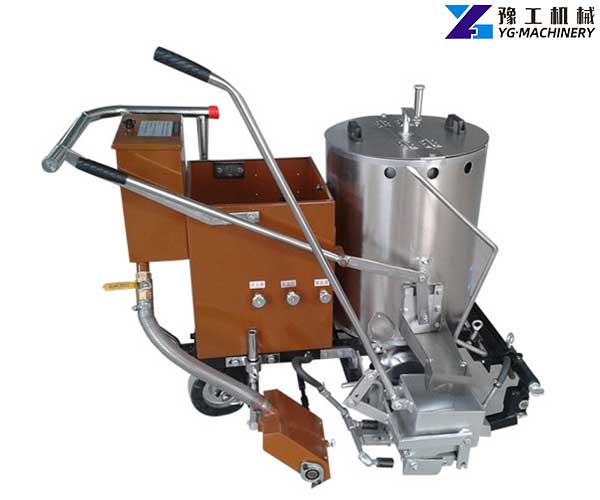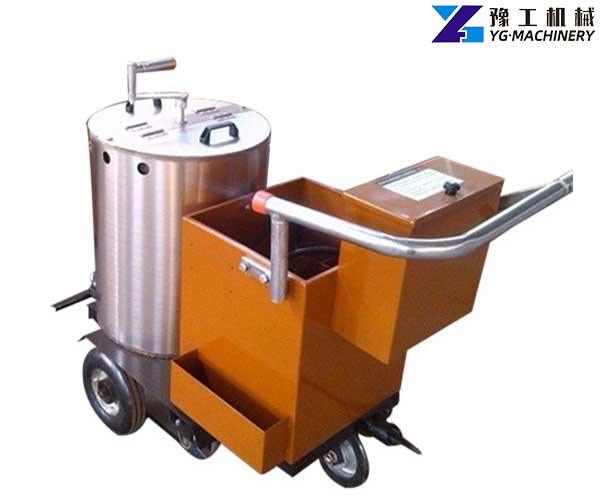 YG-360 Thermoplastic Line Painting Machine
YG electric line painting machine is the key equipment for thermoplastic marking construction, driven by battery power, and finished the marking lines with thermoplastic pre-heater. YG-360 hand-push thermoplastic marking machine consists of nine parts: stainless steel insulated heating bucket, clutch actuator, trunk, rear-wheel locator, glass bead box, coating bucket, heating system, and walking system. The main components of hot-melt marking paints are synthetic resin, glass beads, coloring pigments, additives, etc. The thermal plasticity of synthetic resin makes the hot melt coating have fast drying property and makes the marking line stick firmly to the road. Additives can increase the plasticity of the coating, the coating has anti-settling, anti-pollution, and anti-discoloration.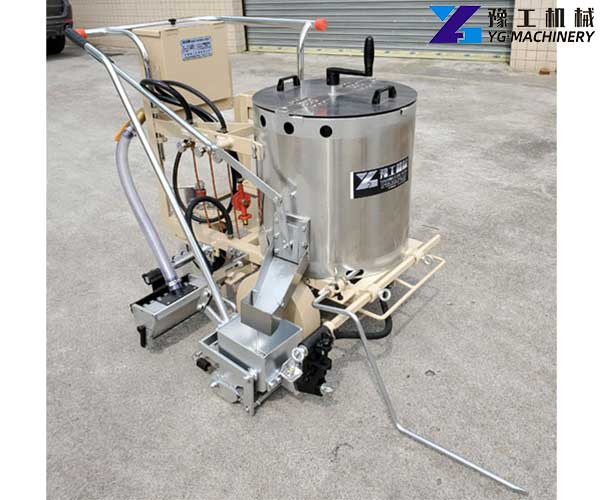 Parameter of Thermoplastic Road Marking Machine for Sale
Model
YG – 380
YG – 360
Thermoplastic Paint Tank
Double stainless steel heating insulation barrels;
Capacity:  100kg;  Plug-in manually mixer device
Glass Beads Container
10kg
Scope Marking Thickness
1-2.5mm
Heating temperature
180-210℃
Heating Method
Liquefied petroleum gas
Marking Width
100/150/200/250/300/400/450 mm
Dimension (L*W*H)
1200mm*900mm*950mm
1250mm*900mm*950mm
Weight
100kg
110kg
YG-180 Thermoplastic Road Marking Machine
This YG-180 thermoplastic road marking machine is light, compact, and beautiful. The lifting design of the handle allows the operator to make adjustments as needed. The speed control buffer device makes the glass bead and paints spray simultaneously. Stainless steel heating kettle adopts a detachable design and has a good thermal insulation effect. There is a filter in the kettle, which can filter out impurities in the paint. The coating bucket adopts a high-precision steel plate, resistant to high temperature, corrosion, deformation.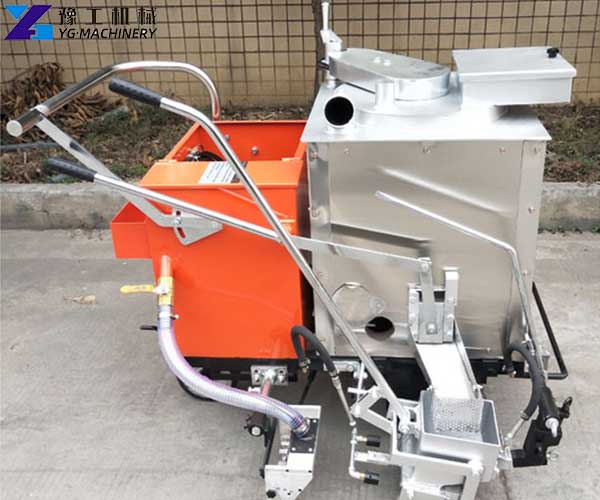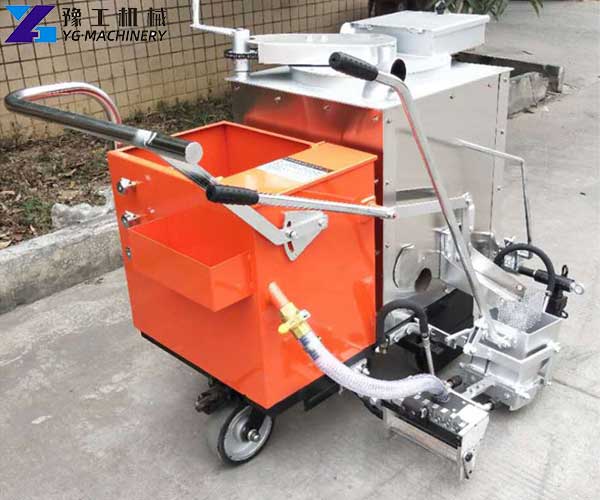 Parameter of Thermoplastic Marking Machine
Model
YG -180S
YG – 180
Thermoplastic Paint Tank
Double stainless steel;
Double stainless steel heating insulation barrels;
Capacity:  120kg;
Capacity:  100kg;
Plug-in manually mixer device;
Plug-in manually mixer device
Detachable design
—-
Glass Beads Container
10kg
Heating Device
Liquefied petroleum gas
Temperature: 180-230℃
Marking Width
50/100/150/200/250/350/400/450 mm (optional)
Scope Marking Thickness
1-2.5mm
1-2.5mm
Battery Capacity
12*4=48 AH
—-
Battery Voltage
48 V
—-
Driver Speed
1-8 km/h
1.5km/h
Working Duration
8-12 h
—-
Dimension
1300mm*1000mm*1050mm
1300mm*900mm*1050mm
Weight
250kg
150kg
Vibration Line Marking Machine
YG vibration line marking machine is designed for convex marking. The machine uses the latest German intelligent program controller and a   user-friendly control panel has a perfect variable speed walking system. The convex marking has stronger deformation resistance, abrasion resistance, and shock resistance. The mark lines guarantee the security of drivers and provide compulsory deceleration and anti-slippery. Contact us to get a thermoplastic road marking machine price right now.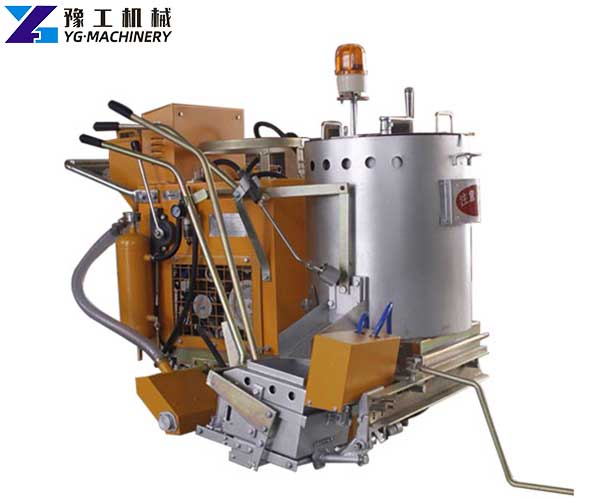 Parameter:
Model: YG -120
Container Capacity: 120kg (60L)
Glass Beads Container: 10kg
Engine: 5.5HP
Driving Speed: Forward 0-4km/h, backward 0-3.2km/h
Max. Climbing Capacity: 15 ͦ
Convex Height: 3-5mm (adjustable)
Marking width: 50/100/150/200/250/350/400/450 mm (optional)
Dimension: 1360mm*900mm*1100mm
Weight: 265kg
What Should do Before the Thermoplastic Road Marking Machine Works?
Clean up the debris on the road surface to make it clean and meet the construction requirements.
Apply some lubricating oil to the bucket and clutch to ensure a flexible switch.
Remove the rubbish of the insulated kettle and filter, and check every rotating part and screw.
Check the liquefied gas tank, stove, and pipeline for air leakage.
Adjust the knife underframe to control the marking thickness between 1.5-2.5mm.
Prepare dry glass beads to ensure sprinkling evenly, check whether the clutch gear is properly engaged.
Operators should wear protective equipment to prevent burns.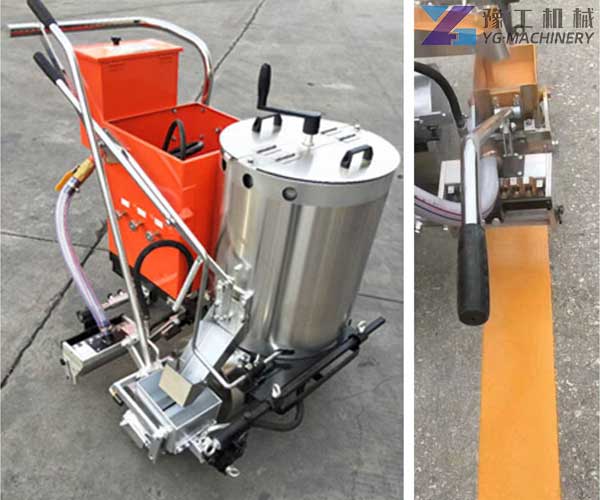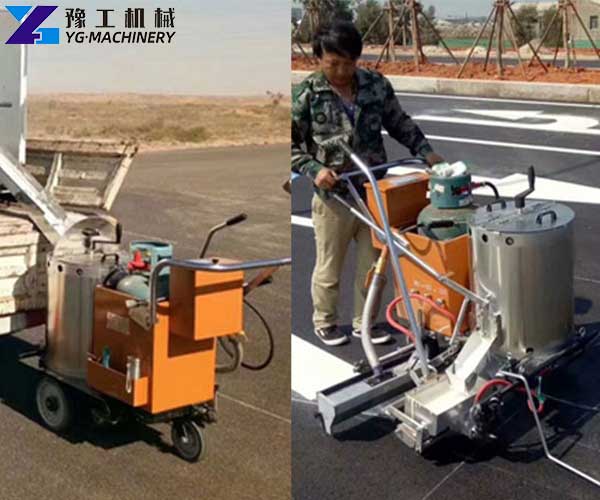 How to Operate the Thermoplastic Road Marking Machine for Sale?
Pour the dry glass beads into the glass bead box.
Open the liquefied gas tank valve, ignite and heat the thermoplastic paint tank with a torch.
Use a filter to connect the discharge port between the marking machine and thermoplastic paint can, and the marking machine begins to receive the paint from the paint can.
Push the marking machine to the right place, put down the ruler, and align it with the center of the baseline.
When the temperature of the thermoplastic paint tank reaches 180℃, open the door to make the marking paint into the paint bucket, close the door when the paint inside the bucket is 25mm away from the bucket surface.
Pick up the handles of the applicator, open the gate of the under-frame, and make the line marking machine work in the right direction of work.
Lift the two handles of the applicator and hang them back to stop the work.
Keep working after adding the marking paint.
Thermoplastic Road Marking Machine Manufacturer-YG Machinery
In addition to thermoplastic road marking machines, YG machinery also manufactures cold sprayed road marking machines, Graco scribing machines as well as some other types of road construction machinery, such as floor shot blaster, manhole cover cutting machine, concrete floor grinder machine, asphalt crack filler machine for sale. mortar sprayer machine, sandblasting machine, mini concrete pump, electric pipe bender machine, pipe shrinking machine, mini road roller. All machines have been exported to many countries in the world, and are highly praised by customers for their quality and price. If you want to buy a machine from our factory, please contact us immediately for more detailed information.