YG Series Full hydraulic core drilling machine is a newly developed high-efficiency and multi-functional full-hydraulic core drilling rig based on research and development, manufacturing, and user feedback. The machine is suitable for working in harsh environments such as plains, hilly areas, high temperatures, and severe cold.
It is mainly suitable for metal and nonmetal solid deposit exploration, coal bed methane, natural gas, hydrological water wells, geothermal wells, mine tunnels, ventilation and drainage holes, and engineering emergency construction. Widely used in geology, coal, metallurgy, non-ferrous metals, petroleum, hydrology, engineering, and other industries, it is a drilling equipment with excellent performance mainly based on diamond and cemented carbide drilling, which meets the requirements of wireline coring, top drive drilling and other multi-functional drilling requirements one.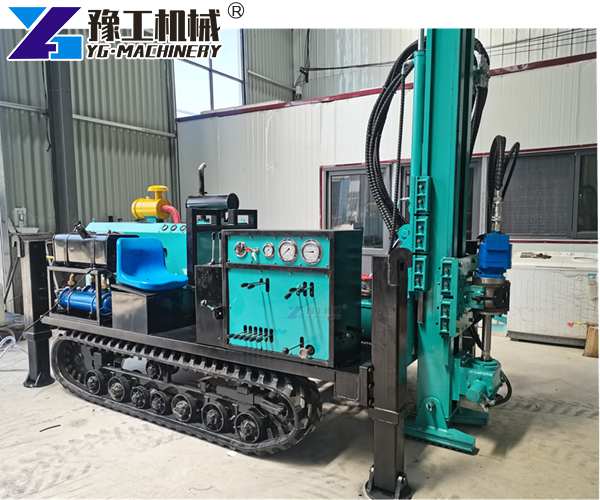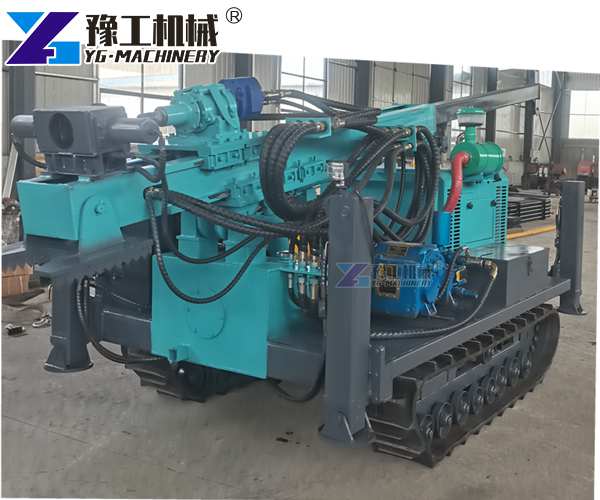 Parameters of YG Full-Hydraulic Core Drilling Machine for mining
| | | | | |
| --- | --- | --- | --- | --- |
| Model | YG-400XL | YG-600S/GL | YG-800S/GL | YG-1000GL |
| Drilling depth | 180-400-500m | 200-600-650m | 400-800-1000m | 500-1000-1100m |
| Drilling angle | 0~90° | 45~90° | 45~90° | 45~90° |
| Max. Torque | 500N.m | 1000N.m | 1300N.m | 3500N.m |
| Rated power/speed | 78kW/ 2400r/min | 92kW/ 2400r/min | 92kW/ 2400r/min | 154kW/ 2400r/min |
| Hydraulic Mud pump flow | 30-90(L/min) | 30-90(L/min) | 90-180(L/min) | 90-180(L/min) |
| Hydraulic Mud pump power | 4-7(MPA) | 4-7(MPA) | 4-7(MPA) | 4-7(MPA) |
| Walking speed | 2.5 km/h | 3.5 km/h | 3.5 km/h | 3.5 km/h |
| Climbing angle | Max. 45° | Max. 45° | Max. 45° | Max. 45° |
| Transport  Dimension | 4000*1900*1800mm | 4000*2000*1800mm | 5500*2100*2000mm | 6000*2200*2400mm |
| Weight | 4.3T | 4.5/5.5T | 6.5T | 7.5T |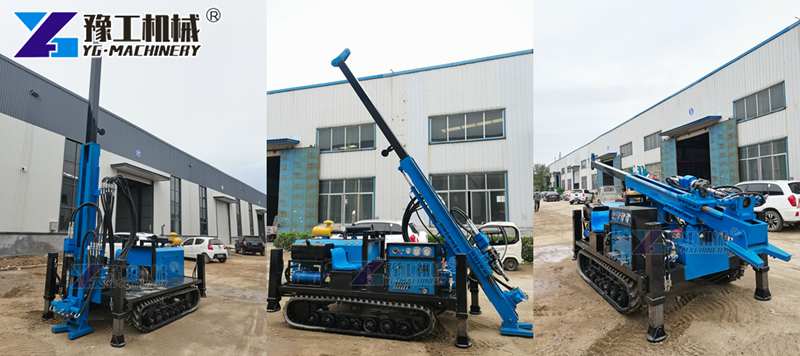 What is a YG Full Hydraulic Core Drilling Rig?
A hydraulic core drilling machine is a piece of equipment that is used for drilling holes into hard surfaces such as rocks, concrete, or other types of materials. The machine is powered by hydraulic pressure, which is generated by a hydraulic system that uses fluid to create mechanical energy.
The basic components of a hydraulic core drilling machine include a drilling rig, a hydraulic power unit, a hydraulic motor, a drill bit, and a drilling fluid supply system. The drilling rig is the main body of the machine and is responsible for holding the drill bit in place and providing the necessary support during the drilling process.
The hydraulic power unit is used to generate hydraulic pressure, which is then transferred to the hydraulic motor. The hydraulic motor drives the drill bit and rotates it at high speeds to create a hole in the surface being drilled. The drill bit is designed to cut through hard surfaces and is available in a variety of shapes and sizes to accommodate different drilling needs.
The drilling fluid supply system is used to supply drilling fluid to the drilling site. Drilling fluid, also known as mud, is used to cool the drill bit and carry away debris from the drilling site. The drilling fluid also helps to stabilize the hole being drilled and prevent collapse.
Hydraulic core drilling machines are available in a range of sizes and configurations to suit different drilling needs. They can be used for a variety of applications, including mining, geotechnical engineering, and construction. They are highly efficient and can be used to drill deep holes quickly and accurately.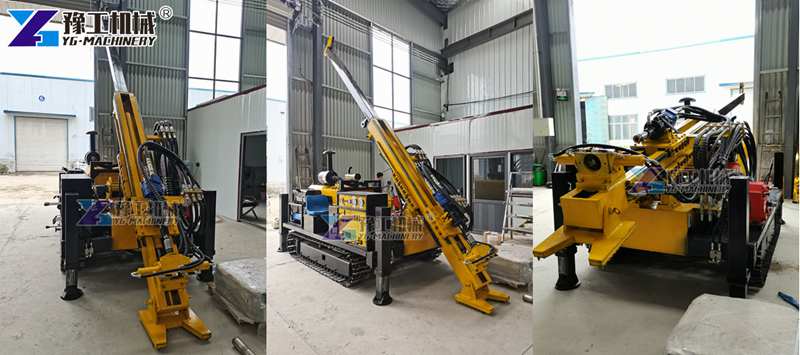 Fully Hydraulic Core Drilling Machine Features
Full hydraulic drive, steel crawler walking, combined mast, power machine, main and auxiliary hoist, mud pump, etc. are arranged in one piece, with compact structure and flexible and convenient centralized control.
The hydraulic system adopts pilot control, load sensing, electric and hydraulic proportional combined centralized operation control, and a support device is optional.
The feeding and lifting of the power head adopts the double-speed structure of the oil cylinder chain, the lifting force reaches 295kN, and the feeding force reaches 152kN.
The main shaft rotation of the power head is driven by dual motors, supplemented by a three-speed mechanical gearbox. The maximum output torque of the main shaft reaches 7200 N.m (170 rpm), which effectively meets the high-speed and high-torque high-efficiency construction requirements.
The power head adopts a hydraulic motor rack translation device to make the main shaft deviate from the drilling hole, which is convenient for rope coring and other equipment construction.
The front end of the mast is equipped with a clamping shackle, which is convenient for making up and breaking out of the drill pipe, reducing the labor intensity of the operator and improving work efficiency.
The upper and lower working platforms are convenient for the operator to operate.
The orifice is equipped with hydraulic clamps and guides.
How to use the drilling rig?
Using a hydraulic crawler core drilling machine involves several steps that are critical for safety and proper operation. Here is a basic guide on how to use a hydraulic crawler core drilling rig:
Safety Check: Before operating the machine, it is important to conduct a safety check to ensure that all components are working properly. Check the hydraulic system, drill bit, and other parts for any damage or wear and tear.
Set Up: Position the rig on a flat and stable surface. Use the leveling jacks to level the rig if necessary. Install the drill bit and attach the drill pipe to the drilling machine. Also, make sure that the hydraulic fluid and drilling fluid are filled to their recommended levels.
Starting the Machine: Start the hydraulic power unit and engage the drill motor to rotate the drill bit. Adjust the rotation speed and torque to the appropriate levels for the surface being drilled.
Drilling: Slowly lower the drill bit onto the surface to be drilled. As the drilling progresses, periodically remove the drill pipe and add additional sections to the pipe to reach the desired depth.
Monitoring: Monitor the drilling process regularly to ensure that the drill bit is performing properly and the hole is progressing as planned. Check the drilling fluid flow rate, pressure, and temperature to ensure that they are within safe levels.
Retrieval: When the drilling is complete, retrieve the drill pipe and drill bit from the hole. Ensure that the hole is stable and secure to avoid any accidents or incidents.
Shut Down: Finally, shut down the hydraulic power unit and clean the machine and the drilling site. Store the drill bit, drill pipe, and other components properly to avoid any damage.
It is important to follow the manufacturer's instructions and safety guidelines when using a hydraulic crawler core drilling rig to ensure safe and efficient operation.
YG Machinery
Henan Yugong Machinery is a professional drilling rig machine manufacturer from China. Our hot sales machines: Small Water Well Drilling Rigs, Horizontal directional drilling machine, Concrete Core Drills, XY-3 water well drilling rigs, etc. If you are looking for a drilling rig machine, please contact us to get a free quote.