Dust Suppression cannon, also called fog cannon dust suppression, mist cannon, breaks the water into water mist (that is, very small water droplets) under the action of the passing force. Generally speaking, the fog cannon machine has a small particle size of less than 10μm. Due to the adhesion of the surface of water molecules, the water will be combined with the dust, and after condensing, the effect of gravity will drop, so as to achieve the purpose of dust reduction. In addition, mist cannon equipment is also suitable for spraying pesticides and disinfectants.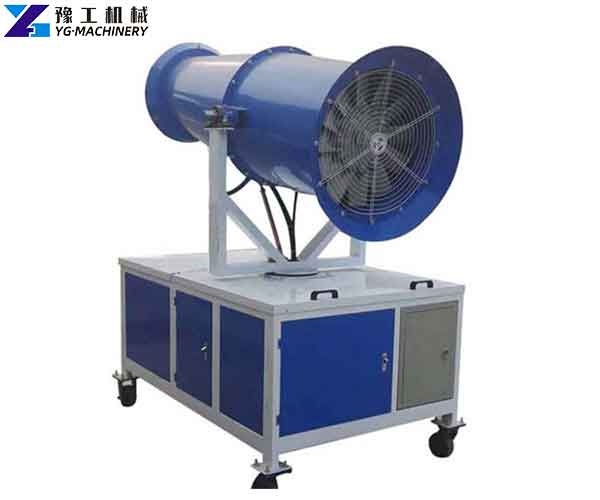 Parameters of Fog Cannon Machine:
| | | | | | |
| --- | --- | --- | --- | --- | --- |
| Model | YG-30 | YG-40 | YG-50 | YG-60 | YG-100 |
| Horizontal Range | 30m | 40m | 50m | 60m | 100m |
| Fog Size | 40-200μm | 40-200μm | 40-200μm | 40-200μm | 30-200μm |
| Fan Diameter | 500mm | 500mm | 700mm | 700mm | 1200mm |
| Fan Length | 1.25m | 1.5m | 2.1m | 2.1m | 2.55m |
| Voltage | 380V | 380V | 380V | 380V | 380V |
| Fan Power | 3kw | 5.5kw | 15kw | 18.5kw | 55kw |
| Water Pump Power | 3kw | 3kw | 5.5kw | 5.5kw | 11kw |
| Dimension | 1350*1000*1600mm | 1650*1000*1750mm | 1800*1200*2100mm | 1800*1200*2200mm | 2700*2000*2300mm |
Application of Fog Cannon for Sale :
There are two main applications of the fog cannon, one is to increase the humidity of the air, and the other is to spray small water spots into the air.
Dust pollution control: open-air material storage yard, coal logistics park, open-pit mining, open-air blasting, closed discharge area, dump truck discharge, large loading truck work, bulk powder handling. Construction demolition, construction waste handling, and road dust control during heavy vehicle transportation.
Dust reduction, cooling, and disinfection: airfields, highways, stations, docks, public places, sports fields, hot venues, etc.
In addition, YG Machinery also has a large number of insecticide and sterilization equipment such as a dust control water truck, fog sprayer machine, air disinfection machine, professional backpack sprayer, and fogging sanitizer machine. Click the message box below to learn more about the prices of related products.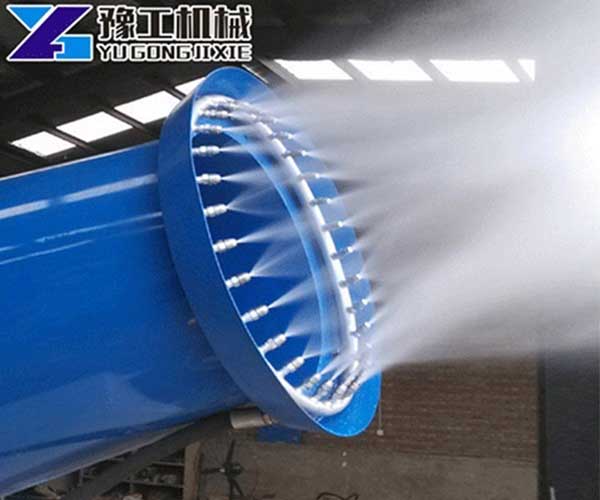 Main Structure of Dust Suppression Cannon:
Dust Suppression cannon consists of a water tank, water pipe, plunger pump, nozzle, fan, generator set, horizontal steering device, vertical pitch device, electric control box, remote control, etc. Now contact us to get a cheap fog cannon machine for sale factory price.
Features of Fog Cannon Machine:
Fog gun has a long-range, wide-coverage, high work efficiency, and can achieve precise spraying.
The sprayed mist particles are small. The particle size of the water mist is between 40 and 200um. It forms a moist mist after contact with dust, which can quickly suppress the dust.
The supporting power is flexible, that is, it can use 380V power or a diesel generator set.
The fog cannon machine comes in a variety of forms, and it can be fixed to a platform or mounted on a transport vehicle.
The operation is flexible, remote, or manual control. Horizontal rotation and spray angles are adjustable.
Compared with other dust suppression equipment (spray gun, dust control water truck), water consumption can save 70% -80%. And the area covered by the water mist is much larger.
The spraying range is optional, and can meet the different needs of the customer.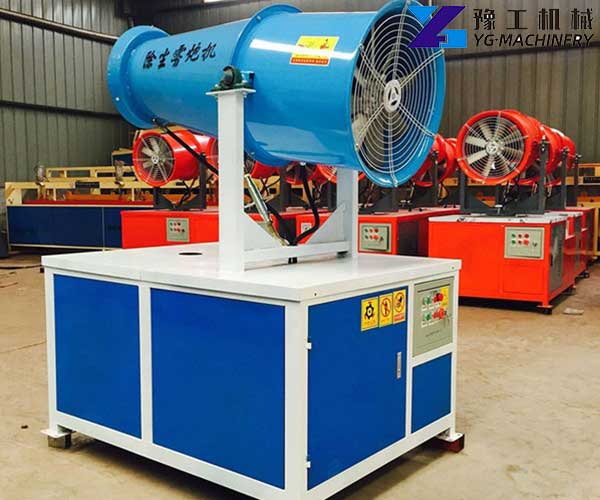 What are the Types of Dust Suppression Cannons?
At present, the common types of fog cannons are mobile fog cannons, fixed dust suppression cannons, and tower fog cannon machines, dust control water tankers. There are many types of fog cannons and different models, but the functional models of each type of fog cannon are also different. The horizontal angle of spray can be adjusted according to actual needs to make the spray range wider. Contact us to get dust suppression cannon price right now.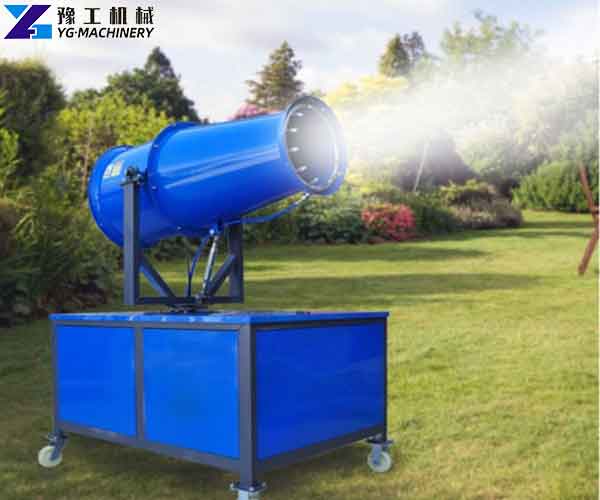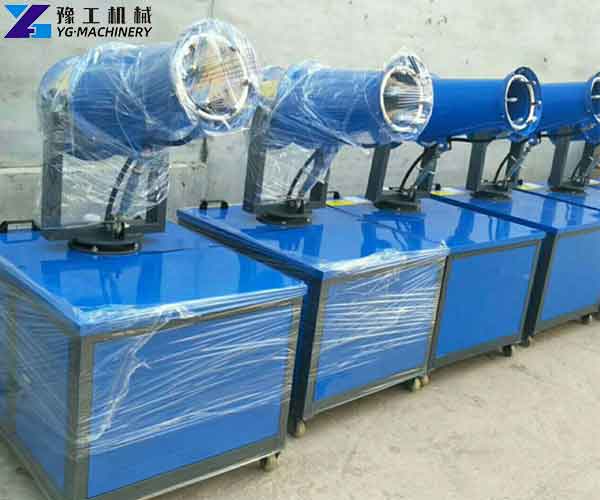 Factors Influencing Dust Removal Efficiency:
1. Location of Dust Cannon
When placing the high-pressure atomizing nozzle, it should be placed as close as possible to the point where the dust occurs.  In the early stage of dispersion, the dust mixed airflow has a high density, and the mist particle rate is high. Therefore, the collision between dust and mist-like particles can form strong turbulence. It is beneficial to the capture and removal of dust, and further improves the efficiency of dust removal.
2. Time Selection of Fog Spraying
In addition, the time selection of fog spraying is also very important. The spraying effect is better within 3 minutes before the powder appears. Fog cannon dust suppression can increase the humidity in the air in advance, which is beneficial to further dust removal. Send your requirement to us if you need to buy dust suppression cannons.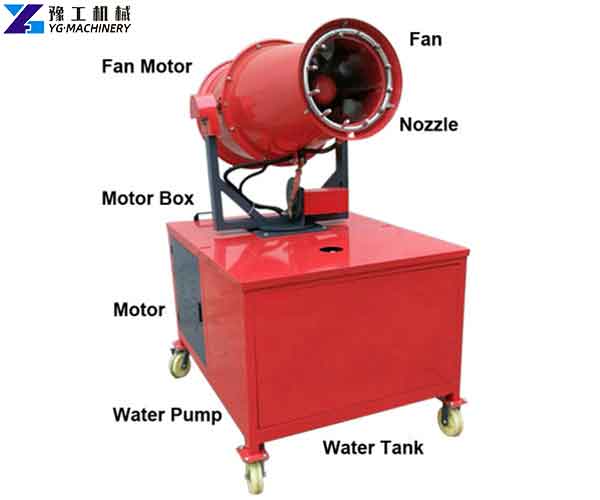 3. Water Pressure
Fog cannon pressure refers to the pressure value at the high-pressure atomizing nozzle, when the dust suppression system performs the dust removal operation. As the water pressure increases, the droplet diameter becomes smaller, the contact area between dust and mist particles becomes larger, and the better dust removal ability.
4. Fog Flow
According to the data, the large mist flow can increase the dust contact area, and the probability of capturing suspended dust. However, excessive fog streams can also bring bad results. Therefore, when the dust removal effect is relatively obvious, the flow of the fog cannon machine should be controlled within reasonable limits.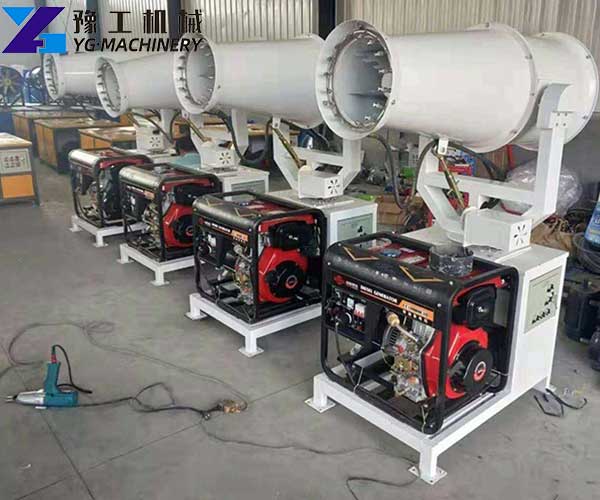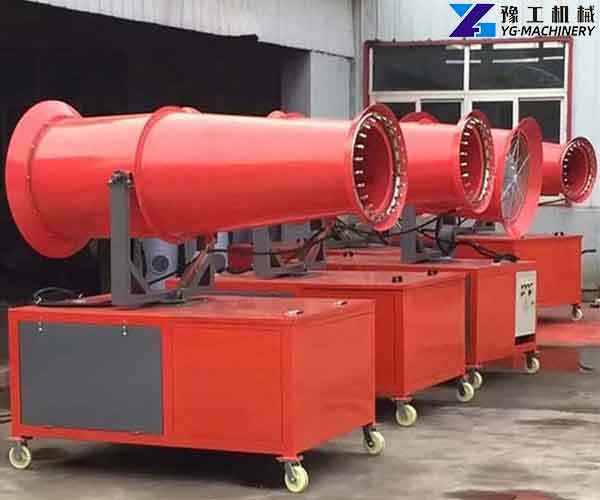 Dust Suppression Cannon Manufacturer – YG Machinery
The fog cannon dust suppression is simple to operate, economical and applicable, and easy to operate and maintain. Different sprayers can be selected according to different venues. Dust suppression cannons are hot sale products in YG machinery. If you are interested in dust suppression cannon, please feel free to contact us.
Of course, as a professional machinery manufacturer, we can provide also: road marking machines for sale, asphalt crack filler machines, mini roller compactor, concrete road cutting machines, mortar spraying machines, automatic sandblasting machines, pile breaker machine.