Small asphalt milling machine is one of the main equipment for asphalt concrete pavement maintenance. It is mainly used for excavation and renovation of asphalt concrete surface such as main roads, large driveways, parking lots, and any project that required milling anywhere. The concrete milling machine has advanced performance, high efficiency, simple construction, easy control, low damage. And it is convenient and flexible, good maneuverability, and the old material of milling can be recycled directly. It is ideal for road maintenance.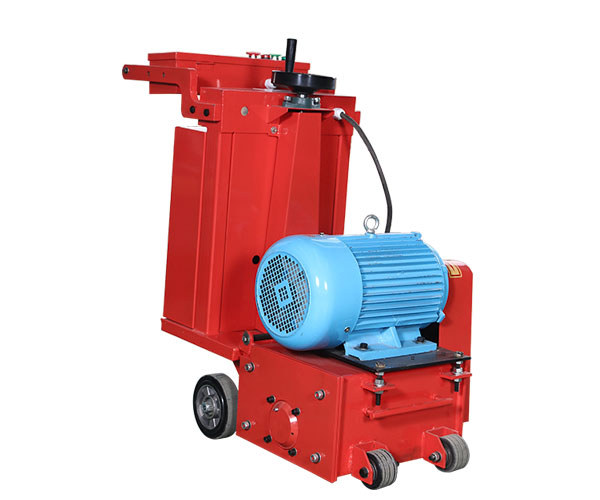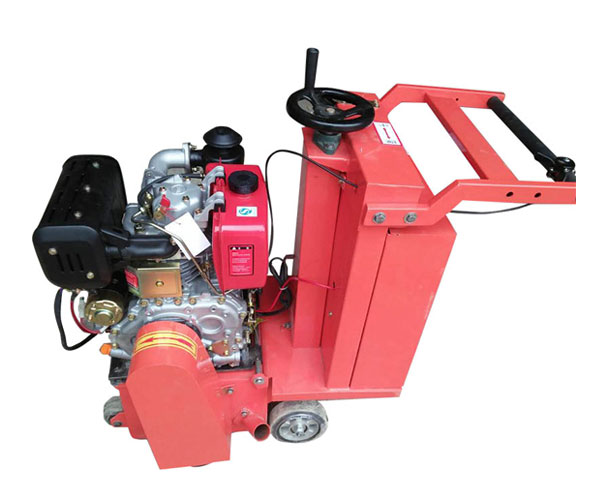 Parameter of Small Asphalt Milling Machine:
| | | |
| --- | --- | --- |
| Model | YG-250E/250G/250D | YG-300E/300G/300D |
| Power | 5.5Kw/190CC(gasoline)/168F(diesel) | 7.5Kw/190CC(gasoline)/168F(diesel) |
| Specification of blades | 8 stars 108 blades | 8 stars 120 blades |
| Milling Depth | 3-5mm | 3-5mm |
| A Milling Width | 250mm | 300mm |
| Working Efficiency | 30-100㎡/h | 40-120㎡/h |
| Dimensions | 1100*500*1100mm | 1130*650*1050mm |
| Weight | 170kg | 195kg |
Features of Asphalt Milling Machine:
The design of the undercut mode and the adjustable depth ensures good milling quality.
Milling inserts with cutter shaft mounting areconvenient to exchange.
Adjustable handle is easy to operate and improves the operator's working comfort.
Control frame system has a locking function, and the milling depth control is more flexible.
Blade is made of imported high-quality hard alloy, which is sharp and wear-resistant, has a long service life.
Supplies a variety of tool for handling various materials.
Uses KOHLER environmental protection and energy-saving two-cylinder, 20-horsepower air-cooled engine, four-stage cyclone heavy-duty air filter, large-capacity metal fuel tank.
Motor and control system adopt international common specifications of well-known brands to ensure your continuous working and operation.
Walking hydraulic system adopts EATON hydrostatic stepless transmission, the lifting hydraulic system adopts BUCHER electro-hydraulic power unit.
The full hydraulic device not only reduces the wear and tear of the wearing parts, but also ensures the optimum milling depth and flatness of the construction without damaging the road surface.
Has vacuum port and water inlet, can connect with dust collectors and water sources.
Applications:
Flatness and waterproof treatment of bridge and road.
Milling rutting, reticulated cracks, and pits. Clear the snow on the bridge and road surface.
Milling the old pavement before paving of the asphalt, or the large milling machine is used to complete the milling operation in the corner and steel-reinforced area.
Remove the ground coating, paint, and various traffic markings; remove the old floor when the ground is damaged and refurbished.
Clear the airport road markings, the brake tracks of the aircraft runway tires, etc., and regain a rough surface with a high friction coefficient.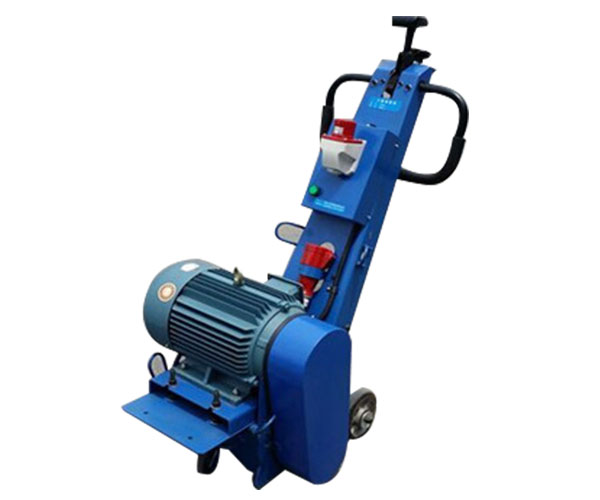 Parameter of Automatic Road Milling Machine:
| | | |
| --- | --- | --- |
| Model | YG-400E | YG-300Z |
| Power | 9Kw | 11kw |
| Blade Number | 200 | 120 |
| Milling Depth | 3-5mm | 5mm–30mm |
| Milling Width | 400mm | 300mm |
| Working Efficiency | 50-150㎡/h | 300㎡/h |
| Dimensions | 1130*650*1050mm | 1380*730*1180mm |
| Weight | 220kg | 306kg |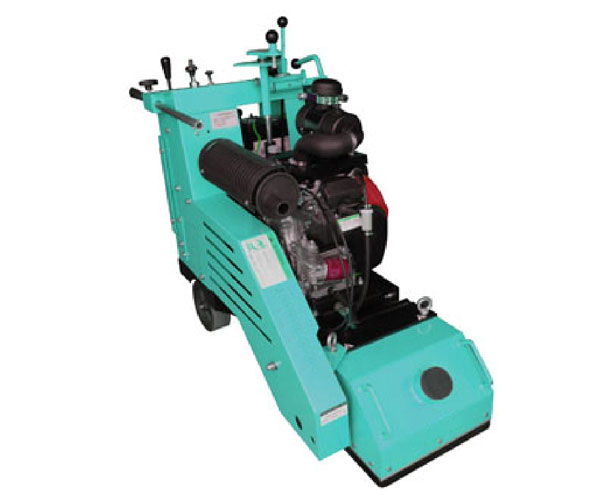 Parameter:
| | | |
| --- | --- | --- |
| Model | YG-300XBJ | YG-300XBJ-E |
| Power | KOHLER CH40/730 20HP | 11kw |
| Knife Shaft Number | 4 – 6 | 4 – 6 |
| Milling Depth | 10mm (adjustable) | 10mm (adjustable) |
| Milling Width | 295mm | 295mm |
| Working Efficiency | 200㎡/h | 220㎡/h |
| Dimensions | 1020*670*1200mm | 1020*670*1200mm |
| Weight | 390kg | 420kg |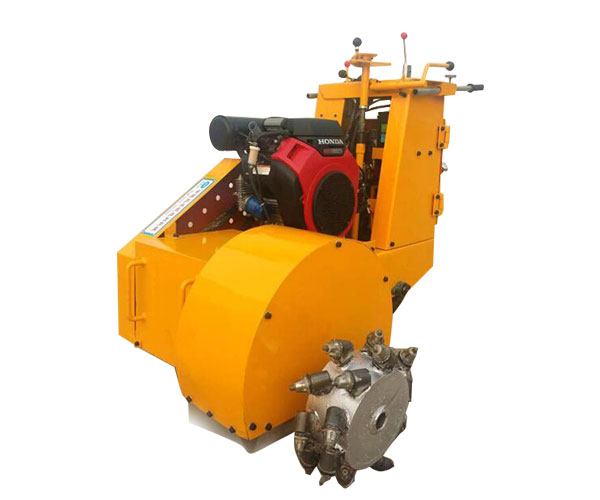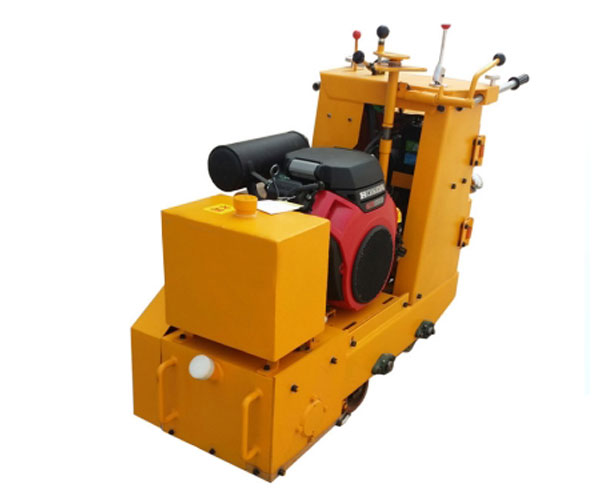 Parameter of Hydraulic Milling Machine:
Model
YG-500F
YG-500H
Power
Honde 25HP
Honde 25HP or 11kw
Knife Shaft Number
6
6
Milling Depth
0mm–40mm(concrete)
0mm–40mm(concrete)
0mm–70mm(asphalt)
0mm–70mm(asphalt)
Milling Width
0-200mm
300-500mm
Dimensions
1200*700*1000mm
1200*600*1000mm
Technology
Germany
Germany
Weight
400-500kg
400-500kg
What does Road Milling Machine Contribute to Road Maintenance?
Can be used to handle road surface diseases (cracks, pits, ruts, loose, subsidence, bridgehead culverts, surface damage) quickly, remove uneven areasand keep the road surface flat.
The refurbished road can maintain the horizontal elevation of the original pavement with milling process. The small asphalt milling machine can remove the damaged road surface, fill the space with new materials, the height is equal to the original road surface after compaction.
Ensure the good combination of new and old pavement materials and increase the integrity and longevity of pavement.The pavement milling process can make the sides and bottom of pits tidy and uniform in depth, forming a tooth-shaped geometric surface that is easy to combine with new and old materials.
Contribute to the recycling of old pavement materials. Since the cutting depth can be adjusted, the milled material is clean and regular small particles. They can be recycled without further crushing, which greatly reduces the construction cost and is also an environmental protection measure.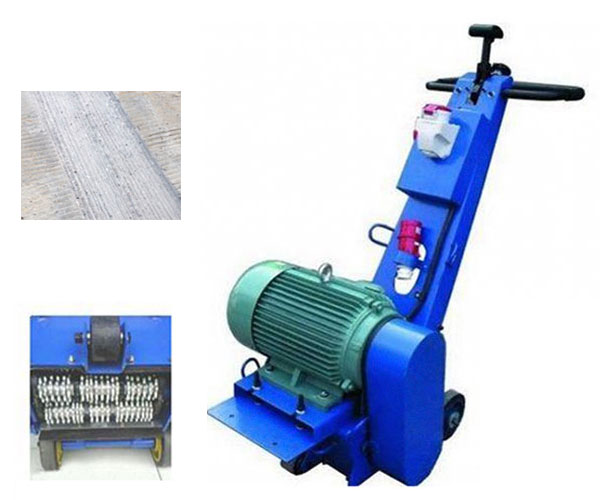 How to Maintain the Concrete Milling Machine?
After the purchase of the milling machine, the wear and consumption of the machine is inevitable. In order to extend the life of the machine, proper operation and maintenance are required.
The machine must be operated by professionals, operator read the operation manual carefully.
The main working part of the machine is composed of milling cutters, bearings, gaskets and milling drums. This part is often consumed during work, regular replacement and inspection can better extend the service life.
The machine must be placed on a flat surface for maintenance. Prevent the machine from tipping over when checking the milling cutter.
Grease the bearing after using 4 hours, turn the milling drum to apply grease for the entire bearing.
Check whether all fasteners are tightened, check the bearings and the protective covers.
Check the belt tightness before each operation. The new belt should be re-adjusted after working for 4 hours, keep the proper belt tightness. Broken and severe wear belts should be replaced immediately.
Check the milling cutter shaft and bushing each time you change the milling arrangement. If a worn groove appears on the shaft, it needs to be replaced.
If you have a milling project you wanted to accomplish, don't wait any longer. We'd be happy to chat and answer any questions.