Mr. Sampson from America ordered one set of 800m water well drilling rig machine from YG Machinery.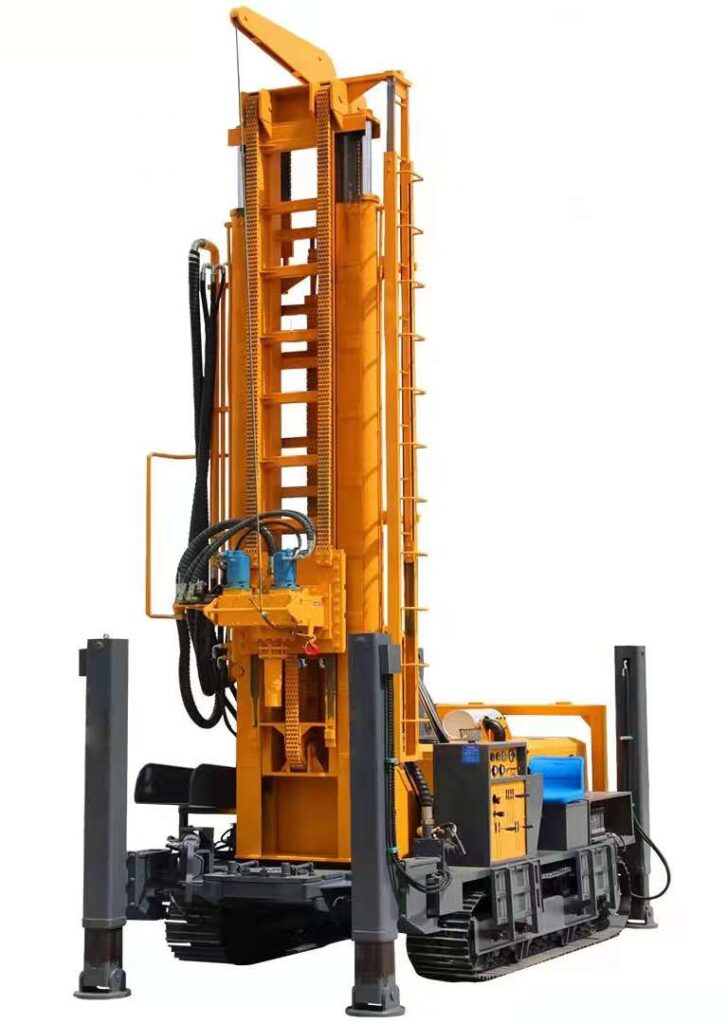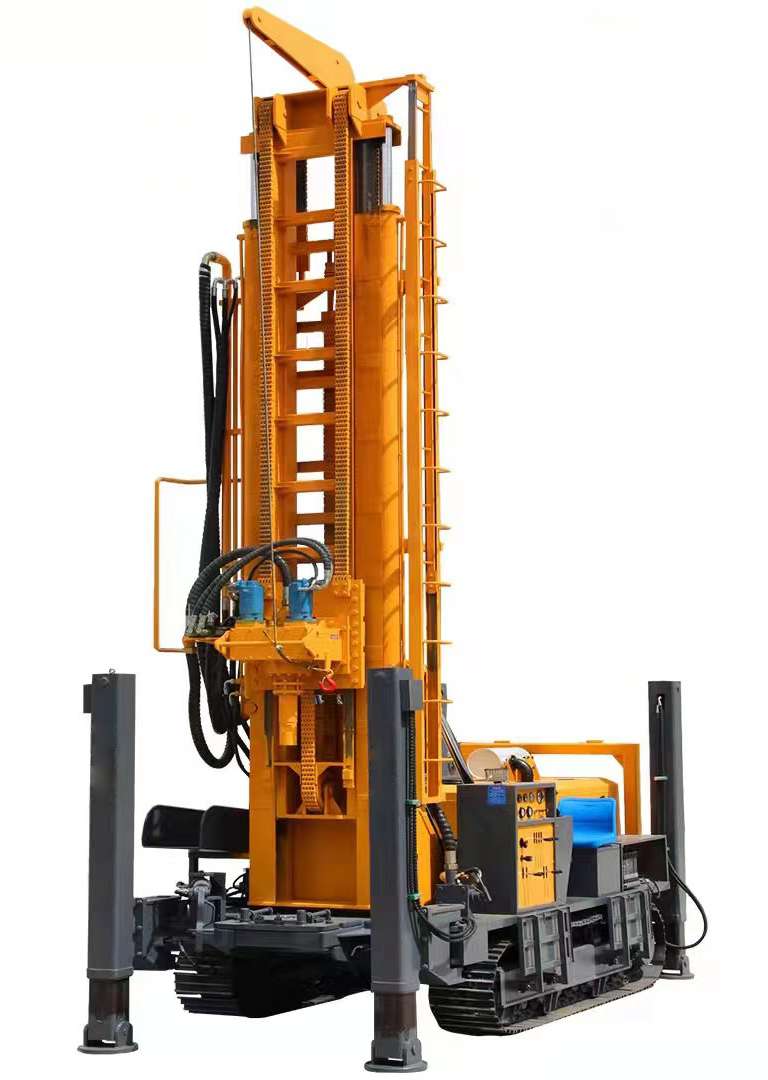 Equipment:
800 m water well drilling rig
Air compressor
Drill bits
Drill rods
Mud pumps
Casing pipe
800m Water Well Drilling Machine for Sale
| | |
| --- | --- |
| Model | FY800 crawler type water well drilling rig |
| Equipped capacitor | 194kW |
| The hole diameter | 140-400 mm |
| Drilling depth | 800m |
| Drill pipe diameter | φ102mm φ108mm φ114mm φ117mm |
| Drill pipe length | 1.5m 2.0m 3.0m 6.0m |
| Rig lifting force | 36 T |
| One-time advance length | 6.6 m |
| Rapid rise speed | 20 m/min |
| Walking speed | 2.5 km/h |
| Climbing angles(Max.) | 30° |
| Using air pressure | 1.7-3.5 Mpa |
| Swing torque (N.m) | 9000-14000 N.m |
| Air consumption | 17-42 m³/min |
| Swing speed(rpm) | 45-140rpm |
| Penetration efficiency | 15-35 m/h |
| High leg stroke | 1.7 m |
| Dimensions(mm) | 6300*2300*2650 mm |
Full Hydraulic Drilling Machine Features
This type of drilling rig adopts full hydraulic control, and the top driving device drives the drilling tool to rotate, so the drilling efficiency is extremely high.
Equipped with 194KW Cummins brand 6-cylinder turbocharged engine, strong power and long service life.
Reasonable overall layout, using tractor or all-terrain chassis for transportation, with good maneuverability.
It is very flexible on difficult roads.
The overhead drive head has a large spindle drift diameter and is suitable for various construction operations such as mud drilling, air drilling, and air foam drilling. Itcan meet the needs of drilling wells in different terrains and strata.
Air compressor: The air compressor provides compressed air to the drilling rig to power the drill bit and other equipment. The air compressor must be able to deliver a sufficient volume of air at the required pressure.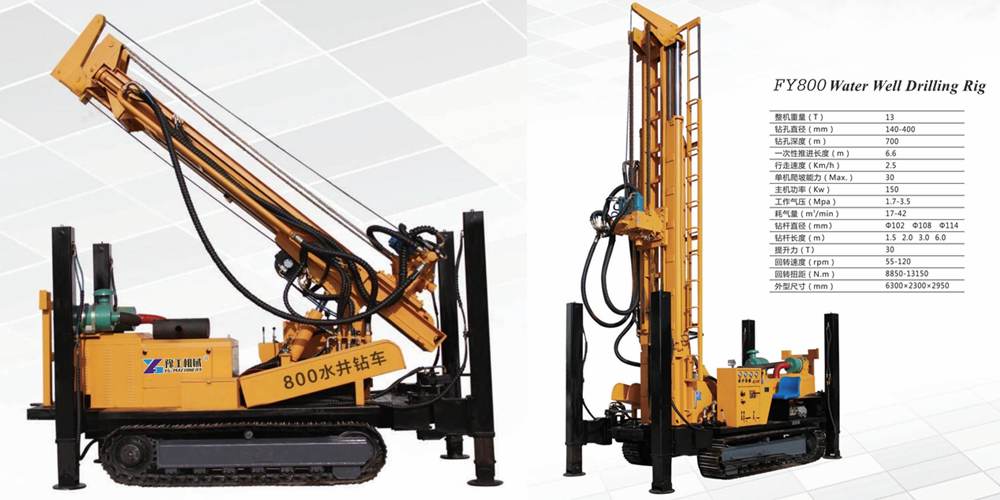 Applications
This drilling rig machine can be widely used in many fields of resource exploration such as hydrological wells, coalbed methane, shallow shale gas, terrestrial organisms.
It can also be used for coal mine gas mining and salvage work, such as hallow shale gas, terrestrial thermal energy, etc.
Read also: Screw air compressor | Oil Free Screw Air Kompressors – 55-355kw China Top Supplier
The 800 m water well drilling rig with air compressor is a powerful and versatile piece of equipment that can be used to drill wells in a variety of conditions. It is important to select the right equipment and to follow the proper procedures to ensure a safe and successful drilling operation.
How to use a water well driling machine?
Procedure:
Set up the drilling rig at the desired location.
Drill a pilot hole using a small drill bit.
Insert the casing pipe into the pilot hole and cement it in place.
Drill the well to the desired depth using a larger drill bit.
Install a screen at the bottom of the well to prevent sand and other debris from entering the well.
Develop the well by pumping water through it to remove any remaining debris.
Install a pump and other necessary equipment to bring the well into operation.
Why choose YG Machinery?
We have more than 18 years in this field. Besides the USA, this crawler water well drilling machine was also exported to France, Pakistan, India, Mexico, South Korea, Chile, Algeria, Romania, Kazakhstan, Ukraine, etc.