The mask making machine is to make various masks with certain filtering performance through the processes of hot pressing, folding and forming, ultrasonic welding, waste removal, ear belt, and nose strip welding. The mask equipment is not a single machine, it needs The cooperation of multiple machines to complete various processes. The mask machine is divided into different types: plane face mask machine, N95 mask machine.
Read also: Beauty facial mask making machine for sale
In addition, due to the outbreak of the epidemic, the demand for epidemic prevention equipment has greatly increased. YG Machinery also has a meltblown nonwoven, disinfection door, wet wipe machine, glove making machine, PE glove making machine, disinfection robot, fog sprayer machine, oxygen concentrator machine, etc., add mine WhatsApp+8613598866720 understand the face mask making machine price, or click the message box below to get more related information.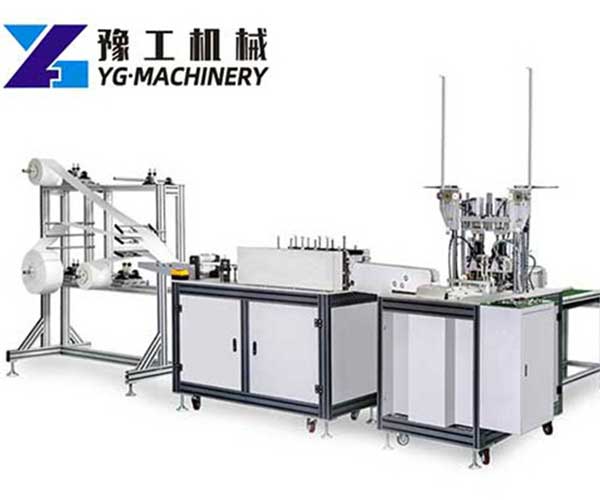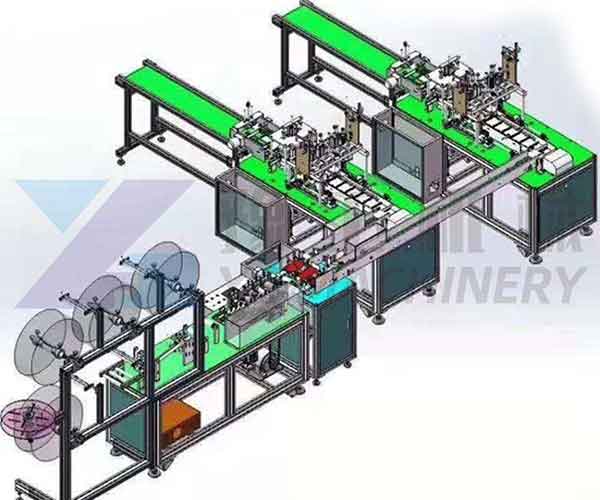 One Drag Two Plane Mask Making Machine
The one-to-two mask production line connects a mask body machine with a shunt machine and then connects with the two ear strap fusion machines through the shunt machine. When the machine starts, the main machine produces the product and is transported by the conveyor belt. To the shunt machine, the shunt machine transfers the mask to the band welding machine to weld the earband part to complete a complete mask product. The entire process realizes a fully automated production process, without manual operation, that is, one body machine and two sets The banding machine is connected.
Composition: Main machine (1 set), mask connecting line (1 set), and mask outer ear strap machine (2 sets) form a one-for-two disposable three-layer mask making machine production line.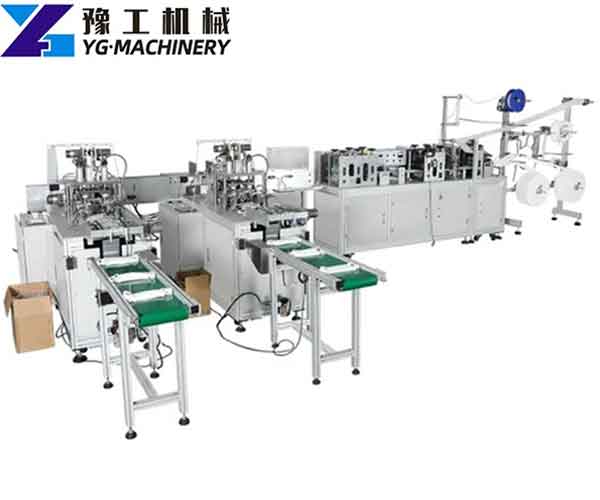 Parameter
Equipment size:  6500 * 3600  * 2000mm
Appearance color:  DB standard color
Equipment weight:  ≤5000kg
Working power:  220V ± 5 ﹪, 50HZ
rated power:  9KW
Operating environment:  10 ~ 35 ℃
Production efficiency:  90-100 pieces / min
One Drag One-Plane Mask Making Machine
The one drag one mask production line is a set of fully for the production of disposable flat masks. It consists of the main body machine, the inner ear belt machine, the outer ear belt machine, and the strap-on machine in a form of mutual matching. This machine is basically developed in the form of a single machine with each other to form a flat mask production process (one-to-one) flat mask production line equipment.
Through a unique computer program automatic control system, the main machine conveying system, and mask body piece shunting system are very scientific to connect a mask body machine and a mask earband welding machine to achieve full automation of disposable mask production. Greatly saved labor costs.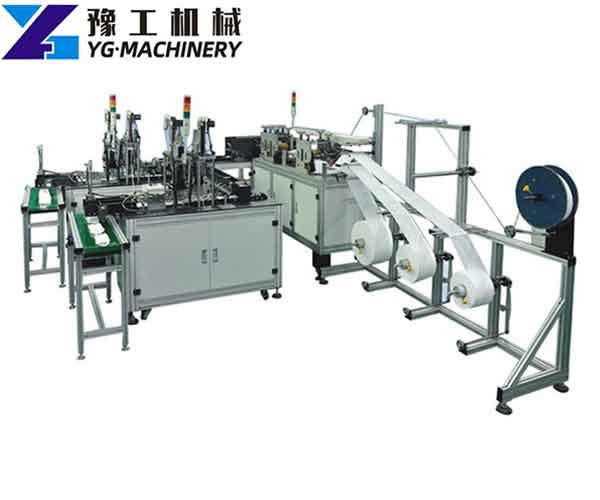 Parameter
Voltage:  220V
Production capacity:  40-50pcs / min
Power consumption:  6KW
Air pressure:  6kg / cm2
Frequency:  20KHZ
Power:  3kw
Machine weight:  300KG
N95 Mask Making Machine
The device with an advanced program control system can complete the fully automated process for the production of masks, including nose bridge straps, welding ear straps, and folding forming; the equipment is perfectly matched with each production site through PCL control to produce high quality folding masks can be adjusted according to different molds to produce different types of folding masks.
Parameter
Machine size: 8500*1500*700 mm
Motor power:   1.5 kW
Rated power:  12 kW
Air pressure: 0.6-0.8 Mpa
Stable production capacity:   45-60 pcs/min
Fold symmetry:  2 mm
Face mask type:  Built-in nose bridge
Machine weight:  2350 kg
Disposable Мask Making Machine Performance Characteristics
Fully automatic production, ultrasonic welding, high stability;
Photoelectric detection, high reliability and low failure rate, photoelectric material breakage detection (automatic alarm shutdown when no material or abnormality occurs) with automatic counting function, the output is clear and intuitive;
The machine has a small volume and a small footprint. The whole machine adopts aluminum alloy structure, which is beautiful and sturdy without rust;
Intelligent induction will automatically stop when it affects the normal production situation, reducing unnecessary waste;
PLC program control, high output, and strong stability.
Face Mask Making Machine of Advantages:
Adopt aluminum alloy structure, beautiful and solid without rust.
Computer PLC programming control, high stability, low failure rate, and low noise.
Photoelectric detection, to avoid mistakes and reduce waste.
One body can be connected to 1-3 inner ear strap machines or outer ear strap machines as needed.
The machine adopts pulleys and fixed feet, which are convenient and fast to move, strong in fixation, and does not shake.
This with a brand new advanced conveyor belt, with high accuracy, without manual inventory, only finishing and packaging.
It can be modified according to product requirements, product size.
According to different production orders, different earband machines can be configured, which is economical and practical, and completely solves the problems of capital cost and staffing.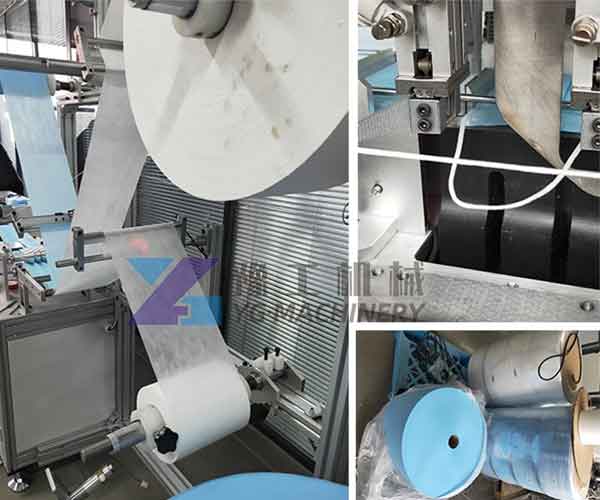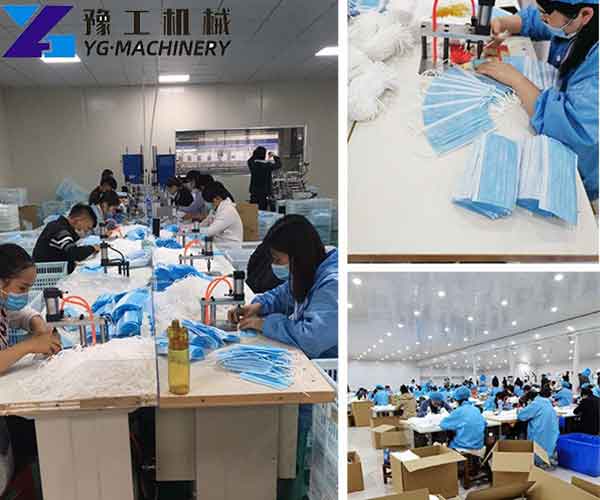 How to Buy a Mask Making Machine?
Purchasing mask production line, in addition to the selected raw materials, It is more important to choose the production equipment of the mask. How to choose a wide variety of mask production equipment?
Different people have different opinions. Before purchasing this equipment, you must consider the specifications and types of masks to be produced. Different types of masks require different equipment. Don't ignore more common sense information about masks, this will be related to future product quality and sales issues. Of course, YG Machinery also has a blu ray anion nano spray gun, disinfection door, disinfection robot, fog sprayer machine, meltblown machine, nitrile glove machine, wet wipe machine, industrial oxygen concentrator, tissue paper machine, and fogging sanitizer machine. Click below to leave your needs and get more information.