Concrete laser screed is a high precision concrete paving equipment, which takes the laser emitted by the transmitter as the reference plane, controls the leveling head though the receiver in time. concrete laser screed machine is designed for the higher road quality demand in large industrial plants, shopping malls, warehouses, and other concrete pavement.
Parameter :
Model
YG-25-2
YG-25-4
Motor Power
3.0kw 220v
32.5kw 24.2hp
Oil Tank Volume
18L (Work 10h)
35L
Walking Speed
0-20m/min
0-55m/min
Vibration Motor Speed
4000rpm
4000rpm
Exciting Force
2000N
2000N
Vibrating Plate Width
2500mm
2500mm
Leveling Thickness
50-250mm
350mm
Laser Control System
American Imported Danfoss
Laser Launcher System
American Tianbao launcher
Laser Receiver System
Switzerland Leica receive
Dimension
3220*2780*1172mm
3370*2890*1850mm
Weight
280kg
800kg
Types of Laser Screed Machine:
YG Concrete laser screed machine is mainly divided into walk hand-held laser screed machine and vehicle-mounted laser screed machine. The machine is easy to operate, its main work process is spreading, vibrating, leveling, pulping, and plastering. One-time large scale construction reduces the steps of using formwork and channel steel in the middle of the block, speeds up the progress, the working efficiency can reach 3000-5000 square meters per day. One person is enough to operate a ride on a leveling machine with an independent operating panel, so this type of machine is more convenient.
Features of Concrete Laser Screed Machine:
Use precision laser technology, closed-loop control technology, and highly sophisticated hydraulic system, achieve level findings under the automatic control of the computer.
The hydraulically driven leveling head finishes the leveling work with the help of a laser system and computer control system. Leveling head is equipped with an integrated scraper, vibrator, and screed, which can complete the leveling, vibrating, and compacting work in one operation.
The laser emitters used to control the ground level are independently arranged so that the floor elevation is not controlled by the stencil and there is no cumulative error.
The reliable laser-guided screeds can also automatically control the longitudinal and lateral slopes. For the complex shape of the ground such as drainage, it can also be realized by a three-dimensional shaped ground treatment system.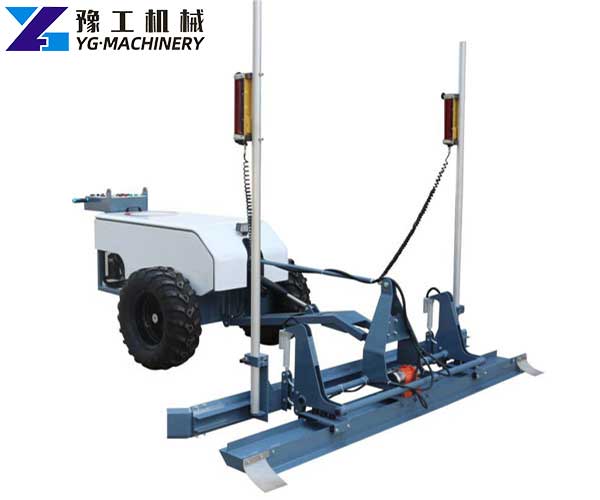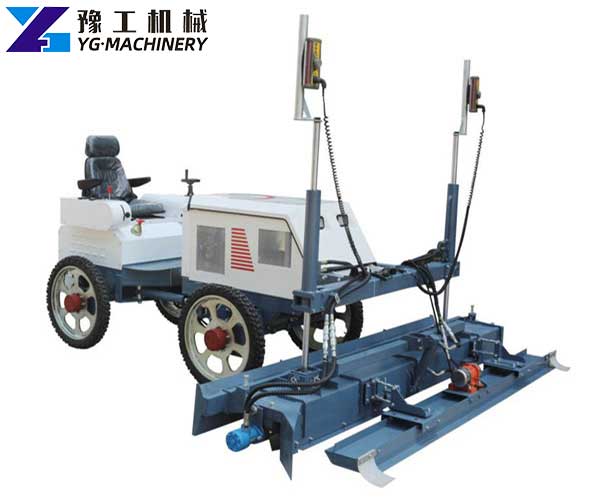 Characteristics of Ride-on Laser Screed Machine :
The intelligent handle operation is flexible, can screed in any direction.
The laser emitters are arranged independently to ensure that the ground elevation is consistent.
The cage between the vibrating plate and the scraper will overturn the excess concrete, reducing manpower, and increasing speed.
Automate the processes of flat finishing concrete improve efficiency and save labor.
The operation efficiency is greatly improved, the daily workload can be more than 4000㎡.
It is equipped with few switches and easy-access hinged console providing high efficiency and simplicity.
Application:
Indoor Floor:
Large industrial factory buildings, workshops, automated warehouses;
Cleaning plant for electronic appliances, food materials, medicine;
Large warehouse supermarkets, logistics centers, exhibition centers.
Outdoor Floor:
Dock, container yard, freight yard;
Airport runway, apron, parking lot;
Square, residential ground, municipal pavement.

Laser Concrete Screed Machine
How does Laser Screed Machine Work?
Laser screed for sale adopts rail mold paving operation mode, has the functions of high-frequency vibration slurrying, rolling compaction leveling, vibration pressure composite density, etc. The laser leveling machine is a product with high performance, high productivity, and high quality, so it can achieve ideal pulping, leveling, and density effects for various types of cement concrete materials, especially dry hard concrete and special cement concrete.
Laser leveling technology mainly uses the laser transmitter and the leveling machine to complete the vibrating and troweling of whole concrete. First set up a fixed laser emitter, the laser beam emitted by transmitter rotates to form a laser control plane, the hand-herd receiver guides the floor elevation to the leveling head of laser concrete screed, then automatic control system of the leveling machine will adjust the elevation in real-time according to the laser signal detected by the laser receiver on the leveling head. A fixed laser transmitter can ensure that a large area of grand does not produce accumulated errors, which can be reduced to less than 3mm.
The flatness of concrete road handled by laser screed machine is 3 times than the routine method, the compactness has improved 20%. In addition, the automatic concrete screeding machine is also used for paving high strength concrete, low slump concrete, and fiber cement. The laser system is equipped with several automatic control components, real-time monitors the elevation of leveling head at a frequency of 10 times per second, which can guarantee the road flatness. Meanwhile, the strong vibrator frequency of 4000 times per minute ensures concrete vibration compacting.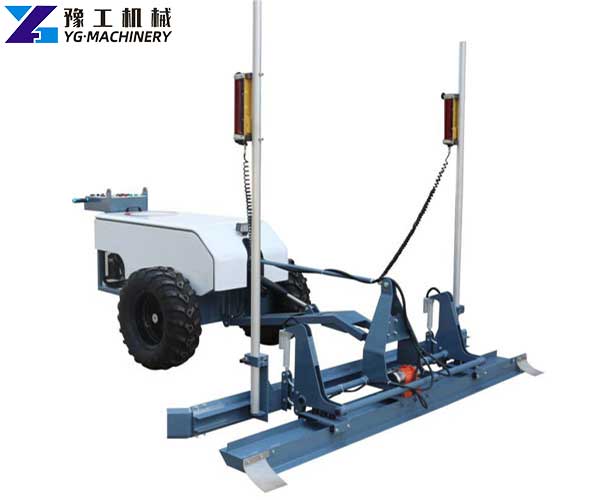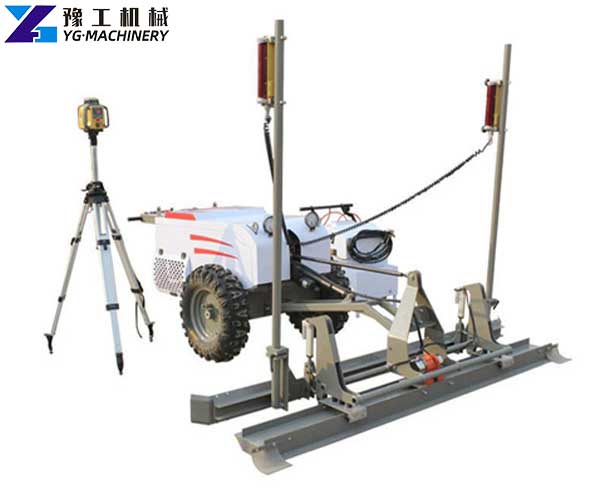 Importance of Concrete Lazer Screed Machine:
YG Concrete laser screed machine is essential in the construction of every structure, building, warehouse, or facility that needs a perfectly flat floor. YG laser screed machine adopts advanced innovation and technology for easy operation and maximum productivity. They are made of quality materials with reliability, durability, and low maintenance in mind.
YG Machinery is constantly developing new advanced machines, that can work easier and more efficient, you can rely on YG concrete laser screed machine. Our company also provides high-quality products for all companies, who need new road equipment and road maintenance machines at the most favorable price. We dedicate to provide customers with the best quality service, you will be glad you invested in YG machinery. We warmly welcome your corporation and build a great future for us all.