Core drilling rigs are deep-hole drilling equipment in the fields of geological prospecting, hydrological water wells, coalfield geological prospecting, oil, and natural gas exploration and development. The core drilling machine has the characteristics of modular design, easy disassembly and assembly, high drilling efficiency, easy transportation, low cost, and environmental protection. In most cases, it can drill into stratums with depths of more than 350 meters and more than 500 meters and can be widely used in core drilling work with extremely complex ground conditions. It is an ideal equipment for deep-hole geological exploration drilling. Contact us to get a cheap YG core drilling machine price.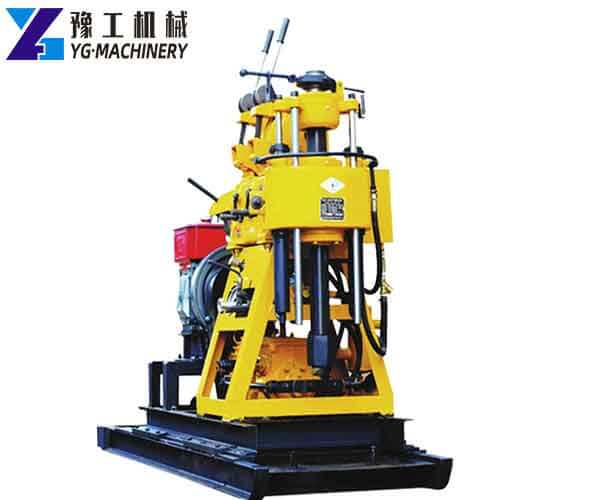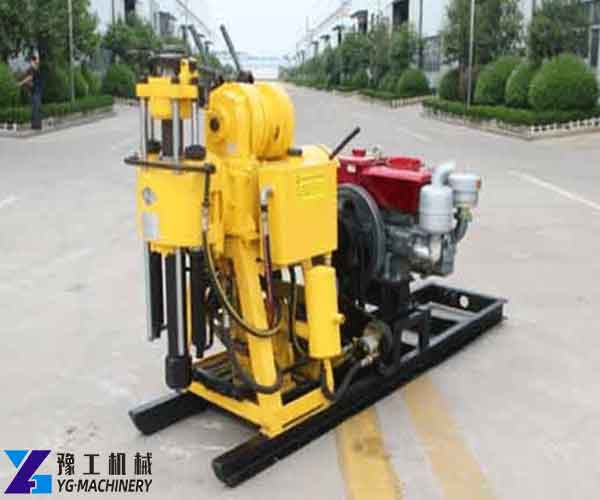 Classification of  YG Core Drilling Rig:
YG Machinery can be divided into various types of core drilling machines for sale according to different drilling diameters and drilling depths. We have a series of hole drilling equipment for sale. If you want to get core drilling machine specifications, please feel free to contact us.
1. HZ Series Hydraulic Core Drill:
It is suitable for drilling projects such as water well drilling, general survey exploration, geophysical exploration, road and construction exploration, and blast hole drilling. If you are looking for core drilling rigs for sale, please leave a message.
Main features of hydraulic core drill:
With hydraulic automatic feed mechanism, improve drilling efficiency, and reduce labor intensity.
The ball clamp clamping mechanism is used instead of the chuck, which can realize non-stop inverting of the rod, convenient operation, safe and reliable.
Equipped with a pressure gauge at the bottom of the hole for easy control of the situation in the hole. Compact structure, centralized handle, small footprint, lightweight, strong decomposability (reassemble at the construction site), and easy to move. Suitable for plain or mountainous operations.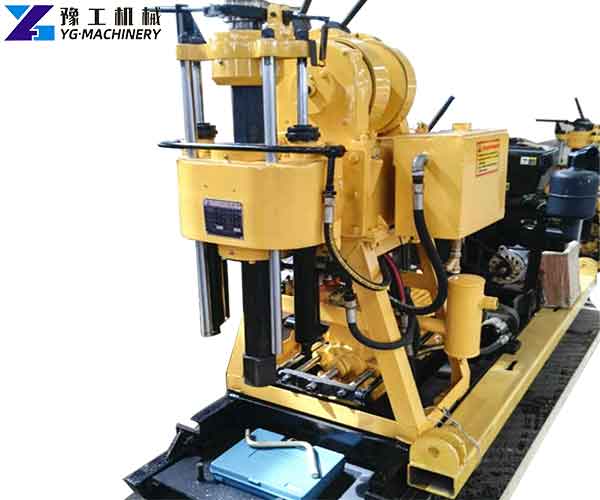 Technical Data for Core Drilling Equipment
| | | | |
| --- | --- | --- | --- |
| Model | XY-3 | XYD-3 | XYX-3 |
| Drilling Depth (m) | 600 | 600 | 600 |
| Open Drilling Diameter (mm) | 325 | 325 | 325 |
| Final Hole Diameter(mm) | 75 | 75 | 75 |
| Drill Pipe Diameter(mm) | 42-60 | 42-60 | 42-60 |
| Drill Pipe Inclination (°) | 90-75 | 90-75 | 90-75 |
| Power (kW) | YN27/39 | YN33GBZ/65 | YN27/39 |
| Weight (kg) | 1800 | 6200 | 3600 |
| Dimensions(mm) | 2600*900*1750 | 4500*200*2700 | 2900*2560*3300 |
2. Aluminum Alloy Core Drilling Rig:
The gear of the drilling rig is made of titanium-magnesium alloy and made by special processing technology, which is light in weight, high in strength, and corrosion-resistant.
The main components of the box body (vertical axle box, split box, hoist, etc.) are made of high-strength aluminum alloy, and the tower and bottom frame are made of high-strength aluminum alloy welding and special processing technology to ensure the performance of the drilling rig.
The drilling rig adopts a modular design as a whole, with strong disassembly and fast assembly, which solves the difficult and high cost of relocation of mountain equipment.
The core drilling rig adopts high-frequency and high-frequency inlay slides, which have high wear resistance, long service life, and reduce maintenance costs. The car gearbox is attached with an accessory box, which can realize high and low-speed switching, with large output torque, wide speed range, and strong accessories versatility.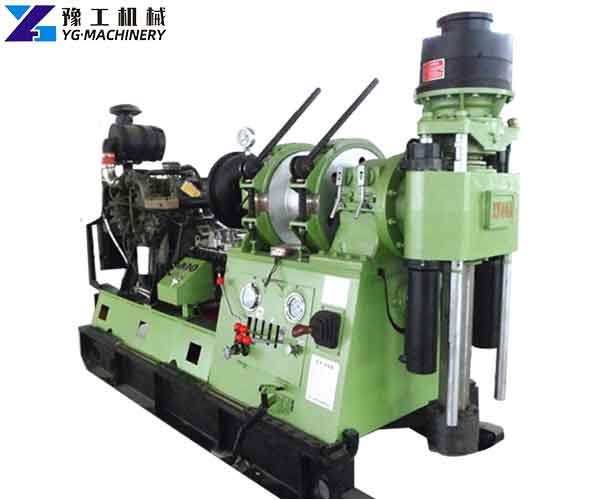 Technical Parameter 
| | |
| --- | --- |
| Model | XY-44A |
| Drilling Depth (m) | 300-1400 |
| Drill Pipe Diameter(mm) | 42-89 |
| Drill Pipe Inclination (°) | 0-360 |
| Power (kW) | 37/81 |
| Spindle L. D (mm) | 93 |
| Power Speed | Up to 2800r/min |
| Weight (kg) | 2300 |
| Dimensions(mm) | 3050*1100*1920 |
3. Walking Type (trailer type) Core Drilling Rig
The core drilling rig is equipped with a wheeled walking mechanism and hydraulic cylinder pillars. The whole machine is easy to move and adjust the level of the rig.
With a hydraulic feed mechanism to improve drilling efficiency.
The drilling rig is equipped with an upper ball clamping mechanism instead of a chuck, which can implement non-stop bar reversal, high work efficiency, convenient, safe, and reliable operation.
Equipped with a pressure gauge at the bottom of the hole to indicate the pressure, which is easy to grasp the situation in the hole.
The lifting and lowering towers are operated hydraulically, which is convenient and reliable.
The diesel engine adopts an electric start to reduce the labor intensity of workers.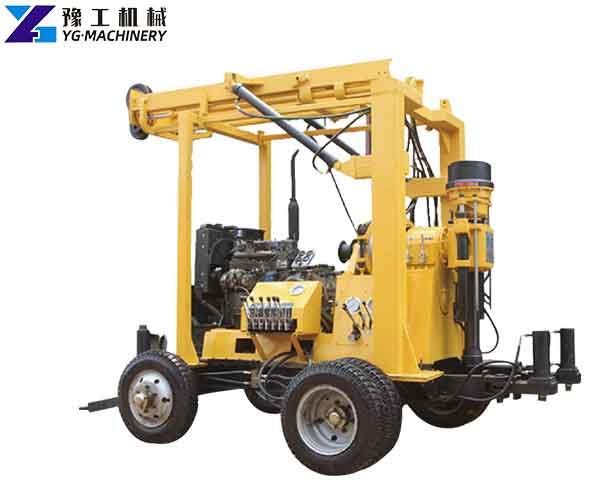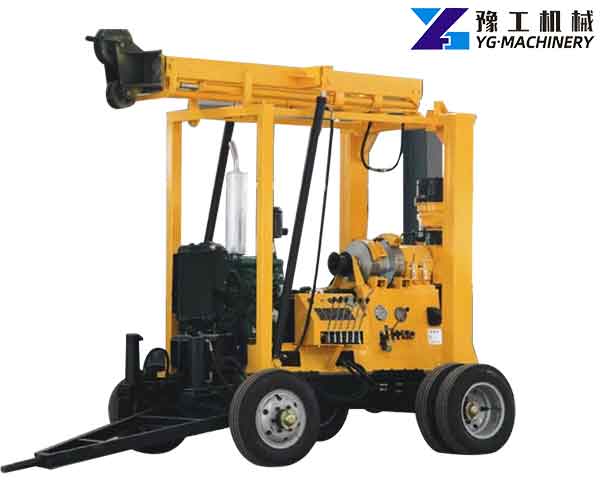 Parameter of Core Drilling Rig for Sale
| | | | |
| --- | --- | --- | --- |
| Model | XYD-130 | XYD-180 | XYD-200 |
| Drilling Depth (m) | 130 | 180 | 200 |
| Open Drilling Diameter (mm) | 220 | 220 | 325 |
| Final Hole Diameter(mm) | 75 | 75 | 75 |
| Drill Pipe Diameter(mm) | 42-60 | 42-60 | 42-60 |
| Drill Pipe Inclination (°) | 90-75 | 90-75 | 90-75 |
| Power (kW) | 13.2 | 13.2 | 15 |
| Weight (kg) | 3350 | 3400 | 3600 |
| Dimensions(mm) | 3800*1950*2700 | 3800*1950*2700 | 3800*1950*2700 |
4. Truck-mounted Core Drilling Rig
Important accessories such as the driving system of the drilling rig and hoisting, mud pump are installed on this chassis, the layout is reasonable and compact, and the operation is simple
Equipped with a mud pump with high pressure and large flow rate to ensure the drilling depth and hole diameter
The drilling rig is equipped with a mobile device, which can realize the front and back movement of the drilling rig itself, which is convenient for wellhead operation. The hydraulic lifting and lowering automatic telescopic drilling tower of the drilling rig tower is safe and convenient to operate.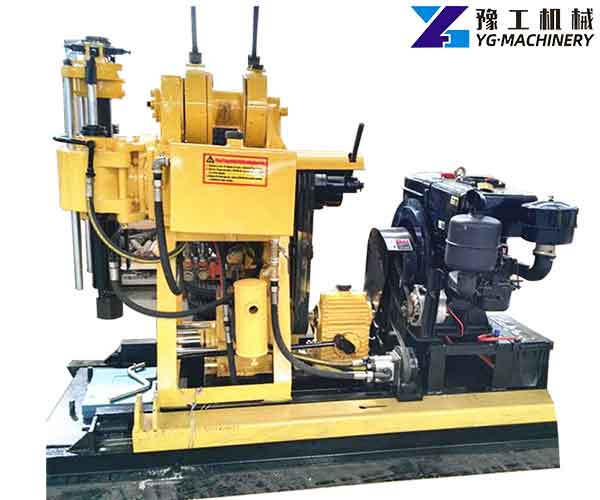 5. Crawler Core Drilling Machine
The rig adopts an automatic telescopic rig, supported by two high-strength oil cylinders, and a set of hydraulic valves control the rig supine, which saves time and effort, is safe and reliable, and maximizes the benefits for users.
The chassis adopts a rubber track, which is lighter in weight and lower in life cycle cost. It can reduce the noise of the vehicle's running mechanism, reduce the vibration of the vehicle body, and greatly reduce fuel consumption. It can walk on urban roads without hurting the road surface.
The chassis comes with four high-strength threaded legs (or hydraulic high legs) for quick and convenient installation and adjustment. They can be used for leveling the working plane. Loading and unloading trucks can reduce the cost of lifting and improve efficiency. It can be used as auxiliary support during work.
The 48V electric start diesel engine greatly reduces the labor intensity of the operator, especially when it is difficult to start the diesel engine in the cold season, it shows great advantages.
This machine is equipped with an independent mud pump, which has a large pump flow and pressure and is convenient for maintenance. Parts and accessories can be easily purchased all over the country. Optional installation of hydraulic pipe screwing machines to improve work efficiency and reduce labor costs.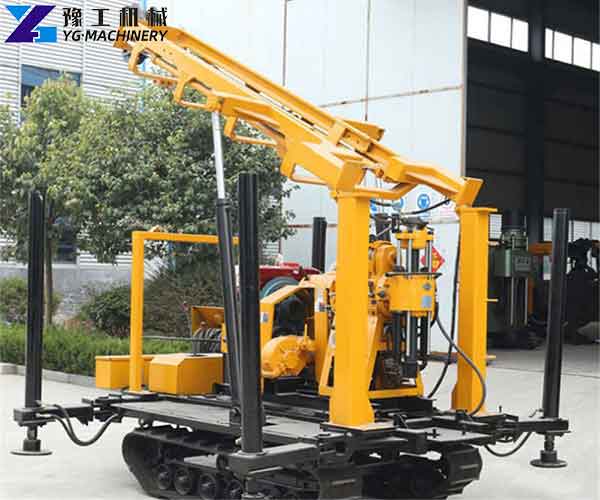 How to Choose a Core Drilling Rig?
What kind of core drilling rig is the best choice? This is a common problem that plagues most customers who want to purchase a core drilling machine. The main considerations for purchasing a drilling rig are the choice of the driving force, drill rods, drill bits, and transportation dimensions.
YG Machinery is a machinery manufacturer that sells various drilling equipment and construction machinery. Such as water well drilling rigs, small water well drilling rigs, down the hole drilling, Horizontal directional drilling machine, auger drill rigs, anchor drilling machine, rotary drilling machines, hydraulic rock splitter, pile breaker, shotcrete machine, and so on. Just leave your requirement, we will reply to you within 12 hours. Or you can message us directly by WhatsApp: +86 13598866720 or Email:admin@ygroadmachine.com.