The wet wipes are made of wet-strength, soft-fiber, and high-permeability substrates, which are folded, humidified, and packaged to make disposable sanitary products. Because of their basic functions of cleansing and moisturizing the skin, as well as being easy to carry, they have become indispensable in people's daily lives.
YG Machinery wet wipe machines are mainly divided into 80-piece pillow-type wet wipes production line, barreled wet wipes machine and single-piece wet wipes manufacturing machine, wet wipes packaging machine, wet wipes folding machine and technical services of wet tissue making machine and accessories. In addition, YG also provides nitrile glove machines, PE glove making machines, disinfection door, fog sprayer machine, uvc disinfection robot, and mask making machines for selection. If you are looking for wet tissue machine for sale, please leave your message.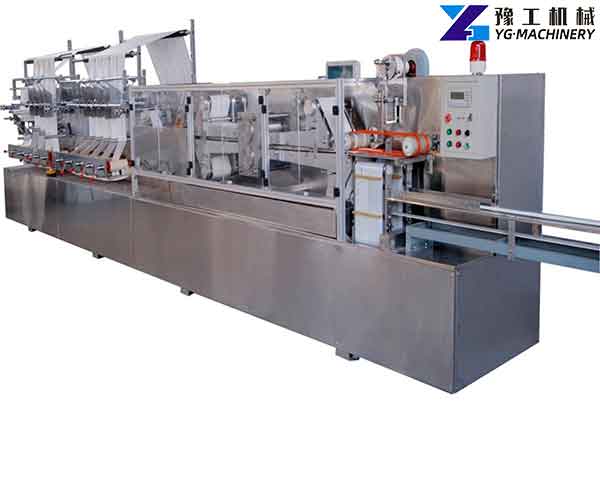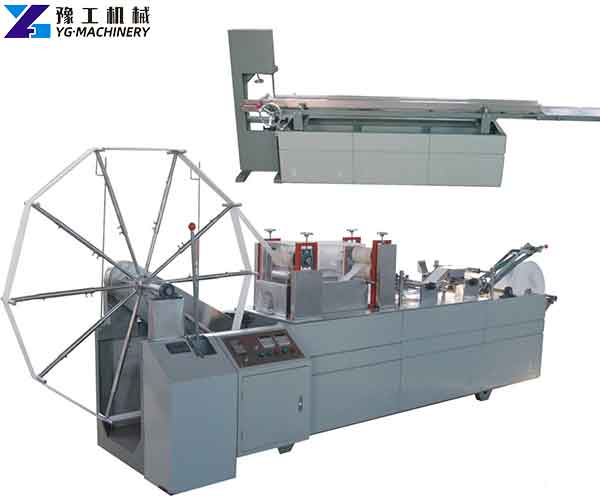 Parameter of Wet Wipe Making Machine:
| | |
| --- | --- |
| Applicable materials | Spunlace nonwoven, thermal bonding, degradable non-woven fabrics,wet-strength paper, etc |
| Specification of nonwovens | Max W260mm, Φ1200mm |
| Applicable packing materials | PET/PE BOPP CPP PET/AL and other hot sealable materials |
| Film rolling specification | Max W230mm, Φ360mm |
| Size of wet wipes | L:55-110mm W:30-60mm |
| Unfolded size | L:110-220mm W:140-260mm |
| Packing size | L:80-200mm W:40-70mm |
| Product capacity | 80-200 bags/min |
| Source of air required | 0.6-0.8Mpa,100L/min |
| Power | AC220V 50/60Hz,8KW |
| Size of the whole machine | L:4000mm,W:3000mm,H:2000mm |
| Machine net weight | About 2200kg |
What is a Wet Wipes Machine?
The wet wipe machine is a high-tech, green, and environmentally friendly smart machinery appliance. It uses non-woven fabric as raw material to produce disposable clean dry wipes. According to user needs, the product can be automatically controlled by a microcomputer to produce folded hot and cold wet wipes immediately, and can also quickly realize the conversion of cold wet wipes, hot wet wipes, and dry wet wipes.
Use servo drive PLC control system. It is composed of raw material unwinding device, tensioning device, folding device, automatic humidification system, automatic product counting and stacking device, automatic labeling device, automatic punching device, automatic coding, and printing device, finished product slitting device, and other mechanisms.
The wet wipe making machine adopts a reciprocating horizontal sealing device and is equipped with a mechanical gusset device. The relative position of the opening, label and horizontal seal can be set on the touch screen with synchronization accuracy. The wet packaging machine film automatically opens the skylight, automatically encodes, and can set the opening position. Can realize automatic standard change. The body is covered with stainless steel. The main components are made of national standard food grade 304 stainless steel. The product is hygienic and safe. Contact us to get wet wipe making machine price right now.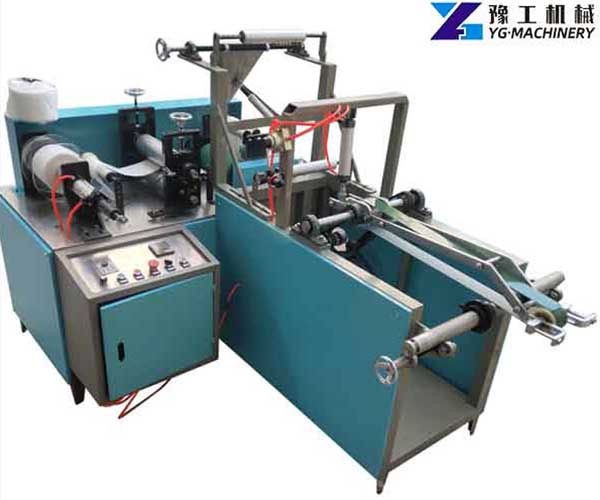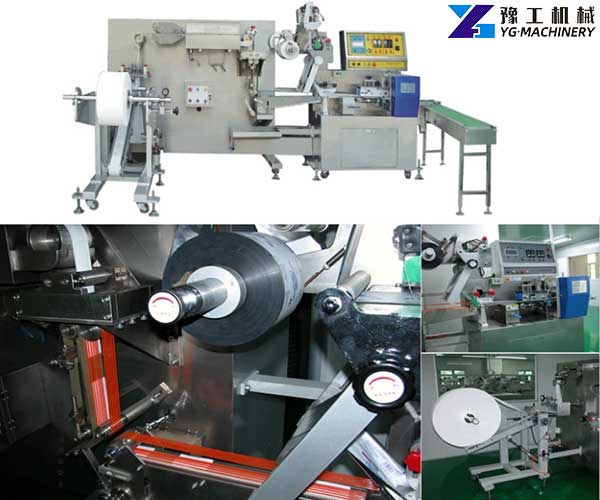 Features of the Wet Wipes Making Machine:
The working principle of the equipment: automatic feeding → automatic slitting → automatic folding → automatic liquid filling → automatic cutting → automatic stacking → automatic counting → automatic product output, and the entire line is automatically completed.
The equipment is equipped with two sets of 1.2-meter online slitting devices, the slitting knife can automatically lift up and left to move freely to adjust the product slitting width, and is equipped with pneumatic automatic feeding, air expansion shaft unwinding, and pneumatic wide belt synchronous conveying device.
The equipment is equipped with a complete set of folding devices, which can be folded in N and in half, and equipped with multiple adjustment devices to ensure that the product size is accurate and does not rise.
The entire conveying system of the equipment adopts imported conveyor belts, which is firm, durable, and pollution-free; it is equipped with a complete set of the automatic liquid adding system including stainless steel mixing tank with disinfectant.
The equipment adopts an imported PLC program programming control system, computer touch screen display, frequency conversion, and joint control.
The wiring specifications of the electrical parts are reasonable, beautiful, elegant, and easy to operate.
The steel frame of the whole machine is welded by high-quality 45# channel steel in the national standard, and the surface is treated with anti-rust spray paint. The screws that are easy to affect the finished product are made of stainless steel.
Interlocking folding can be customized according to customer requirements, as well as an integrated machine connected with the packaging machine. Click here you can check our wet wipes manufacturing machine for sale.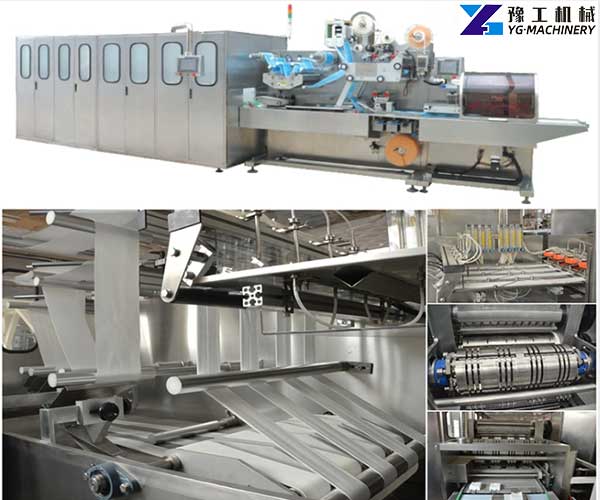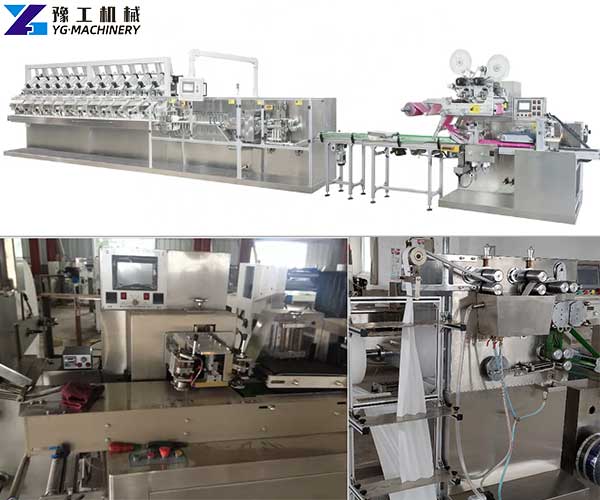 How much is a Wet Tissue Machine?
The wet wipe machine needs to be determined according to the type of wet wipes produced by the wet wipe factory. Different styles of wet wipes have different machines. If it is a small wet wipe processing factory, you can purchase a single piece of a four-side sealing machine, 1 to 10 pieces of fully automatic wet wipe machine, the price of the whole set is on the low side, and the investment cost is small.
If it is a medium and large wet wipe making machine, 12 automatic wet wipe production lines and 20 automatic wet wipe production lines can be used. If you don't know how to choose a belt, you can click on the inquiry below and we will recommend the most favorable plan for you, which can be made according to the supply requirements.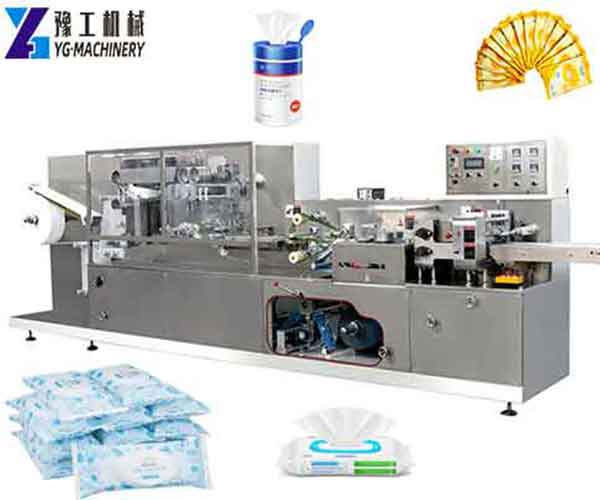 Wet Wipes Machine Manufacturers
YG Machinery, as a wet wipe machine manufacturer, can provide competitive wet wipe machine prices. In addition, PE glove making machine, disinfection door, disinfection robot, fog sprayer machine, fogging sanitizer machine can also be provided. In addition, YG machinery can also provide fog cannon machine, sandblasting machine, shot blasting machine, hydraulic rock splitter, pile breakers, water well drilling rigs, asphalt crack filler machine, road roller machine. Now contact us to get a cheap wet wipe machine factory price.