The latex glove making machine is mainly composed of four parts: batching equipment, soaking equipment, plasticizing furnace, and powder removal equipment. Generally, it is processed by a series of processes such as hand mold dipping tank, drying, vulcanization, and cooling. Latex gloves are divided into disposable latex gloves, household latex gloves, industrial latex gloves, medical latex gloves, and other categories. Contact us to get latex glove making machine price right now.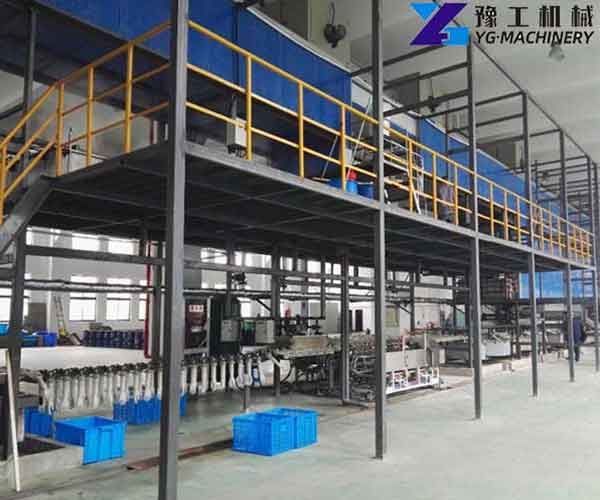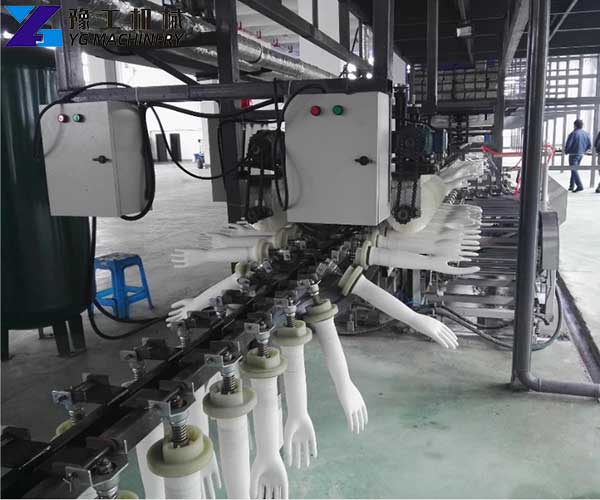 Price of Latex Glove Making Machine:
Latex glove making machine has mature production technology, reliable equipment, good mechanical performance, easy operation, and maintenance, and has the advantages of continuous dip molding and vulcanization integration. The equipment is equipped with a fully automatic demoulding device (manipulator), which has high production efficiency and a high finished product rate. Due to the different production power of the latex glove machine, the output is also different.
The latex glove production line has a variety of specifications such as 30 meters, 60 meters, 80 meters, and 120 meters. It has a high degree of automation, a large output, and can be configured to automatically demold. It can also be produced according to customers. The length of the site design and installation production line. YG Machinery is a manufacturer of latex glove making machines in China, Yugong provides you with high-quality and durable latex gloves manufacturing machinery. In addition, Yugong Machinery can also provide you with PE gloves making machine, nitrile gloves machine, and labor protection glove machine. and a disposable glove making machine. Now contact us to get a cheap medical glove making machine factory price.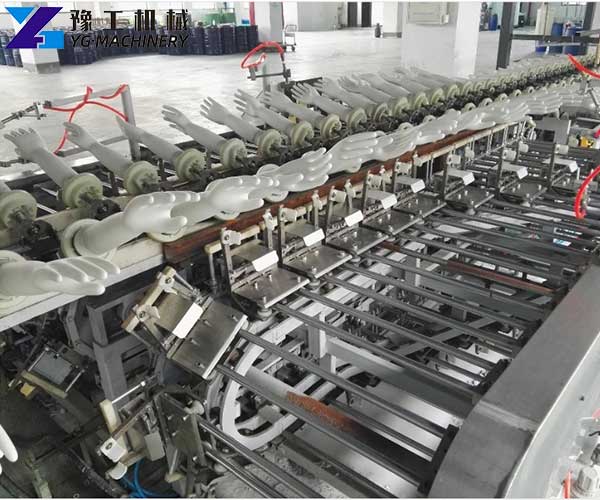 Characteristics of Latex Glove Making Machine:
The machine can be humanized according to various materials (natural rubber, nitrile rubber, PVC, PC curing molding process, reasonable process, automatic balance glue filling system, make the product stable, the coating thickness is thin, the length is uniform, no-sag It has the characteristics of uniform temperature, high output, easy and simple demoulding.
The oven adopts the principle of hot air circulation to make the internal temperature of the oven even, and the use of high-performance insulation materials to effectively ensure that the temperature does not run off, thereby improving the use of the machine's thermal efficiency. The machine's heating system uses an automatic temperature control system with high-performance control switches to increase The accuracy of temperature control, thereby improving the pass rate of products.
With the specially designed elastic piston type mold connecting device, the operation of replacing the mold is simple, and there is no mold dropping phenomenon.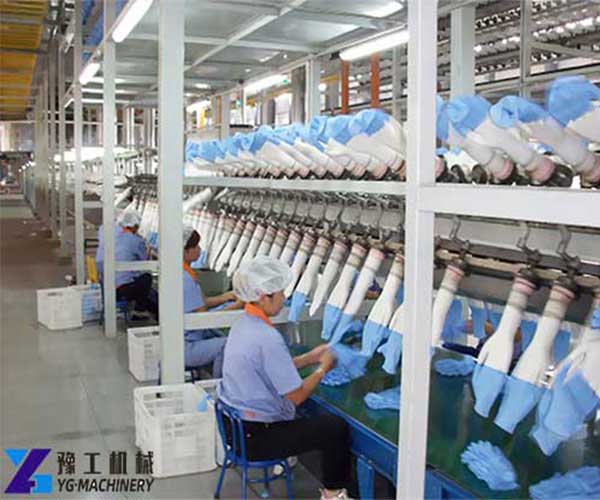 How are Latex Gloves Produced?
Latex gloves are made through a series of complicated processes, so how are latex gloves produced? The production process of latex gloves is as follows:
Mold washing: Wash ceramic glove molds with clean water.
Soaking in calcium water: Immerse the ceramic glove mold in calcium water to distribute calcium ions evenly on the surface of the ceramic mold.
Drying: Dry the ceramic glove mold soaked in calcium water.
Dipping latex: soak the dried ceramic mold in natural rubber latex, so that the surface of the ceramic mold is covered with a layer of latex to form the embryonic form of latex gloves.
Crimping: Pass the ceramic glove mold impregnated with latex through the crimping mechanism to crimp the opening of the latex glove.
Drying: Dry the crimped latex gloves to remove the moisture on the surface of the latex gloves.
Leaching: Take out the dried latex gloves after soaking in hot water.
Dry and vulcanize.
Cooling: Immerse the dried and vulcanized latex gloves in cold water to cool.
Demoulding: Take off the latex gloves from the ceramic mold, and a pair of latex gloves will be produced.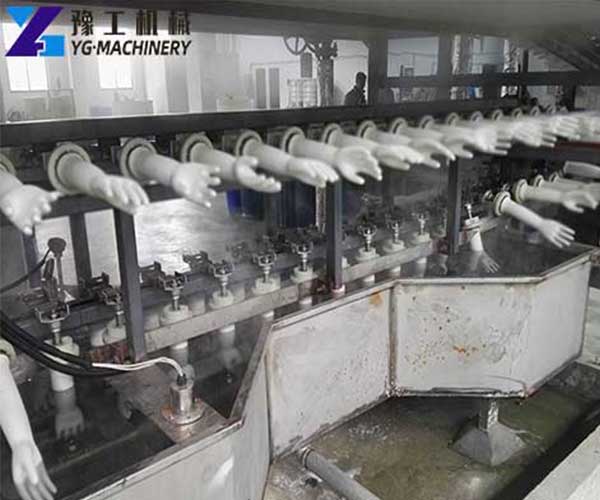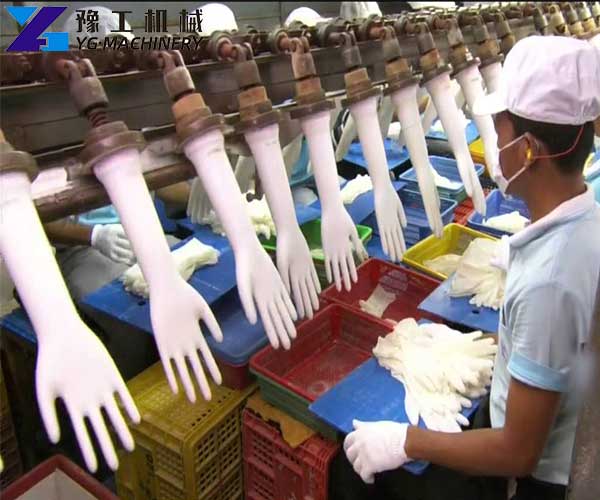 Advantages of Latex Gloves:
 Good elasticity, comfortable to wear, free of oxidants, silicone oil, fat, and salt.
High tensile strength, puncture resistance, and not easy to break.
It has excellent chemical resistance, resistance to certain pH, and certain organic solvents, such as acetone.
There are few chemical residues on the surface, low iron content, low particle content, suitable for a strict clean room environment.
Latex Glove Making Machine Manufacturer—YG Machinery
The latex glove making machine belongs to a huge type of mechanical equipment. In order to reduce the trouble of installation and debugging for foreign customers, and facilitate the maintenance or equipment migration, the detachable structure is specially designed to promote the best utilization of equipment. If you are looking for latex glove making machine for sale, please leave your message.
YG machinery adopts building block production and assembly in the factory area, carry out preliminary adjustment of the machinery, and then leaves the factory. Especially conducive to the transportation and installation of export equipment. Of course, we not only have a latex glove production line but also a meltblown cloth production line and a mask making machine. disinfection door, wet wipe machine, disinfection robot, tissue paper machine, industrial oxygen generator, medical oxygen concentrator,  fogging sanitizer machine,  fog sprayer machine, air disinfection machine, and professional backpack sprayer. based on the principles of credibility, quality, and customer satisfaction, YG machinery company sincerely welcomes new and old customers to visit and purchase, we will serve you wholeheartedly!