Rock splitting tools, also known as hydraulic splitting machines, rock splitting equipment, etc. It is mainly composed of two parts: hydraulic power station and splitting machine.
Rock Splitter: Hydraulic rock splitting tools
The hydraulic rock splitter uses hydraulic top force to expand and crack the rock, without vibration and sound, without any harm and can split and crush the rock safely and efficiently. Hydraulic rock splitter is a new type of blasting demolition method currently newly launched. Compared with traditional operation methods, it has a series of advantages such as simple structure, convenient operation, high operation efficiency, low cost, and safety. If you are looking for a hydraulic rock splitter manufacturer, YG Machinery will be your ideal choice.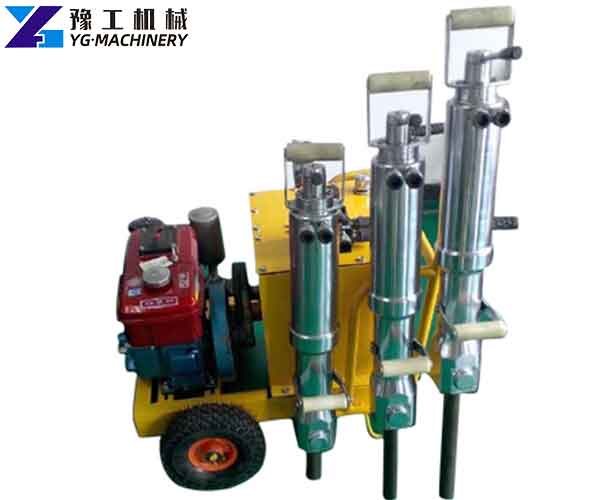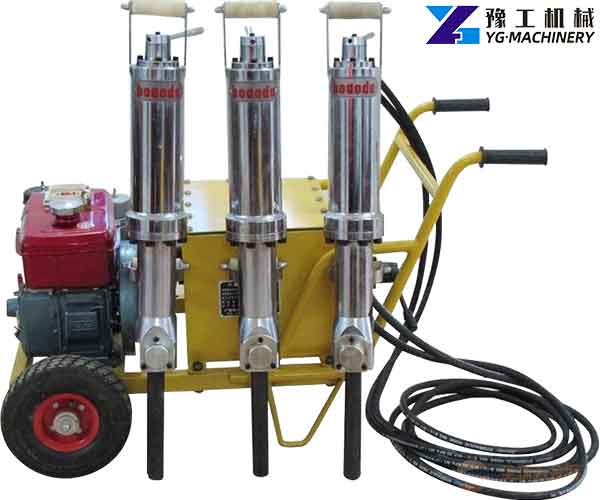 Rock Splitter Machine Product Parameter:
Model

YG-250

YG-350

YG-450

Power

Diesel Power Pack

Diesel Power Pack

Changchai 6hp or 8hp

Hydraulic Power Unit

Pressure Adjustable 10-60Mpa

Splitter Length (mm)

1000

1100

1200

Wedge Length (mm)

250

350

450

Wedge Weight (kg)

30

36

43

Piston Stroke (mm)

90/220

90/220

90/220

Drilling Depth (mm)

>500

>700

>900

Drilling Diameter (mm)

42

50

55

Crack Width (mm)

10-20

10-20

10-20

Splitting Time (s)

10-15

10-15

10-15

Splitting Force (T)

800

900

1000
The Working Principle of Hydraulic Rock Splitter
Powered by hydraulic oil, the splitting block and the wedge interact with each other to achieve a strong splitting force. 9-12 plungers similar to jacks are arranged on the body (cylinder) of the splitting machine. When working, the splitting rod is placed in the pre-drilled hole. When the ultra-high pressure oil is provided to it, the plunger will extend and directly exert a force on the whole wall, so that the rock will be split in the direction of the hole, no vibration, broken rock. The object to be split is split in a predetermined direction in a short time. Contact us to get a hydraulic concrete rock splitter price right now.
Application Fields of Hydraulic Rock Splitter:
Mining of mine stone materials: secondary disintegration of (metallic mines, non-metallic mines), mining of coal mines, sandstone, granite, etc.
Earth and stone excavation works: roads and bridges, houses, foundations, reinforced concrete demolition, and other works.
Tunnel excavation projects: subways, culverts, mines, underground pipelines, river treatment, and other projects.
Smelting and dismantling projects: various smelting furnaces, kilns, refractory bricks, and carbon block crushing and dismantling.
Other areas: earthquakes, landslides, roads and railways, traffic accidents, disaster relief, etc.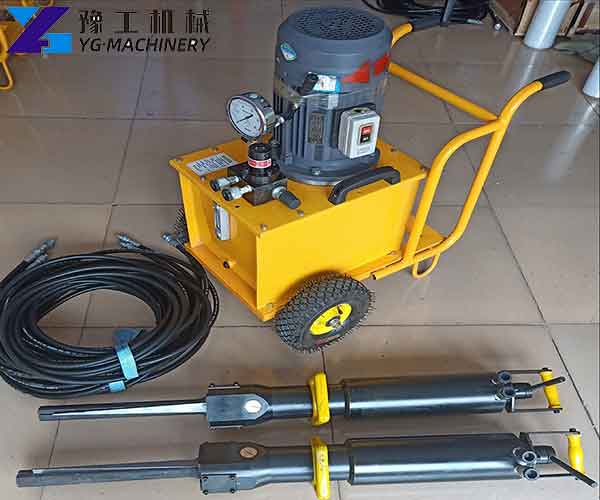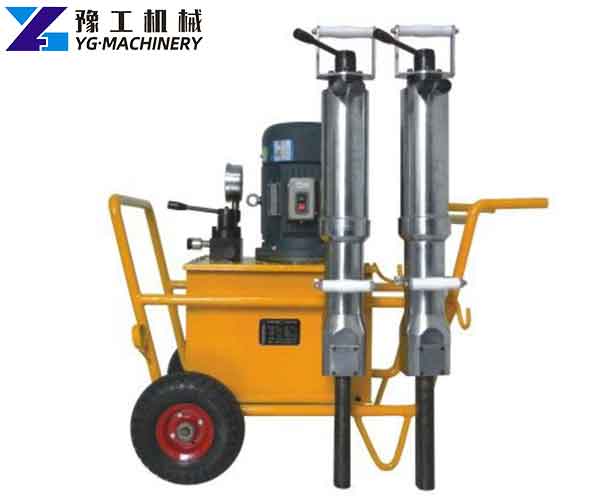 Advantages of Large Hydraulic Rock Splitter
High efficiency: After the equipment is set, press the switch on the excavator to split the work and realize the static controllable work. Therefore, there is no need to take complex safety measures, and the operation is simple and safe.
Environmental protection: Because it is statically separated and has no noise, it will not produce vibration, impact, noise, dust, etc., and the surrounding environment will not be affected.
Simple operation: Simple to set up, no need for cumbersome operating procedures, and no need for high technology, and it can quickly enter the split operation.
Economical: The wedges and cylinders are made of special materials and special processes, which are very durable and not easy to be damaged, and can work continuously without interruption with high efficiency; Suitable for various harsh construction environments.
Versatility: It has a small weight and volume while producing a huge splitting force. It can be operated by a single person. It is convenient to repair and maintain and has a long service life. It occupies an original position in the industry and similar products.
Accuracy: Unlike traditional demolition equipment, the hydraulic splitting machine can accurately determine the splitting direction in advance. It can be dismantled and split precisely as required.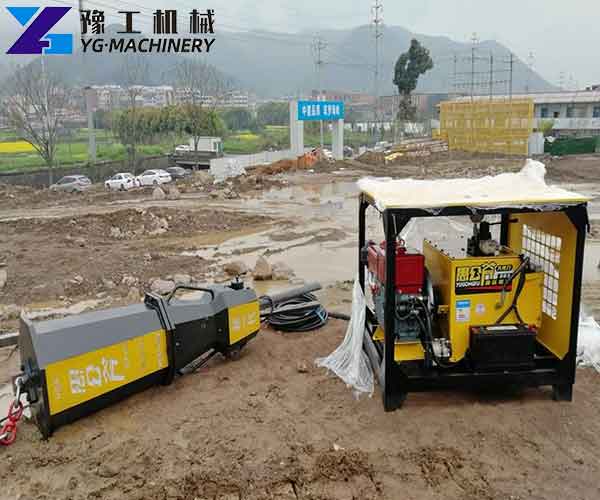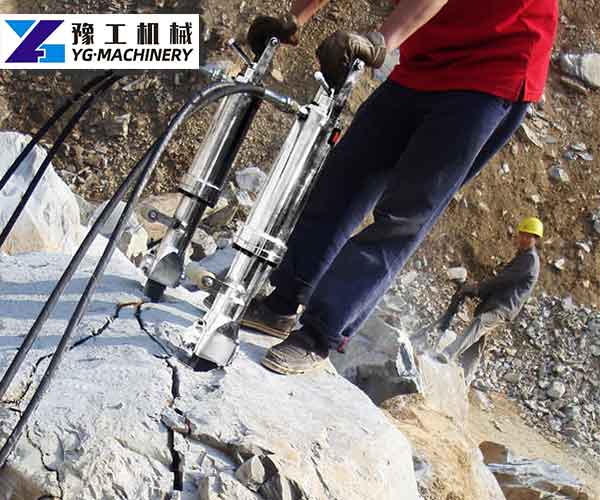 Large Rock Splitter Machine
The large rock splitter machine is composed of a pumping station and a splitter. When working, the high-pressure oil output from the pumping station drives the cylinder to generate huge thrust and drives the middle wedge in the wedge group to extend forward and reverse. The wedges are spread to both sides to split the object (rock) to be split. Please feel free to contact us, you will get a competitive rock splitter equipment price.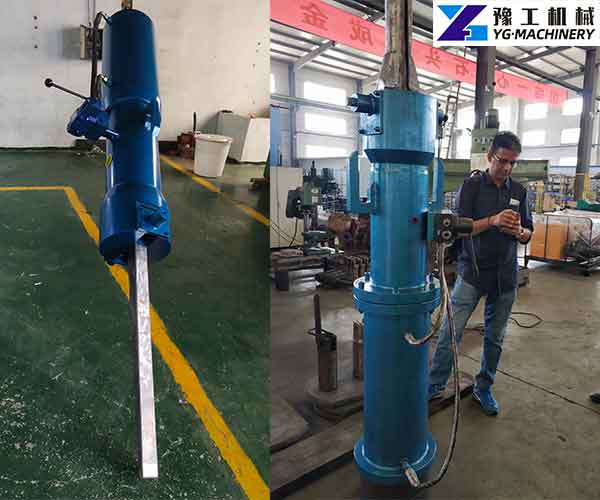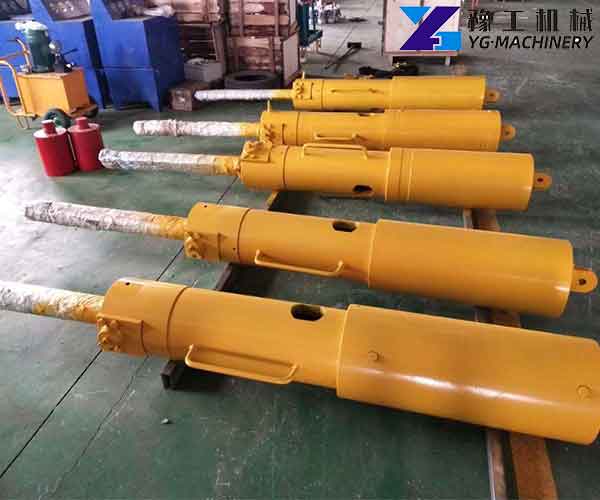 Large Rock Splitter Machine Parameter:
| | | |
| --- | --- | --- |
| Model | YG-Ⅰ | YG-Ⅱ |
| Length | 3100mm | 3200mm |
| Drilling Depth | >1500mm | >1700mm |
| Drilling Dia. | 110-115mm | 130mm |
| Wedge length | 700mm | 1200mm |
| Crack Width | 20mm | 25mm |
| Wedge diameter | 105mm | 125mm |
| Weight | 980kg | 1100kg |
How to Use Rock Splitter Machine?
Use a rock drill to drill a hole in the rock. The diameter of the hole depends on the outer diameter of the wedge component of the hydraulic rock splitter. The size of the wedge component depends on the size of the rock at the construction site. The volume of the rock is relatively large. Diameter wedge components can also be small-diameter porous and the rock volume is small, so small-diameter wedge components are used. The drilling depth is generally 500mm. When drilling holes, pay attention to the orientation of the ore drilling hole should be perpendicular to the surface where the hole is located, the size of the hole should be consistent with the diameter of the splitter, and the depth of the hole should be 200-250mm deeper than the insertion length of the wedge component.
Insert the splitter into the manhole, and adjust the splitting direction appropriately according to requirements.
Start the pump station.
Control the reversing valve to extend the piston and start splitting. After the rock cracks a small fine line, the reversing valve reverses the direction, the piston rod and the inner wedge retract, and rotate the splitter to make it and turn the direction of the initial crack at an angle, and then stop splitting again, so that one rock can be broken into multiple small rocks.
Hydraulic Rock Splitter Machine Manufacturers
As a manufacturer of hydraulic rock splitting machines, YG Machinery can guarantee to provide each customer with quality products at reasonable prices. Not only provide you with splitting machines but also pile breaker, water well drilling rigs, auger drilling rigs, core drilling rigs, down-the-hole drilling rigs, floor grinder machine, mobile concrete pump truck, mortar sprayer machine, sandblasting machine, concrete road cutting machine, road marking machine, asphalt crack filler machine, mini road roller and so on. Click the message box below to get more product quotation information. Or add my WhatsApp+8613598866720 for consultation.