Floor shot blasters also known as shot blasting machines can clean the slurry and impurities, and make the road surface uniform and rough. The machine greatly improves the adhesion strength of the waterproof layer and concrete surface. And it can also expose the cracks of the concrete fully, to prevent the accident. A shot blasting machine is a professional equipment for pavement repair. To increase the separation effect, a floor shot blasting machine should equip with a dust collector. Through a certain medium, the impact surface is dropped at high speed to smooth the surface and improve the quality.
YG Machinery not only owns a floor shot machine but also a shot blaster for sale, a non-curing spraying machine, road making machine, asphalt crack filler machine for sale, fog cannon machine, sand blaster machine, mini road roller,  small asphalt milling machine, etc. You can contact us if you have any needs. Contact us to get the shot blasting machine price right now.
Parameter of YG-550 Floor Shot Blaster: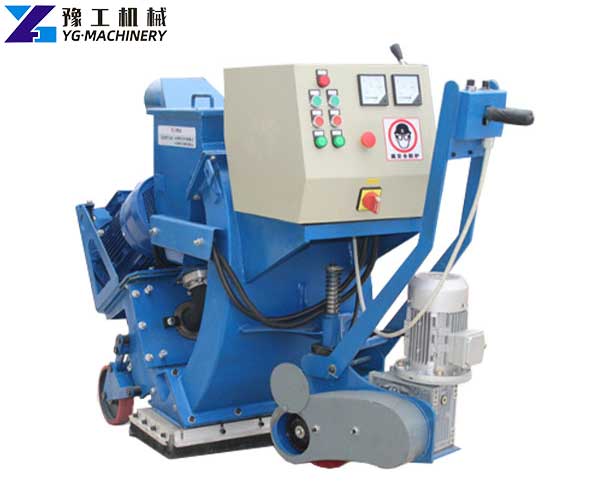 Power: 29.75kw
Working Width: 550 mm
Concrete Cleaning Efficiency: 400㎡/h
Steel Plate Cleaning Efficiency: 80㎡/h
Shot Blasting Power: 2*11kw
Shot Blasting Quantity: 2 set
Steel Pill Consumption: 10 g/㎡
Separation Ability: 20t/h
Shot Blasting Wheel Diameter: 200mm
Shot Blasting Capacity: 200kg/min
Walking Mode: electric
Walking Speed: 5-25m/min
Walking Device Power: 0.75kw
Steel Balls Capacity: 100kg
Diameter Of Steel Balls: 1.5-1.8mm
Dimension: 2050*725*1460mm
Weight: 595kg
Features of Floor Shot Blasting Machine:
Adopt frequency, PLC, text display, and other advanced electrical control technology.
Set the cleaning speed, the supply amount of the steel pill, pulse back-flushing period, and cleaning interval of the dust filter cartridge.
Have high efficiency and is easy to operate.
The construction process is dust-free and pollution-free.
No damage to pavement structure during construction.
Pulse automatic back-flushing and dust removal functions can achieve continuous operation.
Steel shots are circulated automatically inside the equipment, and the consumption is very low.
The structure is reasonable and easy to maintain.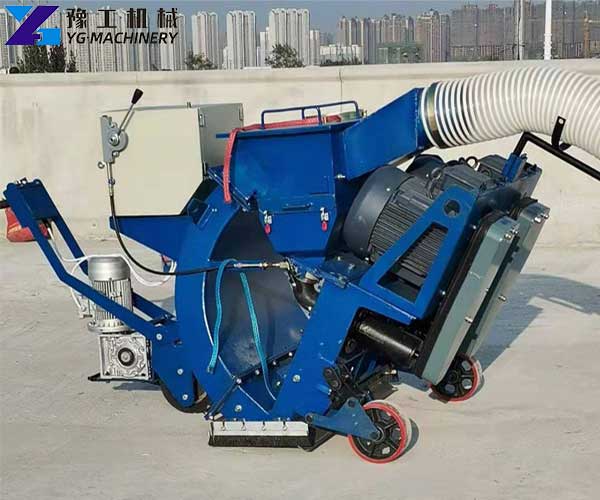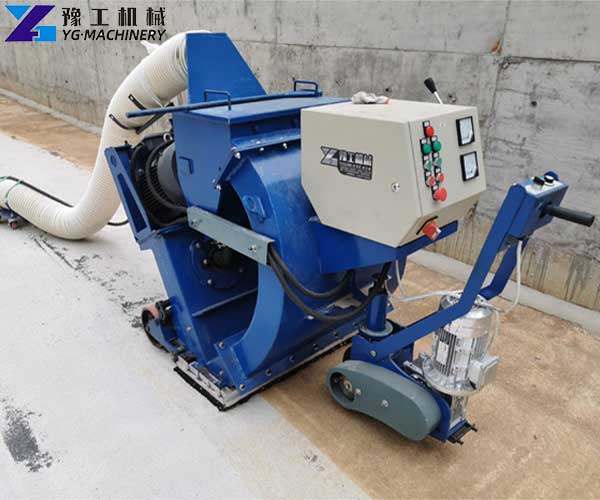 Parameters of Floor Shot Blaster:
Model
YG550/600(Double)
YG-850(Double)
Shot Blasting Wheel Diameter
200 mm
Working width
550/600 mm
800 mm
Walking speed
0.5~33 m/min
Concrete surface cleaning efficiency
≥400 m2/h
≥600 m2/h
Steel plate surface cleaning efficiency
75-100 m2/h
100-160 m2/h
Dust connection pipe diameter
150 mm
Suggest the diameter of steel balls
1.5-1.8 mm
Steel pill consumption
10 g/m2
Supporting dust collector
Eight-core automatic backflush vacuum cleaner
Shot wheel motor
Power consumption
11*2 kW
15*2 kW
Input Current
≤ 22*2 A
≤ 28*2 A
Walking motor
Power consumption
1.5 kW
Input Current
3 A
Size (mm)
1950*720/775*1400
1950*1020*1550
Weight
570 kg
700kg
Power connection requirements
400V, 50Hz, 100A, CEE socket
Working Principle of Shot Blaster for Concrete Floor:
We can obtain different ejection strengths and treatment effects by controlling and selecting the size, shape, and flow rate of the pellets. When the floor shot blasting machine is in operation, the size and shape of the pellets are controlled and selected, and the walking speed of the machine is adjusted and set, the shot flow of the pellets is controlled, different projectile strengths are obtained, different surface treatment effects are obtained. Now contact us to get a cheap floor shot blaster factory price.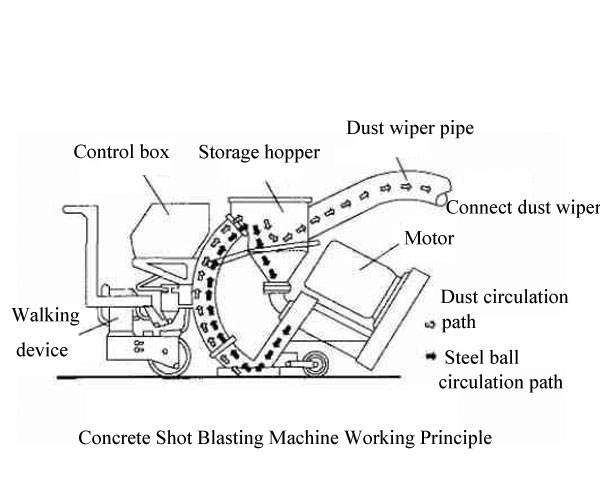 Working Conditions of Floor Shot Blaster:
Working surface unevenness <10mm; no water accumulation and relatively dry; slope <25°.
Ambient temperature: -20 ° C ~ 60 ° C.
Humidity: the relative humidity for concrete shot blasting is not more than 95%.
Altitude: 0 ~ 3000m; not allowed to operate in rain and snow weather.
Supporting Special Dust Collector
The dust removal system mainly includes a dust collector, a fan, a fan pipe, and a connecting pipe. A YG-856 dust collector is a back-flushing dust removal device, specially designed for the YG-550 road shot blasting machine. It can also match with other road surface cleaning equipment. The dust collecting machine is small in size, easy to move and operate. It is the best choice for pavement cleaning equipment. Click on the message box below to learn more about it.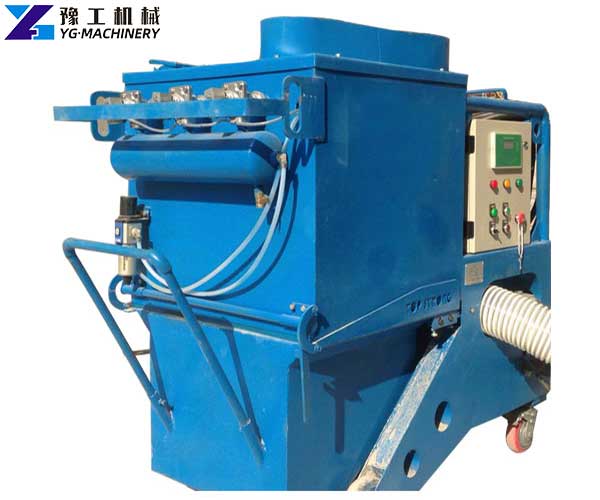 Parameter:
Model: YG-856
Cleanup Mode: Automatic backflush cleaning
Filter Elements Number: 8
Hopper: Small cart
Power: 4kw+3kw
Weight: 580Kg
Dimension: 2030*870*1500mm
Working Principle of Vacuum Cleaner:
The vacuum cleaner machine uses the sequential control principle, which can ensure smooth circulation. The polyester hose is used to assure the connection wear-resistant and reliable. Imported filter paper ensures the dust-removing effect. Fan drive bearings use imported high-speed bearings, to guarantee stable and reliable transmission. Contact us to get floor shot blaster price right now.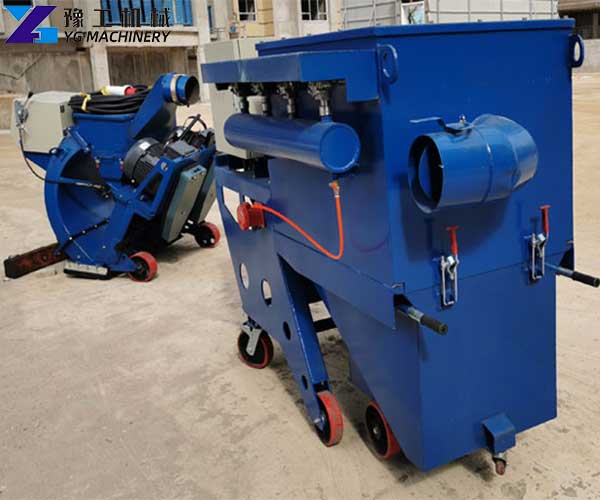 What are the Functions of the Shot Blasting Machine?
It can cleanly and thoroughly remove the surface scum and sand layer;
The capillary pores on the surface of the concrete can be opened completely; the sealing agent or bonding agent can be completely penetrated into the concrete;
Concrete defects can be exposed in advance;
Obtain a rough, uniform, and clean surface, good anti-skid ability, and greatly increase the shear strength and bonding strength between layers.
Floor Shot Blaster Manufacturer – YG Machinery
Shot blaster for concrete floor is indispensable machinery for road maintenance, bridge construction, and airport maintenance. YG company also supplies other sandblasting machines for sale, such as a mortar spraying machine, curb and gutter machine, concrete floor grinder machine, pile breaker machine, hydraulic rock splitter, mini concrete pump, cement sprayer machine,  non-curing spraying machine. They can remove the oxide scale and the sticky sand on the casting surface, and improve the surface quality and obtain a perfect effect. Now contact us to get a cheap floor shot blaster factory price.