Sandblasting equipment for sale, with high efficiency, long life, and high-cost performance.
Sandblasting equipment for sale – High efficiency
YG Sandblasting Machine for sale uses compressed air in the pipeline to transport powdery particles (diameter 1~4mm) from one place to another. In the process of converting kinetic energy into potential energy, the high-speed moving sand particles wash the surface of the object and spray the abrasive to the metal surface is ground on the metal surface to remove surface impurities and oxide layers, improve the surface adhesion of the coating, and improve the surface quality of the object.
Related article: Concrete Wet Spray machine for sale – Shotcrete machine.
The automated sandblasting equipment for sale in our company is different in diameters, heights, volumes, and work efficiency. Refer to the major parameters table below to select the size you need now. Or if you have any questions, please feel free to contact us to get sandblasting machine price right now.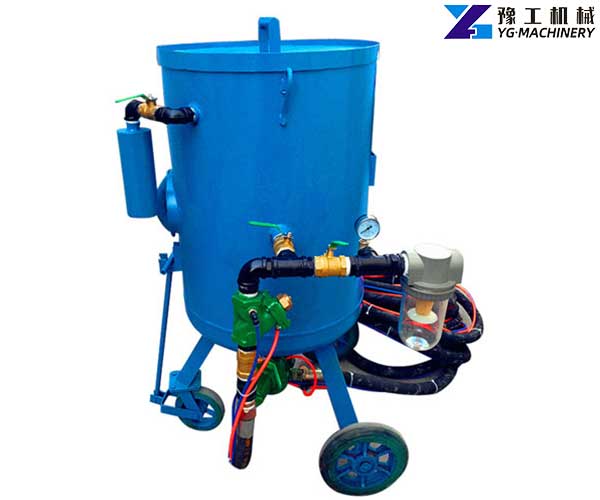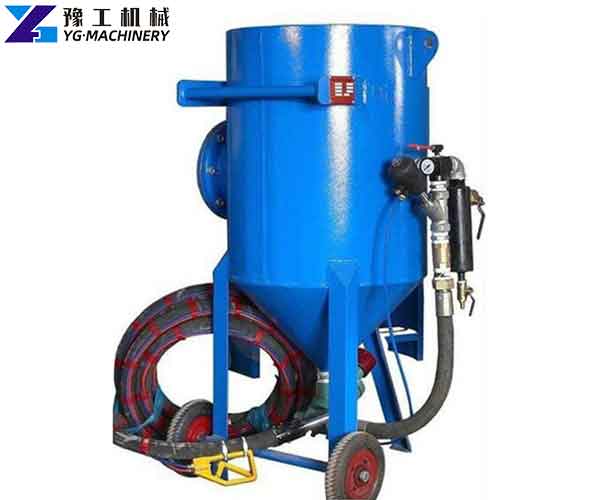 Automatic Sandblasting Machine Parameters:
Machine models
YG400
YG500
YG600
YG700
Diameters(mm)
400
500
600
700
Height(mm)
1150
1150
1150
1250
Volume(cubic meter)
0.26
0.26
0.26
0.3
Pressure(Mpa)
0.4-8
Air consumption(cubic meter per minute)
3
How much does a sandblasting machine cost?
The price of the automatic sandblasting machine currently varies greatly from one to the other. If you need to purchase a sandblasting machine, you must first know the raw materials and size of your workpieces, the number of workpieces you need to process each day, and what kind of effect the sandblasting will achieve, and then decide what kind of spray to buy through consultation with the sandblasting machine manufacturer. The price depends on the quality of the sandblasting machines and to choose the right one, you must check whether the sandblasting machine is suitable for your project.
To learn more about sandblasting machine prices and sandblasting equipment manufacturers, you can contact YG Machinery.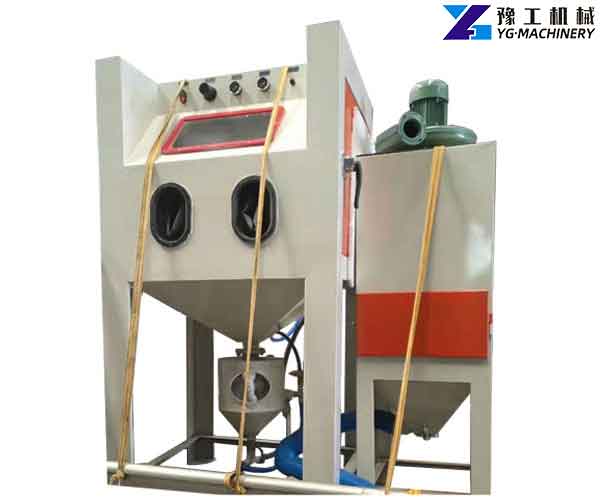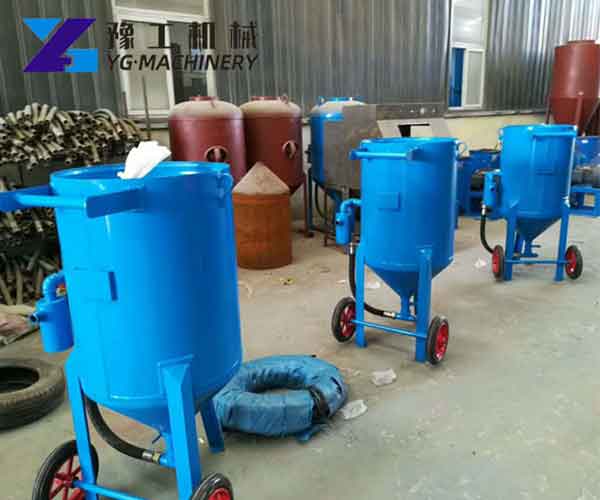 Parameter of Sandblasting Equipment for Sale:
Machine models
YG800
YG900
YG1000
Diameters(mm)
800
900
1000
Height(mm)
1700
2000
2000
Volume(cubic meter)
0.6
0.8
1
Pressure(Mpa)
0.4-8
Air consumption(cubic meter per minute)
3
Characteristics of the Sandblasting Equipment for Sale:
Simple operation: ordinary workers can skillfully operate the machine after half an hour of training, and there is an advanced automatic control system to prevent workers from misoperation.
High production efficiency: the average daily processing capacity of a freezing blasting machine is equivalent to the blasting workload of 50-80 skilled workers.
High sandblasting accuracy: It can remove very small and hidden flashes, not limited by product shape, high pass rate, and stable sandblasting quality.
It can remove the flash of small rubber-plastic alloy products, brittle plastic products, and magnesium alloy, zinc alloy, and aluminum alloy castings of any shape with a complex structure.
Not easy to damage the surface of the object, improve the appearance quality of the product, and increase the service life of the product.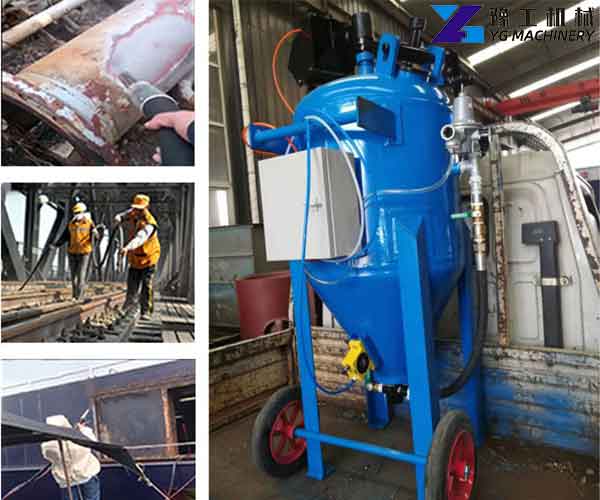 The Role of the Automatic Sandblasting Machine:
Pre-treatment: Sandblasting before electroplating, painting, spraying, etc., which are covered before processing, the surface is absolutely clean, while greatly improving the adhesion and corrosion resistance of the covering layer.
Cleaning: descaling, residue, and dirt of metal workpieces such as castings, stampings, welding parts, heat treatment parts; surface cleaning of non-metallic products, removal of black spots on the surface of ceramic blanks, and reduction of lacquer patterns, etc.
Refurbishment of old parts: refurbishment and cleaning of all moving parts such as automobiles, motorcycles, electromechanical equipment, etc. At the same time eliminate fatigue stress and extend service life.
Light decoration: eliminate traces on the surface of all metal products and non-metal products, and matte surface treatment, so that the product surface is upgraded.
Mold processing: matte surface processing, graphic production, and mold cleaning, not to damage the mold surface, to ensure mold accuracy.
Burr treatment: remove micro burrs of machined parts and eliminate burrs of plastic parts.
Rework of defective products: removal of the defective coating layer, removal of defective surface coloring, and printing.
Strengthening: increase the surface hardness of metal parts and eliminate stress, such as surface treatment of aircraft blades, springs, machined tools, and weapons.
Etching and anti-skid processing: etching patterns, text, and anti-skid treatment on the surface of metal products and non-metal products, such as marble, anti-skid handles, seals, and stele lettering.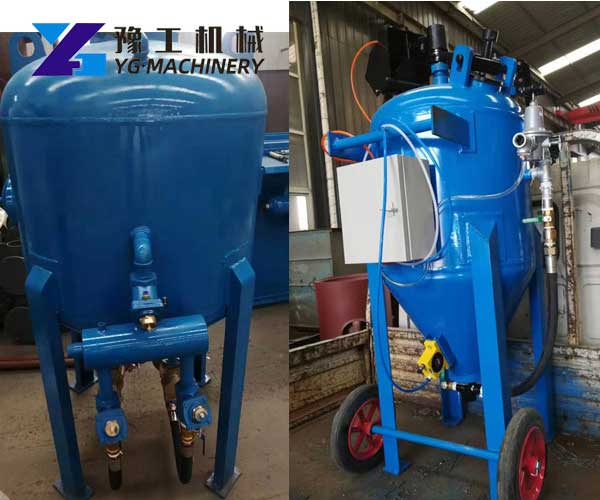 Sandblasting Equipment for Sale Manufacturer—YG Machinery
YG Machinery has a variety of sandblasting equipment for sale: portable sandblasting equipment, water sandblasting machines, mobile sandblasting equipment, sandblasting room, and so on. In addition, YG Machinery can also provide shot blasting machine, mortar sprayer machine, floor grinding machine, road roller machine, hydraulic rock splitter, pile breaker, concrete trowel machine, fog cannon machine, water well drilling rigs, down the hole drilling, etc.
All products support customization, stable performance, and quality assurance. Welcome to inquire about the price, we will sincerely serve you hope. Now contact us to get the best price for wet sandblasting equipment for sale.