With the development of city, road roller for sale is popular in the world. What does the mini road roller do? It is mainly used to repair the pit and cover around the edge, the compaction of the asphalt for small groove backfill, which is applied to asphalt roads, sidewalks, bridges, parking lots, sports grounds and other narrow spaces. YG pavement roller is divided into single drum vibratory roller, double drum roller, ride on roller.
Features of Road Roller for Sale:
The working radius is small, and it can work in a narrow area.
Superior performance, easy to start and operate.
The surface is sprayed against rust and corrosion.
Using hydraulic actuator, variable speed, convenient commutation.
The handrail adopts flat gear adjustment mechanism, which is suitable for workers of different heights.
Low cost, more economical, high efficiency.
Parameter of Small Road Roller:
| | | |
| --- | --- | --- |
| Model | YG-600S | YG-600D |
| Power/Speed | 5.5HP | 6.0Hp / 3600rpm |
| Walking Speed | 2.4km/h | 0-4km |
| Climbing Capacity | 25% | 30% |
| Load | 45N/cm | 45N/cm |
| Drum Wheel | single drum | double drum |
| Drum Wheel Size | 426*600mm | 450*600mm |
| Excitation Force | 20KN | 20KN |
| Water Tank Volume | 15L | 15L |
| Engine | Honda GX390 | Honda GX390 |
| Engine Type | Diesel/Air cooling/4stroke  OHV Single Cylinder | Diesel/Air cooling/4stroke  OHV Single Cylinder |
| Oil Tank Volume | 3.6L | 3.6L |
| Package Size | 1050*900*1200mm | 1050*900*1200mm |
| Weight | 330kg | 550kg |
The YG-600S walk behind road roller is used to compact the asphalt surface, compact gravel and sand, crush the lawn. The work radius of single drum road roller is small, the armrest adopts plane gear adjusting mechanism, which is flexible and convenient to operate for workers of different heights. The walk behind vibratory roller has a high roadside clearance and a small side clearance, it is ideal for wall and road rock compaction.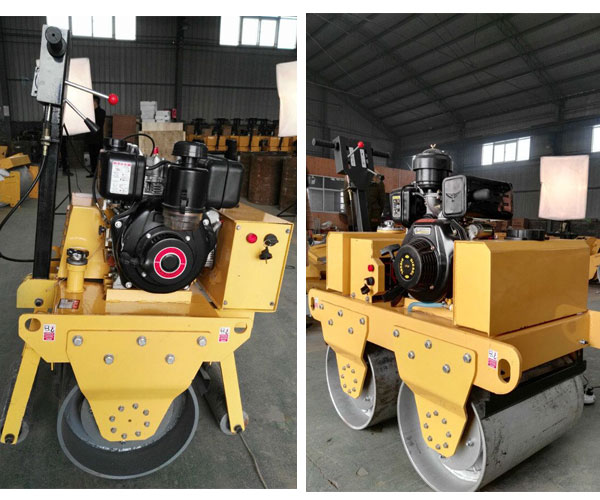 The YG-600D double drum road roller can be moved back and forth, has the characteristic of convenient commutation, flexible steering, labor-saving and convenient operation; the device of "reverse" forced reversing lever makes the operation safer. Its armrests can be erected to reduce transportation space.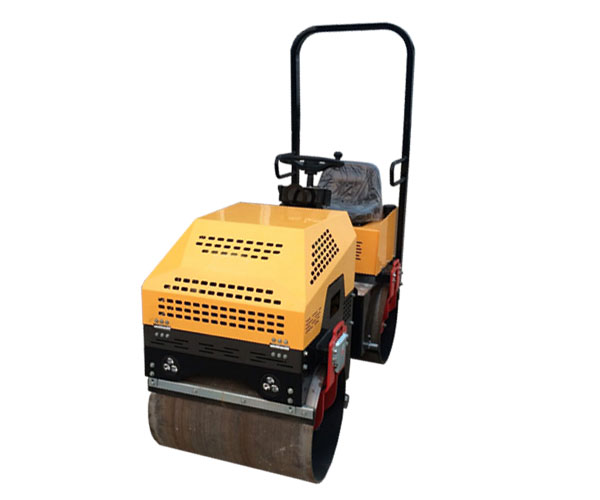 Parameter of Hydraulic Road Roller:
| | | |
| --- | --- | --- |
| Model | YG-850 | YG-880 |
| Power | 6.0HP | 25HP/20HP |
| Walk Speed | 0-4km/h | 0-5km/h |
| Climbing Capacity | 30% | 30% |
| Static Linear Load | 45n/cm | 45n/cm |
| Exciting Force | 20KN | 50KN |
| Vibration Frequency | 70HZ | 70HZ |
| Drive Mode | Hydraulic Drive | Hydraulic Drive |
| Water Tank | 15L | 15L |
| Hydraulic Oil Tank | 3.6L | 19L |
| Engine Model | Honda GX270 | HONDA GX390 |
| Steel Wheel Size | 580*700mm*2pcs | 800*850mm |
| Dimension | 1550*850*1100mm | 2100*1000*1650mm |
| Weight | 750kg | 1000kg |
The YG-850/880 full hydraulic ride on roller has a famous diesel engine, uses international famous brand SAUER hydraulic rotating unit. The handrail adopts a flat gear adjustment mechanism, which is flexible and adaptable to workers of different heights. It adopts international famous NSK bearings, MITSUBOSHI (samsung) triangle, guaranteeing the working performance of the machine. The ride on roller is compact, small in size, powerful in excitation, and can be moved forward and backward for convenient conversion. Moreover, it has an adjustable folding handle for easier transportation and storage.
Why Is Road Roller Important for Road Maintenance?
The mini road roller machine is very convenient on road maintenance, it is easy to operate for compacting the cement stabilizing layer on the road.
The vibratory roller has a very important role in the edge zone of some groove angles. In fact, when compacting the cement asphalt at the corners, it is inconvenient with large road roller. In this case, the advantage of mini road roller is obvious, it is very flexible to finish the work.
When backfilling compaction on pipes, passages, bridges and others, the large road roller will certainly destroy the structure of these facilities, but this problem will not appear on small road roller.
How Does the Drum Roller Work?
The vibrating action of the roller allows the base material to realign and compact from the bottom up. A hydraulic motor drives a centrifugal weight on the drum shaft that provides the compacting action.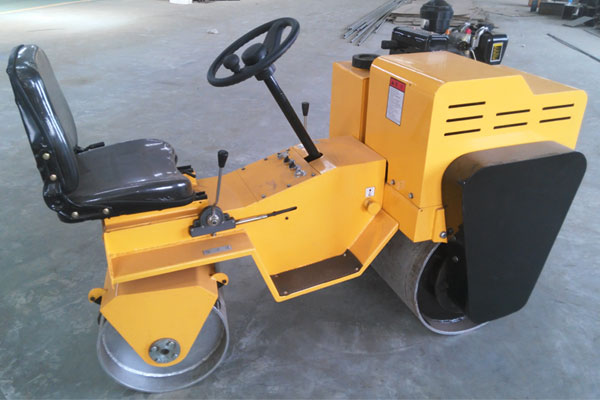 How to Maintain Road Roller Machine?
The maintenance of the vibrating drum roller is important, which can increase the life of machine. The maintenance work includes cleaning the body and fitting accessories correctly.
Clean up the mini road roller: including engine, gearbox, hydraulic pump, tubing connection, etc. Flush the water tank, radiator and cooling passages to monitor leakage and help to enhance heat dissipation.
Pay attention to observe whether the bolts of the connecting parts of the mini road roller for sale are complete. For example, engine claw bolts, drive shaft bolts, gearbox fixing bolts, etc. Fasten the loose bolts in time and complete the lost bolts.
Put butter on each lubrication point, and replace the hand-held roller antifreeze oil, gear oil, hydraulic oil and coolant according to the requirements of the instruction manual.Replace the oil filter, diesel filter, hydraulic oil filter and hydraulic transmission oil filter as required.
If the road roller is idle for a long time, the water in the engine water tank must be discharged. Especially in the cold winter, the water must be drained after daily work.