Ride on roller for sale is suitable for various compaction operations, and widely used in construction sites. Different from walk behind roller compactor, ride on rollers are equipped with luxurious seats. Double drum ride on rollers are easy to adjust and comfortable to work. Due to the small radius, ride on roller can work in a narrow area. And the double steel wheels make it have better compaction efficiency. The double drum ride on roller adopts excellent anti-vibration measures, so that the staff will not be fatigued even if they work for a long time.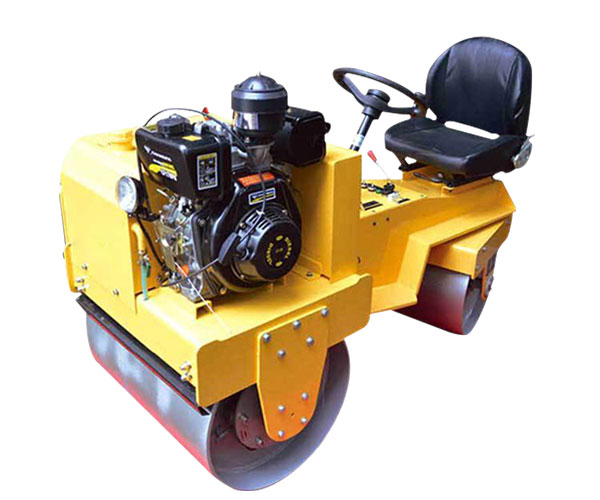 Parameter
Model: YG-850
Power: 6.0 / 3600rpm
Speed: 0–4km / h
Climbing Ability: 30%
Steel Wheel Size: 580 * 700mm
Vibration Frequency: 70Hz
Exciting Force: 35KN
Water Tank Capacity: 15L
Fuel Tank Capacity: 3.6L
Drive: SAUER hydrostatic drive
Vibration: Mechanical transmission, electromagnetic clutch
Dimension: 1600 * 900 * 1200mm
Weight: 750kg
Features of Ride on Rollers:
Adopt Honda gasoline engine, advanced quality assurance, superior performance, easy to start.
Adopt international advanced SAUER hydraulic transmission unit, stepless speed change. The walking mode is forward and backward, it is easy to change direction.
Electrical start and electromagnetic vibration control make operation more convenient.
Use international NSK bearings and MITSUBOSHI V-belt, which can ensure the performance of the road roller.
The surface of double drum roller is beautiful, rust and corrosion resistant.
Four-stroke engine has high reserve power, low fuel consumption, low noise, and excellent durability. At the same time, it has an oil sensor, and it has an automatic shutdown function when the engine oil is insufficient.
Equip with a water tank to increase the continuous working time of the equipment.
The driving mode is designed as a fully enclosed hydraulic control system, which ensures the effect of walking and compaction.
The steel wheel has an auto-pressing polyurethane automatic cleaning scraper. It can prevent dirt and asphalt from accumulating on the steel wheel, make compaction smoother.
The design of side body is compact, which is very easy and convenient to work on the edges and corners.
Road Roller Types
YG vibratory rollers mainly divide into walk behind roller and ride on roller. There are mainly two types ride on roller for sale.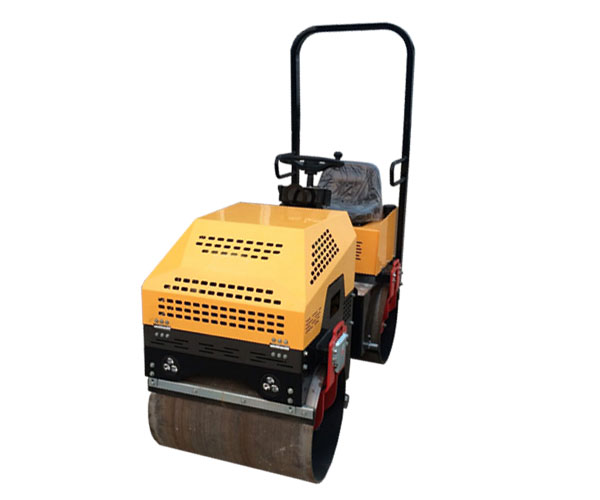 Parameter of Full Hydraulic Driving Roller
Model: YG-880
Power: 25HP / 20HP
Speed: 0-5KM / H
Climbing Ability: 30%
Steel Wheel Size: rear wheel 740 * Φ850, front wheel 800 * Φ850
Exciting Force: 50KN
Vibration Frequency: 70Hz
Fuel tank capacity: 19L
Vibration Mode: electromagnetic clutch
Dimension: 2100*1000*1650 mm
Weight: 1000KG
Application:
Ride on roller for sale is suitable for compacting asphalt layer in the narrow place, where it is difficult to enter. Such as sidewalk, bicycle lanes, parking areas.
Sub-layer compaction of cement stable layer; compaction of asphalt concrete at trench edges and corners.
During the construction of the backfill, such as pipes, culverts, aisles, and abutments, compaction work in areas where large road rollers cannot work.
Pavement paving of municipal garden landscape, residential landscape, golf course construction, sidewalk.
Working Principle of Double Drum Ride on Roller
Compression stroke: The piston moves from bottom dead center to top dead center driven by the crankshaft. At this time, the exhaust valve still closes, and the intake valve starts to close gradually. As the piston moves upwards, the cylinder volume decreases.
Exhaust stroke: The gas in the cylinder pushes the piston to the bottom dead center at the end of each work. The mixture becomes an exhaust gas due to combustion. At this time, the piston moves from the bottom dead center to the top dead center under the driving of the cylinder, and the exhaust gas in the cylinder discharges through the exhaust valve, until the piston reaches the top dead center.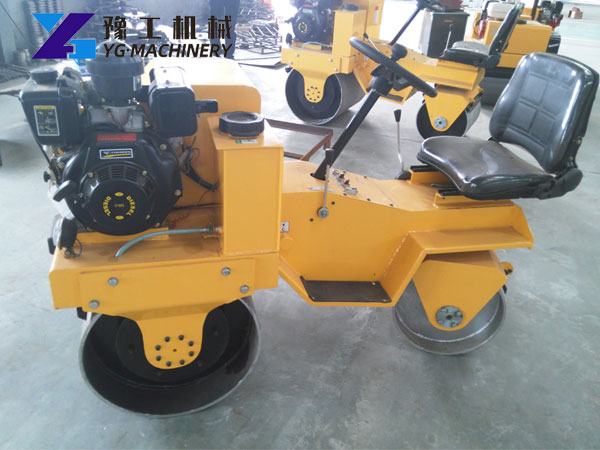 Note :
When shifting gears, the vehicle-mounted roller must stop before going uphill, and should be in low gear when going downhill.
Driver rollers are not allowed to make sharp turns when driving at high speeds.
The differential lock device should place in a differential position during normal operation. So as to road roller can turn normally, and avoid damage to the road surface. When the machine is stuck in a mud pit or there are large stones blocking the rear wheel, the differential locking device can place in the locked position, in order to help the double drum roller overcome the rear wheel slip and obstacles.
Maintenance on Double Drum Vibratory Rollers
Compared with walk-behind rollers, double drum ride-on rollers are much lighter, so the ride on roller is popular in double drum vibratory rollers. There are shock-absorbing rubber pads on the rollers, which are also relatively easy to damage. How can we extend the life of the cushion?
Tighten the shock absorbing bolts before working.
Regularly clean up the residue on the cushion.
Set the throttle controller to the highest speed before vibration compaction operation.
The road roller is strictly forbidden to be exposed to the sun or low temperature environment for a long time.
Ride on Roller Price
YG company is a road roller manufacturer, YG machinery has committed research and development the road machine for 20 years. YG road rollers are our hot sale product, because the vibratory roller price is reasonable and competitive. We have professional technicians and sales staff. If you are interested in our road roller or other road machines, please feel free to contact us.