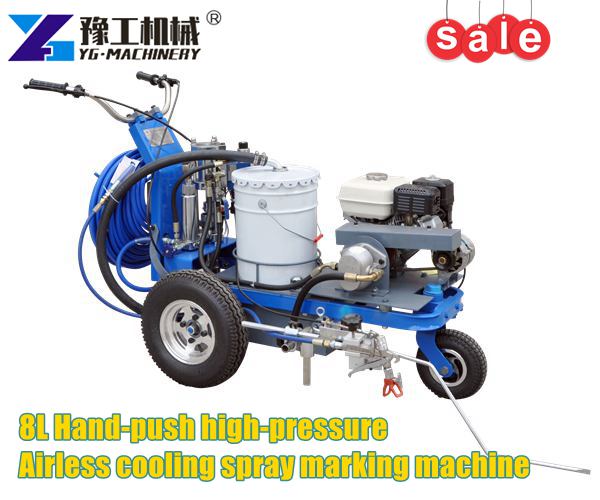 Cold Spray Hand-push Airless Road painting machine is widely used for marking restrictive signs of different guidelines and warnings on the highway, parking, square, runway, and other flat roads. Advantages: High speed, high performance, innovative tech, proven quality.
If you are looking for Cold paint cold plastic airless pavement marking machine for sale, please leave a message.
Cold Spray Road Painting Machine
Because the paint does not require compressed air atomization, it is called airless spray. Cold paint Road Painting Machine uses a high-pressure equal flow type airless sprayer. This line marking machine is driven by a Honda engine to form a high pressure for spraying. The spray gun uses a rod lifting design, and accurate and convenient spray width adjustment making the line evenly thick and uniform. This series of Road marking equipment for sale is suitable for road marking, runway routes, garage marking, and so on. Now contact us to get a cheap road painting machine factory price. WhatsApp/Tel 008613598866720.
Parameter of Road Painting Machine:
| | | |
| --- | --- | --- |
| Model | YG-6L | YG-8L |
| Engine Power | 4.3HP | 7HP |
| Unloading Flow | 6L/min | 8L/min |
| Max Output Pressure | 25mpa | 30mpa |
| High-Pressure Pipe Strength | 35mpa | 40mpa |
| High-Pressure Pipe Length | φ6*10m | φ6*2 φ10*10m |
| Max Spray Width | 20cm | 45cm |
| Dimension | 1270mm*430mm*650mm | 1400mm*850mm*1050mm |
| Net Weight | 72kg | 130kg |
Features of Line Painting Machine:
High efficiency: spraying efficiency is up to 200-500㎡/h, which is more than 10 times that of the drive roller.
High quality: sprayed layer is smooth, and dense, with no brush marks, roll marks, or particles.
Long-life for use: high-pressure airless spray enables the paint particles to penetrate into the voids of the road. So the paint film and road surface form a mechanical bite, enhance the paint adhesion, and prolong the service life.
It is easy to paint corners, voids, and uneven brushing areas.
Save paint: the coating utilization rate is high. And it is easy to obtain a thickness of 30um coating for airless spraying, which can save 20-30% of the coating.
Structure of Road Painting Machine:
Road Painting Machine consists of frame, gasoline engine, the main body of pump body, suction and gas valve, pressure regulator valve, high-pressure hose, spray gun, suction mounting, and gun mounting, etc. Send your requirement to us if you need to buy road painting machine.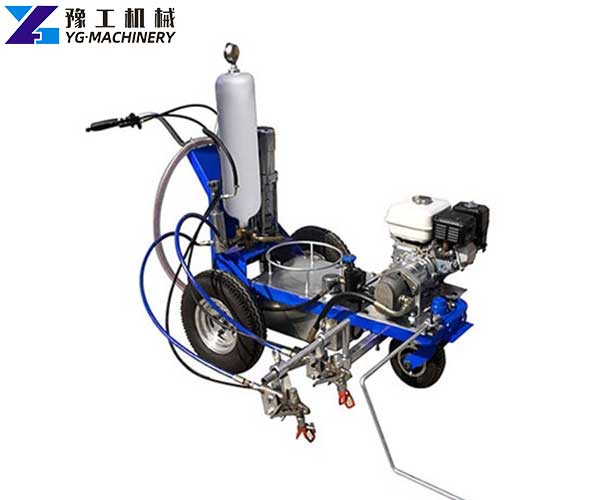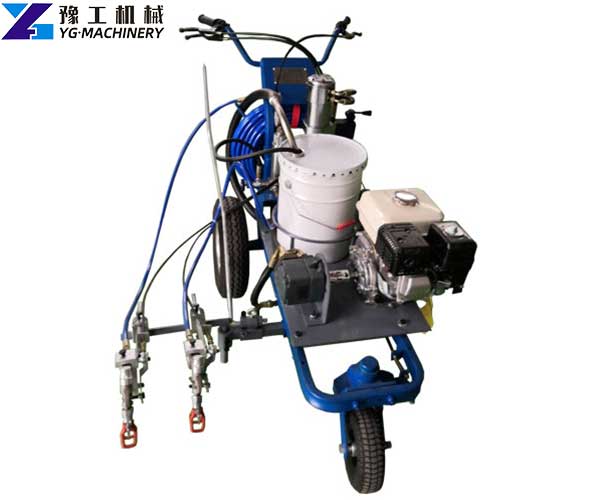 Hand-push Cold Spray Road Marking Machine:
| | | |
| --- | --- | --- |
| Model | YG-8S | YG-8D |
| Power | 5.5HP | 5.5HP |
| Plunger Pump | Electronic Commutation | Automatic Reciprocating Reversion |
| Spray Gun Quantity | Single Gun | Two Guns |
| Operation Mode | Hydraulic Drive | Hydraulic Drive |
| Work Pressure | 8-12MPa | 8-12MPa |
| Flow Of Spray | 4.8L/min | 8L/min |
| Width Of Spray | 100-300mm | 100-450mm |
| Thickness Of Spray | 0.2-0.4mm | 0.2-0.4mm |
| Dimension | 1600mm*800mm*1200mm | 1600mm*800mm*1200mm |
| Weight | 120kg | 120kg |
Vehicular Scribing Machine
An airless spray marking machine pressurizes the paint to 3000PSK 210Kg/cm by a high-pressure plunger pump, the high-pressure paint is delivered to the spray gun through the high-pressure hose, and the pressure is released through the nozzle to form a spray, thereby forming a dense coating on the wall surface. Click here you can check our road painting machine for sale.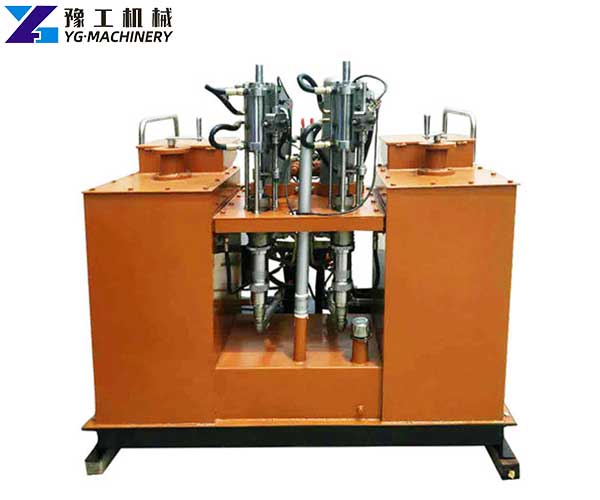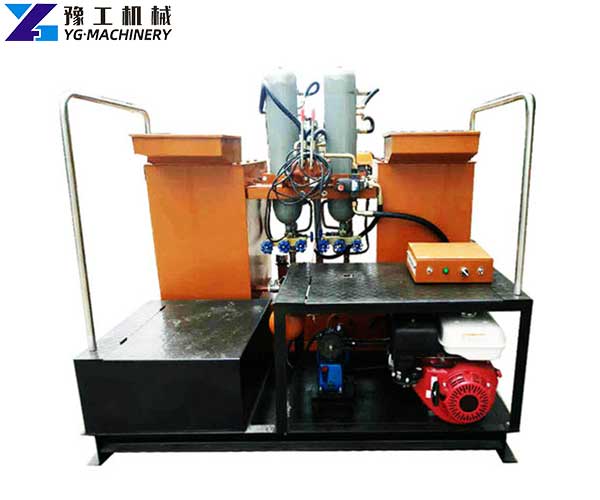 Parameter:
Model
YG-9HP
YG-13HP
Power
9HP
13HP
Spray Gun Quantity
Two Guns
Drive Mode
Truck-mounted
Work Pressure
10-18MPa
10-18MPa
Flow Of Spray
20L/min*2
20L/min
Width Of Spray
100-450mm
100-450mm(single gun)
Thickness Of Spray
0.2-0.4mm
0.2-0.4mm
Dimension
1150mm*1050mm*1300mm
1530mm*1230mm*1380mm
Weight
200kg
600kg
What Should We Do Before Road Painting Machine Working?
The paint to be sprayed must be filtered through a 60-mesh screen;
Install the high-pressure hose, spray gun, nozzle, suction tube, and so on.
Check the connection of every part in the high-pressure system.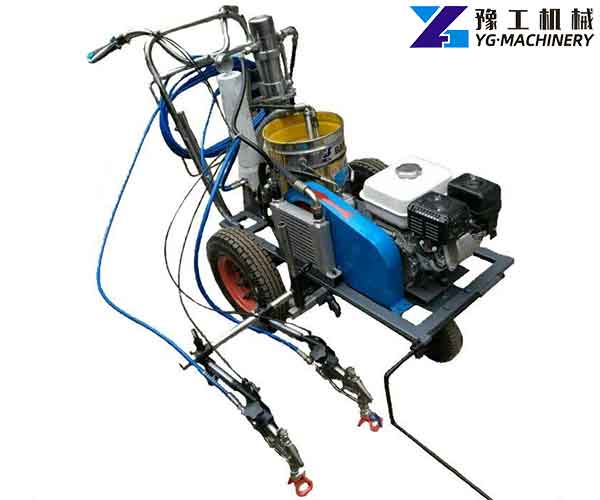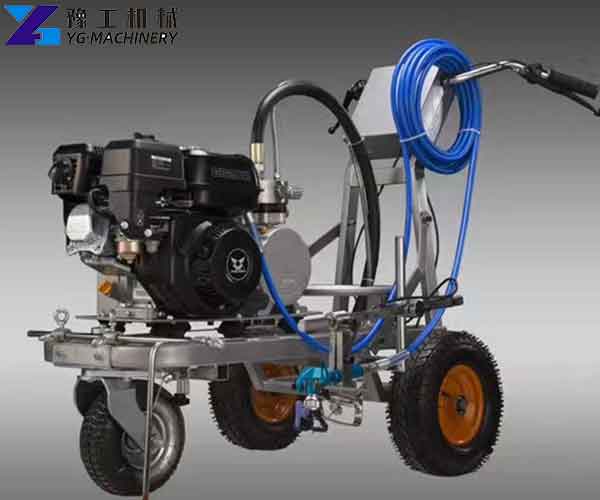 Test Step Before Spraying:
Put an amount of water into the tank, and open the exhaust air valve counterclockwise, start the motor, rotate the pressure regulator valve clockwise. When the water is sucked into the suction pipe and flows out of the return pipe, close the exhaust air valve and rotate the pressure regulator valve clockwise until the air is drained. When the pressure gauge reaches about 1500psi, check back-flow and leakage of the return pipe and other connectors.
If this phenomenon exists, press the "Pressure Relief Step" to relieve pressure first, then tighten the leaked part. If not, open the spray gun to perform the test and keep the pressure between 1000-1300psi.
Pressure Relief Procedure:
Open the pressure regulator valve and exhaust air valve counterclockwise.
Close the motor switch.
Note:
When opening the air exhaust valve, you should grasp the air exhaust valve hose firmly for avoiding falling off.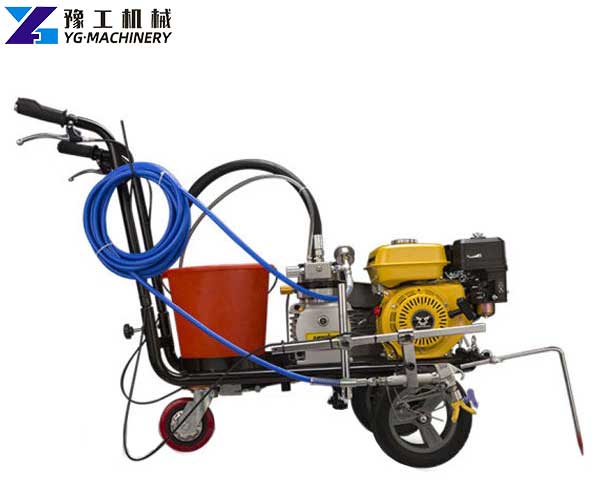 How to Maintain the Road Painting Machine?
The sprayer should be cleaned immediately after finishing the spraying operation, which can remove any residual paint and prevent it from becoming hard. It also needs to change the paint into the corresponding solvent, and operate the machine until all paint in the machine is sprayed.
It is necessary to clean the filter of the spray gun after using the road painting machine for a period of time. If the filter element is found to be damaged, the new filter element should be replaced.
Spraying is not smooth during the spraying process, please check and clean the aspiration filter in time.
Periodically check if the fasteners are loose, and the seals are leaking.
Clean the oil inlet filter regularly, which can prevent foreign body plungers from causing abnormal wear of the plunger.
Under normal conditions, it is necessary to check whether the hydraulic oil is clean and missing, after spraying for 400 hours. If hydraulic oil is clean but missing, add it; or if it is not clean, replace it. Replace the hydraulic oil, it needs to clean the oil chamber of the pump body with kerosene first, and then fill up the hydraulic oil.