A walk-behind roller compactor is a mini road roller for compaction operation. It is convenient and lightweight, suitable for narrow areas and places where large rollers cannot enter. The YG walk behind roller compactor uses a small engine to drive the hydraulic system, the contact surface is compacted and flattened by the vibration of the steel wheel. The single-person operation is flexible and changeable, and the walk behind roller provides an efficient and convenient working method for small-scale compaction work.
The small road roller consists of four parts: engine, operating handle, steel ring, and hydraulic system. It has the advantages of small size, compact structure, and easy to use. So walk-behind roller for sale is often used for road maintenance, landscape gardening, golf courses, and other road compaction.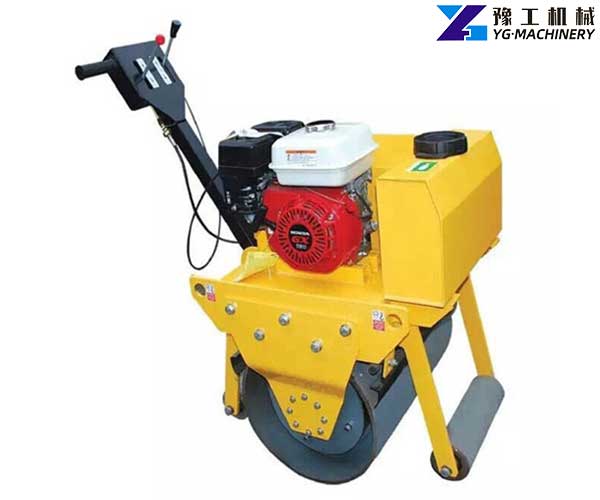 Parameter of Single Drum Roller
Model: YG-600S
Engine Power: 5.5HP
Walking Speed: 2.4km / h
Drive Method: hydraulic drive
Walking Way: both-way
Steel Wheel Size: 426 * 600mm
Maximum Excitation Force: 15KN
Vibration Frequency: 70Hz
Vibration Clutch Method: Automatic
Climbing Ability: 25%
Weight: 330kg
Dimension: 1070*980*1200 mm
Types of Walk-behind Roller Compactor
According to different engines, walk behind roller compactor includes electric small road roller, gasoline walk behind asphalt roller, and diesel walk behind roller. According to different steel wheels, the walk behind the vibratory roller can divide into single drum vibratory roller, double drum vibratory roller.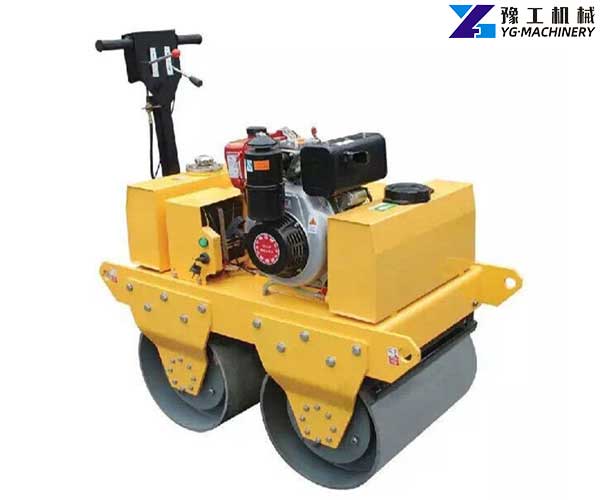 Parameter of Double Drum Vibratory Roller
Model: YG-600D
Power: 6.0hp / 3600rpm
Speed: ​0-4km / h
Climbing Ability: 30%
Loading: 45n / cm
Steel Wheel Size: 426 * 600mm
Vibratory Force: 25KN
Water Tank Capacity: 15L
Fuel Tank Capacity: 3.6L
Weight: 550kg
Dimension: 1310*1200*1220 mm
Features of Walk-Behind Roller Compactor:
Compact structure, small size, large excitation force, convenient for site conversion.
The armrest adopts a plane gear adjustment mechanism. The walk-behind roller is flexible and convenient and can adjust to workers of different heights.
Small walk-behind rollers have a small working radius and ultra-narrow pass width. It can replace conventional compaction equipment.
A small road roller has two vibration frequencies and a two-stage amplitude. It can adapt to different thickness plies and compaction of various materials.
The steel wheel surface of small walk-behind rollers is beautiful and has a long service life.
Working Principle
In order to compensate for its small overall size and lightweight, small walk-behind rollers equipped with a vibration device. The walk-behind vibratory roller not only ensures a good compaction effect but also improves operating efficiency. The walk-behind roller uses a centrifugal clutch to control the vibration, and it has a continuously variable speed function. It can also directly control the magnitude of the exciting force through the throttle. Therefore, the operation of the walk behind the road roller is simple. In addition, it also uses hydraulic driving to drive in both directions, chain transmission, which makes greater torque and more stability.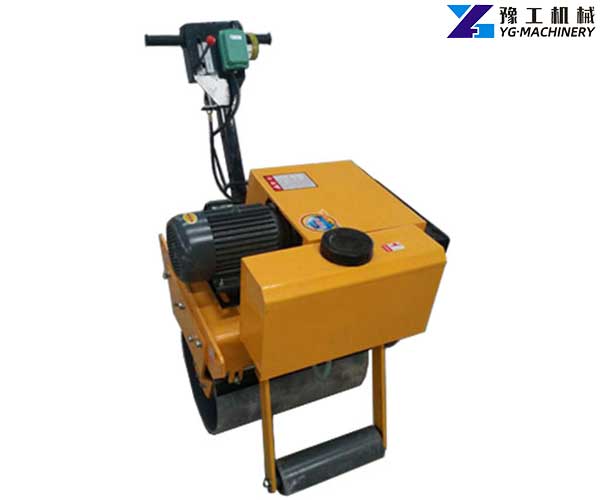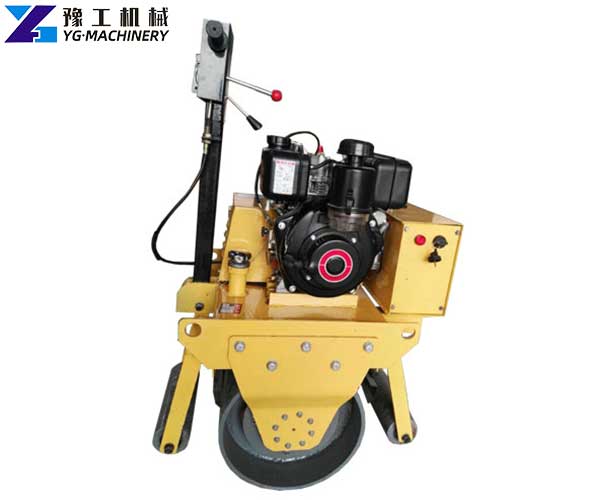 Operation of Vibratory Devices
The vibration device of the small walk-behind roller cannot work on hard ground.
Vibration devices cannot be used during the high-speed rolling operation.
When multiple rollers work at the same time, it should keep a distance of at least 2.5 meters each other.
When reversing a small walk-behind roller, first stop the equipment, and then push the reversing handle in the other direction.
How to Operate the Road Roller in Different Environments?
When working on asphalt pavement, it should be sure that the bottom layer of the asphalt mixture is clean and dry, and spray the asphalt bonding layer. So as to prevent the movable of asphalt mixture during the rolling process.
When rolling uphill, the speed of the walking roller should keep smoothly, and the drive wheels should be behind.
If the slope of the work surface is too steep, you can use the downhill rolling method. Do pre-compress with a light roller, and then compact.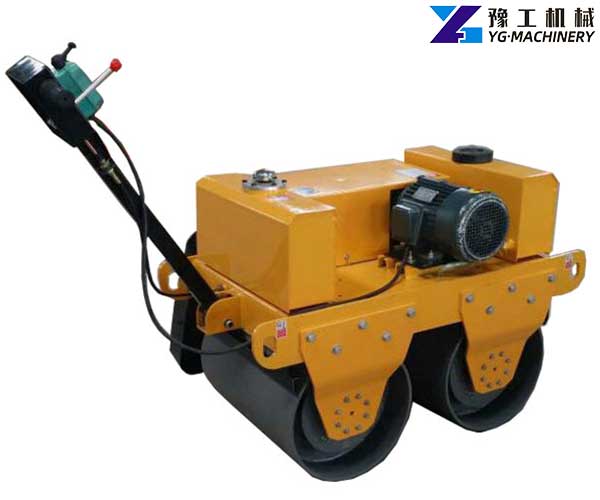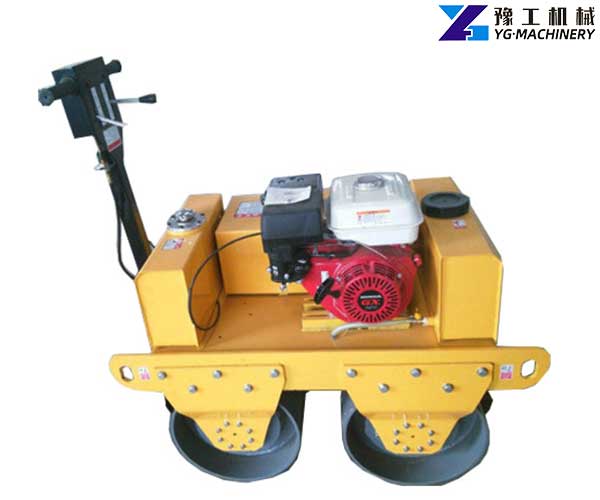 Precautions for Initial Operation
The small walk behind roller must pay attention to the following three matters when they are used for the first time, so as not to reduce the service life of the equipment.
Because the parts of the small walk-behind roller are brand new, during the first operation, the bearing pressure is unstable. So in the initial operation, workers should control the working time and the intensity, in order to avoid severe wear and tear on the parts.
Be sure to avoid impact and heat when using for the first time, otherwise, it is easy to cause important parts loosening.
It is necessary to regularly perform lubrication between various components, which can prevent the surface of the parts from scratching.
Walk-behind Roller Compactor Manufacturer- YG Machinery
The YG walk-behind roller compactor has a compact structure, so its operation is relatively simple. The walk-behind roller can help us to work in some narrow places, the working efficiency is high, and the effect is good. Small walk-behind rollers are suitable for compacting a variety of non-cohesive soils, crushed stones, and various asphalt concrete. They have strong mobility and a wide range of applications. Friends in need are welcome to come to consult and buy, we will serve you wholeheartedly.