The road marking machine for sale is used to survey and map road and road traffic safety signs such as zebra crossings, sidewalks, lanes, and other road signs, and delineate road construction machinery with different constraints. According to the construction temperature, use method, and use place. The road marking machine is divided into two types: thermoplastic road marking machine and cold spray marking machine.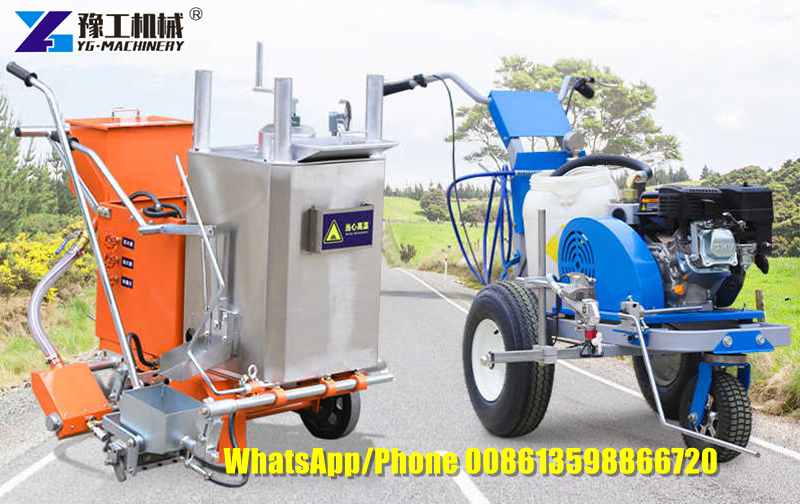 You can choose a suitable road marking machine sold by YG Machinery Company according to your needs, and contact us for a quote. Now contact us to get a cheap road marking machine for sale factory price.
Thermoplastic Road Line Marking Machine For Sale
A thermoplastic road marking machine is a machine used for thermoplastic marking of highway pavement. The thermoplastic road marking machine for sale is used to carry out road and other road traffic safety signs such as zebra crossings, sidewalks, lanes, and other road signs and traffic construction equipment. It can draw various marking lines with reflective properties such as road centerlines, traffic lanes, and airports. It is mainly used for the scraping operation of hot melt marking. After replacing the marking bucket, the marking construction of various widths can be completed. Click here you can check our road marking machine for sale.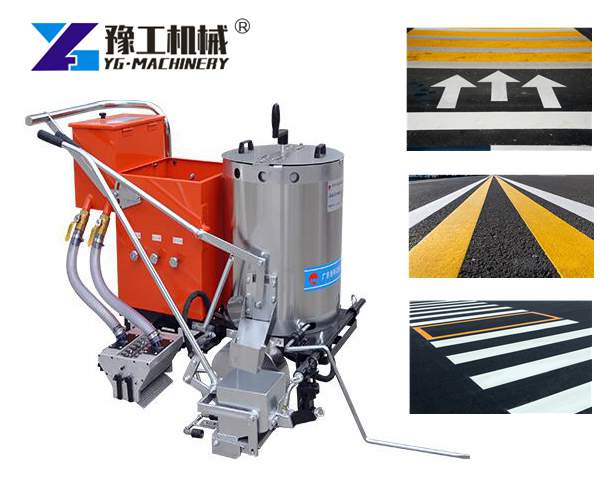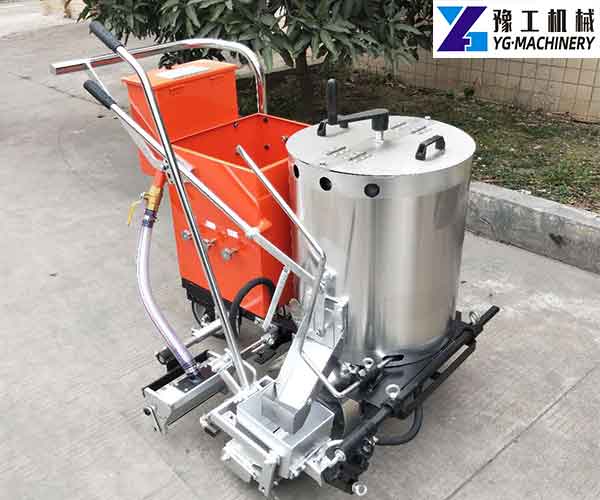 YG-180 Road Line Marking Machine Parameters
| | |
| --- | --- |
| Model |  YG-180 |
| Spraying Capacity | 100kg/time |
| Width | 100mm, 150mm, 200mm, 300mm |
| Thickness | 1.0-3.0mm |
| Speed | 1.5km / h |
| Heating Temperature | 180-230 ° C |
| Heating Method | petroleum liquefied gas |
| Volume | 1400*900*1150mm |
| Weight | 150kg |
YG-360 Thermoplastic Road Marking Machine Technical Info
| | |
| --- | --- |
| Model | YG-360 |
| Thermoplastic Paint Tank | Double stainless steel heating insulation barrels; Capacity 100kg; Plug-in manual mixer device |
| Glass Beads Container | 10kg/box |
| Adjustable Glass Beads Dispenser | Synchronized with the line; Adjustable width: 50mm-200mm |
| Marking Mold | High-precision ultra-thin material; Scraping structure; uniform and even marking line; 150mm standard equipment |
| Knife Under-frame | Carbide with adjustable eccentric sleeve |
| Scope Marking Thickness | 1-2.5mm |
| Tire | Alloy wheel with special heat-resistant rubber; Rear wheel directional steering device ensures moving in a straight line and turning freely |
| Heating Method | Liquefied petroleum gas |
| Marking Width | 50/100/150/200/250/350/400/450 mm (optional) |
| Dimension (L*W*H) | 1250mm*900mm*950mm |
| Weight | 110kg |
What are the Advantages of Thermoplastic Road Marking Machine
Strong adhesion: the thermoplastic marking paint has strong adhesion to the ground, which fully guarantees the completeness and clarity of the marking.
Wear resistance and long service life: thermoplastic marking paint should have a long service life, remain complete and clear for a long time, and can reduce the waste of manpower and material resources caused by repeated construction. Reduce the obstruction and impact on normal traffic.
Good night-time reflective performance: thermoplastic night-time reflective markers can greatly improve the safety of night driving, and they can also improve night driving efficiency.
Drying quickly during construction: The application environment of road marking paint is sometimes short and can dry quickly without affecting normal road traffic.
Good weather resistance/water resistance: road traffic thermoplastic marking can maintain sharpness for a long time, and the natural aging degree is slow.
Cold spray Marking Machine
The cold spray marking machine is the special equipment for road marking, used for straight lines, dashed lines, curves, guide arrows, texts, etc. of highways, urban roads, and markings. It has the advantages of simple structure, flexible operation, convenient use, free closing, neat marking, uniform coating, etc. Send your requirement to us if you need to buy road marking machine for sale.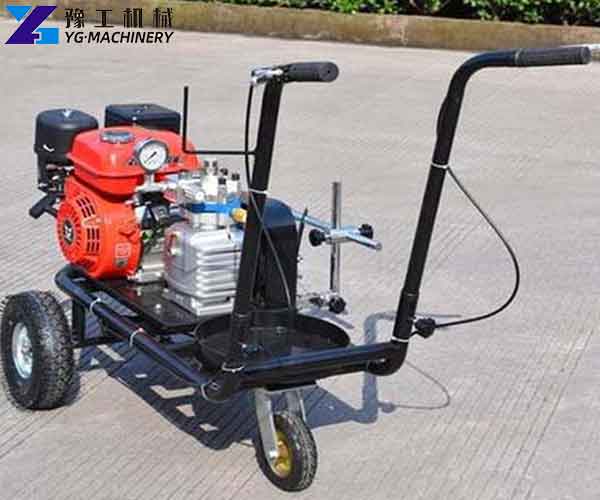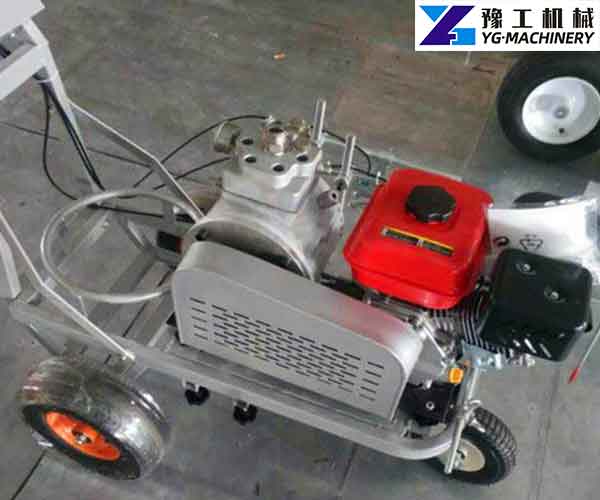 Cold spray Marking Machine Parameters
| | | |
| --- | --- | --- |
| Model | YG-8S | YG-8D |
| Motor power | 5.5hp Honda gasoline engine | 5.5hp Honda gasoline engine |
| Plunger pump | Electronic reversing | Automatic Reciprocating Commutation |
| Number of spraying gun | Single gun | Double gun |
| Work mode | Hydraulic | Hydraulic |
| Pressure | 8-12Mpa | 8-12Mpa |
| Unloading flow | 4.8L/min | 8L/min |
| Spray width | 100-300mm | 100-450mm |
| Spray thickness | 0.2-0.4mm | 0.2-0.4mm |
| Size | 1600*800*1200mm | 1600*800*1200mm |
| Weight | 120kg | 120kg |
Features of Cold Spray Road Marking Machine for Sale
Cold spray line marking machine uses the gasoline engine to drive high-pressure pump airless spray technology applied to sports field marking vehicles, the spray line is clear, smooth, full, uniform, and high efficiency.
There are stoppers on both sides of the spray gun to ensure that the line width is free of burrs. When turning, the plate can be raised by pulling the line and can rotate freely.
The spray gun is easy to disassemble, replace different nozzles, and control the width of different markings. Can be used for ordinary airless spraying, used for spraying marks or signs.
Hand-push driving, free steering, reliable orientation, and flexible steering.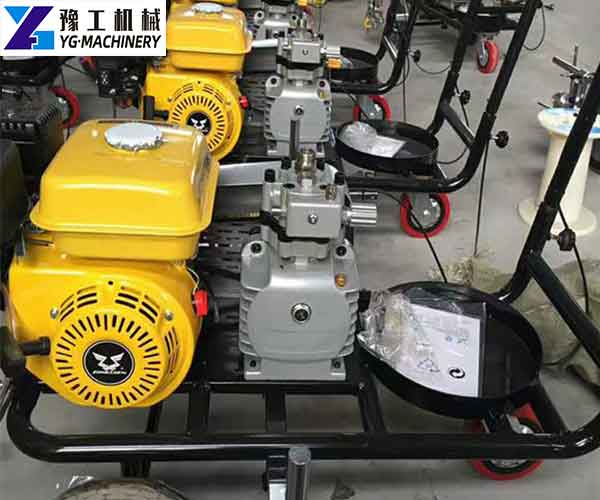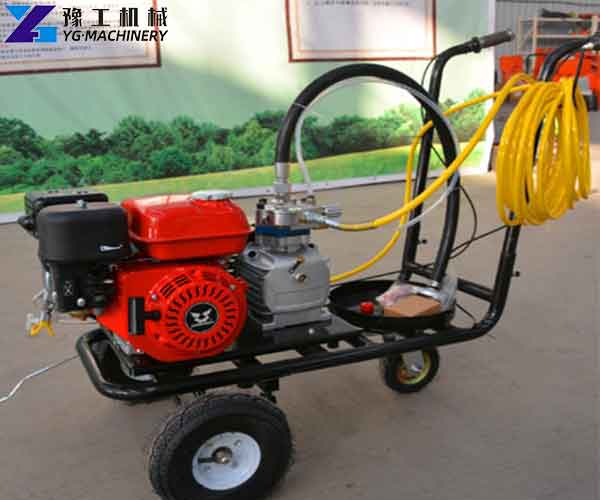 Road Marking Machine Price—YG Machinery
YG Machinery has different types of road marking machines for sale, you can choose the machine according to your budget, construction site, working method, etc. We will provide you with high-quality machinery at the most competitive price. If you are looking for road making machine for sale, please leave your messages.
In addition, YG Machinery sells high-quality asphalt crack filler machine, mini roller compactor, shot blasting machine, mist cannon machine, asphalt milling machine, automatic sandblasting machine, mini concrete pump, mortar sprayer machine, floor grinding machine, etc. If you are interested in our machines, please contact us immediately for more detailed information.