As we all know, it is the need of every woman during the menstrual period. The main purpose of a sanitary napkin making machine is the equipment used to produce sanitary napkins. The production principle of sanitary napkins is actually a process in which non-woven or cotton cloth, perforated film, fluff pulp, water-absorbent resin, cast film, hot melt adhesive, etc. pass through a series of mechanical equipment through a physical combination and pressure-cutting forming process. In addition, YG Machinery sells wet wipe making machines, meltblown nonwoven, tissue making machines, paper rewinding machines, and so on.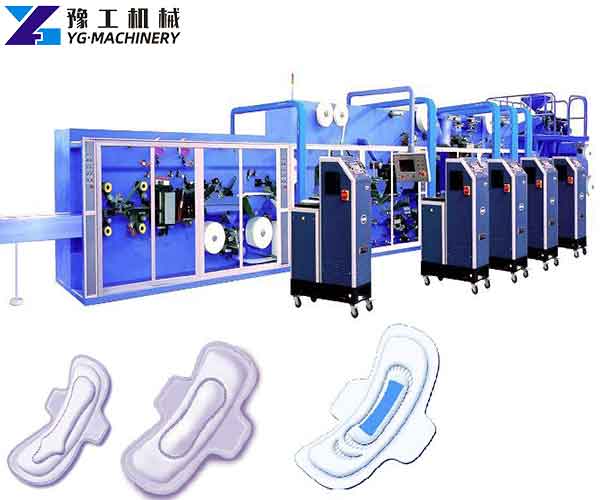 Parameter of YG Sanitary Napkin Making Machine for Sale:
| | |
| --- | --- |
| Overall size | 30*6*3.5M |
| Stable work speed | 600pcs/min |
| Machine capacity | 250KW |
| Machine size | 26*2*3.5M |
| Pass percentage | 98% |
| Air pressure | 0.6-0.8Mpa |
| Design speed | 800pcs/min |
| Power source | 380V,50HZ |
| Machine weight | 40T |
Functions and Features of Sanitary Napkin Making Machine
The sanitary napkin manufacturing machine adopts double blades, double molds, and double guide grooves. One machine replaces two machines. It can produce two kinds of sanitary napkins with different lengths and different styles.
Pneumatic equipment is used for the adjustment of the knife, die, and diversion groove, which is convenient to adjust and prolongs the service life of the knife die and diversion groove.
The sanitary napkin machine can produce cotton-core, ultra-thin, three-piece, three-dimensional, and pharmaceutical sanitary napkins.
Special equipment is selected for the vertical and horizontal change of the main machine, which is simple and convenient to change the packaging form and easy to operate.
When changing the standard, the gear shift dual-shaft transmission is selected, which saves time and improves work efficiency.
After changing the gear position, select the pneumatic type to adjust the corresponding parts, and the electric differential for fine adjustment.
The sanitary napkin making machine adopts synchronous wheels, synchronous belts, and universal joint transmission methods, which run smoothly and have low noise.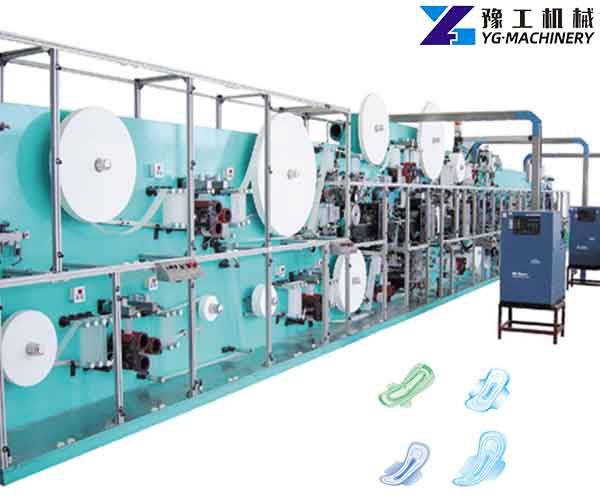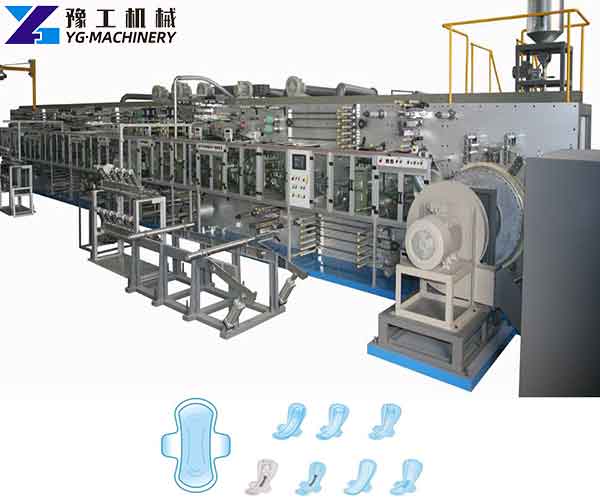 Sanitary Napkin Manufacturing Machine Configuration
Product structure: surface layer non-woven fabric, diversion layer non-woven fabric (blue core layer), toilet paper, cotton pulp (SAP mixed), bottom film, absorbent paper, middle edge release paper.
Product specifications and dimensions (customizable): daily use: 240mm night use: 285mm.
Control system: PLC control, using touch screen to operate man-machine interface.
Tension system: surface non-woven fabric, toilet paper, diversion layer non-woven fabric (blue core layer), bottom film, absorbent paper use AB axis independent frequency conversion unwinding.
Transmission system: Single-axis rolling, imported parts are used for timing belts, and imported bearings are used for key parts.
Safety system: The operation surface is equipped with safety protection equipment and safety signs, and each section is equipped with an emergency stop switch, and the rear transmission is equipped with a heat dissipation system and a safety cable.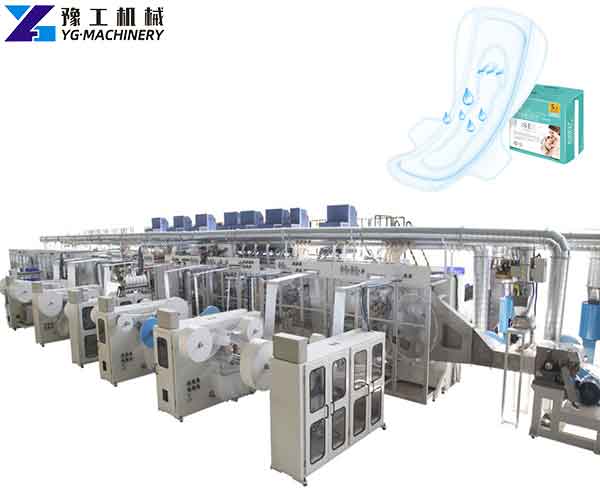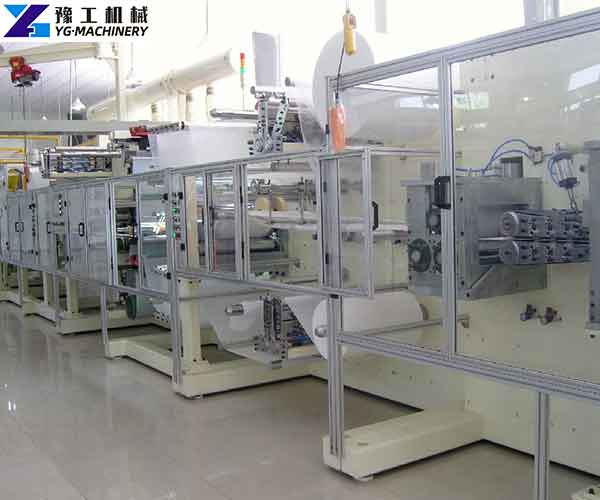 What is the Cost of a Sanitary Pad Making Machine?
The price of sanitary napkin making machines is reflected in the impact of sanitary pads manufacturing machine configuration on its production efficiency and stability. Different manufacturers have different configurations, the details of the technology and configuration are different, and the prices are definitely different. As a sanitary napkin machine manufacturer, we can provide you with high-efficiency and stable automatic sanitary pads making machines, as well as semi-automatic sanitary napkin machines with low prices and stable operation. For more detailed information about sanitary napkin equipment, you can add the message box below.