Highway cracks are the most common road disease. However, the crack filling machine is an ideal choice for road maintenance and repairing cracks. A Bulgarian customer bought an asphalt crack sealing machine for solving the cracks. He saw our filling machine for sale on Google. Then we obtained our WhatsApp through the website. Through communication on WhatsApp, we learned that the customer wanted to buy the YG-80 asphalt filling machine. After communicating, we can give us a competitive price. We will arrange the shipment within three days after the customer pays the deposit. After a period of transportation, the customer receives the equipment.
The Bulgarian client said YG crack filling machine is better, and the price is very affordable. He looked forward to our next cooperation. YG asphalt crack filler machines are optional in a variety of configurations. Hand-push crack sealing machines are suitable for residential driveway applications. YG-80 asphalt crack filler machines are ideal for business applications.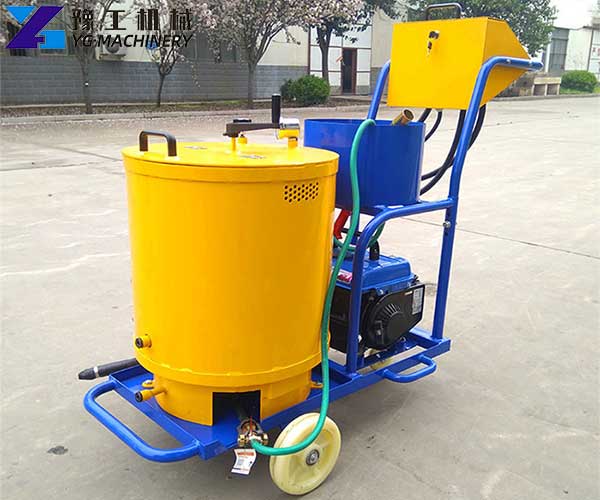 Parameter of Asphalt Crack Filling Machine
| | | |
| --- | --- | --- |
| Model | YG-60 | YG-80 |
| Power | 3.6kW | 6.75kW |
| Fuel Tank Capacity | 3.1L | 6.5L |
| Distributing Ability | 15L/min | 15L/min |
| Distributing Pressure | 1MPa | 0.1.0.5MPa |
| Dimension | 990*520*790mm | 1220*70*1130mm |
| weight | 66kg | 118kg |
Multifunctional Road Crack Filling Machine
YG Machinery there are a complete range of filling machines and a variety of models. Small-sized filling machines such as 60L and 100L can be used for rural roads, and large-sized filling machines such as 350L and 500L can be used for municipal engineering or highway projects. Large and small projects can use a 200L sealing machine.
YG Machinery is a company with many years of experience in the production and sales of road machinery, and the filling machine is one of them. Customers from all over the world are welcome to visit our factory to purchase.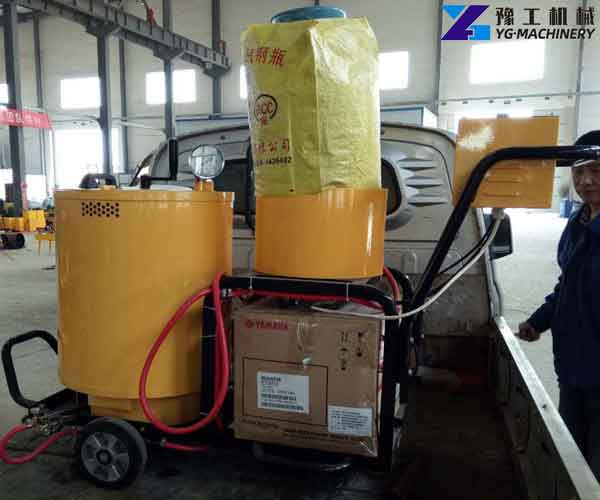 How to Repair Cracks on Concrete Pavement?
Asphalt filling is the best way to repair concrete pavement cracks. Manual patching is too slow, road maintenance equipment can improve the repair efficiency of the damaged road surface. The repairing work is easy with the help of road machinery. First, clean the road cracks, cleaning blower are the best auxiliary equipment. If the cracks are too small to fill asphalt, you need to cut the road crack with the road cutting machine. Second, fill the cracks with hot asphalt. Asphalt sealing equipment can fill hot asphalt into cracks uniformly with a caulking gun.
The road has to bear the traffic load and natural erosion during the using time, which will inevitably lead to the decline of road function and service quality. In order to prolong the pavement life cycle, and keep it in good condition. Appropriate engineering measures must be taken at the right time. On the one hand, daily maintenance of pavement is important. It can repair damaged parts in time, and keep pavement intact, smooth, clean, and beautiful. On the other hand, preventive repairs are carried out periodically. So as to enhance the technical status of roads, and improve the quality and resilience.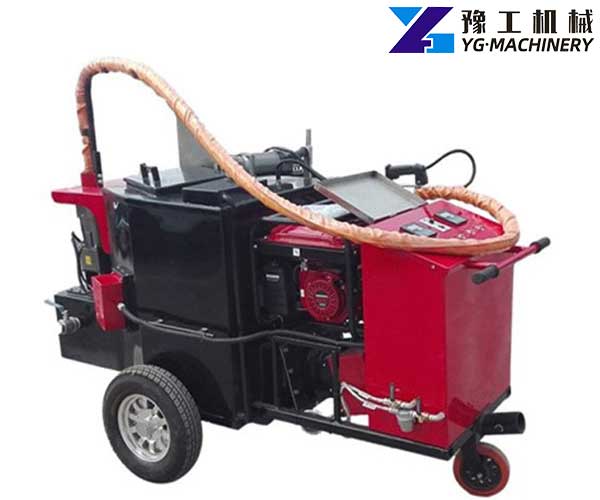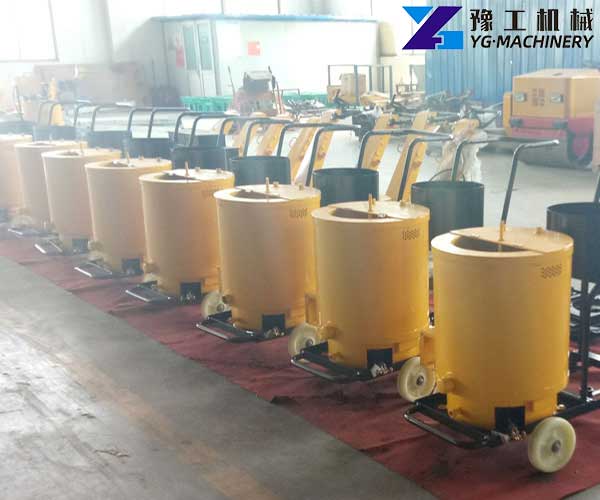 Crack Filling Machine Manufacturer -YG Machinery
With the development of the global economy, road construction is growing rapidly. And mechanization and efficiency of road construction have become important. In the field of road construction and maintenance, YG Machinery always adheres to scientific and technological innovation. We also provide the best products and services. Henan Yugong Machinery Co., Ltd. has always been at the forefront, and become the preferred brand of users.
YG Machinery is a professional road machinery manufacturer, such as a small road roller, road masking machine, shot blaster for sale, small asphalt milling machine, mortar sprayer machine, small concrete pump, foam concrete machine,  sandblasting machine for sale. etc. Now click the message box below to contact us, Get a competitive crack filling machine price.