Highway cracks are the most common road disease. However, the crack filling machine is an ideal choice for road maintenance and repairing cracks. A Bulgarian customer bought an asphalt crack sealing machine for solving the cracks. He saw our filling machine for sale on Google. Then we obtained our WhatsApp through the website. Through communication on WhatsApp, we learned that the customer wanted to buy the YG-80 asphalt filling machine. After communicating, we can give us a competitive price. We will arrange the shipment within three days after the customer pays the deposit. After a period of transportation, the customer receives the equipment.
The Bulgarian client said YG crack filling machine is better, and the price is very affordable. He looked forward to our next cooperation. YG asphalt crack filler machines are optional in a variety of configurations. Hand-push crack sealing machines are suitable for residential driveway applications. YG-80 asphalt crack filler machines are ideal for business applications.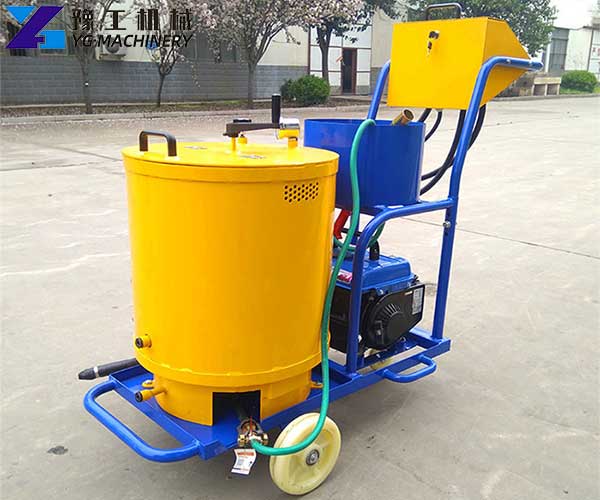 Parameter of Asphalt Crack Filling Machine
| | | |
| --- | --- | --- |
| Model | YG-60 | YG-80 |
| Power | 3.6kW | 6.75kW |
| Fuel Tank Capacity | 3.1L | 6.5L |
| Distributing Ability | 15L/min | 15L/min |
| Distributing Pressure | 1MPa | 0.1.0.5MPa |
| Dimension | 990*520*790mm | 1220*70*1130mm |
| weight | 66kg | 118kg |
Multifunctional Road Crack Filling Machine
YG Machinery there are a complete range of filling machines and a variety of models. Small-sized filling machines such as 60L and 100L can be used for rural roads, and large-sized filling machines such as 350L and 500L can be used for municipal engineering or highway projects. Large and small projects can use a 200L sealing machine.
YG Machinery is a company with many years of experience in the production and sales of road machinery, and the filling machine is one of them. Customers from all over the world are welcome to visit our factory to purchase.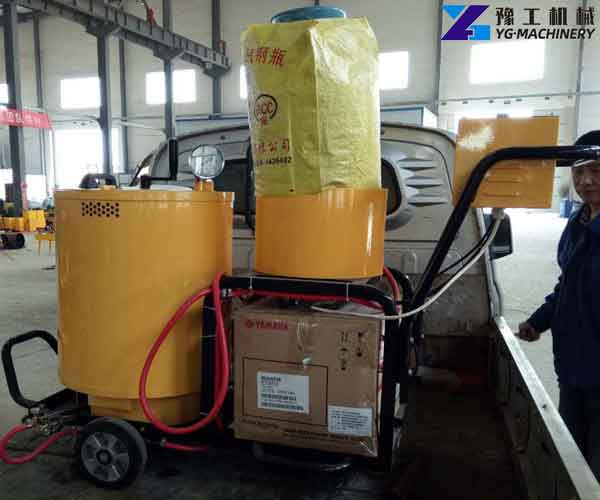 How to Choose an Asphalt Crack Filling Machine?
Good thermal efficiency. The material is heated evenly, and the intelligent sensor automatically detects the temperature, which is economical, safe, and environmentally friendly.
Good blocking resistance. The discharge hose is electrically heated throughout the entire process, free of cleaning, and meets multiple construction requirements for horizontal and vertical cracks to ensure the construction area.
Full electronic control system. The whole process electronic control system, heating temperature, discharge pipe heating, burner operation, asphalt pump operation, fuel status, fault alarm, etc. Are all timely displayed, realizing the integration of electronic automatic control.
High temperature resistant professional asphalt pump. High temperature resistant professional asphalt pump, with high conveying pressure. Deep material embedded in cracks, guaranteed construction quality, stepless adjustment of material flow, suitable for crack repair operations of various widths and shapes.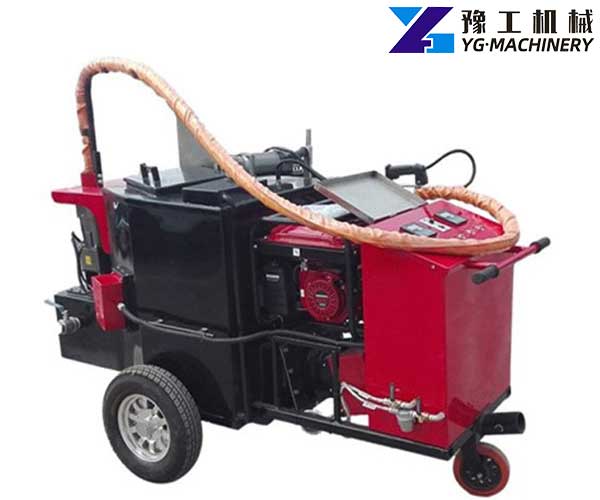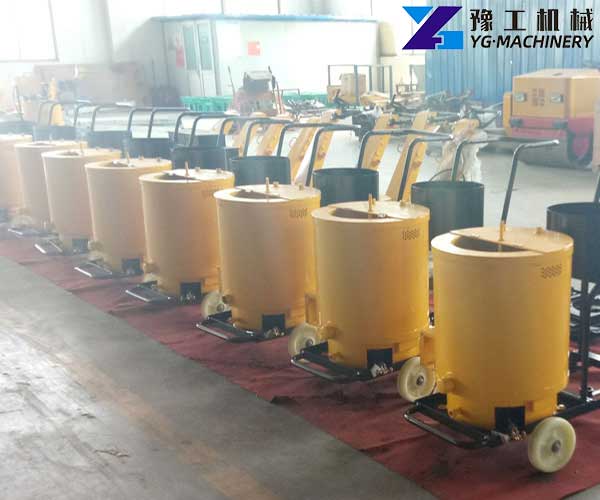 Crack Filling Machine Manufacturer -YG Machinery
With the development of the global economy, road construction is growing rapidly. And mechanization and efficiency of road construction have become important. YG Machinery is a professional road machinery manufacturer, such as a small road roller, road masking machine, shot blaster for sale, concrete floor grinder machine, laser screed machine, small asphalt milling machine, mortar sprayer machine, small concrete pump, foam concrete machine, beam bending machine, auger drill rigs, rotary drilling machine, foam concrete machine,  sandblasting machine for sale. etc. Now click the message box below to contact us, Get a competitive crack filling machine price.