Summary: This is a construction case and a detailed presentation of the horizontal auger boring machine.
How to bore under a paved surface? There are many options to bore under a paved surface, for example, manual installation, directional drills, impact moles, or earth drill boring. Each way has cons and pros. In this article, I will present to you a working case of boring under a paved surface using a Horizontal Earth Auger Boring Machine.
Construction Case of Horizontal Directional Drilling Machine
Customer message content: We need to get a horizontal drilling machine for earth pipeline holes under the road.
Project Overview: This customer from Turkey needs to lay pipes under the road. The depth is about 2 m below the road surface. Road pavement width: 20-30m. Pipe diameter: Φ50 and Φ180. The crossing sections mainly include rainwater, sewage pipes, communication pipes, gas pipes, water pipes, etc.
According to his requirements and project, our sales manager recommends our small horizontal directional drilling equipment YG-50/60-750. And the customer is very satisfied with the productivity and performance of the equipment. Contact us to get the auger boring machine for sale price.
I need the auger boring machine price. Click!
Other Working Cases
Our horizontal auger boring machine has been exported to many countries, for example, Turkey, Russia, Malaysia, South Africa, Australia, etc.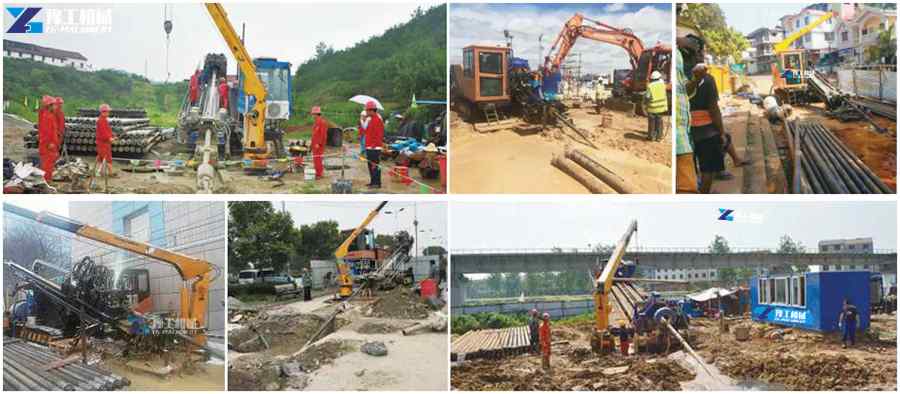 Directional boring is a very effective way of creating bore paths under roads, and rivers. Below is the detailed introduction of the horizontal boring auger.
Horizontal Type Earth Auger Boring Machine For Sale
The horizontal directional drilling rig is a mechanical device for laying underground pipelines without excavating the ground. It can successfully avoid obstacles within a certain radius of the ground and can operate in underground strata such as clay and sand. It is widely used in electric power, and laying of flexible pipelines in the fields of communications, oil, and natural gas.
What is a Horizontal Earth Boring Machine?
The horizontal directional drilling equipment is composed of a drilling system, power system, direction control system, mud pump, other drilling tools and associations.
Drilling: This part is mainly used for drilling and dragging back the drill. The drilling rig is placed on the drilling frame to complete the drilling operation and the back-towing operation. The turntable is installed at the front end of the main engine of the drilling rig and connected to the drill pipe.
Power system: The power source is composed of a hydraulic power source and a generator. It provides high-pressure hydraulic oil for the drilling rig system as the power of the drilling rig. And the generator provides power for the supporting electrical equipment and construction site lighting.
Direction control system: The direction control system is a directional tool that monitors and controls the specific position of the drill bit underground and other parameters through the computer to guide the drill bit to drill correctly.
Mud system: The mud system consists of a mud mixing tank, a mud pump and a mud pipeline to provide the drilling rig system with mud suitable for drilling conditions.
Drilling tools and auxiliary tools: various tools used by drilling rigs for drilling and reaming.
Technical Parameters
Model: YG-25
Engine Power: 133Kw/2200rpm
Feed/Pull Capacity: 275 KN
Rotation Torque: 8000N·m
Spindle Rotation Speed: 0~68,0~135r/min
Feed Stroke: 3500mm
Guide Hole Diameter: φ130mm
Weight: 1500KG
Penetration Angle: 8-21°
The pressure of the Hydraulic System: 20MPa
Traveling Speed: 1.5~3km/h
Dimensions (L×W×H): 6000×2060×2330mm
Weight: 9T
Mud Pump Max. Flow Rate: 250L/min
Mud Pump Max Pressure: 8MPa
Rod Size: φ60×3000mm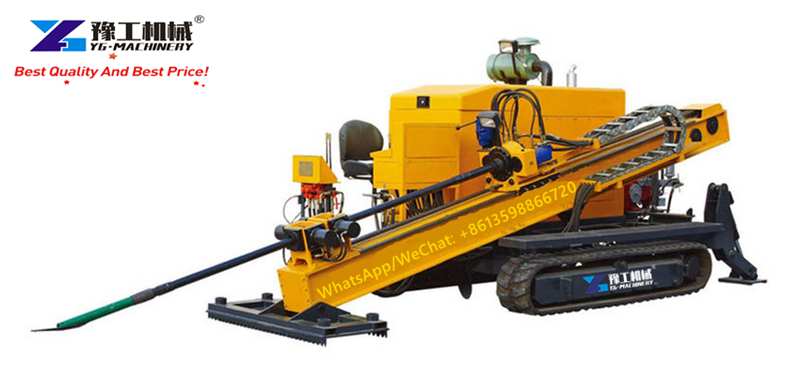 Read also:
Features
Does not excavate the ground surface, lessen the damage to established landscaping.
Easy to operate, fast construction speed, high construction accuracy, low cost, etc.
The high degree of automation: automatic drill pipe stacking and extraction, automatic drill pipe link lubrication, electric shock prevention system, and other automatic operation functions.
In conclusion
As people's requirements for energy saving and environmental protection are getting higher and higher, horizontal directional drilling rigs, such as trenchless pipeline laying equipment, will be more and more widely used.
Henan Yugong Machinery is a professional road and bridge machinery manufacturing company. Besides the Horizontal Type Auger Boring Machine For Sale, YuGong Machinery provides also other types of drilling rigs, such as Water Well Drilling Rig for Sale, Core Drilling Rig, Down the Hole Drilling, etc. Contact us if you are interested in buying the drilling rigs. WhatsApp/WeChat: +8613598866720.