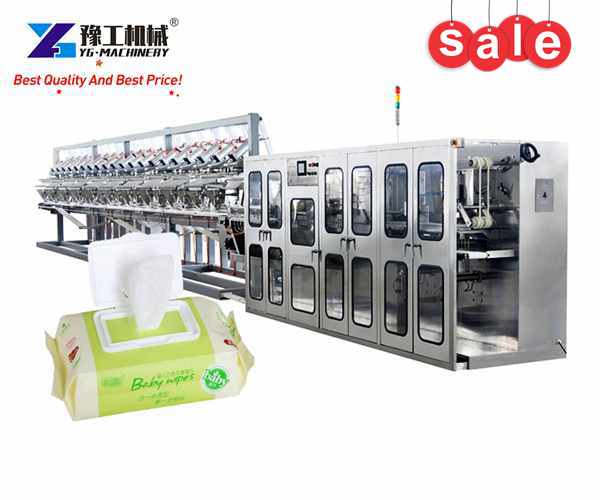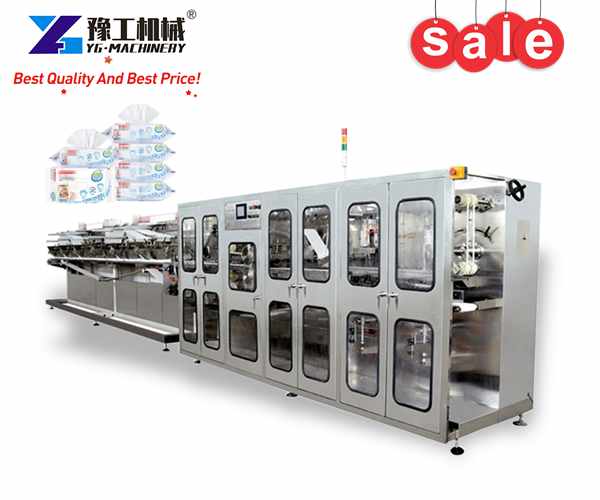 A customer from the USA ordered a 16 lines Fully automatic wet wipes manufacturing machine from YG Machinery.
The fully automatic wet wipes machine produces 30-120 pieces of wet wipes, which can produce baby wipes, skin care wipes, kitchen wipes, leather wipes, hotel wipes, sanitary wipes, alcohol wipes, disinfection wipes, and other large packs of wet wipes.
The 16-channel wet wipes manufacturing machine has mature technology, stable performance, low production rate of wet wipes, high speed and high efficiency, and can fully guarantee safe production. It is a practical wet wipe equipment for small and medium-sized enterprises to produce large packs of wet wipes.
Technical Parameters
Model
YG-W16D Wet wipes manufacturing machine
Suitable material
Spunlace non-woven, hot rolling non-woven fabrics, Air-laid paper
Packing Film
OPP/PE, PET/PE ,PET/AL/PE
GSM of raw material
40-80g/m2
capacity speed
3500-4800 psc/min (25-60bags)
Folding way
"Z""W""C" type(pop-up and non-pop up)
Size of product (unfolded)
(135-170)x(170-210) (MM)(LxW) (Modifiable)
Size of product (folded)
(135-170) x (90-110)(MM)(LxW) (Modifiable)
Electrical source
AC380V 50/60Hz
Power
15KW
Machine size
12200mmX2450mmX2200mm (L×W×H)
Machine weight
5000kg
Wetting system
one stainless steel water tank with agitator (preset full-auto continuous & circular stirring system); +one flow meter= the amount of
sprayed liquid can be regulated
Control system:
Pre-programmed full-auto PLC control system;
Frequency speed controlling (▲ provide all the programs to
buyer)
Punching system
synchro rotary cutter
Counting system
Auto-counting ( operation interface setting)
Material Loading device
2 holders sliting into12 channels, automatic tension controller
Whether it is a bagged wet wipes production line or a barreled wet wipes production line, there are fully automatic and semi-automatic wet tissue paper making machine. If you are looking for a wet wipes manufacturing machine production line, please contact us to get a free quote.
Wet wipes production machine
A wet wipes manufacturing machine is an industrial machinery that facilitates the creation of wet wipes from non-woven fabric. These machines perform a variety of activities, including fabric cutting, wetting, and product packaging.
The wet wipes converting production line includes:
Non-fabric rewinding machine & slitting machine
Folding Machine
Canister loading and fluid filling machine
Wet wipes packaging machine
The wet wipes equipment route that the wet wipes processing plant needs to go through starts from the spunlace non-woven raw materials to the machine, and goes through a series of devices such as feeding, folding, liquid addition, cutting, stacking, conveying, packaging, capping, conveying, and boxing. YG Machinery provides fully automatic and semi-automatic wet wipe production lines. It has greater flexibility in the design of the production workshop, equipment layout and related worksite layout. It can customize matching wet wipe manufacturing machine according to the needs of actual factory construction, product process needs, and process labor.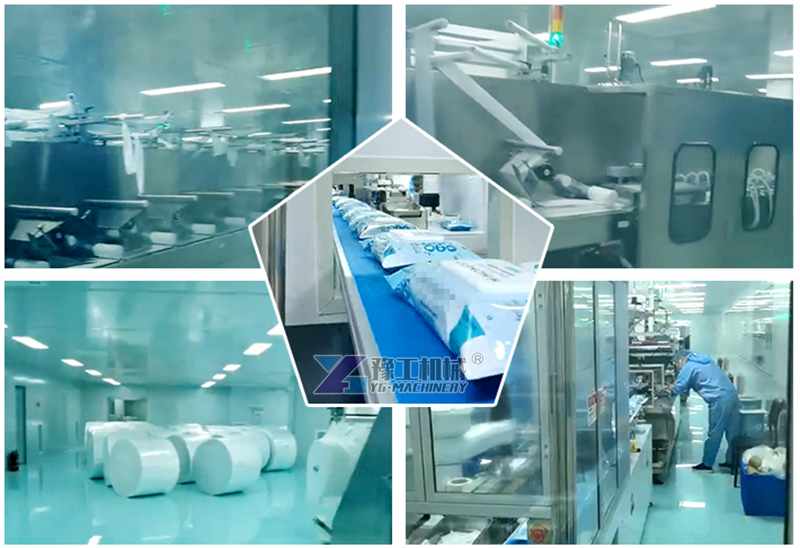 How does a Wet Wipes Manufacturing Machine work?
The production of the wet wipes by the machine begins with the preparation of a cleansing solution, which you prepare by adding relevant ingredients to demineralized and sterilized water. The special treatment of the water is crucial to keep the constituents free from pathogens.
Production flow of wet wipes manufacturing machine:
Raw material loading → vertical-folding → tissue wetting → tissue cutting → tissue counting and stacking → tissue delivery → film date Printing, punching and labeling → tissue packing → full auto plastic lid application.
What is the production process of wet wipes?
Wet wipes are usually manufactured from a mixture of synthetic fibers and a solution including water and additional substances for moisturizing, cleansing, and disinfection.
The production process of wet wipes can be roughly divided into the following steps:
Preparation of raw materials: The raw materials of wet wipes mainly include non-woven fabrics, water, additives, etc. Among them, non-woven fabric is the main material for making wet wipes. It is a non-woven material made of polyester fiber and polypropylene fiber through spinning, hot air forming, and other processes.
Wet wipes preparation: put non-woven fabrics, water, additives, and other raw materials into the wet wipes manufacturing machine for mixing, stirring, heating, coating, and other processes to make wet wipes.
Packing: Pack the prepared wet wipes, generally in different forms such as boxes and bags.
Types of wet wipes
According to different uses and functions, wet wipes can be divided into the following categories:
Baby wipes: specially used for baby care, with functions of cleaning, moisturizing, and anti-allergic.
Facial wipes: used for cleaning and caring for facial skin, with functions of makeup removal, cleansing, and moisturizing.
Adult wet wipes: Some are used for adult hygiene care, with functions such as cleaning, disinfection, delayed wet wipes, and deodorization.
Household cleaning wipes: used to clean the surface of the home, with functions such as dust removal, sterilization, and deodorization.
Car cleaning wipes: used for car cleaning and care, with functions such as dust removal, oil removal, and car surface maintenance.
Is a wet wipes manufacturing business profitable?
The profitability of a wet wipes manufacturing business depends on various factors such as the cost of raw materials, production capacity, and demand for the product.
According to the GlobeNewswire, the wet wipes market is anticipated to create lucrative growth throughout the forecast years from 2021 to 2031. So there is a big demand in the market.
Request A Free Quote
We have a professional custom development team that can tailor-made wet wipe machine application solutions according to actual needs. From the designation of the plan to the confirmation of the plan, to the order production and on-site installation, we provide considerate service throughout the process. If necessary, please call 008613598866720, and we will arrange for professional personnel to contact you as soon as possible.