The concrete trowel machine is also called a cement polishing machine. After the construction of this concrete power trowel construction surface is smoother and smoother, which can greatly improve the compactness and wear resistance of the concrete surface. A power concrete trowel machine is used for lifting, smoothing, and troweling the surface of cement concrete. Widely used in major infrastructure construction occasions, especially industrial plants, garages, outdoor squares, supermarkets, and other occasions. If you want to know the price of the concrete trowel machine, you can click on the message box below, or add my WhatsApp+8613598866720 for consultation.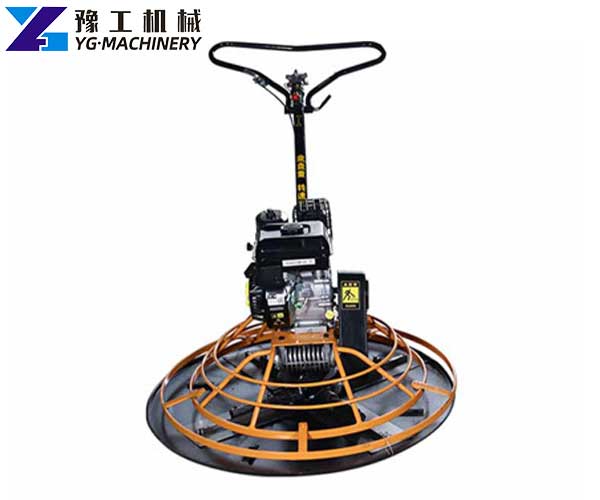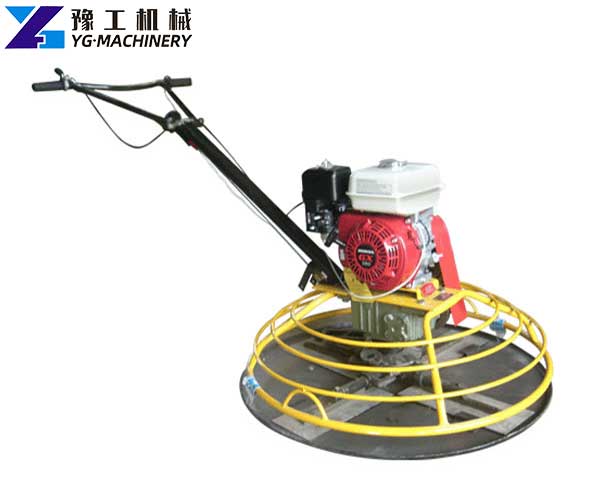 Parameter of Power Trowel for Sale:
| | |
| --- | --- |
| Model | YG-900H |
| Power | 5.5HP |
| Disc Diameter | 900mm |
| Disc Thickness | 2mm |
| Blade Quantity | 4PCS |
| Blade Size | 350*150 mm |
| Working Diameter | 900mm |
| Working Thickness | 2mm |
| Size | 1050*1050*690mm |
| Weight | 100kg |
Ride-on Trowel Machine
The ride-on concrete trowel machine is equipped with a double troweling plate, which increases its own weight and working area. The driving effect is obviously higher than a walk-behind trowel, which has a better compaction effect on the ground. The ride-on trowel machine can greatly reduce labor intensity, improve work efficiency. for more information, Inquiries can be made by email admin@ygroadmachine.com.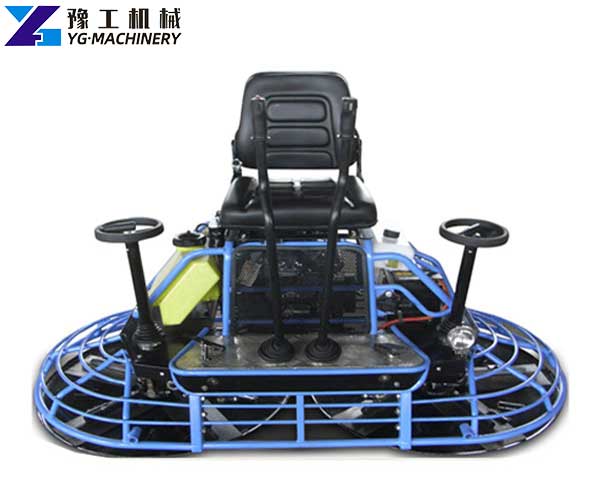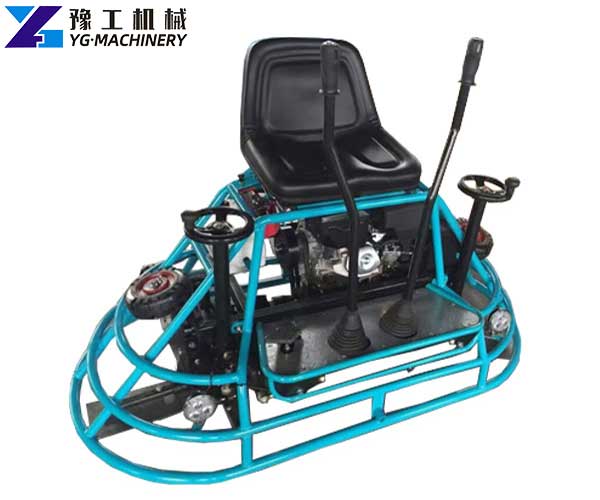 Parameter of Ride on Power Trowel for Sale:
Model
YG-800
YG-900
YG-1000
Engine
Lifan 2V78(24HP) or Honda GX 690(24HP)
Blade Size
260*150*2mm
300*150*2mm
350*150*2mm
Blade Quantity
10
10
10
Disc Diameter
800mm
900mm
1000mm
Rotation Speed
140r/min
160r/min
180r/min
Fuel Tank
16L
18L
20L
Lubricant Oil
1L
1L
1.5L
Cylinder
2
2
2
Dimension
1850*950*1050mm
1950*1010*1100mm
2080*1050*1180mm
Weight
320kg
380kg
430kg
Features of Concrete Trowel Machine for Sale:
Equipped with a large horsepower engine, quality assurance, superior performance, providing strong and reliable power.
Large-module design of the gearbox, aluminum alloy box, maintenance-free, long service life.
The Trowel blade support arm adopts strict heat treatment super large diameter carbon structural steel, has high strength.
The scientifically centrifugal clutch transmission mechanism design has large transmission torque, long service life, and convenient maintenance.
Equipped with LED lighting, the work can be continuing even at night.
Walking wheels can be raised and lowered, easy to change the smear, and walk for the machine.
The sprayed power trowel surface is beautiful, rust, and corrosion resistant.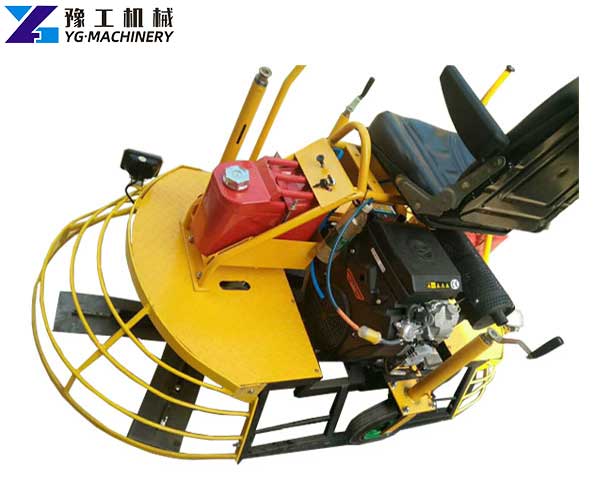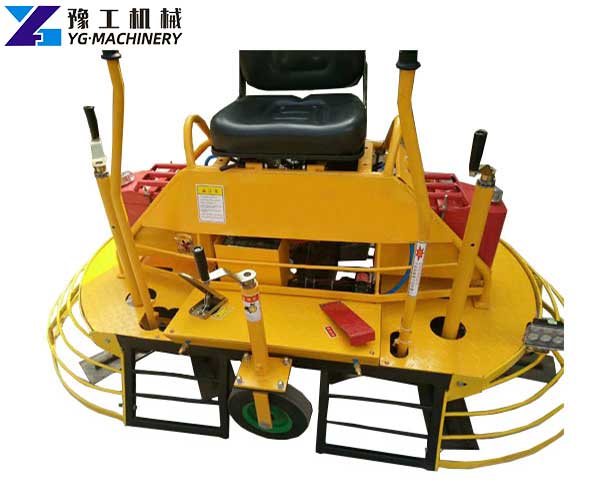 How to Operate Concrete Power Trowel Machine?
When the machine starts to operate, first you should hold the joystick, start the gasoline engine, and the spatula starts to rotate for troweling the concrete road. When the trowel machine is working, you should be sure to stabilize the trowel and adjust the direction in time, prevent the machine from losing control. After the bottom grinding disc is roughing for any general uneven areas, removing the grinding disc and finely grinding with finish blades to meet your needs. Contact us to get a concrete trowel machine price right now.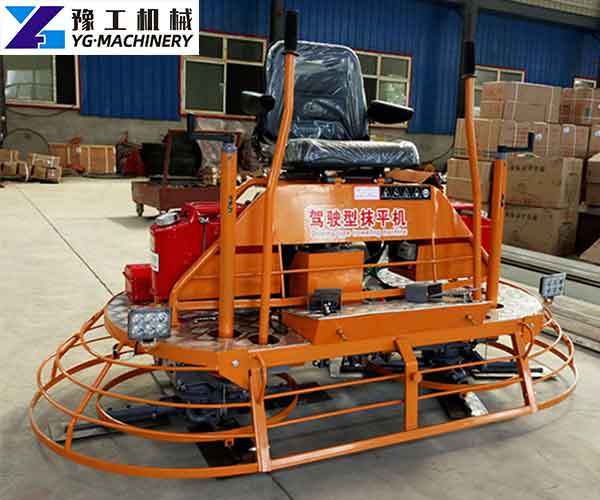 How to Choose An Concrete Trowel Machine?
A power trowel, walk-behind trowel, or ride-on trowel machine, its main job is to create a level, smooth concrete surface for indoor and outdoor. Different jobs require different types of trowels. If you want to use a power trowel, you must understand the blade first. Its quality is directly related to the effect of smearing the concrete. The trowel spatula often rubs against the concrete surface, it will inevitably cause wear after a period of time, so the blade should be replaced in time. When we choose the blade, first look at the material. If the material is too soft, it will be easily deformed, which will cause unevenness. So we must choose those materials with high rigidity.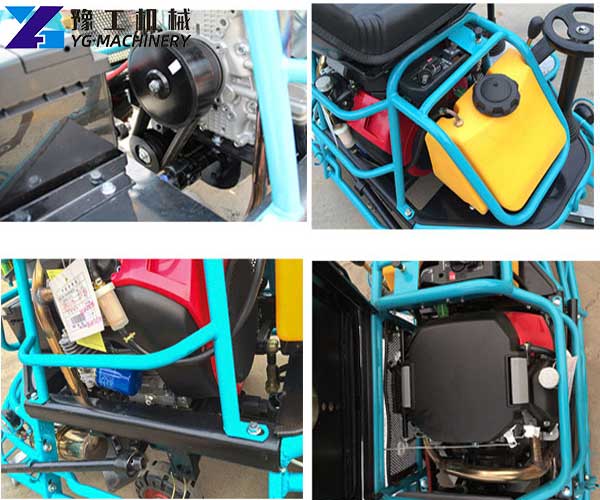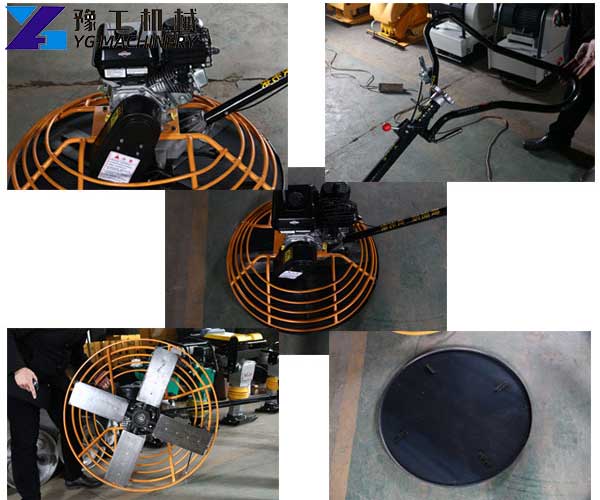 How To Operate the Concrete Trowel Machine Correctly?
Check whether the motor, electrical switch, cable, and wiring are normal, and install the leakage protector.
Clean the debris on the wiper to avoid the whole machine beating.
Test the trowel perforce after turning on the power, and the blades should be rotated in a clockwise direction and can't be reversed.
The operator and assistants should wear insulated shoes and insulated gloves, prevent the cable insulation from being broken, and an electric shock. The cable should be taken by the auxiliary personnel.
If the machine encounters any problem, it must be shut down and cut off the power.
The power trowel machine should be stored in a dry and clean environment. The handle should be placed in the specified position and not be handled in a rough manner during transfer.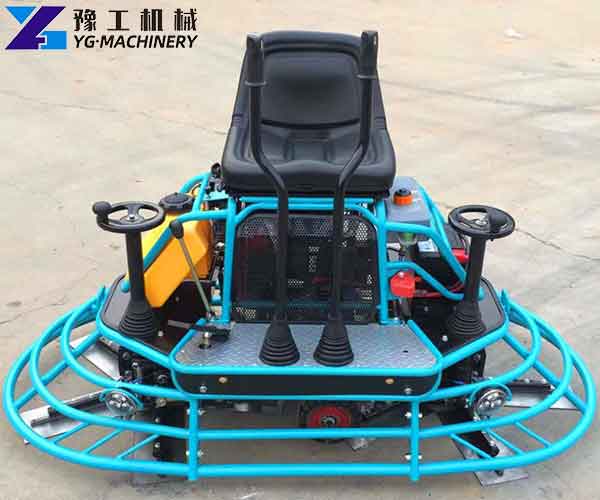 Concrete Trowel Machine Manufacturer -YG Machinery
The concrete power trowel is used for faster construction and more convenient operation. The important thing is that the ground effect is more uniform, smooth, and beautiful. The power troweling machine is an important investment for any construction engineering.
In addition, YG Machinery has more construction machinery such as a pile breaker machine, small water well drilling rigs, hydraulic rock splitter,  fog gun machine, mortar sprayer machine, floor shot blaster, road roller, concrete road cutting machine, portable sandblasting machine, and so on. You can contact us if you need it, and I will give you a satisfactory answer as soon as possible.