A pile or piling is a vertical structural element of a deep foundation, driven or drilled deep into the ground at the building site. —wikipedia.org
The pile foundation is a foundation composed of piles, soil, and caps. To complete this project, you need a vibratory pile driver or vibratory pile extractor. Here is the working case of the YG Vibratory Pile Driver / Extractor for sale in Singapore. Contact us to get more details about the pile hammer machine.
Working Case in Singapore
This project is located in Singapore. The construction project is to drive circular piles. The YG-RVH-08 photovoltaic piling machine has flexible operation performance, strong construction power, and efficient construction. The boss is very satisfied with the performance of the machine.
From the on-site construction personnel, we learned that since the start of construction, the vibratory pile driver has been running continuously, which greatly improves work efficiency. YG Vibratory Pile Driver has been praised by the construction workers on site. It is especially suitable for medium and short pile projects such as municipal projects, bridges, cofferdams, and building foundations. The noise is low and it also meets urban construction standards.
Received satisfactory feedback from customers and recognition of us, YG Machinery will continue to work hard to provide customers with better products and services.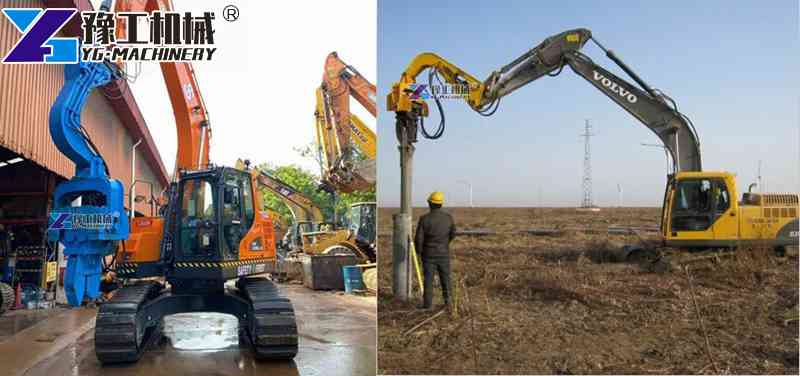 Vibratory Pile Driver for excavator
This pile hammer is suitable for steel sheet piles, cement piles, rail piles, iron plates, H steel, steel pipes, and wood piles.
Parameters
| | | | | | | | |
| --- | --- | --- | --- | --- | --- | --- | --- |
| Model | RVH-04 | RVH-06 | RVH-08 | RVH-10 | RVH-12 | RVH-14 | RVH-18 |
| Vibration Frequency | 2500rpm | 2500rpm | 2800rpm | 3200rpm | 3200rpm | 3200rpm | 3200rpm |
| Operation Pressure | 30 Mpa | 32 Mpa | 32 Mpa | 32 Mpa | 32 Mpa | 32 Mpa | 32 Mpa |
| Centrifugal Force | 117kn | 172kn | 265kn | 335kn | 350kn | 372kn | 455kn |
| Max.Pile Length | 6m | 8m | 10m | 12m | 12m | 12m | 15m |
| Arm weight | 160kg | 260kg | 500kg | 500kg | 670kg | 670kg | 750kg |
| Hammer weight | 850 kg | 1100 | 1700 | 1900 | 2100 | 2300 | 2600 |
| Excavator | 7-12T | 12-17 | 20-30 | 20-30 | 30-35 | 33-40 | 40-45 |
Working Principle
The pile driver is composed of an attached arm, a supporting oil pipe, a power main body, and a jaw. It is connected to the excavator through the arm, and the steel sheet pile is clamped by the jaw, and the pile body is vibrated at a high speed so that the soil structure around the pile body is loosened, so as to realize the pile pulling operation.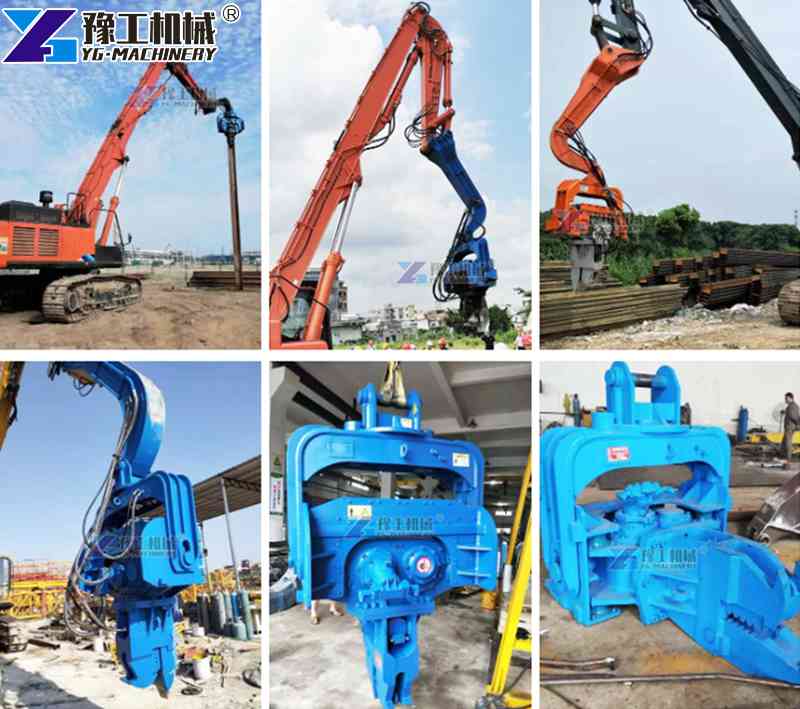 Advantages of YG Photovoltaic Pile Driver:
Three major product advantages:
1. It will not damage the top or bottom of steel pipe piles, steel sheet piles, and rail piles;
2. Can often work near the building without damaging the building itself;
3. Due to the quiet operation and short construction period, it helps to overcome environmental protection problems.
How to Choose the Hydraulic Pile Hammer?
In the case of using a straight hammer, a 20-24 ton vibratory hammer can only drive 6-9-meter steel sheet piles, and it is not recommended to use this model when refitting. The 6-meter steel sheet pile can be directly installed with a vibrating hammer on the standard arm, and the 9-meter steel sheet pile needs to be refitted at the bushing of the standard arm. More than 9 meters to do the extension arm.
In the case of using a flip clamping hammer, a dual-purpose chuck can be designed, which can be assisted by a small chuck or a splint. There is no need to lengthen or modify the large and small arms. If the pile type is a pipe pile, cement pile, channel steel, I-beam, or tensioned steel sheet pile with a diameter of less than 30mm, and a length is more than 12 meters, it is recommended to use a machine of 30 tons or more when the excavator is converted into a pile driver.
Vibration hammer, which is obtained from the hydraulic system of the excavator through the technical installation of frequency conversion hydraulic pipelines. It can output active power and accelerate flow. It can also protect the main oil pump of the excavator from being easily damaged. Thereby the vibratory force pile body can enter and exit freely. The vibrating hammer works well in an environment with a ratio of sand to soil of 3:7. The harsh working environment will cause great damage to the equipment.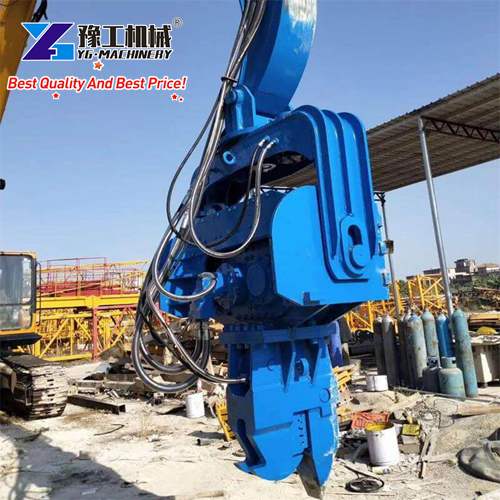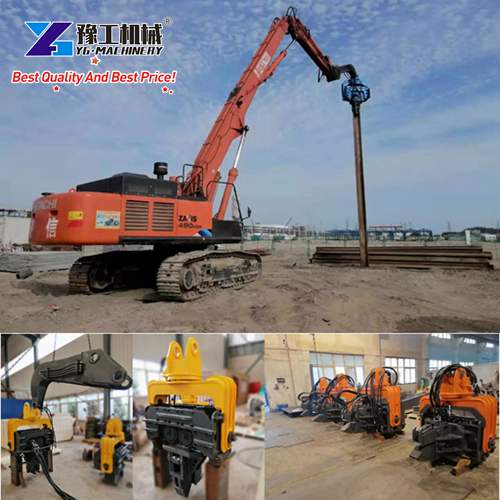 Besides the Vibratory Pile Hammer, YG Machinery provides also the Vibratory Pile Extractor for sale.
Vibratory Pile Extractor for sale
The construction method section steel pile extractor is mainly used in municipal construction, pipeline laying, tunnel engineering, sewage treatment, and support construction. H-section steel is recycled and reused to reduce the one-time use of H-section steel and reduce construction costs. The whole machine can adapt to the site with narrow space and insufficient head space.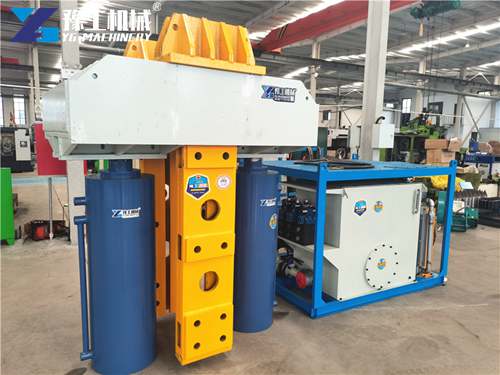 Features of split-type pile extractor
The split-type pile extractor is adopted, while our company adopts the self-designed one-piece pile extractor, which makes the overall lifting operation simpler and takes less time.
It is suitable for the lifting operation of common specifications such as H-shaped steel 500mm-700mm. If you need to pull out 900mm H-shaped steel, you need to customize the machine again.
YG Pile Extractor has a novel design and a detachable chassis. No matter how dense the steel piles are, they can also be easily pulled out.
H-beam Hydraulic Pile Extractor has a more humane design and high efficiency. It is equipped with a double-section oil cylinder with the function of adjusting the speed, saving more time, wireless remote control, and easy to learn.
Are you interested in our machine? Please leave your messages and our sales manager will contact you as soon as possible.