A concrete pile breaker also named a pile cutter is a useful tool for blasting and traditional crushing methods. Because today's construction requires the use of pollution-free, high environmental protection, and high safety factor engineering construction techniques on the site. So this Concrete pile crusher machine is absolutely your best choice. It is a new, fast and efficient concrete structure demolition tool invented by combining the characteristics of the concrete structure itself.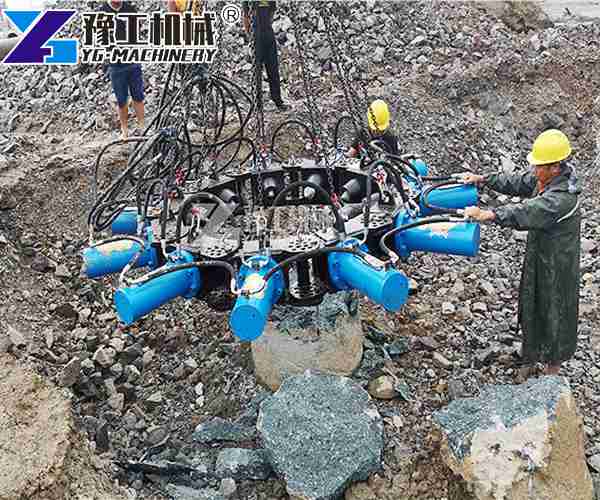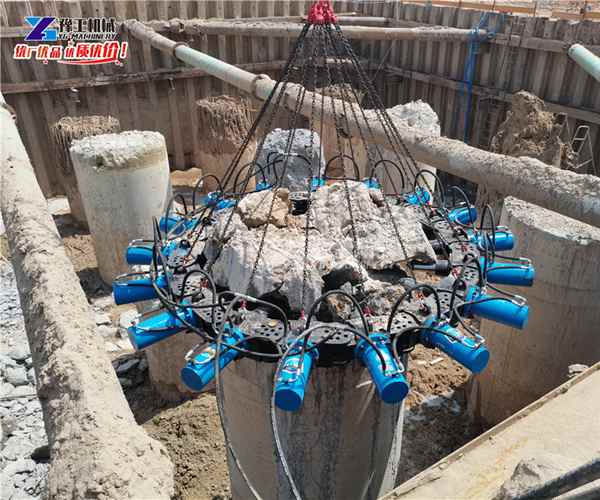 Concrete Pile Cutting Machine Parameter:
Module Number
PCS
4
8
9
10
11
12
13
14
15
16
17
18
Combination of the total weight
KG
1600
2640
2970
3300
3630
3960
4290
4620
4950
5280
5610
5940
Pile diameter range
mm
400-600
600-800
800-1000
1000-1150
1150-1300
1300-1500
1500-1650
1650-1800
1800-1970
1970-2200
2200-2360
2360-2500
Hydraulic excavator
T
20T-30T
30T-40T
Hydraulic system/pump station
Max.Thrust
300KN
Max.

Cylinder required

20L/min
Machinery Tonnage
≥20T
Location pin Φ35
Max.
Cylinder Trip
300mm
Chisel diameter
110mm
Single module weight
335KG
Max. Cylinder Pressure
300MPa
Max.

Hoist Capacity

≤500mm
Single module size
1015*865*340mm
What is a Hydraulic Pile Breaker?
The concrete pile crusher machine is driven by hydraulic pressure and uses the power and lifting force of an excavator or hydraulic station to break piles. The advanced modular combination can quickly and efficiently cut off the pile heads. Objects can be split controllably. In places where there are strict restrictions on dust, flying debris, vibration, noise, and exhaust gas emissions, the pile head can be cut safely and efficiently through remote control of construction machinery. It can avoid the human body caused by manual construction, and the efficiency is dozens of times that of manual construction.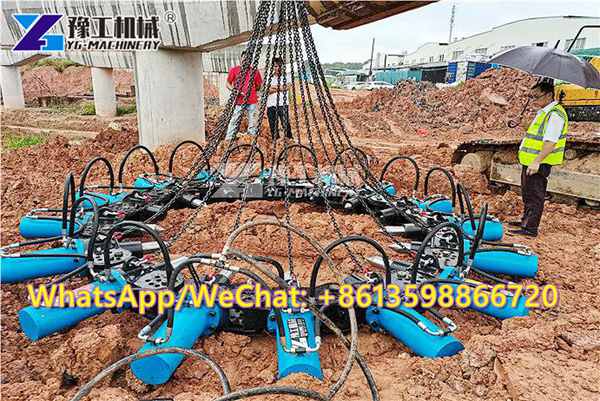 Composition of Pile Cutting Machine:
The pile cutting machine is mainly composed of two parts: power source and working device. The working device is composed of multiple hydraulic cylinders of the same type to form pile cutters with different diameters to meet the requirements of pile driving heads of various diameters. The piston is made of alloy steel, which can meet the crushing requirements of various grades of concrete. The power source can be a fixed pump station or other movable construction machinery equipment. This machine is suitable for cutting round and square pile heads in pile foundation projects such as high-speed railway bridges, industrial and agricultural constructions, etc.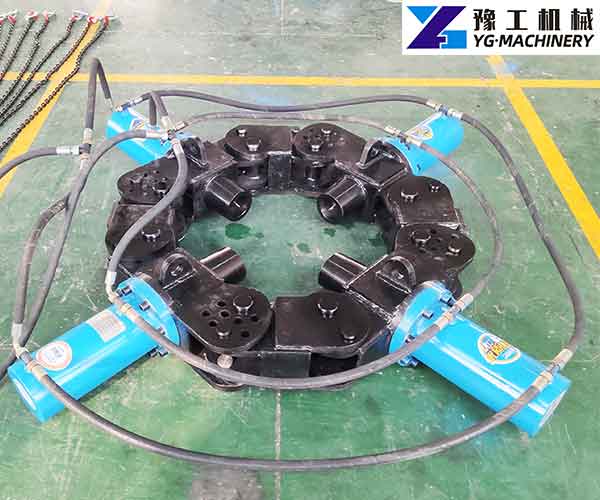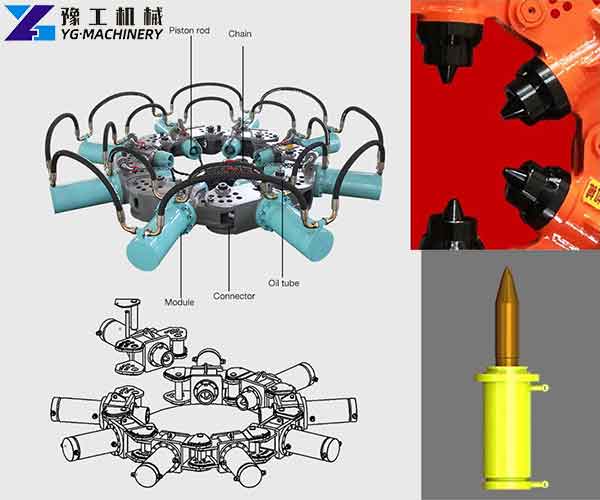 Product Advantages of Pile Breaker:
The hydraulic pile breaker realizes high-efficiency, low-noise pile cutting, and the construction efficiency is dozens of times that of manual construction.
Fully hydraulic drive realizes low noise operation of pile head construction, low noise, and high efficiency;
Modularization, by combining different numbers of modules, pile heads of different diameters can be cut;
The pile cutter is easy to operate, does not require professional skills, and the operation is quite safe;
The pile breaker can be connected with various construction machinery to truly realize the versatility and economy of the product. Can be hung on excavators, cranes, telescopic booms, and other construction machinery;
Long service life, which can bring more benefits to customers.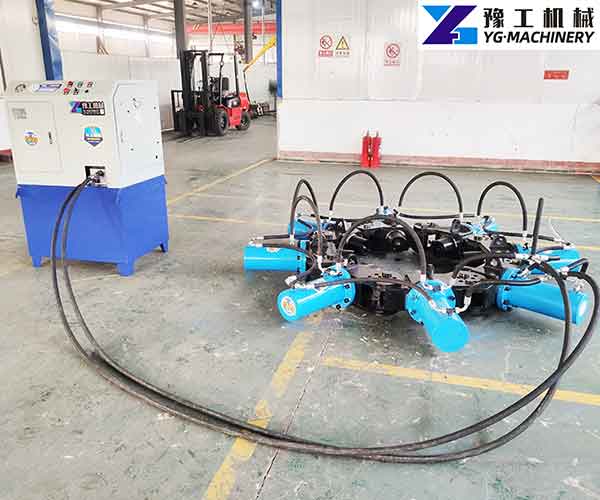 Applications of Concrete Pile Breaker for Sale
A concrete pile crusher is suitable for cutting various pile foundation forms. Such as cast-in-place piles, cement piles, precast piles, etc. There are round pile cutting machines and square pile cutting machines from the shape of pile breaking heads. In high-speed railway bridges, industrial and civil construction pile foundation engineering, pile cutting machine is a common machine.
The general circular pile breaking machine is suitable for a pile diameter of 200mm-2200mm. The square pile cutting machine is suitable for the length of the pile side of 300-650mm. Yugong pile head breaking machine can meet the requirements of various large-scale foundation construction.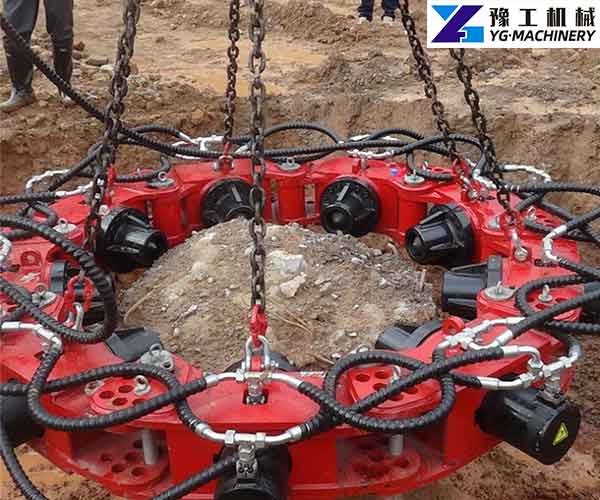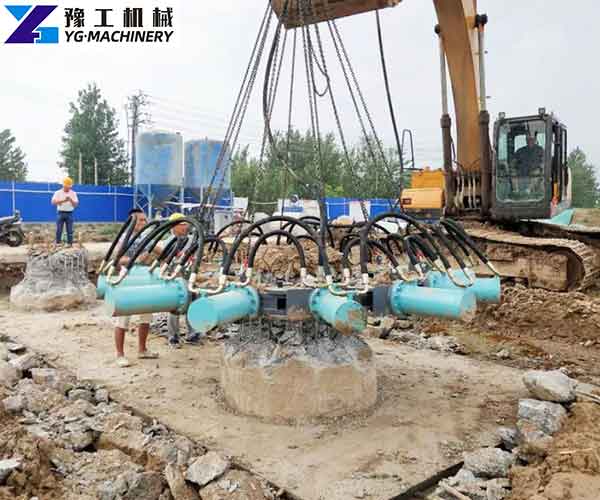 Hydraulic Pile Cutter Manufacturer
Henan Yugong Machinery Co., Ltd. is a large-scale construction machinery manufacturer integrating R&D, production, and sales of road machinery, construction machinery, and environmental protection construction equipment. YG Machinery provides concrete pile crusher, hydraulic rock splitter, sandblasting machine, pipe rust removal machine,  water well drilling rigs, down-the-hole drilling rigs, road mark making machines, asphalt crack filler machines, mortar spraying machine, concrete wire saw machine, etc. It is sold to Peru, the United States, Chile, the Philippines, Malaysia, South Africa, and many other countries and regions. Our company warmly looks forward to sincere cooperation with our customers and friends, mutual benefit & win-win all the time. Choose Yugong Company as your partner is an ideal choice.