On March 27th, A customer from the Netherlands contacted us by browsing our website and was very interested in our dust suppression equipment. want to know more about it. Let our sales manager introduce this product to him in detail. The main function of customers buying this equipment is to spray pesticides and disinfect the trees. The customer's demand is a spray range of about 60-100 meters. Because the customer has a clear range of use, after communication, the customer bought YG-100 dust suppression equipment.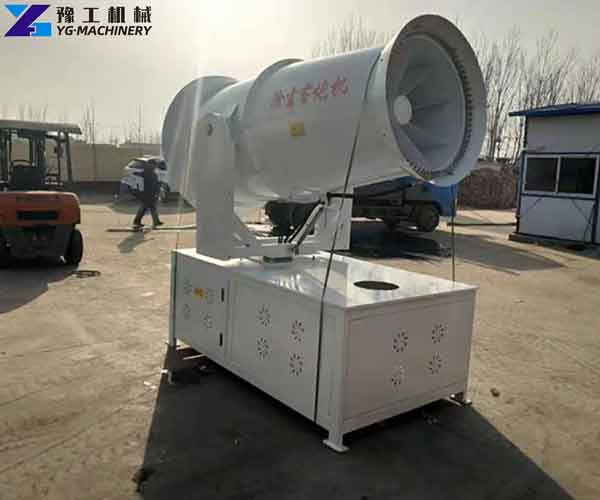 Parameter of Mist Cannon Machine:
| | | | | | |
| --- | --- | --- | --- | --- | --- |
| Model | YG-30 | YG-40 | YG-50 | YG-60 | YG-100 |
| Horizontal Range | 30m | 40m | 50m | 60m | 100m |
| Fog Size | 40-200μm | 40-200μm | 40-200μm | 40-200μm | 30-200μm |
| Fan Diameter | 500mm | 500mm | 700mm | 700mm | 1200mm |
| Fan Length | 1.25m | 1.5m | 2.1m | 2.1m | 2.55m |
| Voltage | 380V | 380V | 380V | 380V | 380V |
| Fan Power | 3kw | 5.5kw | 15kw | 18.5kw | 55kw |
| Water Pump Power | 3kw | 3kw | 5.5kw | 5.5kw | 11kw |
| Dimension | 1350*1000*1600mm | 1650*1000*1750mm | 1800*1200*2100mm | 1800*1200*2200mm | 2700*2000*2300mm |
Fog Cannon Manufacturer for Sale
Our company has inventory and completion certificates. The configuration of the machine can be changed according to customer needs and usage. Finally, our sales manager confirms that customers can receive the goods in their own country, and we sell them at very low prices. He also bought several fog sprayer machines and 3 electrostatic backpack sprayers. The customer said that there will be many orders in the future and look forward to our follow-up cooperation. Thank all customers for their trust in us!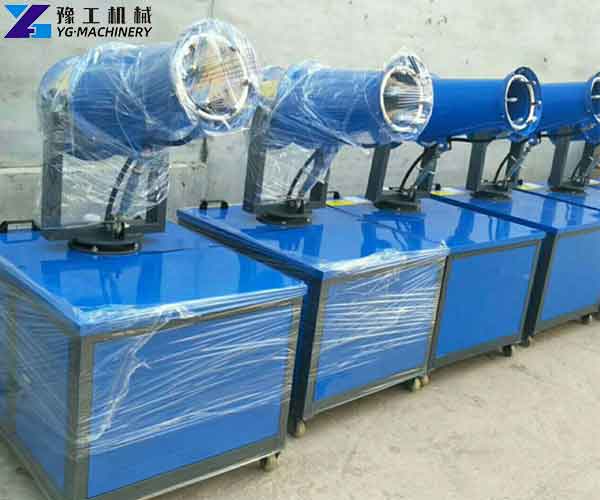 Parameter:
Model:  YG-100
Horizontal Range:  100m
Fog Size:   30-200μm
Fan Diameter:   1200mm
Fan Length:   2.55m
Voltage:  380v
Fan Power:  55kw
Water Pump Power:  11kw
Dimension:   2700*2000*2300mm
Application of Dust Suppression Equipment:
The dust removal fog cannon machine is divided into 30-120 meters of head. It is suitable for construction site dust removal, factory dust removal, road vehicle dust; large gardens, greening trees, road protection forests, lawns, etc. spray humidification to prevent pests and diseases; also suitable for environmental protection industries, dust-prone coal, and other material storage yards, etc. Water dust removal, dust suppression, and cooling. It can also be used for daily disinfection and air humidification. because of its small spray mist particles, Wide coverage.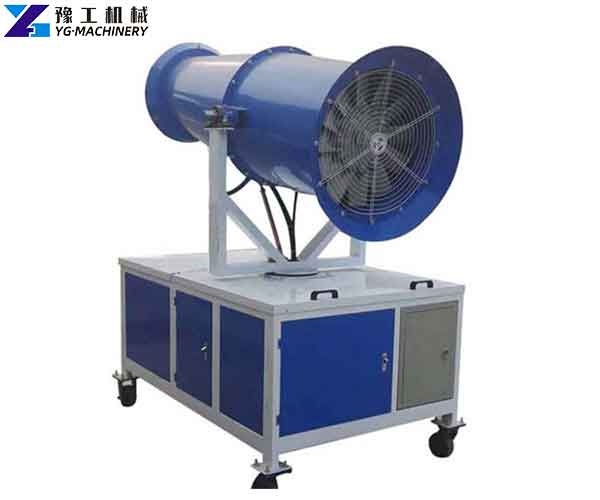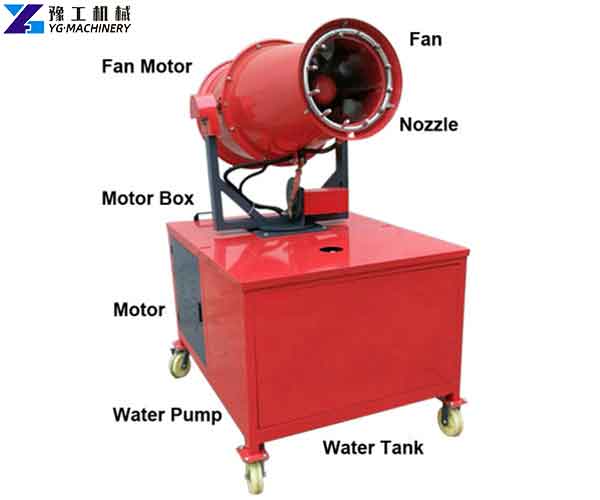 Features and Advantages of Fog Cannon for Sale
High efficiency: the sprayed water mist can quickly combine with the dust to settle, and the dust reduction effect is immediate;
Range: The high-pressure centrifugal fan enables the fog cannon to have an ultra-long-range and a large circumferential coverage area;
Energy-saving: atomization and dust reduction, compared with spray guns, sprinklers, and other dust suppression equipment to save water by 70-80%;
Flexible: 380V direct supply can be selected, or diesel generator set can be matched, which has strong adaptability;
Mobility: It can be moved at any time, and can also be fixed or used in supporting transport vehicles, with very high mobility and diversified application scenarios.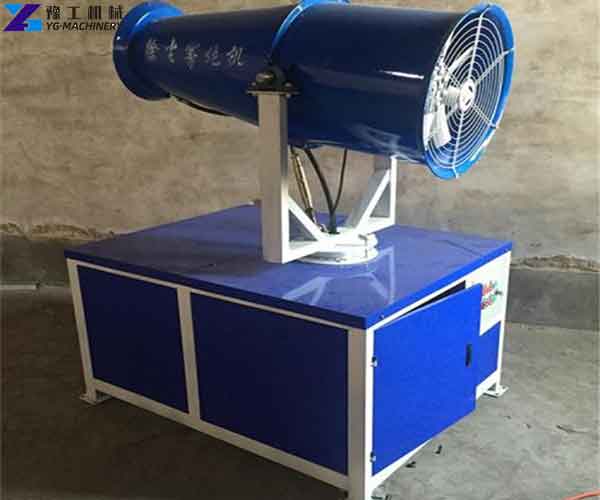 What are the advantages of the dust removal fog cannon machine?
First of all, the dust removal fog cannon dust suppression can effectively suppress PM2.5 in public places, including residential areas, office areas, commercial areas, squares, city halls, airports, and other places. Secondly, the dust removal mist cannons machine is divided into multiple models according to the function and coverage area: the range is from 30 to 120 meters, there are fixed, lifting and vehicle-mounted, 360-degree rotation, and horizontal height adjustable.
Divided into the manual and automatic, remote control (mobile phone). It can be driven by an electric motor, diesel engine, explosion-proof hydraulic motor, and ordinary electric interface. With nozzles of different sizes, it can produce a better atomization effect and lower water consumption, avoiding mud and puddles.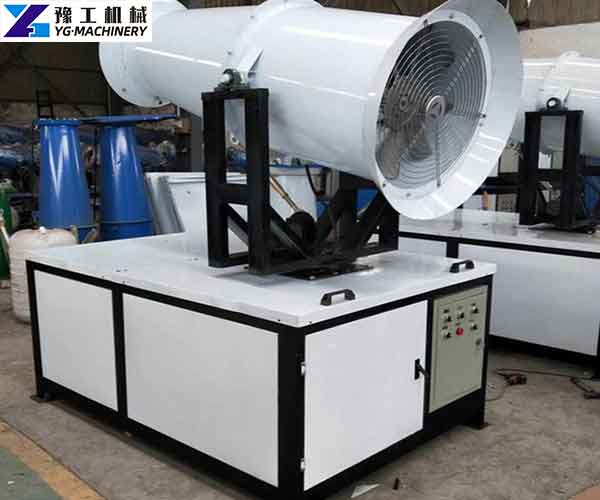 Dust Suppression Cannon Manufacturer-YG Machinery
Dust suppression cannons are hot sale products in YG machinery. Dust suppression equipment can tailor a long-range spray program according to the actual pollution situation on the user site and the amount of dust to achieve the ideal dust control effect. Of course, as a professional machinery manufacturer, there are also: road marking machines for sale, asphalt crack filler machines, mini roller compactors, mortar spraying machines, automatic sandblasting machines, pile breaker machines, hydraulic rock splitter, small water well drilling rigs.