On March 27th, A customer from the Netherlands contacted us by browsing our website and was very interested in our dust suppression equipment. want to know more about it. Let our sales manager introduce this product to him in detail. The main function of customers buying this equipment is to spray pesticides and disinfect the trees. The customer's demand is a spray range of about 90-100 meters. Because the customer has a clear range of use, after communication, the customer bought of YG-100 dust suppression equipment.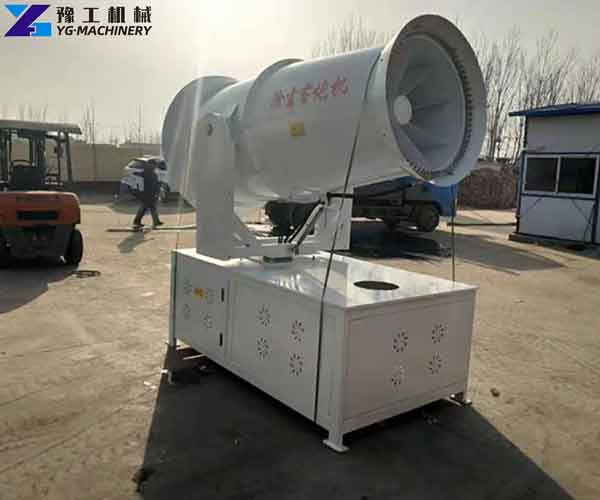 Our company has inventory and completion certificates. The configuration of the machine can be changed according to customer needs and usage. Finally, our sales manager confirms that customers can receive the goods in their own country, and we sell them at very low prices. He also bought several fog sprayer machines and 3 electrostatic backpack sprayers. The customer said that there will be many orders in the future and look forward to our follow-up cooperation. Thank all customers for their trust in us!
Parameter:
Model:  YG-100
Horizontal Range:  100m
Fog Size:   30-200μm
Fan Diameter:   1200mm
Fan Length:   2.55m
Voltage:  380v
Fan Power:  55kw
Water Pump Power:  11kw
Dimension:   2700*2000*2300mm
Application of Dust Suppression Equipment:
The dust suppression equipment has strong wind power and maneuverability, long-range, wide-coverage, and high working efficiency. Moreover, using the high-pressure fan with large air volume, the sprayed mist particles are scattered like the drizzle with the wind, and there will be no water droplets. By combining with small particles in the air, the effect of dust reduction is achieved. Not only can it be used in large construction sites to reduce dust, but it also can be used to disinfect and spray pesticides to complete daily agricultural and forestry operations.
Does the Fog Gun Machine Only Come to Dust?
Of course not. Not only can it be used for dust removal, but also for daily agricultural and forestry activities. For example, trees, orchards, grasslands, flower gardens, and other places can be used for watering or spraying pesticides to remove insects, It can also be used for daily disinfection and air humidification.because of its small spray mist particles, Wide coverage.
Features and advantages of fog cannon for Sale
High efficiency: the sprayed water mist can quickly combine with the dust to settle, and the dust reduction effect is immediate;
Range: The high-pressure centrifugal fan enables the fog cannon to have an ultra-long range and a large circumferential coverage area;
Energy saving: atomization and dust reduction, compared with spray guns, sprinklers and other dust suppression equipment to save water by 70-80%;
Flexible: 380V direct supply can be selected, or diesel generator set can be matched, which has strong adaptability;
Mobility: It can be moved at any time, can also be fixed or used in supporting transport vehicles, with very high mobility and diversified application scenarios.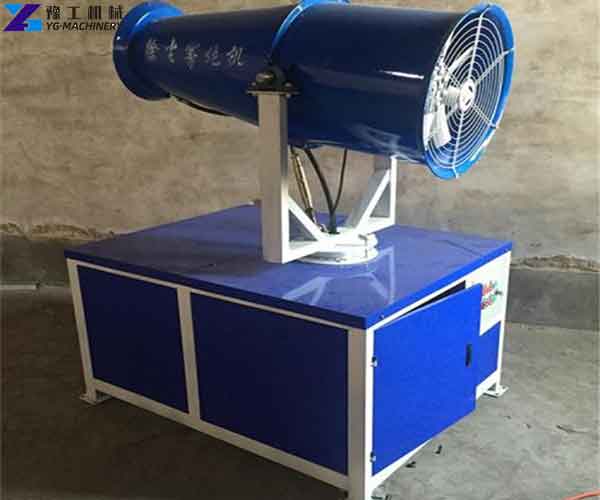 Application Range of Fog Gun Machine:
The construction site and demolition construction site are mainly used to remove dust to reduce dust pollution, protect the environment and the safety of workers, and the dam water conservancy, highway, and bridge sites are used to reduce temperature and remove dust.
It is mainly used for dust pollution treatment in coal yards, mines, steel plants, and other construction sites with relatively large dust.
Agriculture, forestry, vegetable fields, park grass, etc. are used for watering and deworming operations.
The vehicle-mounted fog gun can spray urban roads, environmentally friendly dust reduction operations, and mobile full disinfection operations.