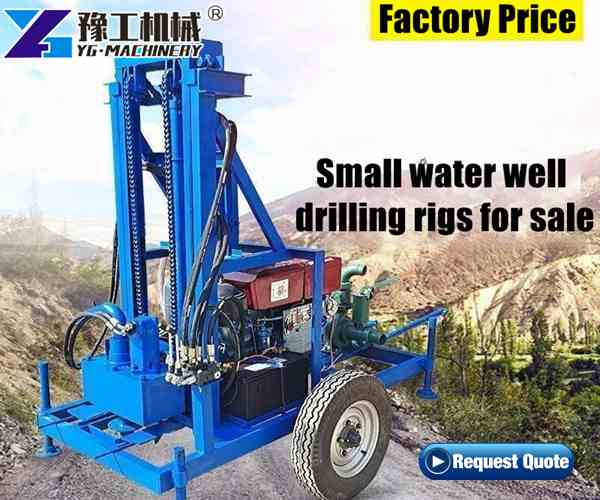 The Small Drilling Rigs are mainly used to develop groundwater resources, including domestic water, agricultural water, and industrial water drilling, and are also suitable for hydrogeological exploration, construction engineering, bridge foundation drilling, etc.
Small Cheap Water Well Drilling Equipment for sale
| | | | | | | |
| --- | --- | --- | --- | --- | --- | --- |
| Model | HY180 | HY-S240 | HY-S350 | HY-S500 | ZX-S220 | ZX-S280 |
| Engine | Electric (220V) | Electric (220V) | Electric(380V) | Electric(380V) | Diesel | Diesel |
| Power | 1.5-2kw | 4kw | 3kw | 5.5kw | 15HP | 8HP |
| Drilling diameter(mm) | 80-200 | 80-220 | 80-350 | 80-500 | 80-220 | 80-280 |
| Drilling depth | 80 | 100 | 100 | 120 | 100 | 120 |
| Drilling rod | Φ42,1.5m | Φ51,1.5m | Φ51,1.5m | Φ65,2m | Φ51,1.5m | Φ51,1.5m |
| Water pump | 2.2kw | 2.2kw | 2.2kw | 5.5kw | 3.5HP | 3.5HP |
| Size(m) | 0.7*0.7*2.5 | 0.7*0.7*2.5 | 0.8*0.8*2.7 | 1*1.5*2 | 0.8*0.8*2.7 | 0.8*0.8*2.7 |
| Weight | 120KG | 150KG | 250KG | 600KG | 250KG | 200KG |
Portable small civilian electric well drilling machines are widely used in household/factory domestic water well drilling, farmland irrigation wells, water air conditioning installation, construction site piling, etc. Please contact us to get Cheap Water Well Drilling Equipment Price.
WhatsApp 008613598866720.
Working Mode of Portable water well drilling rig for Sale
The working mode of this cheap water well drilling equipment for sale is the pump suction reverse circulation type.
Its working principle is: under the action of atmospheric pressure, the circulating fluid flows from the sedimentation tank to the bottom of the well through the return ditch along the annular gap of the well hole. The negative pressure established by the suction draws the debris mud into the inner cavity of the drill pipe, then rises to the faucet, and is discharged into the sedimentation tank through the mud pump, and the circulating fluid after sedimentation continues to flow into the wellbore, and so on, forming a reverse circulation drilling work.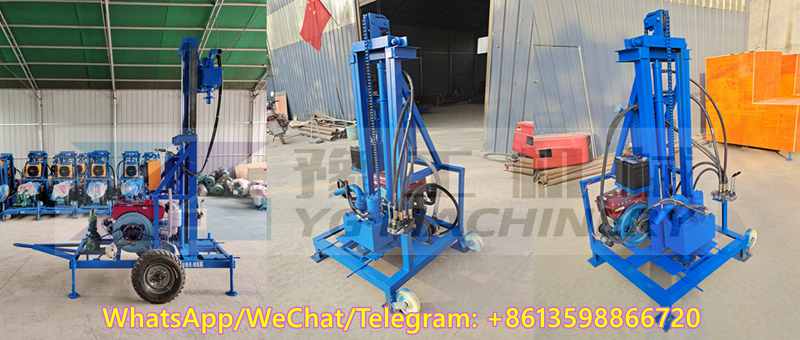 Features
1-2 people can operate the drilling machine.
Drill Depth Maximum 120mm, diameter 300mm.
One-button electric start reduces the labor intensity of the operator, and electric models can also be customized.
Diesel engine: convenient to start and reduces the labor intensity of the operator.
The hydraulic operating principle with radiator, so that the cheap water well drilling equipment can work continuously and efficiently.
Equipped with a high-power hydraulic motor, the power head can be forward and reversed.
The drill frame is equipped with a hydraulic oil cylinder, and the oil pressure can be raised and lowered by operating the handle.
The drilling rig has its own water pump with a reasonable structure, compact layout, and good slag discharge effect.
Equipped with a traction bar and wheeled walking mechanism, it is convenient to move the drilling rig.
Equipped with wire support legs for leveling the drilling rig.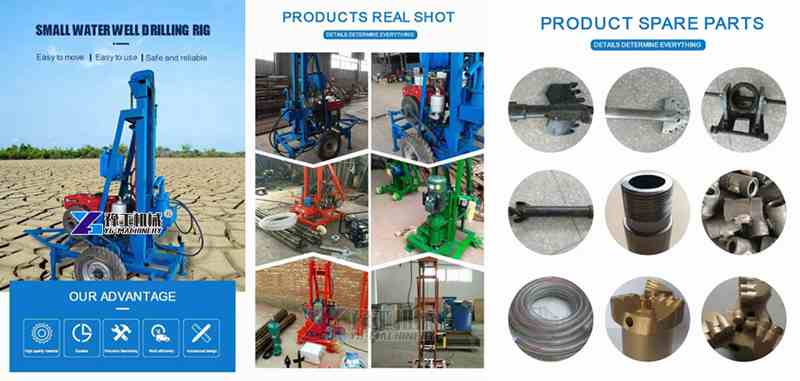 Small Well Drilling Machine Supplier
Henan Yugong Machinery is a professional drilling rig machine manufacturer from China. Our products: small drilling rigs, rotary drilling rigs, HDD drilling equipment, XY-3 Borehole Drilling Machine for sale, Down the Hole Drilling, Water Well Drilling Rig for Sale, Fully Hydraulic Crawler Core Drilling Rig, etc. YG Drilling Rigs have many advantages, for example, small well drilling rig can meet the needs of drought-resistant irrigation water with relatively small power and relatively low cost.
Are you looking for a portable borehole drilling machine for sale? Contact us to request a free quote.