During marking construction, first, use a hot-melt kettle/Thermoplastic preheater to heat and stir the powdered paint until the hot melt becomes liquid. Then put the paint into the marking machine for marking construction. Since the melting quality of the paint is directly related to the quality of the marking line, the hot melt kettle is a key component of the hot melt marking equipment. It is an essential part of the paint melting.
Contact us now to get the Thermoplastic preheater machine price.
Double Cylinder Hydraulic Thermoplastic Preheater
YG800/YG1000/YG1200 Double cylinder hydraulic preheater is used for hot melt road line paint projects. The equipment adopts multi-channel integrated hydraulic transmission with step-less variable speed and strong torque to ensure high performance and heavy load operation. It can stir in forward and reverse directions.
Technical Infos
Kettle capacity: 360*2KG/500*2KG/600*2KG
Hydraulic transmission system: multi-channel integrated hydraulic control valve, forward and reverse mixing, stepless speed change
Hydraulic motor: BM type
Hydraulic oil tank volume: 40 liters
Stainless Steel Bowl, High Carbon Steel Bottom, Stand Up Paddle Mixer
Structure: frame structure. The insulation material is installed between the inner tank and the outer wall of the kettle
Heating system: liquefied petroleum gas, imported four-ring high-efficiency energy-saving burner, direct-injection stove head burner, or strip-shaped burner
Safety device: specially designed overload overflow device to prevent misoperation
Size:

YG800:

1750X1620X1570mm |

YG1000:

1750X1620X1700mm |

YG1200:

1850X1820X1700mm
Weight:

YG800:

700kg |

YG1000:

1000kg |

YG1200:

 1200kg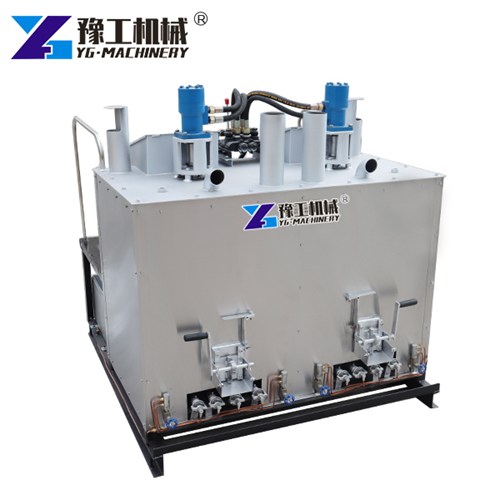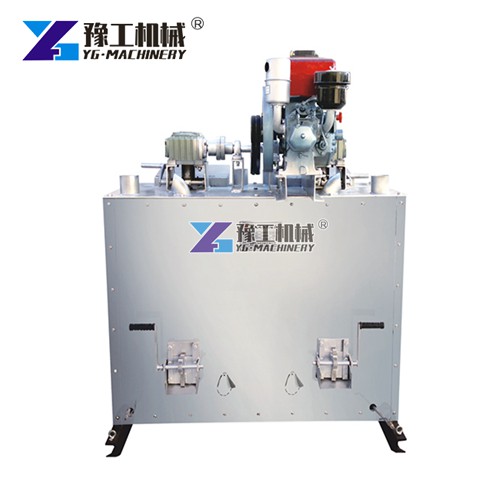 Advantages:
High combustion efficiency: High-efficiency energy-saving burner with direct injection fire.
Save time and energy.
High melting efficiency.
Long continuous working time
Simple operation
Convenient maintenance
Hydraulic Single Cylinder Hot Melt Kettle
The hydraulic single-cylinder hot-melt kettle adopts hydraulic transmission mode, an independent cylinder body, imported high-efficiency, and an energy-saving direct-fire burner. It is suitable for marking lines of small-scale engineering construction in parking lots, property communities, factories, enterprises, docks, and other places.
Advantages:
High melting efficiency
Small size
Lightweight
Convenient transportation
Contact us to get the single cylinder hot melt kettle machine price.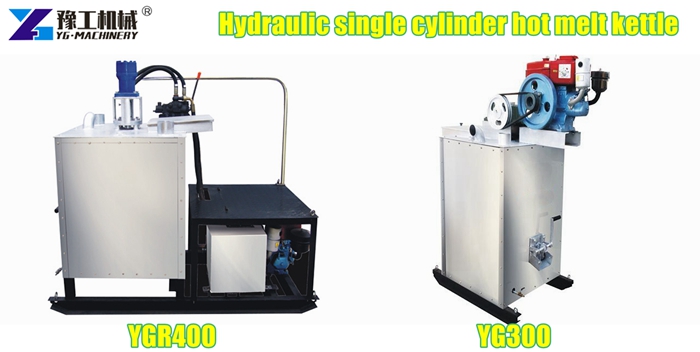 If you do not know which one to choose from, you can leave your requirements with us and our sales person will reply to you to suggest you a suitable model.
About Us YG Road Machinery
YG Road Machinery provides kinds of road construction machines. Such as YG-180 Hand-push Thermoplastic Marking Machine, cold spray road line paint machine, Road roller machine, Road Paver Machine, etc. Are you looking for road construction equipment? Please leave your messages here.