A road sweeper is a cleaning machine mainly used for road cleaning. The electric road sweeper is an automatic cleaning all-in-one machine that combines sweeping, vacuuming, and water spraying. It is more suitable for outdoor cleaning. Generally, there are many outdoor cleaning applications in airports, highway service areas, parks, sanitation, cleaning companies, property management companies, schools, etc.

Technical Parameters of YG 1800 battery powered road sweeper
| | |
| --- | --- |
| Model | YG1800 Electric Road Sweeper |
| Sweeping width | 1800mm |
| Efficiency | 10800㎡/h |
| Hill climbing ability | 25 |
| Side brush diameter | 500mm |
| Main brush length | 800mm |
| Turning raduis | 1100mm |
| Container capacity | 180L |
| Water tank capacity | 60L |
| Drive power(motors) | 1500W |
| Max operation speed | 7km/h |
| Max working hours per charing | 6-8h |
| Filter area | 5㎡ |
| Batteries | 6V*6   200AH |
| Net weight | 765kg |
| Dimensions(L/W/H) | 2200*1800*2160mm |
Electric Road Street Sweeper Features
Chassis: High-strength square steel welding, high-quality carbon steel, electrophoresis anti-rust treatment, corrosion resistance.
Body: Fully enclosed cab, fully transparent glass on three sides, high-quality and high-strength metal body, good operating visibility and beautiful appearance.
Motor: All motors are brushless motors with stable performance.
Seat: Cushioning and shock-absorbing seat, with gravity sensing device and strong safety.
Main brush cleaning system: The motor directly drives the main brush, without transmission loss, stable performance and shorter working time.
Tires: four-wheel, radial brand vacuum tires, wear-resistant and long service life.
Temperature control system: heating and cooling air conditioner (lithium battery version only).

Mini street floor cleaning machine for sale
YG Electric Sweepers are widely used in environmental operations such as municipal roads, property communities, schools, large factories, tourist attractions, airports and terminals. The
road cleaning machine
adds a dust suction device and a
water mist device
, and can enable motor vehicles to be towed, which greatly improves the speed and efficiency of road cleaning, reduces people's physical labor, and does not raise dust and moisten the ground during the cleaning process, purifying the surrounding environment.
The ride-on sweeper is powered by a battery and can work continuously for
8 hours
when fully charged. It can basically meet the cleaning needs of most places without emitting waste gas to pollute the air. Its strong passability can completely clean the dead corners, leaving garbage and dust nowhere to hide.
The mini street sweeper is a very suitable cleaning equipment for sweeping the ground. Both in terms of working efficiency and cleaning effect, it is higher than manual cleaning.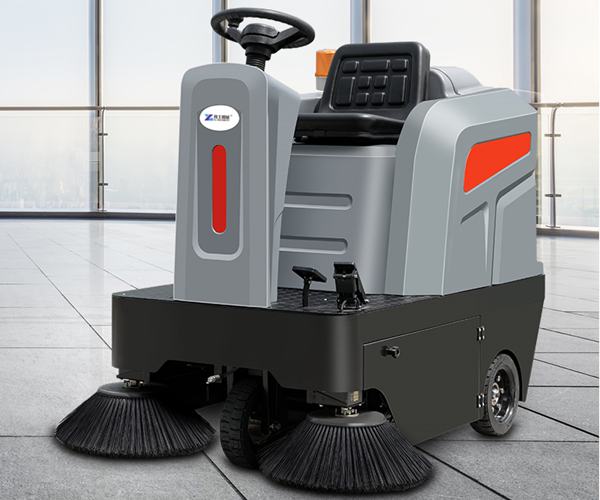 Why you should use an electric road sweeper?
This electric road sweeper combines washing and drying in one. The front double brush disc brush or scouring pad is suitable for cleaning floor types such as epoxy resin floor, emery floor, ceramic tile floor, marble floor, terrazzo floor, cement floor, non-slip floor, small square tile floor, etc.
The electric steet sweeper can effectively clean stubborn oil stains, stains, dirty water, soil, etc. on the ground. The rear arc-shaped squeegee can effectively suck up sewage. The floor that the floor scrubber passes through can achieve a dry effect and clean without residue.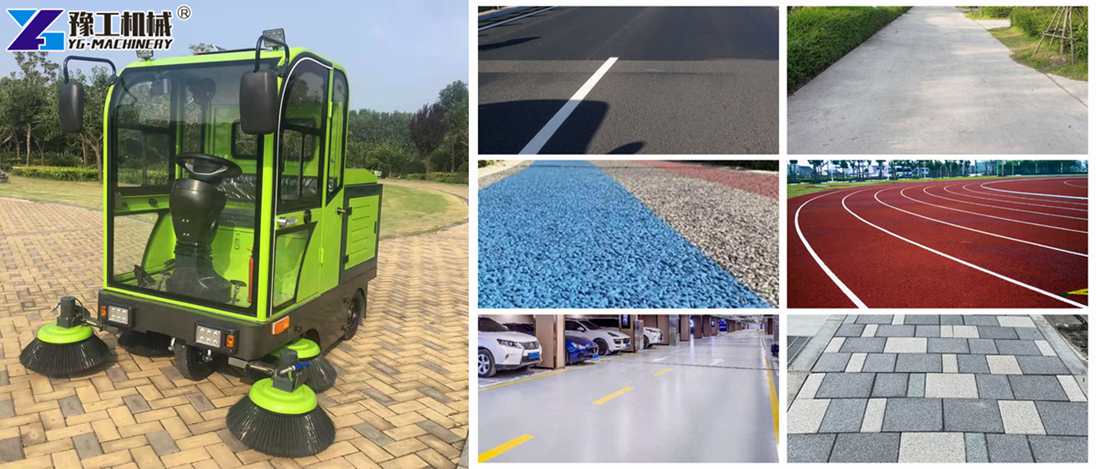 You may also like: Snow blower machine snow removal equipment
How to choose a suitable electric road sweeper?
Identify technical parameters: Many online sales companies and manufacturers will falsely mark the parameters of industrial-grade floor scrubbers, especially those trading companies and factories that did not start with cleaning equipment. There is a huge discrepancy between the actual parameters and the written parameters, so you must pay attention to distinguish them when purchasing.
Pay attention to machine joint warranty: The working environment of multi-functional road sweepers is considered the worst, and the failure rate is definitely higher than that in commercial places. Therefore, it is very important whether the machine is guaranteed nationwide. Timely technical guidance and door-to-door service can save a lot of time.
Pay attention to the quality of core components: You must pay attention to the core components of the electric road sweeper machine, otherwise it will break down after a short period of use, and subsequent repair costs will greatly increase the cost of using the machine.
Don't be greedy for cheap: the price of a floor washing machine is closely related to the quality. Please do not buy the machine at a very low price, because you will get what you paid.
The quality of consumables must be reliable: Many floor sweepers manufacturers do not specifically tell users that the consumables will be paid separately when selling machines, nor do they guarantee the service life of the consumables.
The main purpose of the multifunctional floor road sweeper is to clean dust, stains, oil stains on the floor, and absorb water stains on the floor, etc., so that the floor can be dried instantly. It is highly practical. So when purchasing, you must take the initiative to understand the brush plate and water absorption of the floor washer. Only by comparing the material of the strips and the approximate service life can we comprehensively compare prices and obtain a higher delivery ratio.