YG-180 hand-push thermoplastic marking machine is a new and special product. It is the ideal equipment in marking construction, can mark line independently without hot melt kettle. Thermoplastic spraying machine can mark road safety signs, such as zebra crossing, sidewalk, driveway.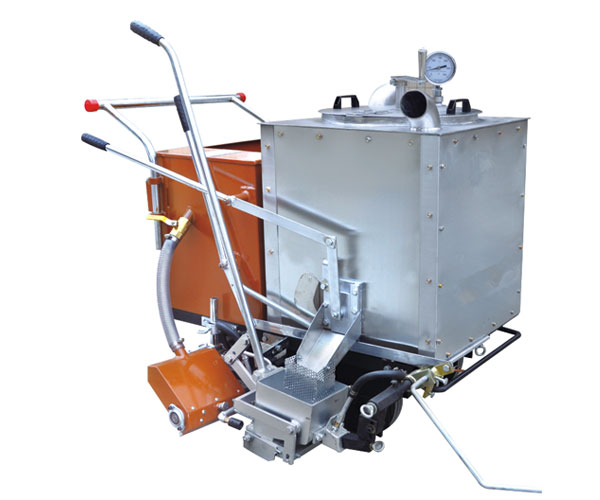 Parameter:
Model: YG-180 Thermoplastic Marking Machine
Spraying Capacity: 100kg/time
Width: 100mm, 150mm, 200mm, 300mm
Thickness: 1.0-3.0mm
Speed: 1.5km / h
Heating Temperature: 180-230 ° C
Heating Method: petroleum liquefied gas
Volume: 1400*900*1150mm
Weight: 150kg
Features of YG-180 Hand Push Thermoplastic Marking Machine:
Thismachine is light, compact and beautiful.
Liftingdesign of handle allows the operator make adjustments as needed.
Speed control buffer device makes the glass bead and paint spray simultaneously.
Stainless steelheating kettle adopts detachable design, and has good thermal insulation effect.
There is a filter in the kettle, which can filter out impurities in the paint.
Adjustable pointers can increase productivity.
Coating bucket adopts high-precision steel plate, resistant to high temperature, corrosion, deformation.
Wheels are made of cast iron and imported rubber, they are lightweight, strong and durable.
YG180 hand-push marking machine consists of heating kettle, clutch actuator, trunk, rear wheel locator, glass bead box, coating bucket, heating system, walking system and others.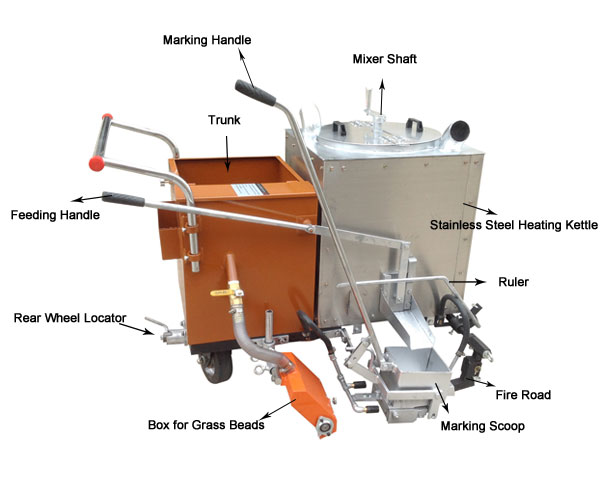 How to Complete the Marking Line Effectively?
Heat the paint in the thermoplastic marking machine. The temperature is controlled between 180 and 220 degrees Celsius, and fully stir the mixture for about 10 minutes.
Clean the road surface, ensure the flatness and smoothness of the ground.
Put the waterline on the road surface according to the design drawing, and draw the line needs to be marked.
Spray primer next to the waterline, which can increase the adhesive power of thermoplastic paint.
Spray hot melt coating after the primer is dry, and spread the reflective glass beads in the marking machine at the same time. It can increase the nighttime identification. The thickness of the marking line is 1.5-1.8 mm.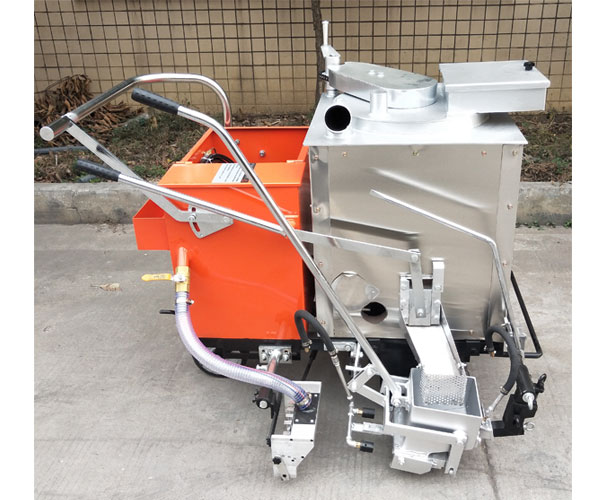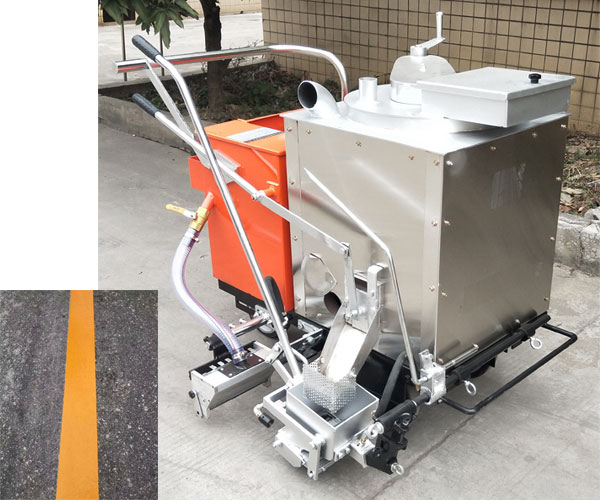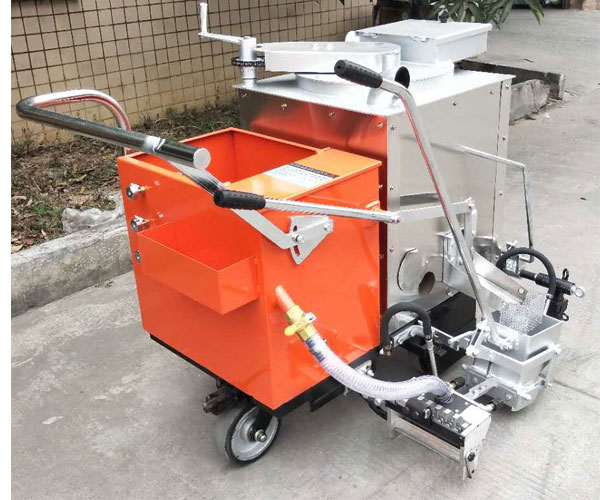 It is necessary to keep road clean before marking line, road cleaning blower is ideal equipment for cleaning various road surface.
The cleaning machine is mainly used for road surface cleaning before marking construction. Hand push blower combines the characteristics of the sweeping machine and blower. It greatly improves work efficiency, and saves construction cost.
Features of Road Cleaning Blower:
Cleaning force stepless adjustment range is strong, medium and weak.
Wire wheel uses iron and special wear-resistant rubber.
Adopts turbocharged wind wheel.
Liftable handle design is suitable for different operator.
Throttle can control the adjustment of wind power.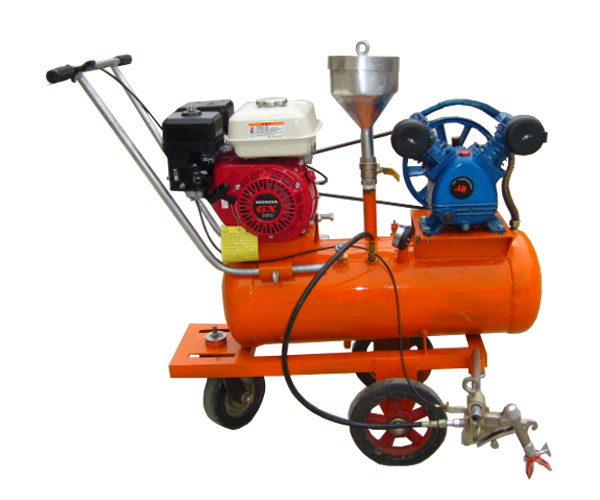 Parameter:
Model: Road Cleaning Blower
Cleaning Width: 220mm
Size: 1100*600*900mm
Weight: 48kg
Request A Quote
Hand-push waterline machine is an auxiliary equipment for road marking construction.
Waterlin machine is the special machinery for placing the reference waterline before marking construction. The operation is very easy. Add the water line paint into the bucket, put down the pointer and find the baseline or datum. And open the value, then worker can do next painting work. The positioner can determin lines or irregular lines, and one to three reference lines can be placed at the same time. Operator can control baseline width by changing the length of telescopic frame. The telescopic rod and frame of water line machine are detachable, light and flexible, easy to transport and use.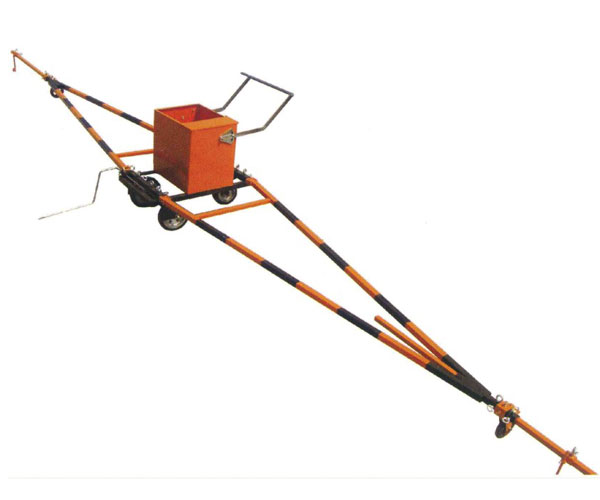 Parameter:
Model: Road Waterline Machine
Maximum Width: 7.2 meters
Dimension: 1300*900*1000mm
Weight: 128kg
Request A Quote
Road primer spraying machine is also an accessory equipment for marking lines.
Primer is a bonding material for coating hot-melt coatings. Road primer machine can improve the adhesion between hot-melt coatings and road surface, and avoid film peeling off. In addition, primer can increase the fullness of the paint, make coating have anti-alkaline and anti-corrosion functions. And at the same time, it can ensure uniform absorption of topcoat, and make the line have a good visual effect.
Features of Priming Machine:
The machine uses a gasoline engine as the power, and is equipped with an automatic air compressor device. It improves work efficiency and reduces labor intensity.
Safe pressure controlling keeps pressure stable, and sets one-way ball valve.
Lifting design of spray gun guide bar makes the spraying width more accurate and convenient.
No noise, no pollution, easy to operateand maintain, and has a long service life.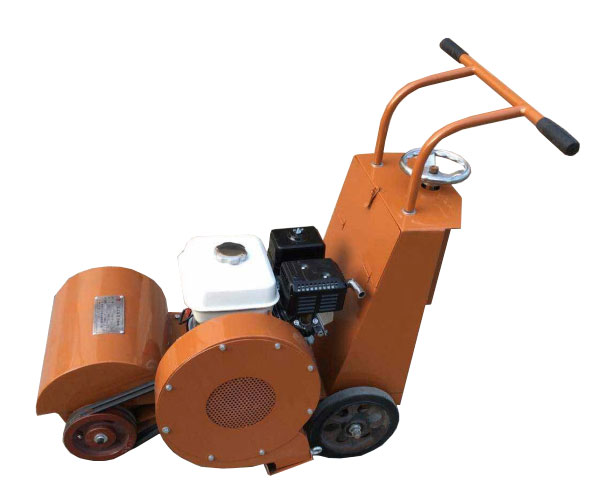 Parameter:
Moddel: Road Primer Spraying Machine
Maximum Discharge Pressure: 0.5Mpa
Spraying Width: 100–450 mm
Walking Speed: 65-70m/min
Dimension: 800*400*850mm
Weight: 50kg
Request A Quote
Apart form the above auxiliary equipment, YG machinery also provides other machines for marking plastic pavement, such as plastic floor scraping machine, plastic floor spraying machine.
The hand-push thermoplastic marking machine is very popular among road construction projects. It has played a huge role in urban planning and road construction, its efficiency and accuracy can maximally save the construction period and economic investment. In additional, YG thermoplastic road marking machines have many models. They have different appearance and function, but the marking effect is better. Every style is popular, and enjoys an excellent reputation for the high qualities.