Non-curing spraying machine can solve the problems of waterproof layer breakage, flexural fatigue, or premature aging under high stress caused by the cracking stress of the base layer. At the same time, the viscous property of the creeping material can seal the base layer well, greatly improving waterproof reliability. And it solves the compatibility problem between existing waterproof coiled material and waterproof coating.
Non-curing hot melt spraying machine for sale
Non-curing spray equipment mainly applies for waterproof engineering spraying in roofs, tunnels, basements, underground garages, swimming pools, and others. To get the non-curing spraying machine price, you can click the button to leave your inquiry or send an email to admin@ygroadmachine.com.
You may like: Best selling products in Henan Yugong Machinery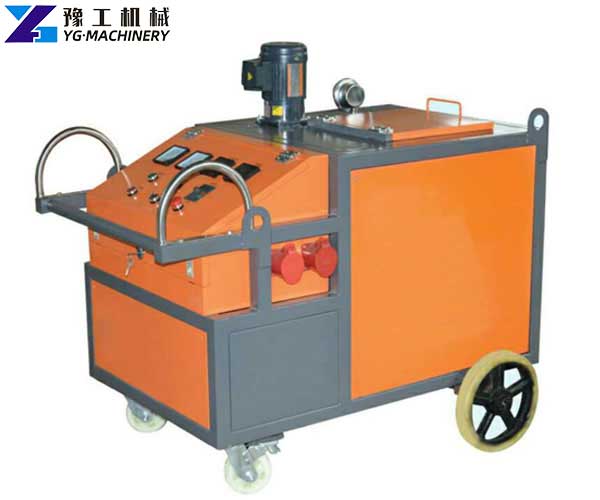 Parameter of Non-curing Spraying Machine:
| | | |
| --- | --- | --- |
| Model | YG-501 | YG-502 |
| Power | 8.5kW | 9kW |
| Voltage | 380V | 380V |
| Voltage Frequency | 50HZ | 50HZ |
| Capacity | 400kg | 100kg |
| Spraying Speed | 390㎡/h | 490㎡/h |
| Dimension | 1700*1100*1370mm | 900*700*800mm |
| Weight | 600kg | 105kg |
Features of Asphalt Waterproof Spray Machine:
The machine is light and convenient for transportation and construction.
It is mainly used for high-temperature non-cured asphalt spraying in various small-area.
The main components are equipped with indicators, if there is a fault you can know at once.
All electric parts have protection functions, prevent damage to the equipment due to misuse.
The electrical parts are selected from international brands, ensure the durability of the equipment.
Use electric heating, high-pressure pump, spraying pressure is large, distance is long and uniform.
Convenient construction and a high degree of mechanization: after heating to a liquid state, uncured rubber asphalt waterproof coating can be sprayed/scraped. The spraying operation is simple and the construction speed is fast.
The pipeline and spray gun have an automatic emptying function and are equipped with a self-relief protection device, without worrying about the problem of asphalt cracking and blocking the pipeline.
The total power is less than 10KW, energy-saving and environmental protection, and has strong applicability to the electricity used on the construction site.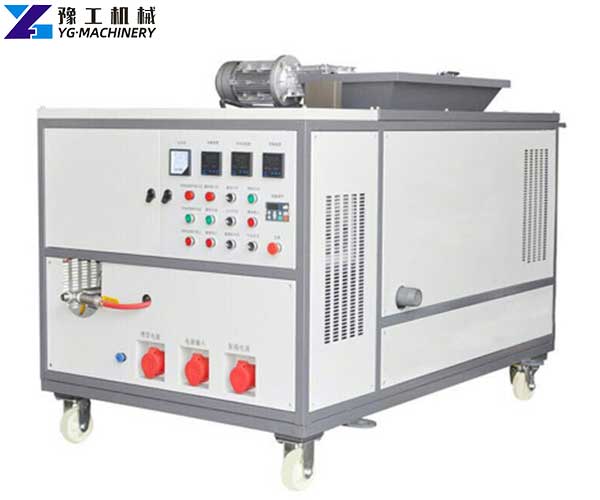 Application of Non-curing Spraying Machine:
Suitable for roofing works of general buildings and waterproofing of toilets, kitchens, etc.;
It is suitable for moisture-proof of roof, basement, wall, etc.;
 Suitable for anticorrosion of various pipes and concrete surfaces;
Especially suitable for projects where open flame construction, mechanical construction, and cold adhesive construction cannot be used.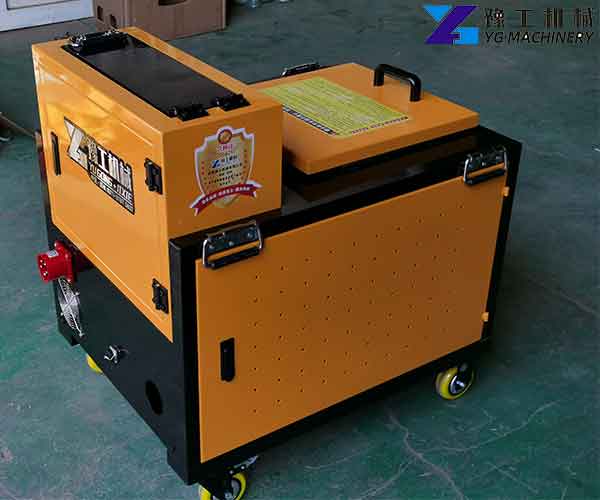 What is a Non-curing Hot Melt Spraying Machine?
The non-curing hot melt spraying machine has both scraping and spraying. It consists of a burner, electric heating components, a hot melt kettle, an agitator, sprays drive assembly, and a spray gun. By heating the paint and combining the principle of electric and mechanical transmission, the time-saving and labor-saving spraying effect of the construction can be achieved.
The machine has a wide range of applications, remote control, uniform spray coating. This spraying machine can improve the construction efficiency of non-curing coatings, keep the construction surface clean, and save materials. And it has been greatly favored by major waterproof enterprises and suppliers.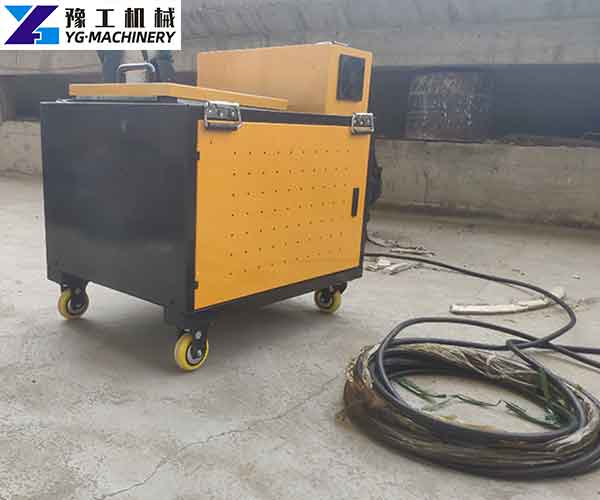 How to Use the Non-curing Spraying Machine?
Basic level processing: keep the roadbed surface firm, flat, clean before spraying non-curing coating.
Heat and melt rubber asphalt waterproof: heat the non-cured rubber asphalt waterproof coating to a liquid state in a heating tank. Only when the specified hot temperature reaches, workers can do the next construction. The heating temperature of manual scraping should be greater than 120 Celsius degree, and the spraying appropriate temperature is 150 Celsius degree.
Spray non-cured paint: knife coating or spraying with the machine the melting non-cured waterproof paint on the subgrade, the thickness is generally between 1.5-2mm. After spraying the non-curing rubber asphalt waterproof coating, roll the waterproofing coil within 3 minutes. So that the coil and non-cured rubber asphalt waterproof coating are firmly bonded together to form a full-stick waterproof system.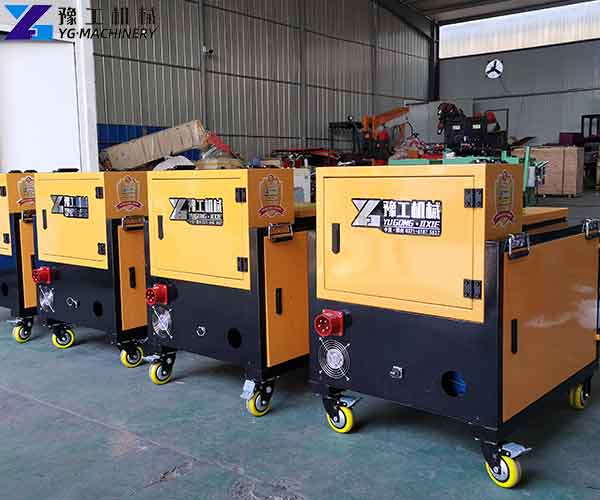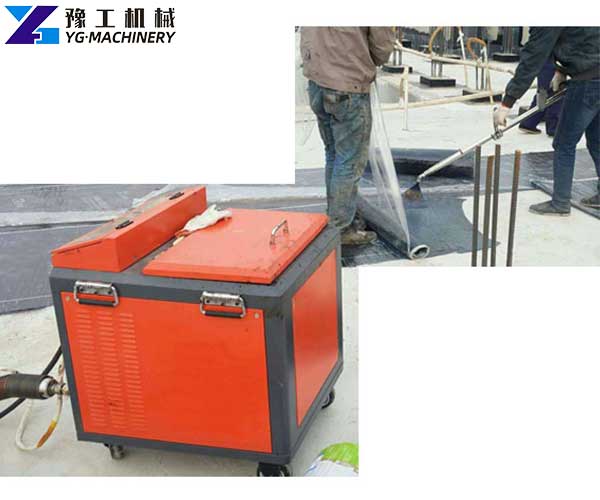 What Should I Pay Attention to Before Operating a Non-curing Spraying Machine?
Check whether every part has loose screws before construction.
Workers wear gloves and protective clothing, avoid contact with eyes and skin.
Check the circuit breaker switch in the electric control box.
During the construction, don't allow the water into the heat transfer oil tank, the flue, and the material box, so as to avoid the water splashing people.
Construction workers are strictly prohibited from approaching the flue to avoid burns.
Construction is prohibited on rainy days.
When using the machine, the temperature of the heat transfer oil should not exceed 230 Celsius degree.
Prohibit debris from entering the material box, avoid clogging the machine.
It is forbidden to start spraying when the material temperature does not reach the spraying standard.
Put the machine in a dry and ventilated place when it stops work for a long time.
Non-curing Spraying Machine Manufacturer-YG Machinery
A set of good non-curing spraying machines is the key for road construction, which is the guarantee of engineering quality. Henan Yugong Machinery co. ltd can offer high-quality road machines for pavement projects to ensure road quality. non-curing spraying machines can be divided into non-curing hot melt spraying machines and heat preservation spraying machines.
YG Machinery also has a lot of road maintenance equipment, such as road milling machines, floor shot blasters, mini concrete pump, concrete shotcrete machine,  concrete trowel machines, mini road roller, road marking machines, and so on. If you are interested in our machines, please contact us. We will definitely reply as soon as possible.