The dust control water truck is also called a fog cannon truck. The water mist particles sprayed by the dust control water truck are very small, reaching the micron level. In haze weather, it can carry out liquid mist to reduce dust, decompose and design the particle concentration in the air, and can effectively decompose Pollution particles and dust in the air can effectively alleviate the smog. The large fog cannon machine loaded by the vehicle can spray water mist 120 meters away and 70 meters high, which has a powerful spray dust reduction effect. In addition,  YG machinery also has a dust suppression cannon to choose from.
We can also provide you with dust suppression cannon and more sterilization products, such as a disinfection door, mist cannon, fog sprayer machine, electrostatic backpack sprayer, fogging sanitizer machine, etc. if you want to know more product-related information. You can click on the message box below or send an email directly to admin@ygroadmachine.com or add my WhatsApp +8613598866720, I will give you a satisfactory answer as soon as possible.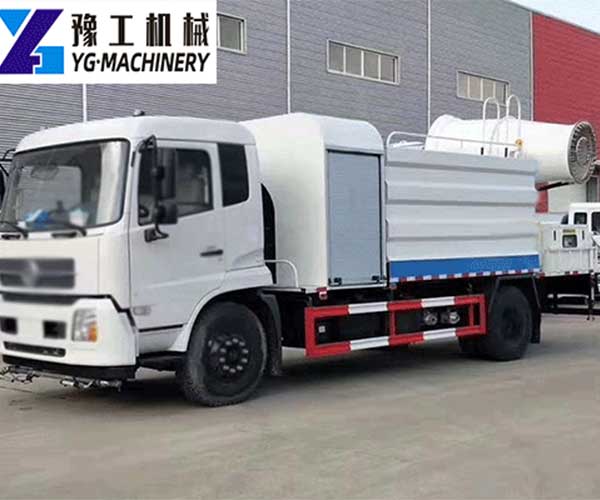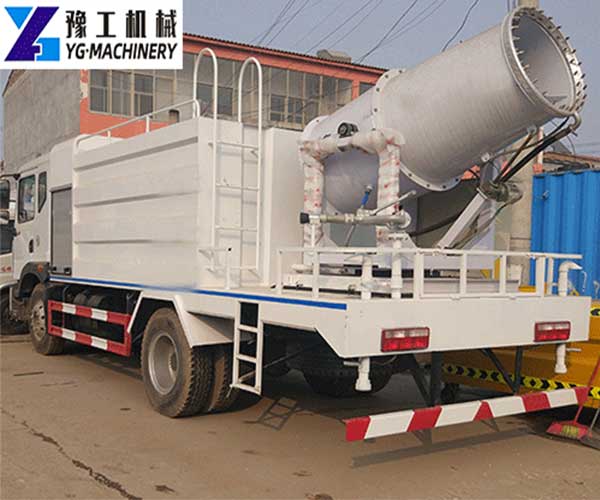 Dust Control Water Truck Product Parameter:
| | |
| --- | --- |
| Water tank volume | 8m³ 12m³  16m³  20m³ |
| Dimension(m) | 9.9*2.5*3.7 |
| Totally weight(kg) | 25000 |
| KPH | 90km/h |
| Front gauge(mm) | 2040 |
| Rear track(mm) | 1860 |
| Fuel category | diesel oil |
| Wheelbase(mm) | 4350+1350 |
| Rotation angle | ±360° |
| Spraying substance | Water mist, disinfectant liquid |
| Spraying distance | 30m 40m 60m 80m 100m |
| Operating mode | Manual/automatic |
| Mist particle size | 40-200μm |
Working Principle of Dust Suppression Truck:
It uses the engine power of the car to drive the onboard sprinkler pump with a power take-off, and the water in the tank body of the car is transferred from the water inlet to the nozzles through the pipeline, so as to realize various functions. Working range: self-priming height: ≤7m, sprinkling width: ≥20m, maximum range: ≥28m; can be adjusted in a row, range ≥28m; can also be adjusted into the fog, range ≥5m.
The sprinkler pump can play the functions of water suction and pressurized drainage. The self-priming pump can draw the water of the pond into the tank, or directly inject water from the fire hydrant on the city road and suck it into the tank for sprinkling. Contact us to get dust control water truck price right now.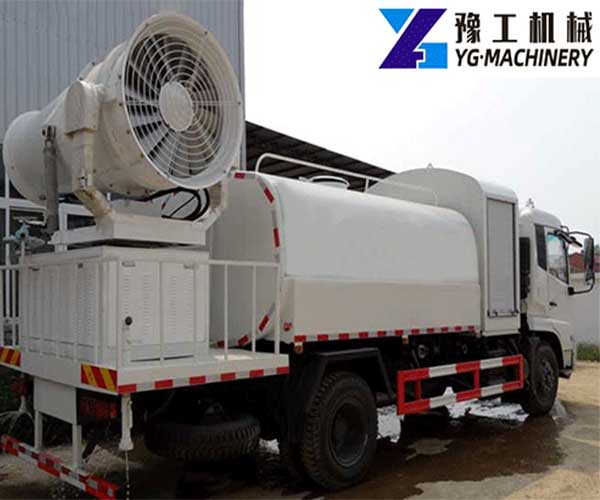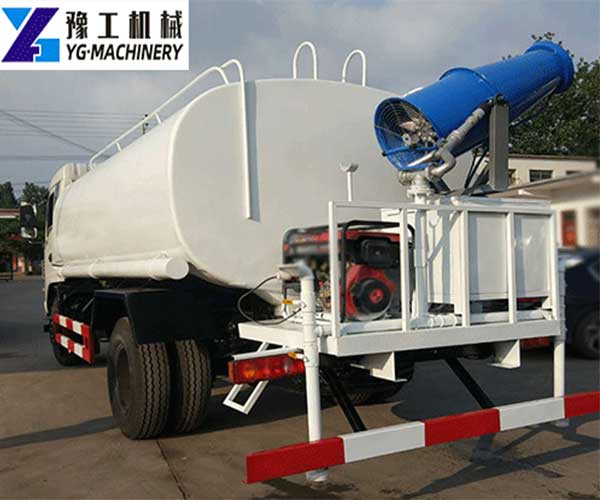 Application Areas of Dust Control Water Truck:
Prevention and treatment of spraying diseases, waste treatment plants, zoos, landfills, sanitation and epidemic prevention, urban environmental beautification and large-scale sterilization, disinfection, deodorization and epidemic prevention, prevention of diseases and insect pests, etc.
Air pollution control of construction sites, municipal infrastructure, open-pit coal mining, and other activities that generate dust pollution.
Moisturizing and cooling: in airports, highways, stations, docks, public places, hot places, and other places, play a role in cooling, dust removal, moisturizing, and disinfection operations.
It can be used to clean roads, scour and remove dust, spray pesticides, water, and other operations on urban pavements, pavement green belts, park greening, large-scale plant areas, etc.
Writing in an emergency situation can help fog cannon trucks fight together.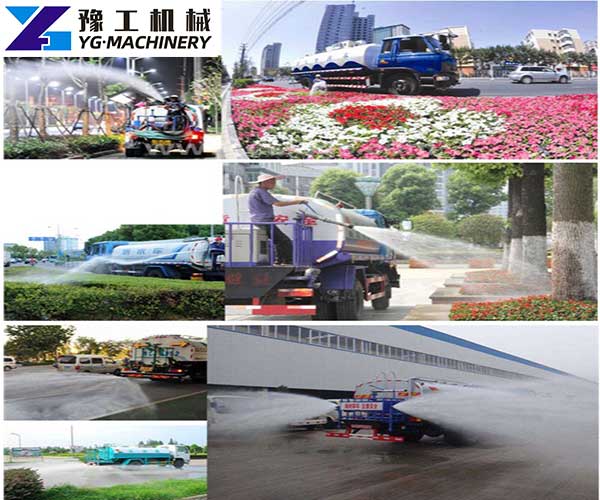 Features of Dust Suppression Truck:
Strong function, long-range, wide-coverage, can achieve precise spraying; high working efficiency, and fast spraying speed.
When spraying water to remove dust in the yard that is easy to cause dust, the sprayed mist particles are small and contact with the floating dust to form a damp mist, which will quickly suppress the dust and reduce dust.
The supporting power is flexible, and it can be equipped with a secondary power supply;
Flexible operation, safe and reliable use, remote control, and manual control operation can freely control and adjust the horizontal rotation spray angle.
Good maneuverability, large tank capacity, can be used for popular spray humidification, cooling, dust suppression, and water spraying.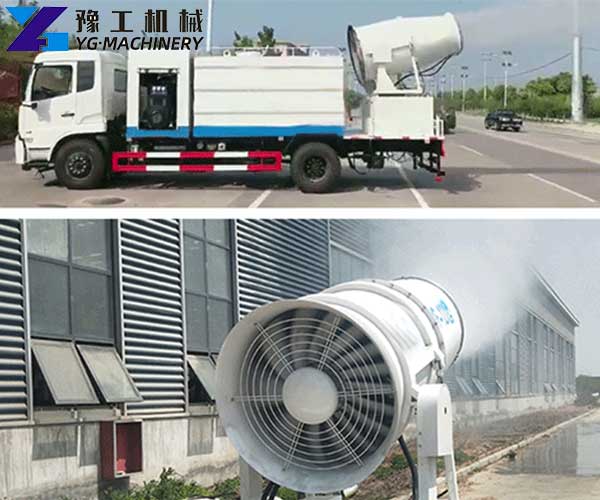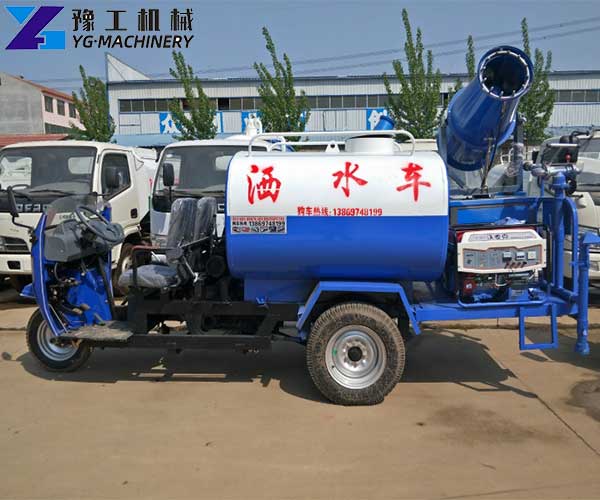 Configuration of Dust Control Water Truck:
Front flush: use the front side sprinkler to flush the residue on the concrete or asphalt ground to 4m away from the sprinkler to clean the ground; the front flush reaches 14m wide;
Rear sprinkling: use the 2 sprinklers installed on the rear side of the car to spray the water into a uniformly-shaped fan surface, sprinkle water to the ground, and then sprinkle up to 10m wide;
Side spray: Use the spray head installed on the rear side of the car to spray water to both sides; the side spray reaches 14m wide;
Anti-aircraft guns: use the water sprinkler mounted on the service desk at the rear of the car to spout water for garden green tea irrigation or emergency fire safety; anti-aircraft guns reach 25 meters.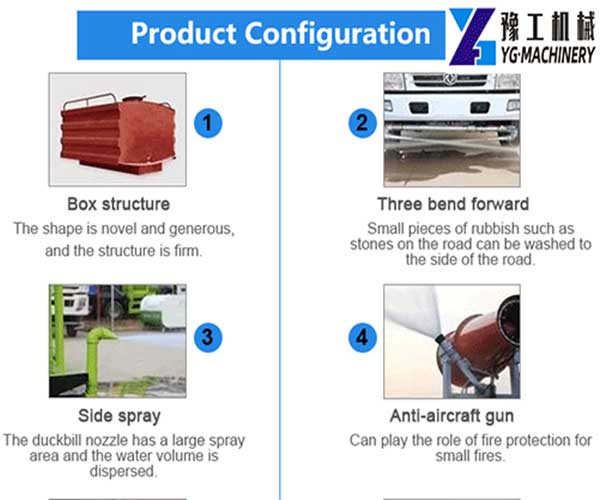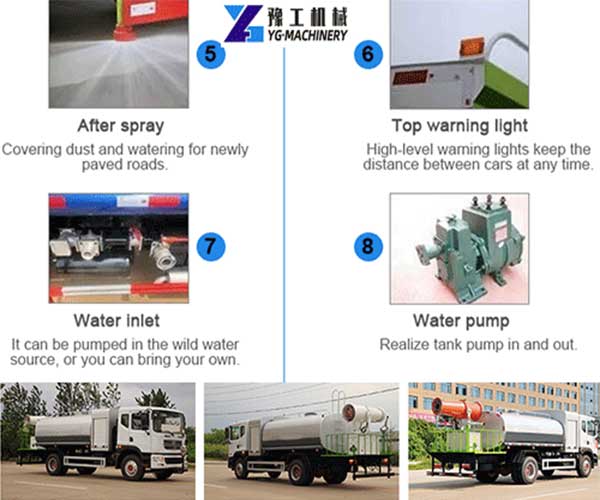 Dust Control Water Truck Manufacturer-YG Machinery
Due to the high efficiency and wide use of dust control water trucks, has been loved by users, if you need to build in mine buildings and other places, dust suppression cannons are also a good choice. YG Machinery always adheres to the principle of "customer first, quality first" and continuously innovates, which has been recognized and praised by customers. If you are interested in equipment, you can contact us.
In addition, YG Machinery has other equipment on sale, such as a water well drilling rig, DTH drilling rig, core drilling rig for sale, pile breaker, hydraulic rock splitter, mortar spraying machine, polyurethane spraying machine, sandblasting machine, etc. Customers from all over the world are welcome to come and buy.