YG Air rotary drilling for the water well was exported to Senegal.
The crawler multifunctional water well drilling rig is a new type, high efficiency and multifunctional hydraulic water well drilling rig, which is mainly used for drilling water wells, monitoring wells, precipitation wells, rescue wells, gas layer mining, and other exploration projects.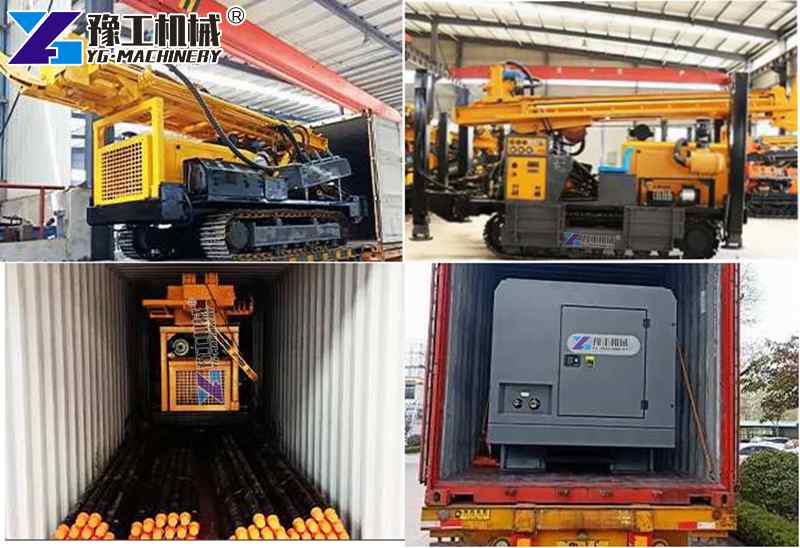 Tracked Water Well Drilling For Sale To Senegal
Air rotary drilling machine is suitable for industrial and civilian drilling and geothermal drilling. It has the advantages of large drilling diameter, deep drilling, fast footage, flexibility, and high efficiency.
Read also: Crawler Type Borehole Drilling Rig
Parameters of Air Rotary Drilling Machine
M

odel

FY280
Gross weight
6.6T
Dimension
5900*1750*2450mm
Aperture
140-305mm
Drill rod caliber
76/89mm
Drilling depth
280m
Feed stroke
6600mm
Lifting Power
17T
Travel speed
2.5km/h
Grade ability
30°
Rising height from ground
250mm
Wind pressure
1.7-3.0Mpa
Air consumption
17-30m³/min
Engine power
70kw
Rotary speed
45-70-130rpm
Rotation torque
4500-6000N.m

How much is the water well drilling machine?
Please contact us to get the Air rotary drilling machine price. WhatsApp 008613598866720.
FAQs
1. Which countries are the equipment exported to?
Our drilling rigs are mainly used in basic projects such as industrial and agricultural water wells, building foundations, and geothermal wells. Our various drilling rigs have been exported to Algeria, Tunisia, Egypt, Oman, Mali, Chad, Sudan, Ethiopia, South Sudan, Senegal, Guinea, Cote d'Ivoire, Ghana, Nigeria, Cameroon, Congo, Kenya, Angola, Zimbabwe, Turkmenistan, Kazakhstan, Uzbekistan, Mongolia, Bangladesh, the Philippines, the United States, Guatemala, Cuba, Bolivia, Paraguay, and other countries and regions are deeply loved and praised by customers.
2: What is the export ratio of your products?
75% of our products are exported all over the world.
3: What is the payment term?
The payment term can be negotiated, and there will be preferential payment terms for long-term customers. TT, L/C, D/P, depends on cooperation time, country, and contract value.
4: What kind of logistics service do you provide?
a. Transportation: railway transportation, international direct transportation, including (international railway direct transportation, sea-rail combined transportation, and sea-land multimodal transportation. Transportation methods: container, LCL, FRC, roll-on-roll-off, bulk cargo, train carriage, truck, plane.
b. Terms: FOB, CIF, DAP, door-to-door service, etc.
5: What spare parts can you provide?
XCMG, Shantui, Zoomlion, China Automobile, SHACMAN, Liugong, SDL G, LONKING, XGMA, Cummins engine, ZF gearbox, and other spare parts.