YG300 Water Well Drilling Rig Machine is sold to Honduras.
This water well drilling rig is an efficient and multi-functional downhole water well drilling equipment, which can be used for drilling water wells, agricultural irrigation wells, geothermal wells and other wells. It is especially suitable for water intake projects in mountainous areas and rock formations. Contact us to request a free quote.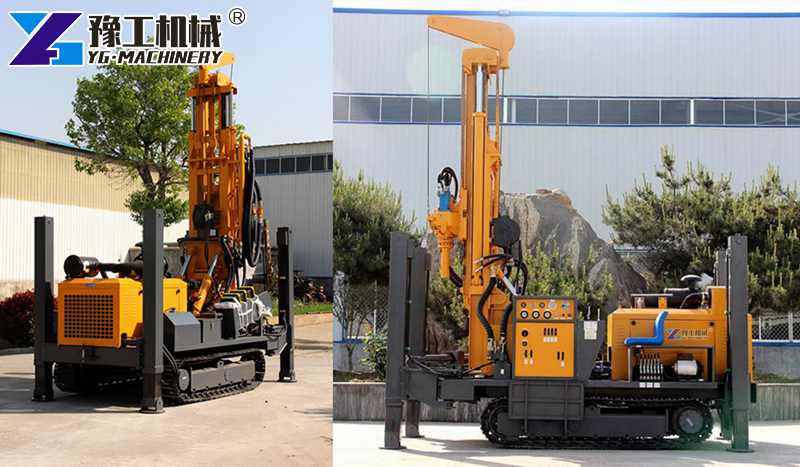 Water Well Drilling Rig for Sale
This machine can drill holes in different strata (rock layer, mud layer, sand layer), and the maximum hole diameter can reach 300mm.
This machine adopts a high-torque hydraulic motor power head and brand diesel oil, and the hydraulic control system adopts large-diameter hydraulic cylinders. The branded diesel has a 2-stage air filtration system protection, and can also directly use the clean air from the air compressor.
The unique bump design and centralized control operating system are easy to maintain and facilitate machine operation.
This machine adopts excavator crawler chassis, which has high off-road performance and can also be installed on a truck, with stronger mobility.
Two gear rotation and feed speed make it work in soil and rock layers.
Dual systems can be added: An aerodynamic system with an air compressor or a Mud pump system with a mud pump.
Parameters of Water Well Drilling Rig Machine
| | | | | |
| --- | --- | --- | --- | --- |
| Model | YG600 | YG400 | YG300 | YG200 |
| Drill hole depth | 600m | 400m | 300m | 200m |
| Maximum opening diameter | 350mm | 350mm | 325mm | 305mm |
| Final hole diameter | 140mm | 140mm | 140mm | 140mm |
| Drill pipe diameter | 76/89/102mm | 76/89/102mm | 89/102mm | 76/89/102mm |
| Walking speed | 2.5km/h | 2.5km/h | 2.5km/h | 2.5km/h |
| Power | 115KW | 95KW | 84KW | 65KW |
| Air pressure | 1.7-3.5MPa | 1.7-3.5MPa | 1.7-3.3MPa | 1.7-3.0MPa |
| Air consumption | 17-35m3/min | 17-35m3/min | 17-35m3/min | 17-30m3/min |
| Drill pipe length | 1.5m/2m/3m | 1.5m/2m/3m | 1.5m/2m/3m | 1.5m/2m/3m |
| Rig lifting force | 30T | 24T | 28T | 18T |
| Swing speed | 45-115rpm | 45-115rpm | 55-115rpm | 50-70rpm |
| Size(mm) | 5400*2100*2850 | 5200*2000*2780 | 5500*1950*2780 | 3800*1700*2350 |
| Weight | 12Ton | 10Ton | 9Ton | 5.5Ton |
Remark: We have trail-type, wheels-type, and crawler-type machines. Please feel free to contact us for more details.
What are the components of a water well drilling rig?
Hydraulic oil pump: double-connected, the large-displacement pump provides power for the power head, and the small-displacement pump provides power for the four outrigger cylinders, the lifting mast cylinder, and the afterburner/lift block cylinder.
Four outriggers: small drilling equipment composed of a hydraulic cylinder and fixed frame. The level of the body can be adjusted at the work site to support and stabilize the body.
Mast: It is a frame structure welded by a combination of giant steel pipe, channel steel, and angle steel. The inner grooves of the channel steel on both sides are used as the track for the power head to run up and down to ensure the verticality of the drilling. The lifting and lowering of the drilling mast are completed by the hydraulic cylinder.
Powerhead: It adopts the mechanism of a gear reduction box. There is a mandrel with a large hole in the middle of the low-speed shaft. The upper port of the mandrel can be connected with the rubber hose interface of the concrete pouring equipment to pour concrete; The blue plate connects the drill pipe and the drill bit. The high-speed shaft is driven by a high-torque hydraulic motor.
Drilling Rig Machine Manufacturer
YG Machinery was founded in 2005, covering an area of 20,000 square meters and employing more than 200 people.
For decades, the company has followed the business policy of "customer first, sincerity-based", and the coexistence of high-quality goods and character has won the trust and praise of the majority of users. The products sell well all over the country and are exported to Russia, Mongolia, Thailand, Myanmar, Africa, and other countries.
YG Machinery mainly produces crawler water well drilling rigs, deep water well drilling rigs, DTH drilling rigs, and hydraulic core drilling machines. It is suitable for water intake projects in mountainous and rocky formations. The efficiency is more than ten times higher than that of traditional rotary drilling rigs, and the economic benefits created for users are extremely considerable. In particular, it solves the difficulty of drilling with an air DTH hammer in soil layers, and the construction problems of rotary drilling rigs in hard rock layers, gravel, and pebble layers, and can work efficiently under various geological structures.