What is Wind Turbine? How does Wind Turbines work? What materials are used to make wind turbines? In this article, we introduce to you the wind turbine generator.
Wind energy is a kind of clean and renewable energy, which has a huge amount on the earth. A long time ago, people used wind energy by pumping water and grinding surfaces through windmills to meet some of their living needs. Now, wind energy is mostly used to generate electricity.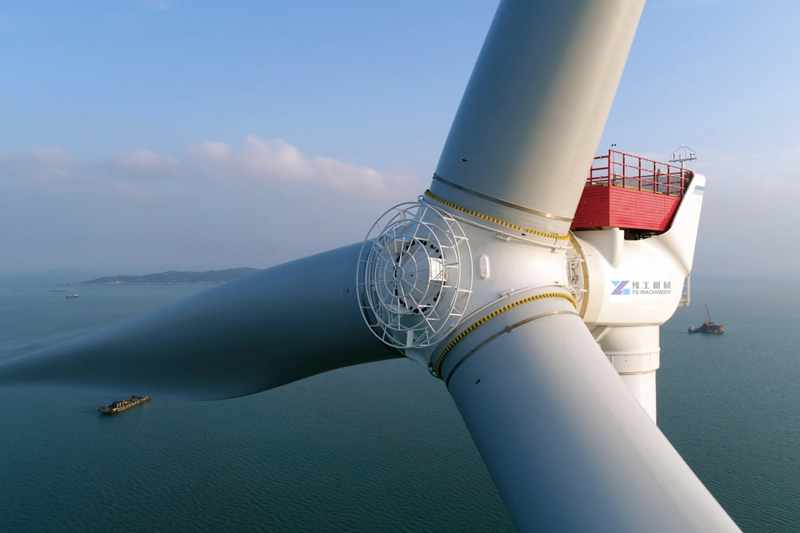 YG Wind Turbine Generator
Our windmill has a beautiful exterior. We manufacture mainly the series of wind turbines generator of 100W, 200W, 300W, 400W, 500W, 1KW, 2KW, 3KW, 5KW. Our machines have been sold to many countries such as the United States, Canada, France, Italy, and so on. And they are loved and praised by users. We have also a small wind turbine for home. Contact us to get the price.
Technical Parameters
Model/Name
YG-100
YG-500
YG-600
YG-700
YG-800
Rated power
400W
500W
600W
700W
800W
High power
450W
550W
630W
730W
830W
Nominal voltage
12/24/48V
24V/48V
Start wind speed
3.0m/s
3.5m/s 3.5m/s 3.5m/s 3.5m/s
Rated wind speed
11m/s
12m/s
13m/s
Safe wind speed
50m/s
45m/s
Main unit net weight
15Kg
15.5Kg
16Kg
16.5Kg
17Kg
Wind wheel diameter
1.8m
1.9m
Number of blades
3 pieces
Blade Material
Reinforced Nylon Fiber
Generator
Three-phase AC permanent magnet synchronous generator
Control system
Electromagnetic/winder sideways
Speed regulation mode
Automatically adjust the windward angle
Working temperature
-40℃-80℃
Features
Low starting wind speed and high utilization rate of wind energy; small size and beautiful appearance.
The installation adopts humanized design, which is convenient for equipment installation, maintenance, and repair.
The wind rotor blade is made of nylon fiber and is made of aluminum alloy die-casting. With optimized aerodynamic shape design and structure design, the wind energy utilization coefficient is high, which increases the annual power generation.
The generator adopts the patented permanent magnet rotor alternator, with a special stator design, which can effectively reduce the resistance torque of the generator, and at the same time make the wind wheel and the generator have a better match, and the unit runs smoothly. reliability.
The double bearing design is adopted inside the fuselage, which effectively ensures the stability, safety, and low vibration of the fan.
The mounting screws and flanges are all made of stainless steel and are equipped with insulating paper, copper caps, and other safety and stability components.
The fuselage, wheels, and other products are all spray-painted, anti-corrosion, anti-fading, anti-rust, high-temperature resistance, long service life.
How Do Wind Turbines Work?
The principle is to convert wind energy into mechanical kinetic energy, and then convert mechanical energy into electrical energy. Wind power generation uses the wind to drive the blades of the windmill to rotate, and then increase the speed of rotation through the speed increaser to promote the generator to generate electricity. According to windmill technology, it is about three meters per second of the breeze speed (the degree of the breeze) to start generating electricity. Wind power is becoming a craze in the world because wind power has no fuel issues and no radiation or air pollution.
There are many types of wind turbines, including horizontal axis wind turbines, vertical axis wind turbines, and runoff double-wheel effect wind turbines.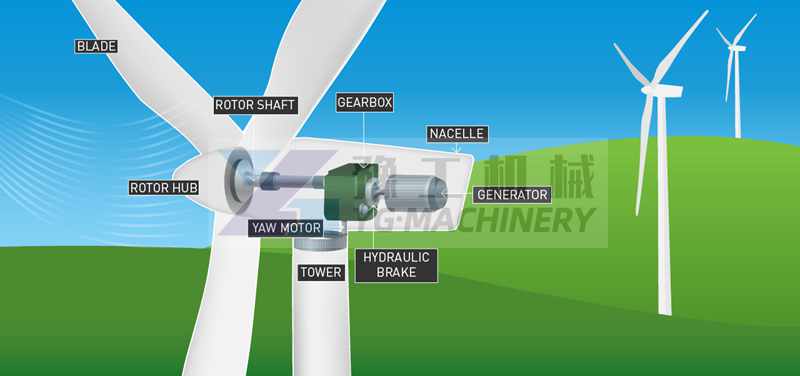 Horizontal axis wind turbines VS Vertical Axis Wind Turbines
A vertical axis wind turbine refers to a wind turbine whose rotation axis is perpendicular to the ground or the direction of the incoming flow.
The vertical axis wind turbine does not need to face the wind when the wind direction changes, which is a big advantage compared to the horizontal axis wind turbine. It not only simplifies the structural design but also reduces the gyroscopic force when the wind rotor faces the wind.
In addition, the blades of the vertical axis wind turbine are also not as demanding on materials as the blades of the three-blade horizontal axis wind turbine.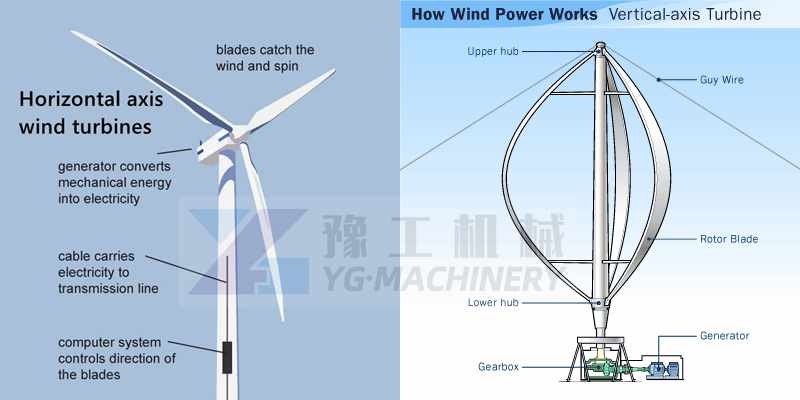 You must want to know the wind turbines cost. Please contact us. Our sales manager will contact you according to your requirements. We will reply to you as soon as possible.
FAQs about the windmill
1. Are the wind turbines noisy?
The noise of wind turbines has been reduced significantly. With an improved design, the noise of mechanical components has been reduced.
2. What are the materials used in wind turbines?
They are made of steel (66-79% of total turbine mass); fiberglass, resin, or plastic (11-16%); iron or cast iron (5-17%); copper (1%); and aluminum (0-2%).
Nowadays, offshore wind farms are more and more common. Because the offshore wind speed is faster than onshore. That means more power can be produced. Stable wind power means more reliable energy. But offshore wind turbines are very expensive. Besides, they are not easy to build and maintain. Also, during major storms or hurricanes, wind turbines can be damaged. If you want to get more details about offshore wind turbines, please contact us.
Henan Yugong Machinery is one of the top machine manufacturers and suppliers. Our hot sale equipment: Paper cup making machine, Balloon making machine, Water Filling Machine, Tissue Paper Making Machine, etc. One you need, we all support. Please leave your messages, and our sales manager will contact you as soon as possible.