The small plate compactor is mainly used for tamping foundation and asphalt road surface. It is suitable for material with low adhesion and friction between particles. The powerful impact force of the small compactor is driven by high-speed rotation of the engine, and transmitted from the belt to the body by the automatic clutch. In addition, we also have mini road rollers, concrete trowel machine, concrete laser screed, and road paver machine. You can choose, please click the message box below to get more relevant information.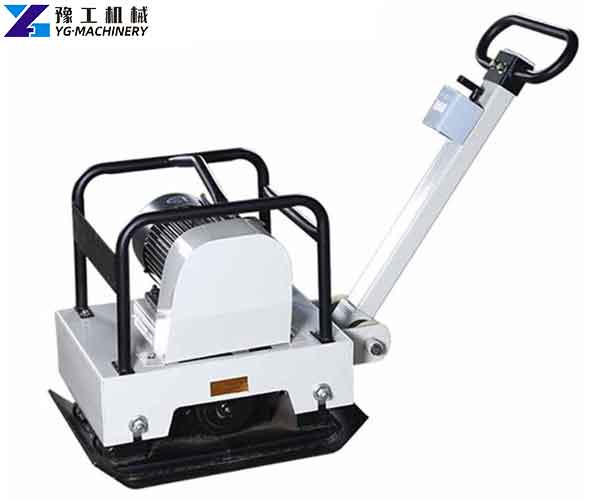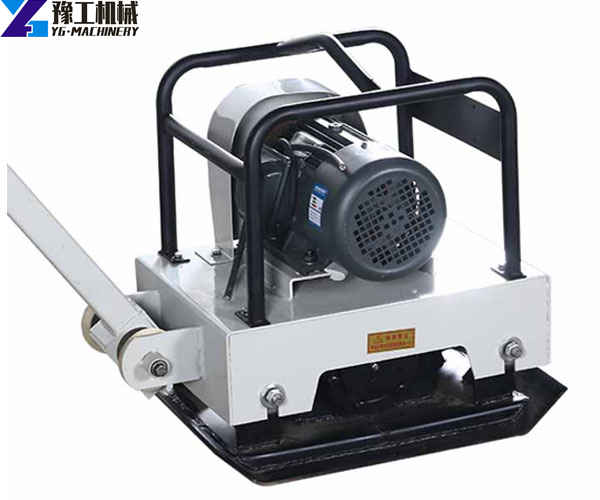 Features of Small Compactor:
Quality assurance, superior performance, easy to operate.
The vibrating bottom plate is made of ductile iron, which is resistant to vibration and vibration.
Adopt the HONDA gasoline engine, renowned NSK bearing, and MITSUBOSHI V-belt, ensure the working performance of the machine.
The surface is sprayed, beautiful, rust, and corrosion-resistant.
Improve the quality and efficiency of back-filling works and road construction.
Parameters of Vibrating Small Plate Compactor:
Model
YG-60
YG-90
Power
5.5kW
5.5kW
Excitation Force
10.5km
13 km
Compaction Depth
20cm
30cm
Travel Speed
4cm/s
4cm/s
Efficiency
450㎡/h
660㎡/h
Size
800*100*1080mm
850*500*1100mm
Weight
62kg
83kg
Climbing Ability
≤20°
Feature of Small Compactor Machine:
In general, the performance of the small compactor is mainly affected by the quality of the whole machine, exciting force, and excitation frequency. The exciting force is mainly used to maintain the forced vibration of the compacted material, and excitation frequency affects compaction efficiency and the degree of compaction directly. That is, in the same exciting force condition, the higher the excitation frequency, the higher the compaction efficiency. Soil compaction equipment is mainly used for the compaction of engineering foundations, curbs, and asphalt pavements in roads, municipalities, buildings, water conservancies, and other fields.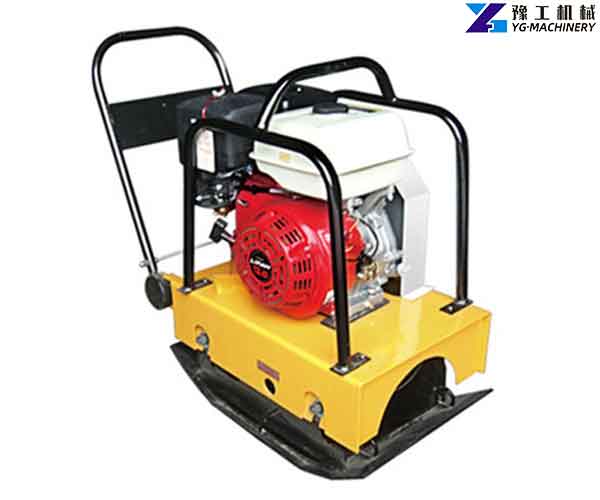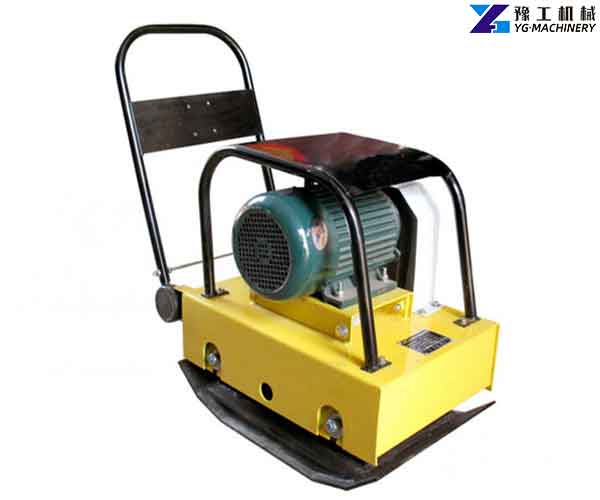 Parameters of Small Plate Compactor:
Model
YG-120
YG-150
Power
3KW
4KW
Excitation Force
16km
20km
Compaction Depth
30cm
30cm
Travel Speed
6-16m/min
6-16m/min
Frequency
48HZ
48HZ
Compacted Area
450*420mm
300*420mm
Weight
125kg
150kg
Climbing Ability
≤20°
Scope of Work of Small Compactor Machine
The vibrating small plate compactor has the advantages of reasonable design, beautiful appearance, large influence depth, stable operation, no dead corners, and high efficiency. It is widely used in roads, municipal administration, construction, water conservancy, and other fields to consolidate engineering foundations, curbs, and asphalt pavements when constructing pavements, streets, buildings, canals, and bridges. especially for the construction of indoor, narrow yards, courtyards, construction tasks that cannot be completed by large and medium-sized compaction machinery.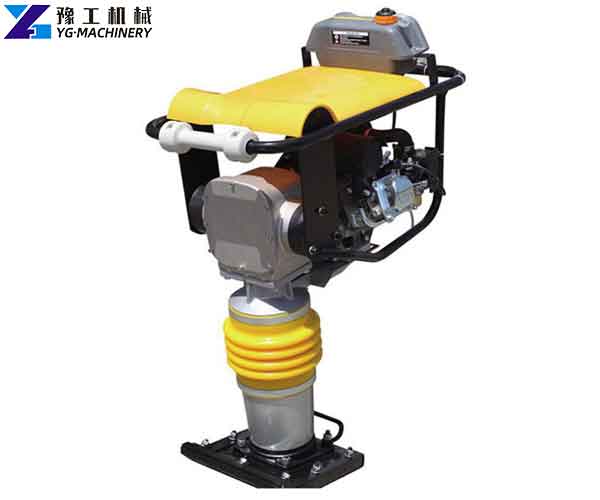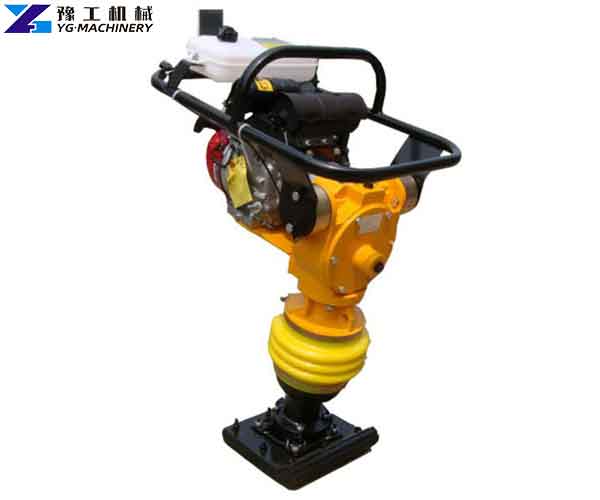 | | | | |
| --- | --- | --- | --- |
| Model | YG-80 | YG-90 | YG-110 |
| Jump Height | 45-65mm | 40-65mm | 40-65mm |
| Impact times | 420-650/min | 420-650/min | 420-650/min |
| Impact energy | 60N.m | 80N.m | 100N.m |
| Power | 3kW | 2.2kW | 3kW |
| Weight | 80kg | 90kg | 110kg |
| Forward Speed | 10-13m/min | 10-13m/min | 10-13m/min |
| Ram plate size | 330*280mm | 330*280mm | 330*280mm |
Features of Small Plate Compactor:
It can compact different soil and asphalt pavement.
The specially designed muffler cover reduces the noise generated by the engine and floor.
The shock-absorbing guide handle reduces operator fatigue.
The bottom plate is made of the wear-resistant steel plate and outer rubber to extend the service life.
Equipped with Honda gasoline engine, aluminum alloy casing.
Suitable for compaction in narrow areas.
The small compactor is ideal for small area operation, the vertical deformation of the subgrade surface can reach more than 10cm. The machine significantly increases the backfilling density, speeds up backfill in a specific range. Plate vibrators are widely used in bridges, road surfaces, and support structures. It is also suitable for compression work such as local excavation and partial or semi-filling of narrow areas.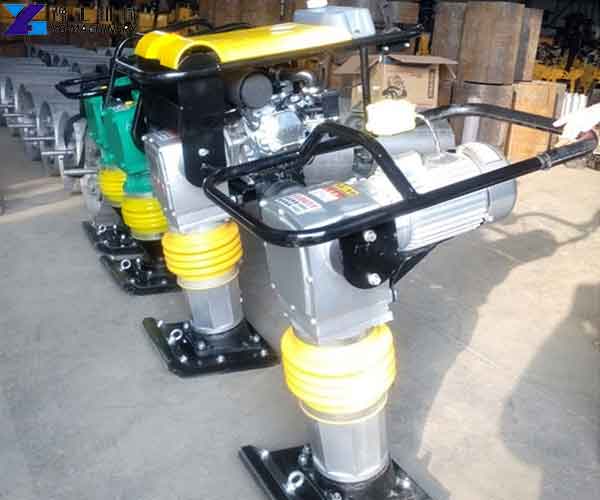 What are the Safety Requirements when Operating a Small Plate Compactor?
Make sure that all connected parts are not damaged.
Check the circuit and ground wire is connected correctly. In particular, the eccentric and pulley are securely installed and reliable.
Add enough lubricant in advance to resist the influence of the internal combustion engine, improve the flexibility of the controller, and work efficiency.
The cable surface insulation must be perfect and handle the damaged area carefully.
Operators should wear insulated gloves and shoes to prevent electric shock.
After turning on the power, check the direction of the motor rotation.
Do not work on frozen soil, hard rock, and masonry.
During the construction process, it is necessary to increase the soil density, and the tamping can be repeated without moving back and forth.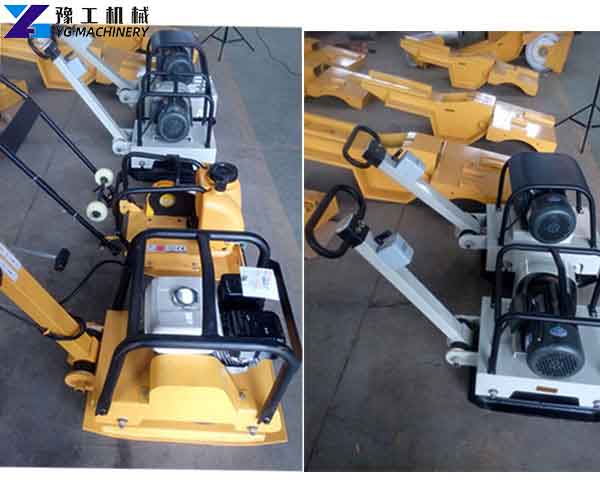 How to Choose the Right Small Plate Compactor?
You should consider a number of factors when you are searching for the correct machine. Only buy the right ones, not the expensive ones. A better choice will help you save time and money. Considering your base material is an important step.
A vibrating small compactor is driven by hand, powered by the engine, which provides powerful vibratory compaction effort to soil and asphalt via a bottom-mounted steel plate. Impact compaction is high-frequency alternating shock and variable force compaction. The weight of the machine and the vibrations of the plate thump the material tightly together and prevent air from entering the material. YG machinery has a professional technical team to help you choose the right machine and solve your problems in road construction engineering.
Other Products
As a manufacturer of road construction machinery, YG produces and sells various types of machines, such as pile breaker, hydraulic rock splitter, fog cannon, cement plaster spray machine, portable concrete pump, shotcrete machine, sandblasting machine, water well drilling machine, pipe rust removal machine, beam bending machine, pipe shrinking machine, road cutting machine, floor grinder.