YG Machinery focus on localization and the characteristics of the Turkish market, and continue to carry out the adaptive research and development of Yugong's customized series rotary drilling rig machines, which is an important anchor point for continuous breakthroughs in Turkey and the entire European market.
Read also: Water Well Drilling Rig for Sale
Since 2016, YG Machinery has been focusing on the construction characteristics of Turkey and even Europe, continuously promoting the research and development and production of customized models, and has successfully sold pile drivers to many countries. The multi-functional customized YG-300 Rotary Drilling Rig was exported to Turkey in Europe.
YG Machinery Successfully leveraged the European market
On July 5, 2016, a customer from Turkey bought the customized YG90C, which means that YG Machinery officially opened the European market where pile drivers are the most professional. The efforts of YG Machinery to create an internationally renowned brand have achieved another phased breakthrough.
As a high-tech enterprise specializing in the R&D, manufacturing, and sales of engineering construction machinery, power grid equipment machinery, and accessories, Yugong Machinery has always focused on the development and design of small and medium-sized piling machinery and has been widely recognized in the industry with its superb technology and construction methods. It has strong advantages in management, technology, talents, and market, and has formed its own product characteristics. At the same time, in the past two years, YG Machinery has obtained many utility model patents.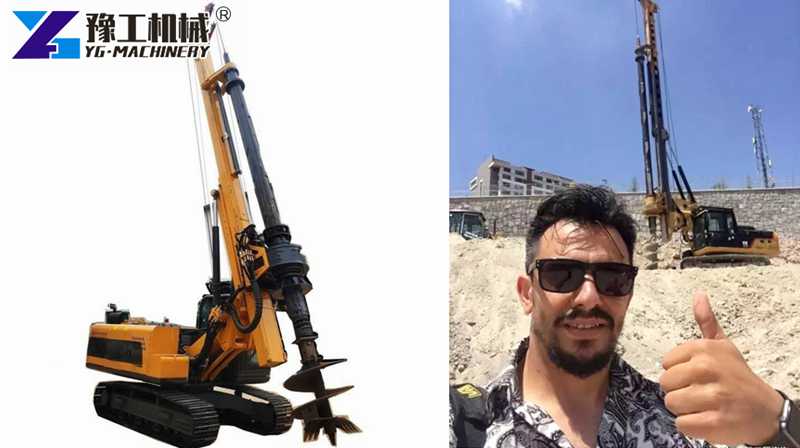 YG Customized Multi-functional Rotary Drilling Rig for Sale
Through a large number of intensive market research and technical practice, YG Machinery fully understands the strict standards for product certification, technology, and appearance in Turkey, and finally launched the YG-300 Multi-functional Rotary Drilling Rig that can realize CFA construction. As a deeply customized model of YG Machinery for the European market, the YG-300 rotary drilling rig adopts a high-end Caterpillar special chassis and its unified tough appearance design is more in line with European aesthetics. The optimization of the center of gravity brings higher stability. The modular design of each hoist makes multi-functional switching more convenient. And the hoisting and pressurizing of the full-stroke large lifting force can meet the European construction method of full-casing construction.
Technical Parameters
| | |
| --- | --- |
| Type | YG-300 |
| Torque | 320KN.m |
| Max. diameter | 2000mm |
| Max. drilling depth | 83/54m |
| Speed of rotation | 6~27 rpm |
| Max. crowd pressure | 220 kN |
| Max. crowd pull | 220 kN |
| Main winch line pull | 320 kN |
| Main winch line speed | 65 m/min |
| Auxiliary winch line pull | 110kN |
| Auxiliary winch line speed | 70m/min |
| Stroke(crowd system) | 6000mm |
| Mast inclination(lateral) | ±5° |
| Mast inclination(forward) | 5° |
| Max. operating pressure | 34.3MPa |
| Pilot pressure | 4 MPa |
| Travel speed | 1.5km/h |
| Traction force | 560 kN |
| Operating height | 22903 mm |
| Operating width | 4300mm |
| Transport height | 3660 mm |
| Transport width | 3000 mm |
| Transport length | 16525mm |
| Overall weight | 90 t |
YG-300 multifunctional rotary drilling rig has a maximum drilling diameter of 2.5m, a maximum drilling depth of 83m, and a maximum output torque of 360kN. It is used in railway, road, tunnel, bridge engineering, and construction engineering. In addition, the drilling rig implements the CFA construction method with a maximum drilling diameter of 1m and a maximum drilling depth of 23m to meet the different construction requirements of customers and improve construction efficiency.
The equipment also has a full electric control system, long maintenance cycle, high operating comfort, long service life of hoist and wire rope, and effective output torque of 360kN. , to meet a series of advantages such as full casing lifting construction.
Conclusion
A few days ago, YG-300 multi-functional rotary drilling rig has been successfully delivered. The equipment not only meets European technical standards, but also is equipped with technologies and advantages that fully meet local construction needs, so it has won the favor of Turkish customers. Of course, the export of the YG-300 multifunctional rotary drilling rig to Turkey is only one part of Yugong Machinery's development of the European market. YG equipment shines in the European market, fully demonstrating the power of China's "smart" manufacturing.