On December 15, 2020, we received an inquiry from a customer from France about a hydraulic rock splitter. Our sales manager Eric Zhang introduced our rock splitter machine in detail to the customer. In the case of inconvenient use of electricity, a diesel engine can be used for work. Finally, the customer decided to buy the hydraulic concrete rock splitter from YG Machinery. Of course, we also gave a competitive price for the rock splitting equipment. Provide a large splitting machine and a small hydraulic rock splitter machine.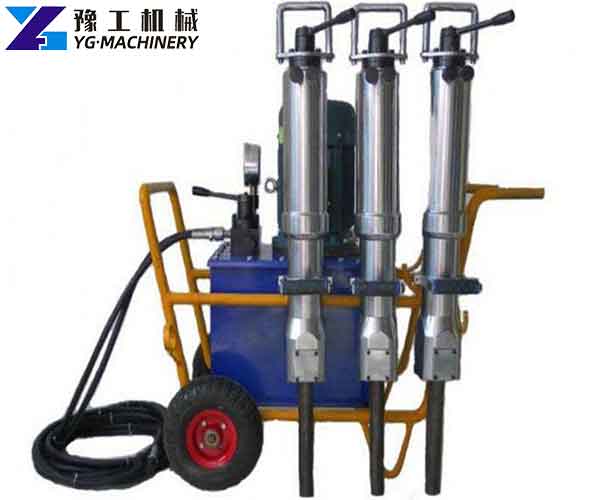 Product Parameter of Rock Splitter Machine:
Model
YG-250
YG-350
YG-450
Power
Diesel Power Pack
Diesel Power Pack
Changchai 6hp or 8hp
Hydraulic Power Unit
Pressure Adjustable 10-60Mpa
Splitter Length (mm)
1000
1100
1200
Wedge Length (mm)
250
350
450
Wedge Weight (kg)
30
36
43
Piston Stroke (mm)
90/220
90/220
90/220
Drilling Depth (mm)
>500
>700
>900
Drilling Diameter (mm)
42
50
55
Crack Width (mm)
10-20
10-20
10-20
Splitting Time (s)
10-15
10-15
10-15
Splitting Force (T)
800
900
1000
Hydraulic Rock Splitter for Sale
The hydraulic rock splitter uses the principle of a jack and uses hydraulic oil as the main energy source, no matter how complicated the construction environment is. In the actual operation process, the force of splitting the rock can reach thousands of tons, and the rock can be easily split in only two minutes so that the huge and hard rock can be separated from the mountain.
It can prevent the damage behavior that may occur in blasting, greatly reduce the labor intensity of manual operation, and can also improve labor productivity. The surrounding environment will not be affected, even in densely populated areas or indoors, and near precision equipment, it can work without interference. If you are looking for a hydraulic rock splitter for sale, please leave a message.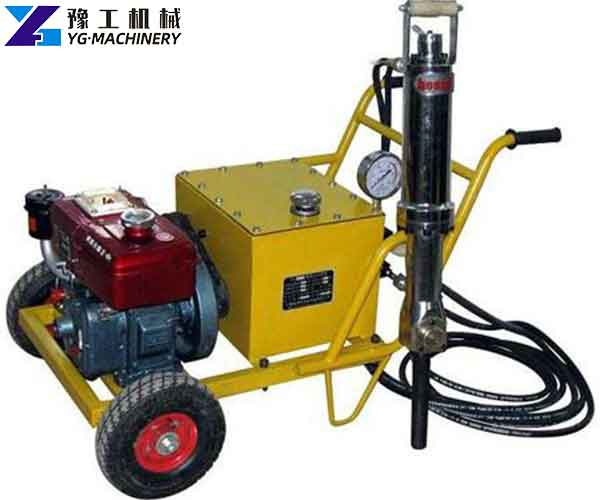 What are the Characteristics of a Hydraulic Rock Splitter?
The rock splitting equipment is controllable and works under static hydraulic pressure. Therefore, it will not produce some hidden dangers like other impact demolition and rock drilling equipment, and there is no need to take complicated measures.
When the rock splitter is working, it will not produce vibration, impact, noise, dust flying debris, etc., and the surrounding will not be affected. Even in densely populated areas or indoors, and with precision equipment, you can work.
The hydraulic rock splitter can be completed in a few seconds and can work continuously without interruption, with high efficiency; its operation and cost are very low; there is no need to take isolation or other time-consuming and expensive measures like operations.
The user-friendly design and durable structure design of the rock splitter machine ensure that it is simple to use and easy to learn, requiring only one person to operate; it is convenient and has a long service life;
The transportation of the splitter and power station is also very convenient. Unlike most demolition equipment, the hydraulic rock splitter can predetermine the direction, shape, and size of the part to be taken out, and the demolition accuracy is high.
The rock splitting equipment has the characteristics of small size, lightweight, and high force. It can be easily dismantled indoors or in narrow places; it can also be operated underwater.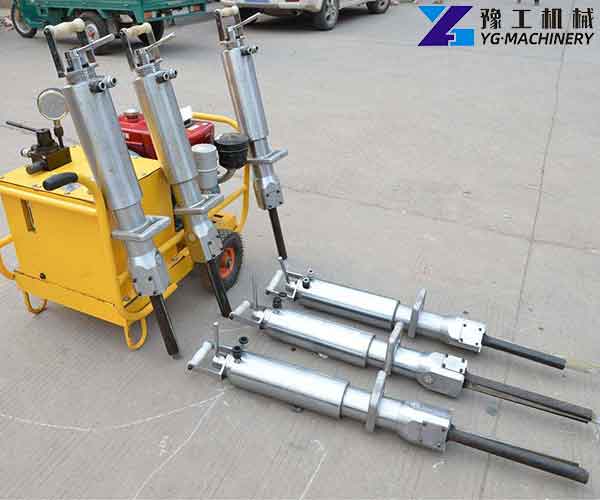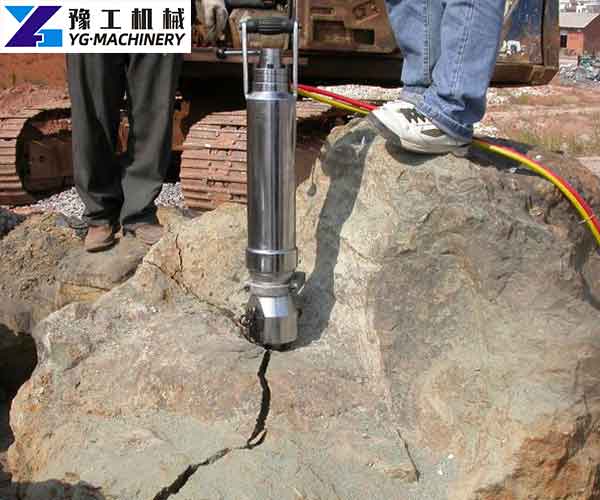 Hydraulic Rock Splitter Manufacturers
YG Machinery can guarantee to provide each customer with high-quality products at a reasonable price. Can also provide you with more engineering machinery and equipment. For example, pile breaker, small water well drilling rigs for sale, shotcrete machine, shot blasting machine, core drilling rig, DTH drilling rig, automatic sandblasting machine, mortar sprayer machine. Please feel free to contact us if you have any requirements.