As special equipment for highway and urban road maintenance, the small hydraulic milling machine is except for the large milling machine (the milling width is greater than 50cm, and the single milling depth is greater than 5cm), and there is no material recovery in a small working area. Special equipment for type milling and roughening of road surfaces. Different from the reverse cutting working principle of large milling machines, small milling machines rely on the positive high-speed rotation of the milling drum, so that a group of carbide blades on the cutter shaft of the milling drum quickly and repeatedly hit the road surface.
The tungsten steel alloy tooth tip inlaid on the upper part is used to crush and grind the road surface material, so as to achieve the effect of milling. The main functions of the small milling machine: remove and strip ruts, cracks, and oil pockets on asphalt pavement; mill road markings, mill staggers between cement pavement blocks and roughen the road surface.
Technical Parameters
Weight: 500kg
Power: fuel 30-35 horsepower
Motor: 18kw
Driving principle: hydraulic drive, stepless speed change
Gear position: forward, stop, reverse Working width: 0-50OMM
Blade: 100-230 pieces Milling depth: 0-5OMM
Cutter Shaft: 4 or 6
Working Mode: Up-cut Type
Depth Adjustment: Free Adjustment
Size: 1400×800×100OMM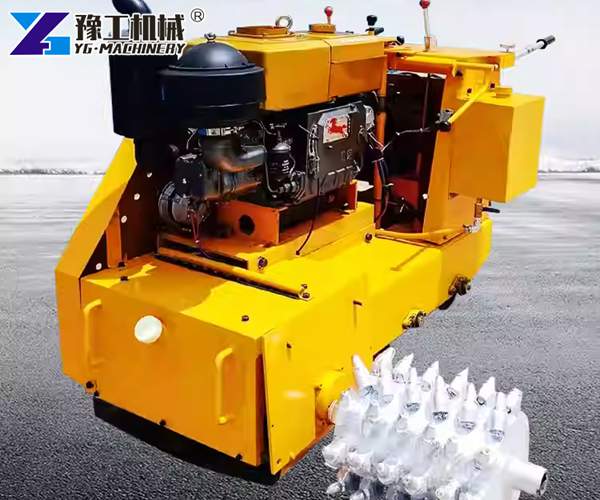 Features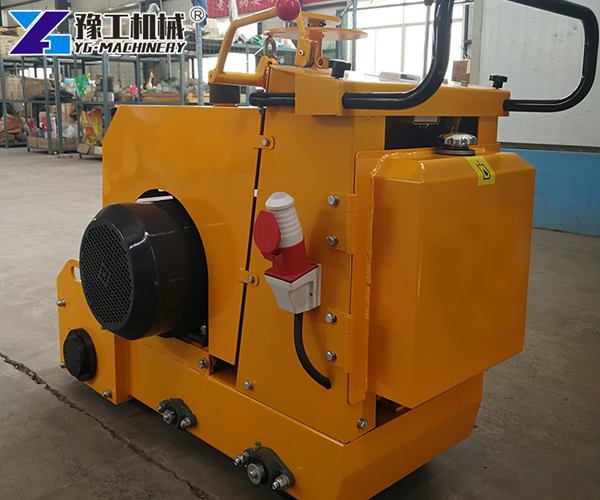 The product configuration is high. This machine adopts imported stepless variable speed motor, which has a long service life. The cutter head is made of tungsten steel alloy, and the service life of each cutter head is more than 4000 square meters.
Wide range of applications
The hydraulic milling machine is widely used in the narrow spaces of the side elevations of buildings, walls, workshops, box girders, highways, bridges, railways, water conservancy, electric power, airports, parking lots, and municipal, construction, architectural decoration, reinforcement projects, etc. The concrete surface is roughened to achieve roughness for secondary paving.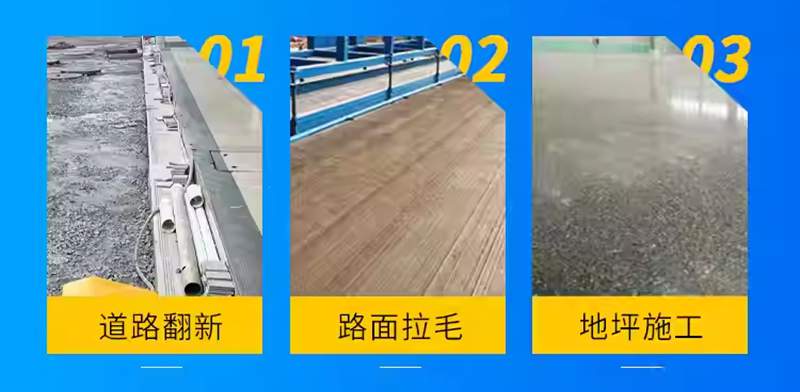 Why choose YG Machinery?
There are many hydraulic milling machine manufacturers on the market. But, why you should choose YG Machinery? We recommend YG hydraulic milling machine to you because it has been established for 18 years and has gone through the test of time and the market. In addition to reliable equipment quality, complete equipment models, perfect service process, and the price is also very favorable. Our equipment can be delivered directly from the spot or customized on demand. If you currently need to purchase a hydraulic milling machine, you can click the button below to consult for details. Or you can make an appointment to visit the factory! Don't hesitate to consult and buy!
The diesel engine I bought is quite powerful. It is very fast to mill more than 2,000 square meters a day. High work efficiency.
What is the Hydraulic Road Milling Machine Price?
Henan Yugong Machinery is a professional and reliable manufacturer of road construction machinery. Our hot sale equipment: road surface shot blasting machines, bridge deck shot blasting machines, non-curing spraying machines, road surface milling machines, etc. We have more than 18 years of experience in road construction equipment manufacturing. YG Machinery establishes an industry benchmark image and creates a Trustworthy brand with century-old quality. When you buy road construction equipment, you can find Yugong Machinery, with many specifications, complete equipment, one-stop procurement, and low cost! Welcome to visit our factory for consultation and inspection.
If you want to get the hydraulic milling machine price, please leave your name and email below.