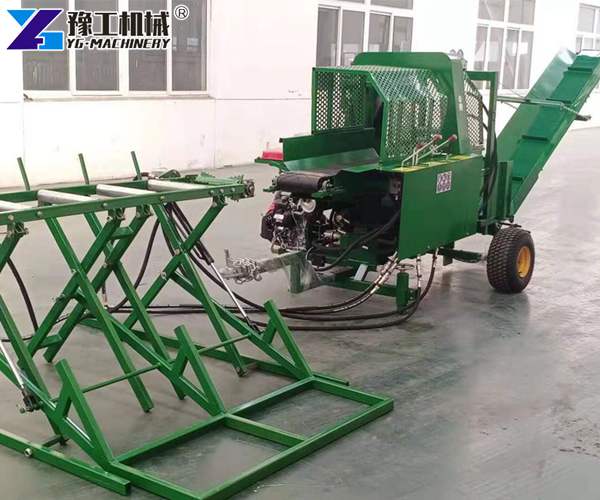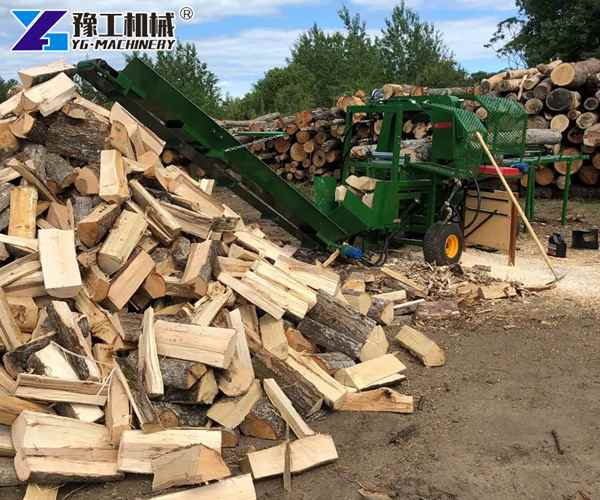 Splitting wood with an ax is tiring and dangerous. To save manpower and improve efficiency, you can use the wood splitter machine. In this guide, we will talk about the firewood processing machine, including its definition, features, specification, application, types, etc. Also, we will present you our hot sale hydraulic log splitter for sale.
What is a Wood Splitter Machine?
A wood splitter, a kind of firewood processor, forestry machinery, is mainly used to split large logs into smaller, more usable lumber. The wood splitter is a powerful equipment for splitting firewood. It has a wide range of applications. The log splitter can be used as an important material preparation machine for papermaking, the wood-based panel industry, wood pulp processing, and other industries. This equipment can split the wood with too large diameter, too long length and special shape which is not conducive to processing.
The wood splitter machine made by YG Machinery is composed of a cradle to hold the log, a hydraulic ram powered by a pump, and a splitting blade.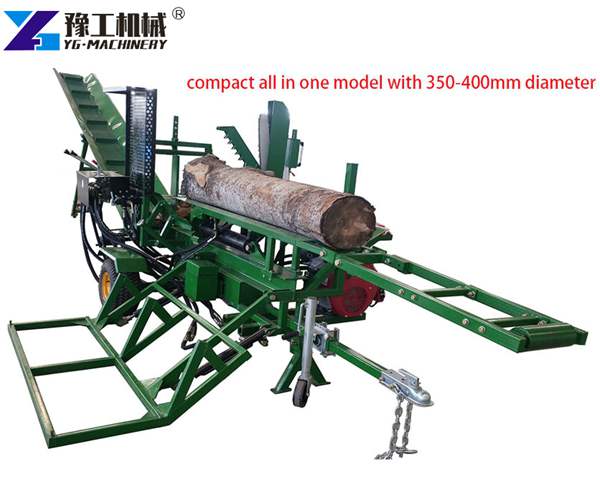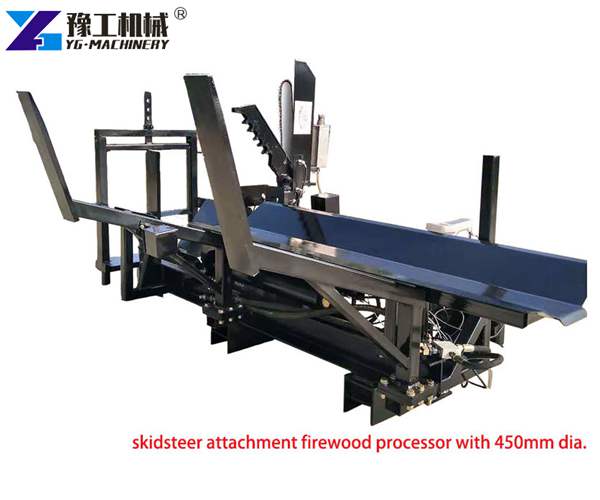 Specifications of YG 35 ton Firewood Processor for Sale
| | |
| --- | --- |
| Engine | 27hp Lifan gasoline, V-twin cylinder 4 stroke air cooled, 688cc 15kw/3600rpm, E-start EPA |
| Fuel tank capacity | 25L |
| Max. splitting force | 35 ton |
| Capacity | 10-15 cbm/hour(2.5-4 cords) |
| Length of feeding wood | 1000-6000mm |
| Max. length of splitting wood | 610mm |
| Max. diameter of splitting wood | 500mm |
| Wedge with hydraulic adjust | 1600kg |
| Length of chainsaw | 25 inch |
| Rotating speed of the chainsaw | 10000 rpm |
| Split cylinder diameter | 4 inch(5 inch optional) |
| Adjustable height of the wedge | 150mm |
| Max. lifting weight of lifter | 800kg |
| Control valve | 5-handle, 14 directional |
| Hydraulic oil pump | 22gpm |
| Hydraulic oil tank capacity | 54L |
| Ram speed/hydraulic cycle | 7s |
| Discharge belt conveyor length | 3m(5m optional) |
| Tyre size | 4.8-12 |
| Machine size | 3200 x 1750 x 1800mm |
| Packing size | 2500 x 2000 x 1800mm |
| N.W/G | 990/1080kg |
Features
The firewood splitter is propelled by a hydraulic cylinder.
High pressure, saving time and effort, reasonable structure, durable, high output, easy operation, and safer.
V-shaped feeding platform: free your hands, the center of the wood is automatically adjusted. You don't have to worry about chopping your hands.
Knives: adjustable and replaceable, can split two or more petals.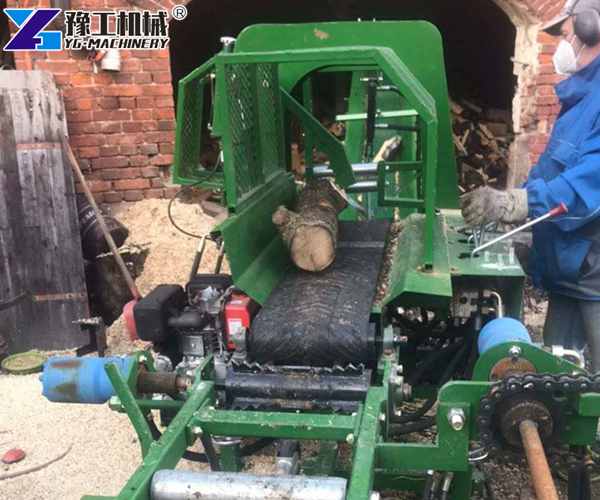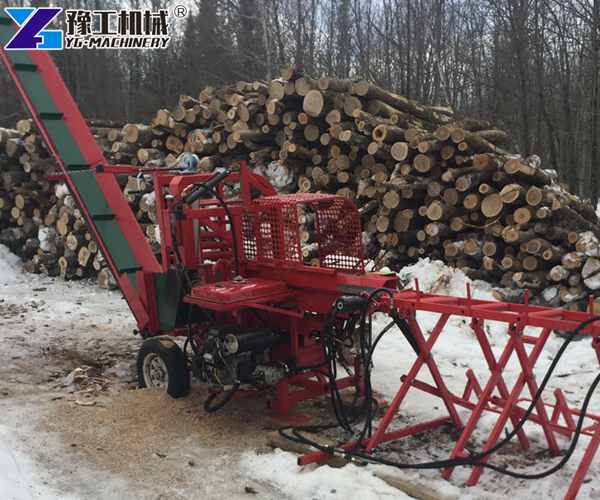 You may also like:
Wood Shredder | Wood Chipper Machine for Sale
Types of firewood processors
Manual Wood Splitter
Electric log splitter: This is a small log splitting tool that uses an electric motor.
Hydraulic Wood Splitter: Hydraulic log splitter uses the power of a hydraulic pump to move the ram that forces the splitting wedge deep into a log.
Horizontal or Vertical log splitter: It is the first choice for enterprises and individual wood chip processing households. It is a special product for cracking large tree roots and irregular thick branches. It is suitable for density board factories, wood-based board factories, papermaking, biological power plants, etc.
Kinetic wood splitter: Kinetic splitters use massive flywheels to convert energy from a motor or engine into a burst of force. If you're looking for commercial wood splitter, then a kinetic log splitter will definitely save you time and money in the long run.
How to choose a wood splitter?
First, the horsepower of the log splitter engine is a major factor.
Secondly, where do you want to use the wood splitter? If you need this machine for your small garden, then a small electric log splitter maybe is enough for you.
Third, cost. If you do not have too much budget, the cheap manual and conventional electric splitters are suitable for you. The price of gas-powered models is a little high. And the kinetic wood splitters are the most expensive.
Finally, you should think about maintenance. The manual and electric splitters do require little maintenance. But gas-powered splitter engines need some more maintenance than the electric type. And all types of wood splitters need periodic lubrication and servicing of the hydraulic system.
Contact Us
Do you need a firewood processing machine for sale? Please leave your requirements here and our sales manager will contact you as soon as possible for a quote.