In early June, Rashid Abdallah Malima, a customer from the United States, added my WhatsApp, through the website and wanted to buy a concrete spraying machine. After communicating with the customer, we confirmed the spraying distance and spraying height of the machine, as well as the construction requirements and so on. Finally, we recommended YG-500.
This equipment recommended to customers does not have the mortar mixing function, the user needs to pour the pre-mixed mortar into the hopper. Of course, there is also a concrete mortar spraying machine with a mixing function. You can choose according to your needs. In addition, the equipment's own air compressor does not need to be equipped with an additional air compressor. In order to spray different materials, different nozzles need to be configured to avoid clogging of the equipment. After the customer received the machine, he was very satisfied and ordered a mini concrete pump and a foam concrete machine.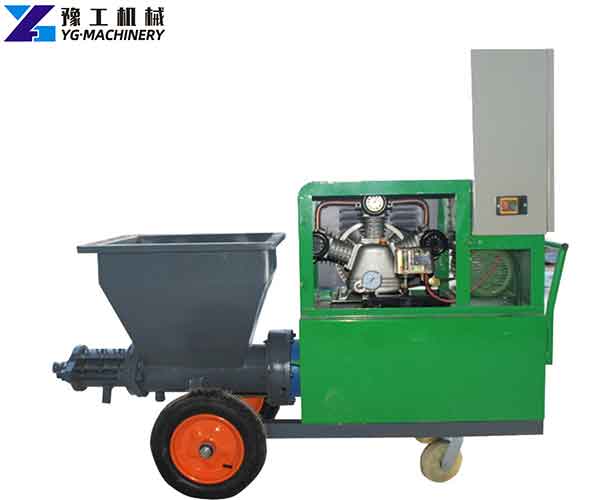 Parameter of Concrete Spraying Machine for Sale in YG Machinery:
| | | | | |
| --- | --- | --- | --- | --- |
| Model | YG311 | YG318 | YG500 | YG711 |
| Greatest Pressure | 3Mpa | 3Mpa | 3Mpa | 3Mpa |
| Capacity | 3㎡/h | 3㎡/h | 3㎡-4㎡/h | 4㎡/h |
| Applicable material ratio(water, ash, sand) | 0.7-1:1:3 | 0.7-1:1:3 | 0.7-1:1:3 | 0.7-1:1:3 |
| Main motor power | 4KW | 7.5KW | 8hp/12hp | 7.5KWstrength |
| Particle Size | ≤4mm | ≤8mm | ≤8mm | ≤8mm |
| Conveying Distance | H:30m/V:20m | H:50m/V:30m | H:50m/V:30m | H:50m/V:30m |
| Hopper Volume | 60L | 80L | 80L | 100L |
| The diameter of the feed delivers pipe | 32mm | 32mm | 32mm | 32mm |
| Weight | 200KG | 320KG | 320KG | 320KG |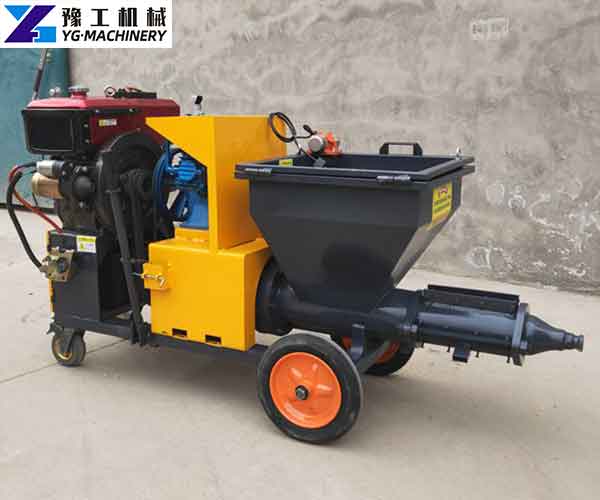 What is the Scope of Application of Concrete Spraying Machine?
The concrete spraying machine can spray mortar below 4-5 mm. Of course, the spraying machine can not only be used for spraying but also for pouring mortar. The mortar spraying machine can also spray putty powder, refractory materials, cement mortar spraying, bridge irrigation and waterproof surface spraying, latex paint, thermal insulation material spraying, fireproof materials, and so on. It can be said that the application range is very wide.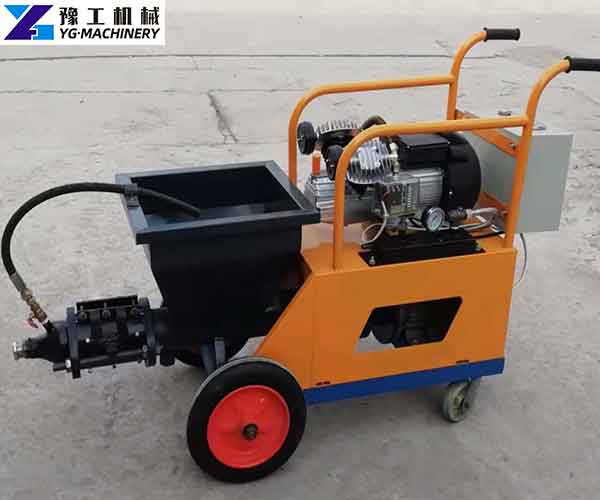 Advantages of Concrete Spraying Machine:
There is basically no ground ash, saving water and materials, and can reduce the cost by more than 20%.
The operation is simple, no scaffolding is required. No mobile devices, no patching up. Both the yin and yang corners and the top plate can be sprayed freely, shortening the construction period. Improve the progress, and save the expenditure of frame material costs.
Fast speed, high efficiency, and low labor intensity. The spraying machine can easily spray 150m per hour, and it can easily reach more than 1,000 square meters per day.
One machine is multi-purpose, can spray different materials, only need to replace the nozzle to avoid clogging, and is not affected by the area and environmental conditions and the shape of the spray surface.
The project quality is guaranteed. The main disadvantages of artificial whitewashed wall and whitewashed wall machines are insufficient adhesion between the mortar and the wall and the lack of mortar compactness. The machine has a large flow rate and high pressure, which avoids troubles and losses caused by problems such as quality, construction period, and cost.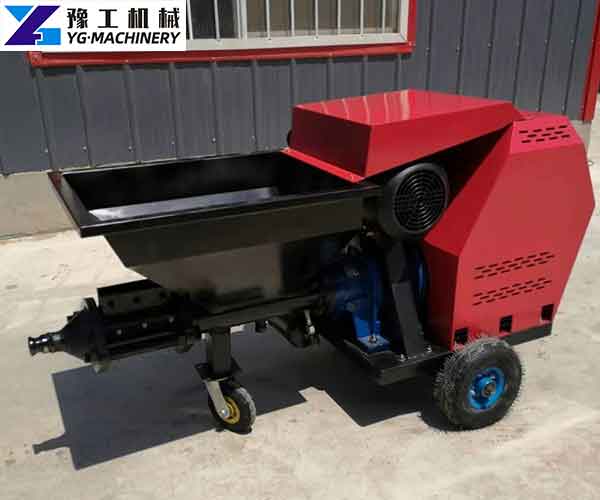 The Concrete Spraying Machine is sold by YG Machinery Manufacturer:
A Cement mortar spraying machine has always been a necessity in the construction industry. It can reduce labor costs, and the machine price is not expensive. In addition, besides the mortar pump, YG Machinery has also many other types of construction machines, such as fog cannon machines, wet wipe production lines, hydraulic cement grouting pump, concrete core drilling rigs, concrete pile breaker, rock splitter, etc.