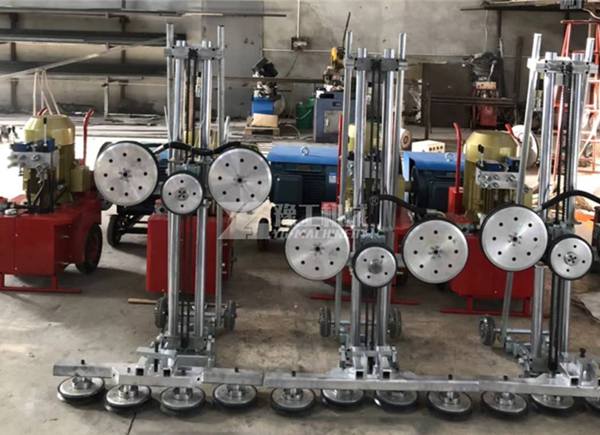 Wire saw cutting machine is very effective at cutting through thick and hard materials, such as concrete, steel, and rock.
Contact us to get the wire saw machine price. Factory supply.
Working Case in Malaysia
A contractor from Malaysia bought a hydraulic wire saw cutting machine from YG Machinery.
This contractor has a project of demolition of historic building in Kuala Lumpur. The building was in poor condition and needed to be demolished. However, the demolition needed to be carried out carefully to avoid damaging the surrounding buildings. So, they used diamond wire saw to demolish the building.
Results: The wire saw machine is able to safely demolish the building without damaging the surrounding buildings. The use of wire saws also minimized the amount of dust and debris created by the demolition process.
Wire Saw Cutting Machine for sale in Malaysia
Hydraulic wire saw cutting machine is an advanced engineering tool used in construction engineering renovation and reinforcement construction. As a special cutting tool, it is suitable for cutting hard materials such as reinforced concrete, rocks, ceramics, and brick walls. It is widely used in opening doors, windows, and vents on walls, cutting reinforced concrete beams and columns, cutting floor slabs, bridges, and stone processing. Its use can make the technical demolition of densely packed reinforced concrete and stone easier, safer and more effective. Wire saws are very precise and can be used to cut through materials in a controlled manner.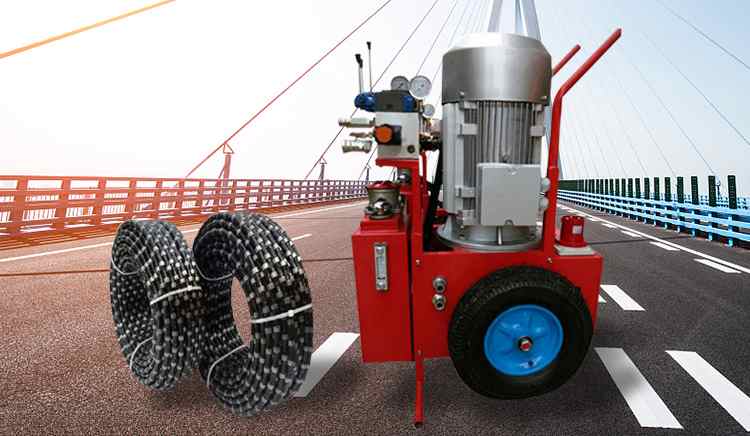 Parameters
| | |
| --- | --- |
| Model | YG-25 Hydraulic Pump |
| Voltage | 220V/380V, 50Hz |
| Rotation | 1300r/min |
| Weight | 170kg |
| Frame & Wheels | Aluminum |
| Weight | 75kg |
| Diamond Wire Saw | Diamond Wire |
| Cutting speed | 3~5m2/h |
| Motor Power | 25kw |
| Motor Type | HM-80, 2 Cylinders |
| Working Pressure | 15-20Mpa |
| Size | 720*650*1050mm |
| Wheels | 10 |
| Size | 90*90*1700mm |
| Specification | φ11.5mm 40beads/m |
| Wire life | 2~3m2/m |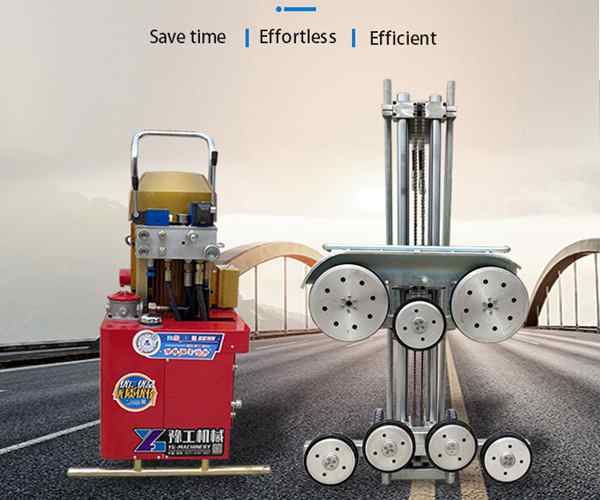 Features
Linear cutting can make construction sections neater.
Reduce labor intensity.
Safe and reliable operation, with overload protection function.
Strong power improves cutting capacity and labor productivity.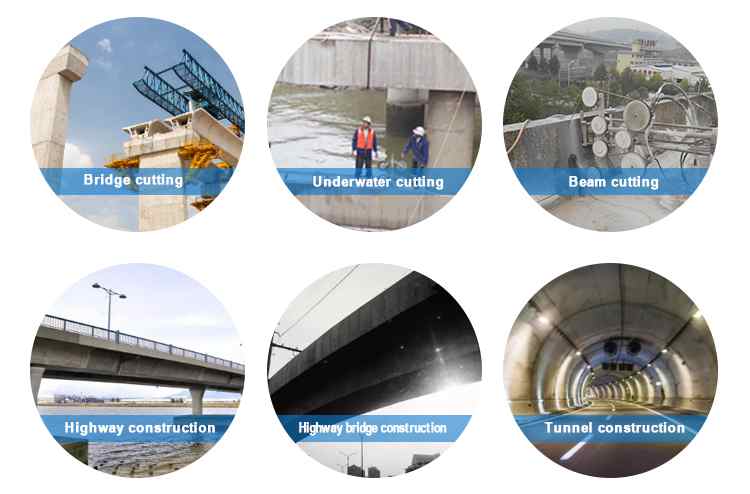 Why you should use a diamond wire saw cutting machine?
The diamond wire saw consists of two parts: the wire saw cutting machine equipment (driving wheel, driven wheel, rope collection mechanism) and the wire rope chain threaded with diamond "beads". The cutting principle is that the diamond rope, driven by a hydraulic motor, moves around the cutting surface at high speed to grind the cutting body to complete the cutting operation.
Because diamond "beads" are used as abrasive materials, solid objects such as stone and reinforced concrete can be cut. During the cutting process of the wire saw, the diamond rope working at high speed is cooled by water and carries away the debris. During the wire saw cutting process, the high-pressure oil pipe is used for remote control and operation. It is not only safe and convenient to operate, but also has very little vibration and noise. The cut objects can be separated with almost no disturbance.
How to use the wire saw cutting machine?
Step 1. Confirm the cutting section orientation. According to the construction drawings, on-site setting out is carried out to plan the cutting unit, cutting line and section position. Drill lifting holes and rope holes. According to the lifting position and cutting line, diamond rhinestones are used to drill lifting holes and rope holes respectively. Install fixed guide wheels and wire saw equipment. Use chemical bolts to secure the main tripod and auxiliary tripod of the wire saw.
Step 2. Install diamond rope. According to the confirmed cutting section, wrap the diamond rope around the automatic wheel and auxiliary wheel in a certain order, and pass it through the rope hole. Wear lifting rope. Ensure that the removed concrete can be safely lifted. Link relevant operating systems and device safety barriers. According to the site conditions, connect water, electricity, mechanical equipment and other relevant pipelines and safety protection equipment.
Step 3. Wire saw cuts. Start the start button, adjust the automatic wheel to increase the tension, ensure that the diamond rope is properly tightened, supply cooling water, and then start the driving automatic wheel to drive the diamond rope to rotate and cut. Lifting and crushing. After the cutting is completed, the entire team will hoist the concrete components to the designated location for crushing and transport them out of the construction site in a timely manner.