The disinfection channel is capable of spraying and disinfecting the surface of passing people, animals, goods, and other objects and non-contact measuring the body temperature of the human body. It is simple, safe, fast, and accurate to judge whether there is an abnormal phenomenon in human body temperature. The equipment uses an intelligent control system. If there is an abnormal situation, there is a voice alarm prompt and cannot pass through the disinfection door.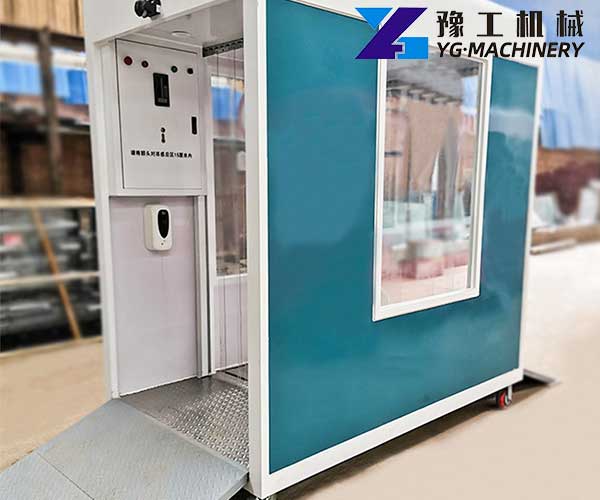 What is a Disinfection Channel?
The equipment uses a food-grade disinfectant to ensure personal safety. Fully automatic liquid addition and real-time display of running status, automatic induction of objects in and out of the channel, fog volume and spray time can be adjusted; and equipped with casters and handles, easy to move, beautiful shape, design scientific security. YG has many disinfection and anti-epidemic products, such as: fogging sanitizer machine, air disinfection machine, blu ray anion nano spray gun, an oxygen concentrator machine, UVC disinfection robot. Of course, we also have a wet wipe machine, meltblown machine, and mask making machine. Contact us to get disinfection channel price right now.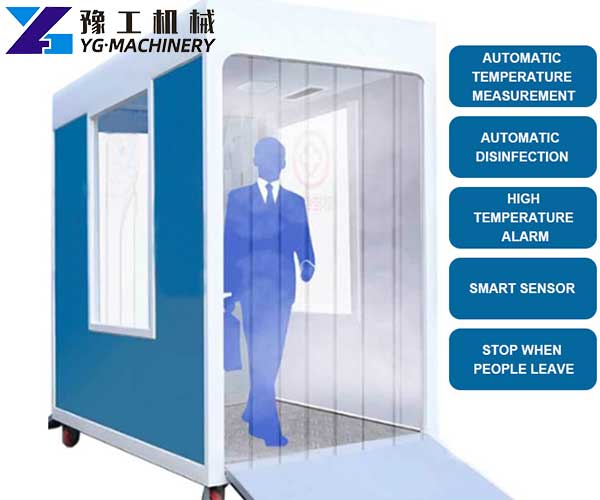 Parameter of Disinfection Channel:
| | | | |
| --- | --- | --- | --- |
| Outsize | 2.1*1.1*2.45M | Spray efficiency | 3-6kg/h |
| Spectral range | 8-14um | Voltage | 220v |
| Power | 900W | Temp collection distance | 10-20cm |
| Disinfectant capacity | 20L | Use noise | Less than 36dB |
| Use the environment | 0-35 degree | Main material | Cold rolled steel plate |
| Spray channel length | 1460mm | Spectral range | 8-14UMF |
| Fog method | Ultrasonic atomization | Temperature collection distance | 10-20cm |
| Inner size | 2.1*1.0*1.95M | Temperature collection time | 2S |
The Main Structure Consists of:
Far infrared sensor, control panel, induction handwashing device, disinfection area, electrical control box disinfection liquid box, pedal, etc. If you are looking for a disinfection channel for sale, please leave a message.
Advantage of Disinfection Channel:
As long as you enter the channel, you can achieve rapid sterilization and disinfection in 10 seconds, and enter the public place with peace of mind.
Through the integrated system of face recognition and body temperature measurement, conduct a health check for each person entering the channel to achieve data tracking.
The equipment adopts a full range of immersion atomization disinfection, disinfection without dead corners, and the disinfectant used is food grade to ensure the safety and health of the human body.
The whole equipment is fully automated and non-contact with personnel to avoid cross infection and truly establish a safety barrier.
The size and specification can be selected and can be customized according to the needs of different places to meet the needs of different places.
Low power, low consumption rate, fully waterproof fog plug, safe and reliable.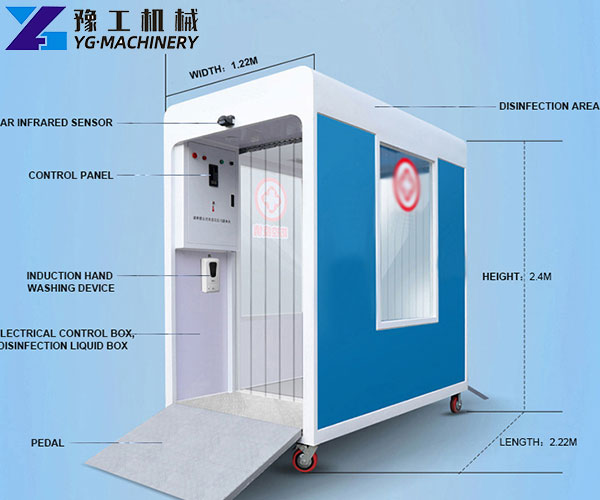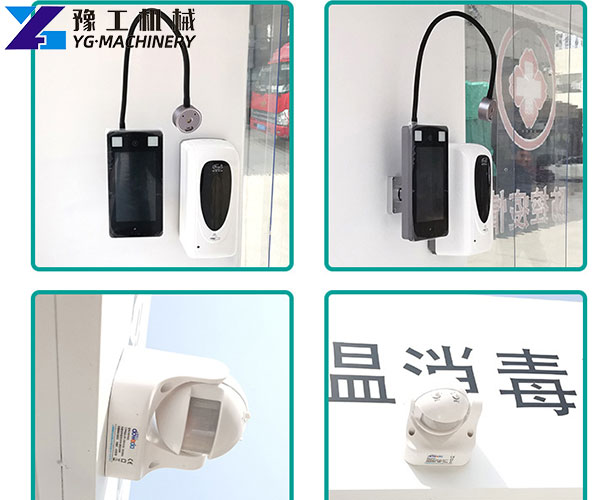 Application Areas of Disinfection Channel:
Temperature inspection of airports, customs, ports, stations, schools, factories, construction sites, and other places.
Inspection and disinfection of hotels, residential areas, industrial parks, office building entrances, large shopping centers, consumer entertainment venues, tourist attractions, and other places.
Entrance inspection of important public places such as important places, exhibition halls, trade fairs, business gatherings, celebrations, stadiums, etc.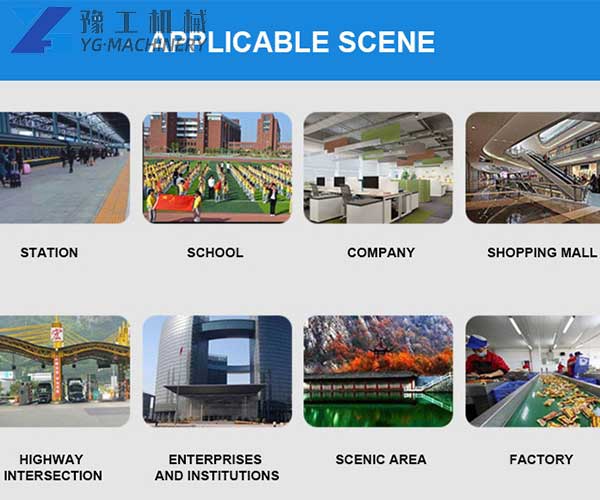 Why Set up a Personnel Disinfection Channel?
Usually, this equipment is used in public places where there is heavy traffic or where people gather. It is used in emergency or epidemic prevention and control, effectively preventing the spread of large-scale epidemics, reducing the workload of manual operation and monitoring, reducing safety pressure, and reducing the risk of high-frequency contact with staff in public places, and Effectively avoiding cross-infection. The disinfection channel is a powerful weapon to effectively prevent the spread of the virus.
It is recommended to develop good hygiene habits at home, keep clean at home, disinfect if necessary, wash hands frequently, ventilate as much as possible, and try not to go to crowded and unventilated places. Wear masks if unavoidable. Now contact us to get a cheap disinfection channel factory price.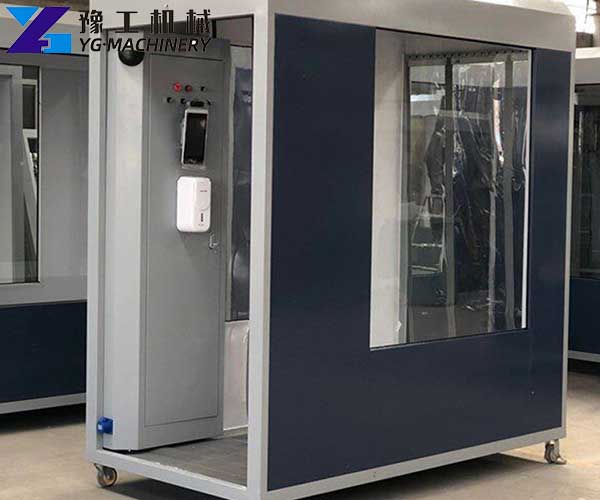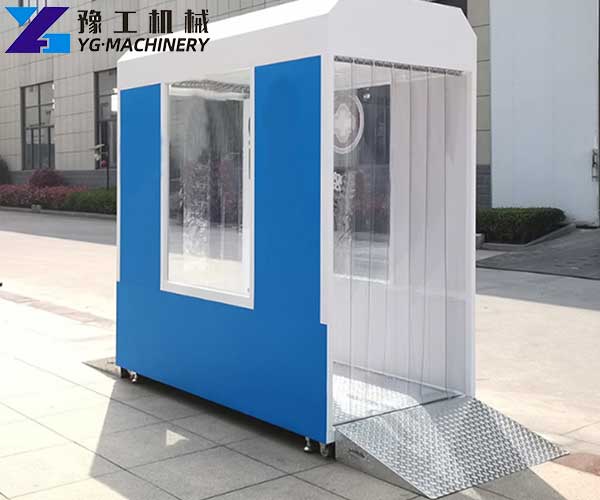 Features of Mobile Disinfection Channel:
1. Infrared temperature measurement alarm
Using a high-precision infrared spectrum sensor can measure body temperature without contact can effectively avoid cross-infection, and has a voice prompt function.
2. Food grade disinfectant
Adopt food-grade disinfectants to ensure the safety and health of the human body.
3. Smart display
The body temperature display can adjust the seasonal temperature difference and can display the body temperature more accurately.
4. Intelligent spray disinfection
The temperature measurement area is equipped with an intelligent induction sprayer, non-contact induction spray, safe and hygienic, and can carry out effective sterilization.
5. The automatic induction of ultrasonic fog
A microwave sensor is installed at the equipment port, which can automatically start the fog machine and spray disinfectant into the channel after sensing that someone enters. and stop automatically when the person leaves to avoid liquid waste.
6. Device status reminder function
The equipment has the status reminder display of work, lack of liquid, light voice, etc., so that the equipment management staff can accurately grasp the operation status of the equipment. Real-time trends of various personnel.
7. The automatic fluid replacement function
The equipment is equipped with a large-capacity liquid storage box, and there is a liquid alarm prompt function to avoid damage to the atomizing equipment due to lack of liquid.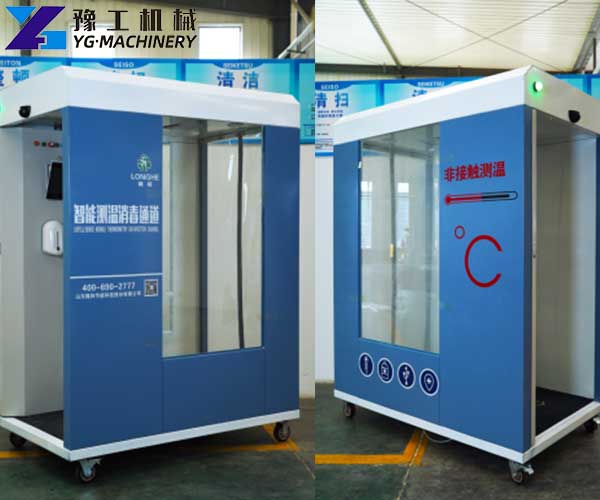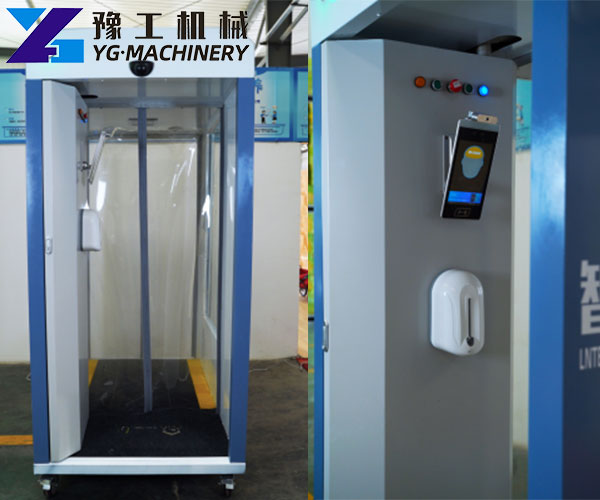 About the Disinfection Tunnel Manufacturer YG Machinery
The disinfection channel has become the best choice for the new generation of epidemic prevention and disinfection work. YG Machinery also has an intelligent disinfection door, fog sprayer machine, wet wipe machine, mask making machine, meltblown nonwoven, PE glove making machine, fogging sanitizer machine a variety of epidemic prevention equipment that can protect the health of you and those around you. YG Machinery has always been pursuing the goal of continuously improving product technology, strengthening detail management, and achieving customer satisfaction. For more related information, you can leave your contact information, our sales manager will answer your doubts on time.