The asphalt sealing equipment is a machine used for road maintenance. It pours asphalt into the cracks to extend the life of the road and reduce the cost. It is a very effective way of road maintenance.
Due to the structural characteristics of the concrete pavement itself, the joints are improperly treated, rainwater and other debris will enter the surface structure and subgrade along with the gaps, resulting in a decrease in the load-bearing capacity of the pavement. With the extension of the service life, the base layer will be eroded and become soft. The formation of a variety of diseases such as block mud, voiding, misalignment, broken plates, etc., not only affects the beauty, driving, and comfort of the road surface but also easily expands and causes structural damage to the road surface and shortens the service life of the road surface.
After slotting the cracks with a slotting machine, use a thermal spray gun or a blower to blow away the debris and dust in the slot, and then use an asphalt crack sealing machine to fill the sealant to the cracks. In fact, asphalt sealing equipment is a kind of road surface maintenance measure to keep the gap full during the process of contraction and expansion in the gap.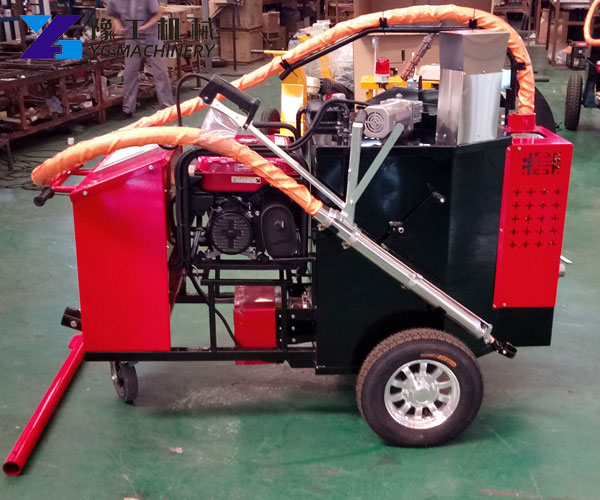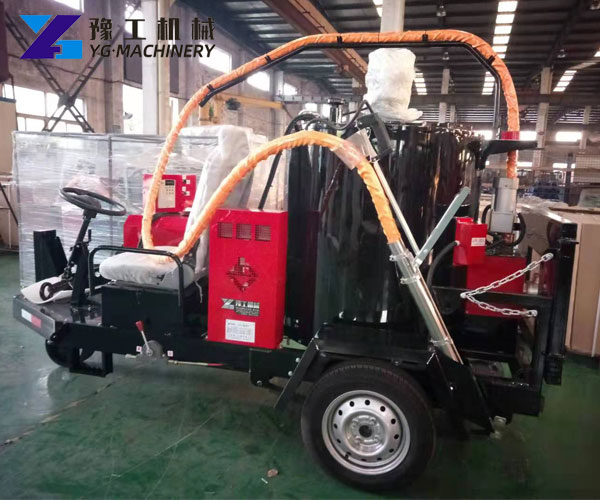 Advantages of Asphalt Sealing Equipment:
The equipment adopts circulatory indirect heating in all directions at the bottom, heating is more uniform, greatly shortening the heating time, and ensuring that the material does not paste, burn, and do not change color.
Hand-push type + tow type + vehicle-mounted type grouting, independent discharge control button, adjustable flow.
Three-wheel control, equipped with 360-degree universal wheels to control the direction, the operation is flexible and convenient, and the filling efficiency is several times faster than ordinary filling machines.
An Independent combustion tube and independent heating device make the construction safer.
The discharge port adopts a four-layer design of filter mesh + gear + discharge tube + gun head, with wide and flexible operation range, smooth filling, and more beautiful. Specially made 5 meters long imported discharge pipe, filling the joints is more beautiful and easy, heating the whole process, never blocking the pipe.
The whole machine is made of stainless steel, which is firmer and more skinny, corrosion-resistant, and has a long service life.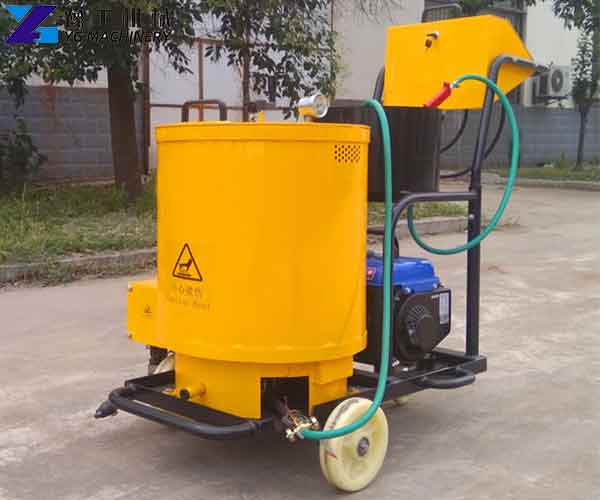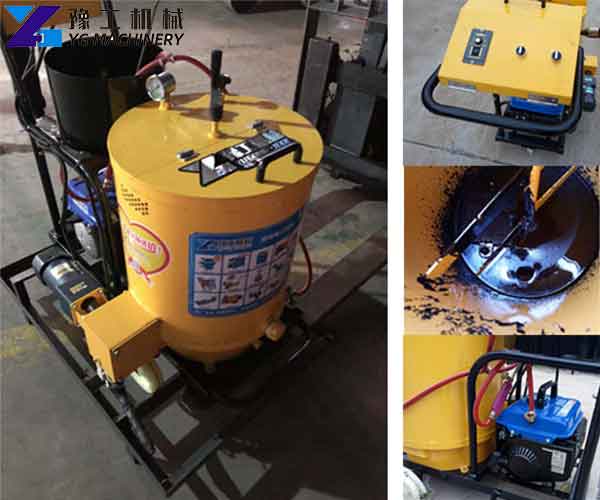 YG Machinery specializes in providing customers with high-quality, low-cost products. The company has a wide range of products, such as road machinery, construction machinery, maintenance machinery, construction machinery, drilling rigs, and so on. A variety of products sell well at home and abroad: mini road rollers, road marking machine, manhole cover cutting machines, electric pipe bender machine, anchor drilling machine,  hydroseeding equipment, pile breaker machine, mortar sprayers machine, etc., low prices, high-quality products, and look forward to cooperating with you again and again.