In everyone's impression, rain boots seem to be excavated only on rainy days, but they never thought that rain boots today are an important threshold for fashion evolution, more and more people choose rain boots. Different from the conventional old styles, more novel styles of rain boots are born accordingly. The business opportunity of investing in PVC rain boot machine has also arisen accordingly, which can produce rain boots of different styles. As a rain boot machine manufacturer, YG Machinery will provide you with high-quality PVC rain boot making machines.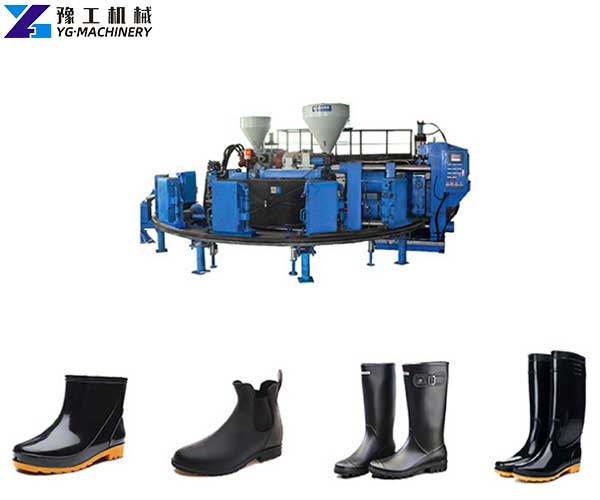 The Working Principle of PVC Injection Molding Machine
The PVC injection molding machine adopts automatic feeding control system, easy to operate, which is easy to operate. This can reduce a lot of manual operation, and the operation adopts automatic computer and human interface control. The original Japanese imported sealing ring, hydraulic components are used, and the preparation of the hydraulic circuit design for mold closing shortens the cycle time and increases productivity.
The machine is equipped with advanced technology devices for fully automatic mold opening and closing, which saves manpower and improves production efficiency. Special space design, particularly large mold size, combined with mold closing force and feeding technology, it can be applied to a variety of different sizes of order requirements and other functional shoe machines. If you are looking for PVC injection molding machine for sale, please leave your message.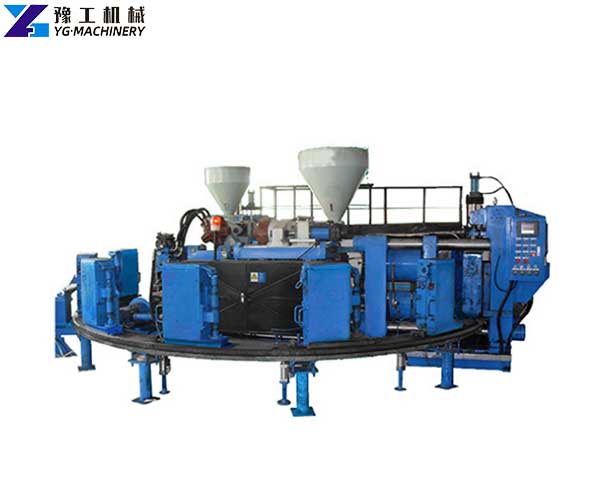 Classification of PVC Injection Molding Machine
Rainboot machines are divided into two types: there are mainly two types of injection molding machines and cold glue molding machines. Injection molding means that after the upper surface is tied to the aluminum last, PVC, TPR, and other materials are usually directly injected by the turntable machine to form the sole at one time. Now there is also PU (chemical name polyurethane) injection molding (the machine and mold are different from general injection molding ).
The PVC rain boot machine is dedicated to the production of single-color and double-color adult rain boots for men and women of various heights. It is the most ideal high-efficiency injection molding machine in the rain boots industry at present. YG high quality PVC rain boot machine is sold at a competitive price. If you are interested in automatic rain boot machines, please contact us in time.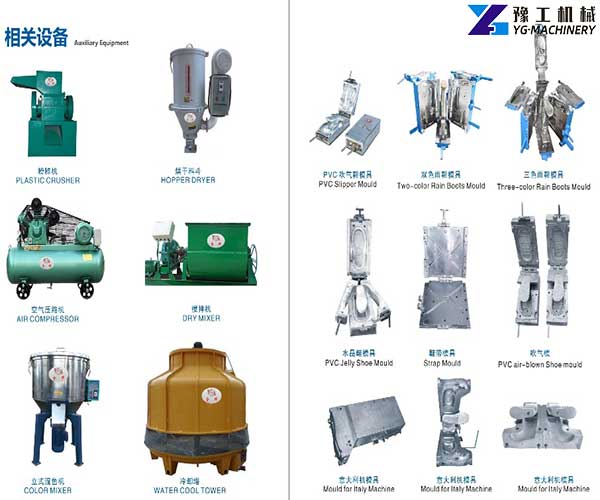 PVC Automatic Production Line Processing Method:
Dot color: Drop-top plastic, hand-working or automatic point, point finish, drop color finish, drop water line design equipment;
Initial plasticization: After completion of the dropped plastic, automatic injection of water flowing into the water box on the shogi tool inflow line.
 Imitation cooling: Auto-injection cold imitation zone after the completion of plasticization, general imitation cooling temperature;
 Irrigation bottom material: Progressive bottom material drop plastic, drop plastic top color complete;
Soot molding: After completion of bottom drop coating, advancing molding running water line box, soot molding;
Cooling standard: Automatic molding cooling water tank cooling after flame molding;
Imitation goods: Immediately after flowing out of the cold water tank, imitation goods, passing goods, completed the work.
The speed of the assembly line can be automatically set according to different products. The dripping assembly line, set the flow speed, baking, and cold mold time.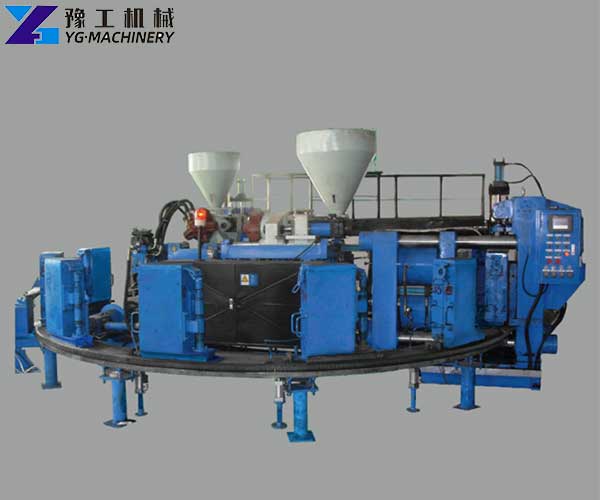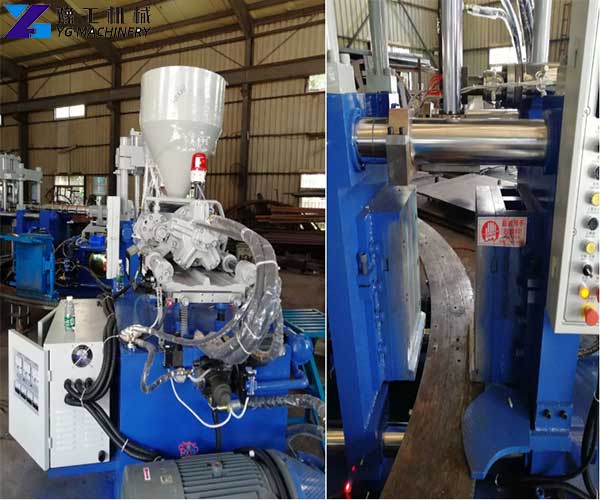 Features of PVC Molding Machine:
Specializing in the production of plastic PVC/TPU rain boots and labor protection shoes for men and women of different heights, such as single-color, two-color, and three-color thermoplastic.
Using industrial-grade man-machine interface, PLC program control, touch screen display, pneumatically assisted demoulding, easy removal of finished products.
Full-process monitoring of status, the intuitive setting of operating parameters, and adjustment of specific parameters according to different raw materials to ensure product effects.
Two-stage pressure control injection system, the temperature of the material pipe adopts PID four-stage control to ensure good quality.
Adopt fully automatic computer and human interface control; original imported sealing ring, hydraulic components, etc.
Specially made powerful oil cylinder with double clamping. Ensure the quality is more perfect. The turntable adopts a fully automatic high and low-speed wheel drive, which is more stable and fast.
The latest advanced device for fully automatic switch molds saves manpower and improves production efficiency.
Simple structure, convenient operation, safety, low energy consumption design, and energy-saving.
PVC Injection Molding Machine Manufacturer
In the current technological age, the most direct way to save costs is to use machines instead of labor. Now, many investors are slowly beginning to use fully automatic shoe machine equipment. The assembly line of fully automatic shoemaking equipment requires only a small number of employees. It can be flexibly deployed according to different types of shoes, greatly saving labor costs.
Who can do better and easier to reduce the cost of shoes, who can become the real winner in the industry competition? Our PVC injection molding machine can not only help you save labor costs, but also ensure the production of high-quality rain boots. If you want to know about high quality and low price PVC injection molding machines, please leave your contact information or contact us directly through WhatsApp+8613598866720. In addition, YG Machinery also has a mask making machine, meltblown machine, wet wipe machine, glove manufacturing machine, nitrile glove machine, oxygen concentrator machine, professional backpack sprayer, disinfection door, etc. to choose from.
Other Products
YG Machinery Company sells various construction machinery. For example, DTH drilling rigs, water well drilling rigs, small water well drilling rigs, anchor drilling rigs, rotary drilling rig,  core drilling rigs, piling cutter, hydraulic rock splitter, asphalt crack filler machine, vibrating road roller, floor grinding machine, floor shot blaster, mortar sprayer machine, automatic sandblasting drilling machines, wet sandblasting machines, etc. Contact us to get the rig price list.