HZ series hydraulic core drilling machine is a portable drilling machine with a wide range of uses. It is suitable for geological survey of railways, water conservancy, bridges, dam foundations and other buildings, geological core drilling, small grouting holes, blasting holes, and water well drilling. Diamonds, composite chips, and alloys can be used for drilling according to different formations. Click here you can check our core drilling machine for sale.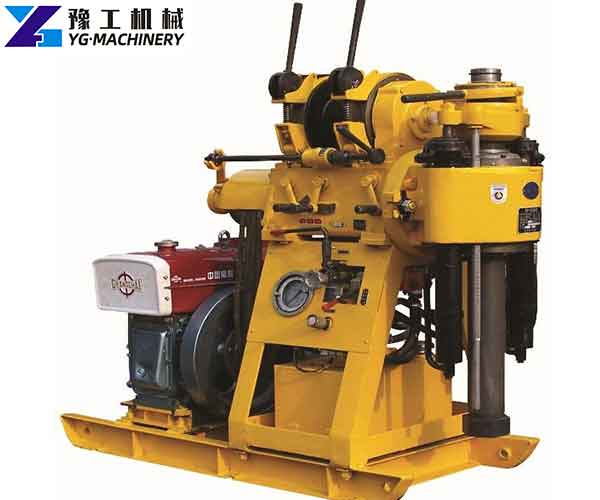 Technical Parameter of the HZ Type Rock Core Drilling Equipment
| | | | |
| --- | --- | --- | --- |
| Model | HZ-130Y/130YY | HZ-180Y/180YY | HZ-200Y/200YY |
| Drilling Depth (m) | 130 | 180 | 200 |
| Open Drilling Diameter (mm) | 220 | 220 | 325 |
| Final Hole Diameter(mm) | 75 | 75 | 75 |
| Drill Pipe Diameter(mm) | 42-60 | 42-60 | 42-60 |
| Drill Pipe Inclination (°) | 90-75 | 90-75 | 90-75 |
| Power (kW) | 13.2 | 13.2 | 14.7 |
| Weight (kg) | 920 | 950 | 1150 |
| Dimensions(mm) | 2400*950*1400 | 2400*950*1400 | 2700*950*1770 |
Safety Operation Warning
Operators must be professionally trained and qualified before they can take up their posts;
Operate and maintain according to the instructions;
Operation with illness is not allowed, and overload operation is prohibited for production;
The high-pressure water pipe should be fixed firmly to avoid injury when it is turned on;
It is strictly forbidden to use this rig hoist for hoisting when moving the rig;
It is strictly forbidden to stand under the hook;
During the operation of the power machine, idlers should stay away from dangerous parts such as power and pulleys;
When drilling is stopped, the active drill pipe should be hung firmly to prevent falling and hurting people or smashing the rig;
Insert a long round steel (Φ16) into the side hole sleeve of the faucet, and the two ends are on the tower frame to prevent the faucet from rotating when it is turned on;
Without the permission of the drilling rig manufacturer, the user arbitrarily modifies or disassembles (adds" parts to the HZ core drilling machine; the manufacturer is not responsible for any failures and liability accidents caused thereby.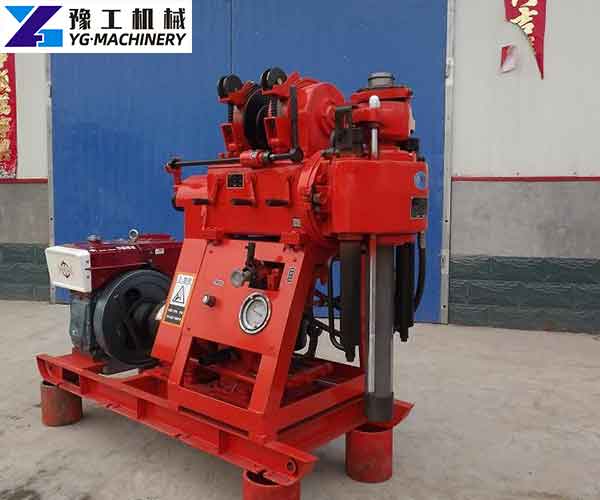 Safety Precautions for the use of HZ Series Core Drilling Machine
The pre-operation safety inspection must be carried out before starting the machine to check whether the installation is correct and stable and whether the connections are reliable;
Before starting the machine, check whether the oil level of the diesel engine gearbox has reached the marking position of the oil gauge, whether the motor and power supply are consistent, whether the connection method is correct, and the grounding is safe and reliable;
To ensure sufficient working space, clean up the working site when necessary;
Before starting the drilling rig, all operating handles should be in the "stop" or "neutral" position, and then put in the working position after a period of time after starting the machine;
It is strictly forbidden to stand under the hook. During power running, non-operators should stay away from dangerous parts such as power and pulleys to avoid injury;
After the mud pump is used (especially in winter), the water in the pump body must be discharged to prevent freezing and cracking of the pump body;
The drilling rig must not be operated unattended.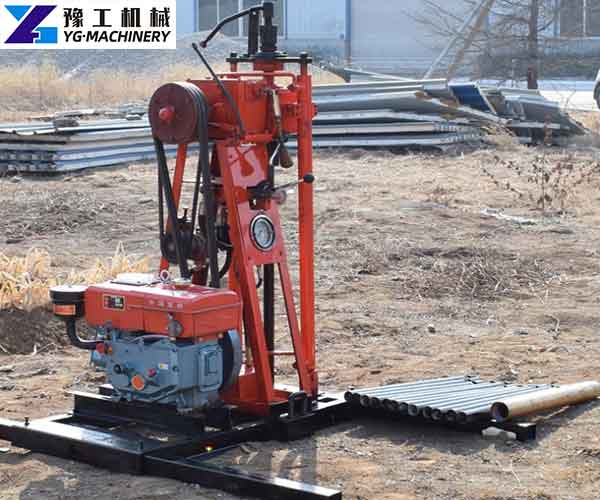 Other Products
Regarding machinery equipment, we have other products and equipment for you to choose from. For example, road making machine, asphalt crack filler machine, water well drilling equipment, down the hole drilling, auger drilling rig, rotary drilling machine, anchor drilling machine,  fog cannon machine, pile breaker, small asphalt milling machine, concrete road cutting machine, mortar sprayer machine, concrete floor grinding machine. What kind of construction machine are you looking for? Please feel free to leave your contact information. We will reply to you as soon as possible.