The wet wipes making machine produced by the wet wipe machine are made of a new generation of environmentally friendly spunlace non-woven fabrics and water sterilized by ultraviolet rays, which are completely healthy and free of health and safety hazards. The wet tissue machine produced by the wet tissue machine only need to put the dry non-woven fabric roll into the machine, through the five steps of cutting, curling, humidifying, heating, and sterilizing, and complete the wipes within 1.8 seconds to achieve fresh wetness. The towel is ready to use and can keep the skin clean at any time. If you are looking for wet wipe making machine for sale, please leave your message.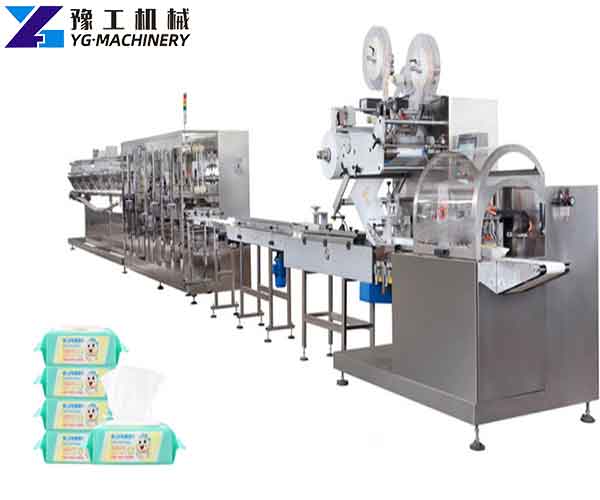 Parameters of Wet Wipes Making Machine
| | |
| --- | --- |
| Production speed | 270~400 cuts/minute; about 40-50 bags/minute |
| Number of slitting channels | 12 channels |
| Width | 1000-1520mm |
| Power supply | 380V 50HZ three-phase power |
| Total power | 13KW |
| Applicable raw materials | Spunlace non-woven fabric, hot-rolled non-woven fabric, dust-free paper, etc. |
| Material weight | 35-80 g/m2 |
| Folding method |  'Z'-shaped folding (with or without extraction) |
| Humidification method | Preset automatic metering humidification |
| Humidification accuracy | +5% |
| Machine net weight | 9000kg |
| Humidification mixing system | Double mixing barrel with agitator |
| Mixing barrel size | 800×800 (mm, diameter×height) |
| Capacity | 400 liters * 2 pieces |
Wet Wipes Making Machine for Sale
The wet wipes making machine is specially designed for the packaging of wet tissues. It adopts vertical folding and lower feeding mechanism. It has fast speed and stable operation. It can automatically complete: wet tissue folding, inner and outer liquid filling, slicing, bag making, sealing, counting, Many special functions such as batch number and finished product output effectively avoid the secondary pollution of wet wipes in the packaging process. The whole machine is compact, generous and safe. It is currently the first choice for wet wipes production. Now contact us to get a cheap wet wipes making machine factory price.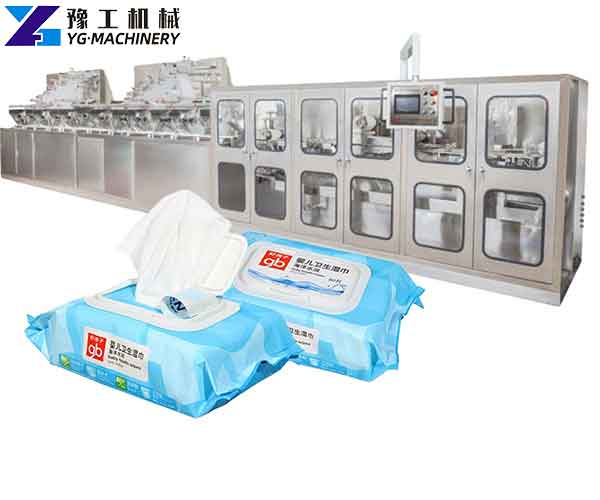 Features of Wet Wipes Making Machine:
The barreled wet tissue making machine is controlled by dual frequency converters, and the bag length is set and cut immediately, without adjusting the empty running, one step is in place, saving time and film.
Using human-computer interaction interface, parameter setting is more convenient and quicker than the old wet wipes packaging machine.
It also has a fault self-diagnosis function, the fault display is clear at a glance, saving manpower fault detection time.
High-sensitivity photoelectric eye color mark tracking, digitizing the sealing and cutting position of the box, making the sealing and cutting position more accurate.
Independent PID control of temperature, better suitable for all kinds of packaging quality.
The positioning stop function is non-sticky and does not waste film.
The transmission system is clean, the work is more reliable, and the maintenance is more convenient.
All control is realized by software, which is convenient for function adjustment and technology upgrade. This design makes the wet tissue machine more convenient and intelligent, and higher production efficiency.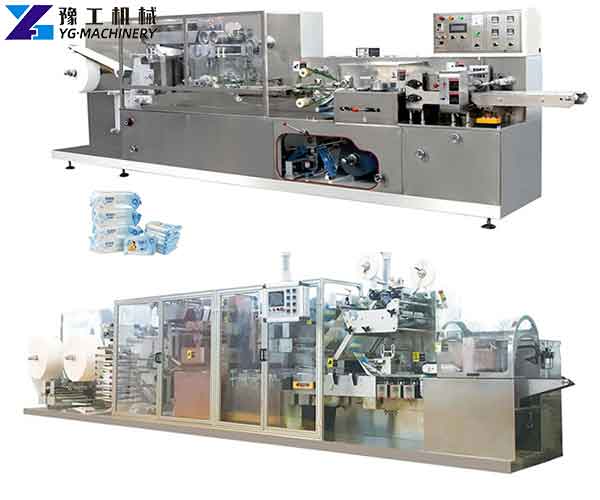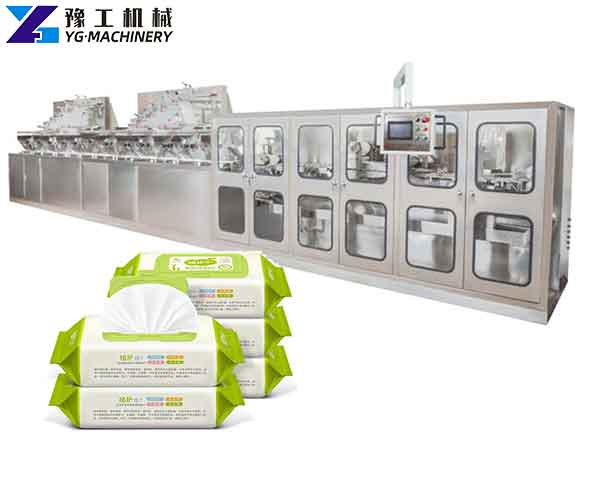 Wet Wipe Packaging Machine
The wet wipes packaging machine adopts imported servo drive system, imported photoelectric eye detection, stable operation and convenient operation. And the production speed has been greatly improved, 70-100 packs per minute, which greatly improves the production efficiency. Compared with the traditional wet tissue machine, sealing, gusseting and exhausting can be done in one go. The opening of the press bag is controlled by a cylinder, which effectively protects the machine from damage. The labeling machine is independently designed and manufactured. Double labeling works alternately, and a small corner labeling machine is added, which reduces the downtime and replacement time. Accurate conveying and uniform discharge. The punching positioning accuracy is high, and the punching life is long.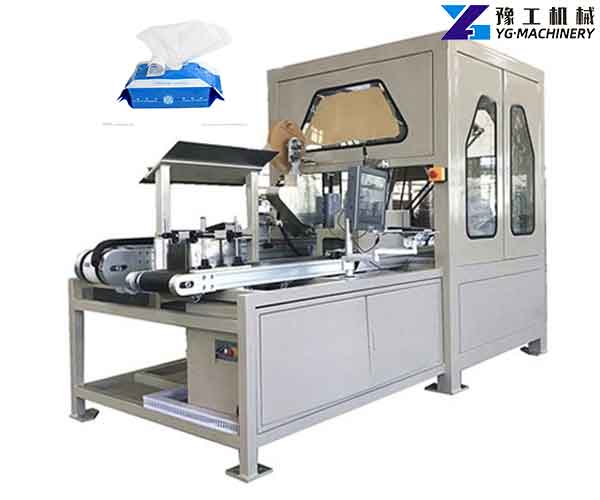 Parameters of Wet Tissue Packaging Machine:
| | |
| --- | --- |
| Bag size (mm) | length 65*330mm width 30*150mm height 5*40mm |
| Longitudinal and horizontal sealing strength (Newton/mm) | 15N/mm² |
| Packing speed (bag/minute/second) | 40~220Bags/min |
| Packaging film width (mm) | 90~350mm |
| Power specification | 220V 50/60Hz 2.7KW |
| Machine weight (kg) | 680KG |
| Dimensions (length x width x height) | 3780 x 640 x1560mm |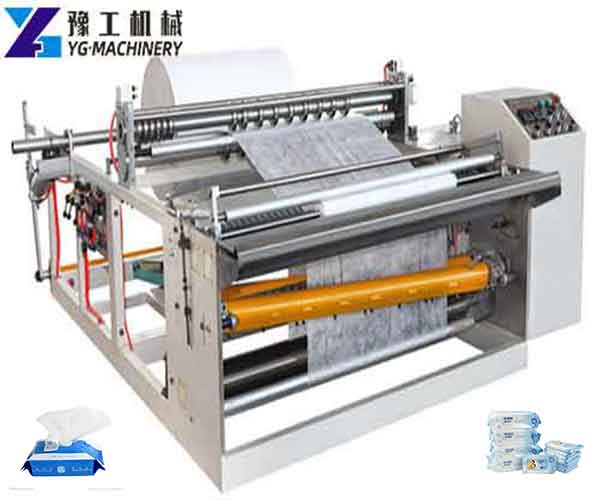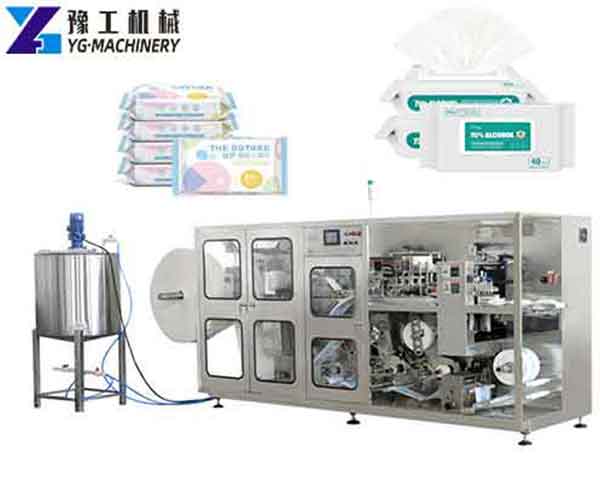 Wet Wipes Machine Manufacturers – YG Machinery
YG Machinery can provide you with wet wipes processing equipment according to customer needs. Wet wipe machines are sold directly by the factory. For example automatic wet tissue production line, wet tissue folding machine, wet wipes packaging machine, slitting rewinder, slitting machine, wet tissue folding machine, and other mechanical equipment. If you are looking for a wet tissue machine manufacturer YG Machinery will be your choice not to be missed.  If it is convenient for you, welcome to visit our wet wipes production machine factory. Click on the message box below to get the wet tissue machine price immediately.
Other Products
Our wet wipe production lines are exported to Mexico, Singapore,  Indonesia, South Korea, and other countries. In addition, we have PE gloves making machine, nitrile gloves production line, mask making machine for sale. Intelligent disinfection door, smart automatic disinfection channel, trolley disinfection tunnel. Automatic sandblasting machine. Rock splitter machine. Road line marking machine. Hydraulic pile breaker. Down the hole drilling machine, water well drilling rigs for sale. Welcome to contact us.