An intelligent sterilization robot has played an important role in this COVID-19 battle. With the increase in demand for epidemic prevention and control, the application scenarios of  UVC disinfection robots have become more extensive. This intelligent sterilization robot can automatically move in the ward and operating room, irradiating all important surface areas with an appropriate amount of ultraviolet light, thereby killing specific viruses and bacteria. This disinfection robot can work in environments such as offices, large shopping malls, schools, airports, and production plants. In addition, disinfection door, disinfection channel, fogging sanitizer machine. Contact us for more information.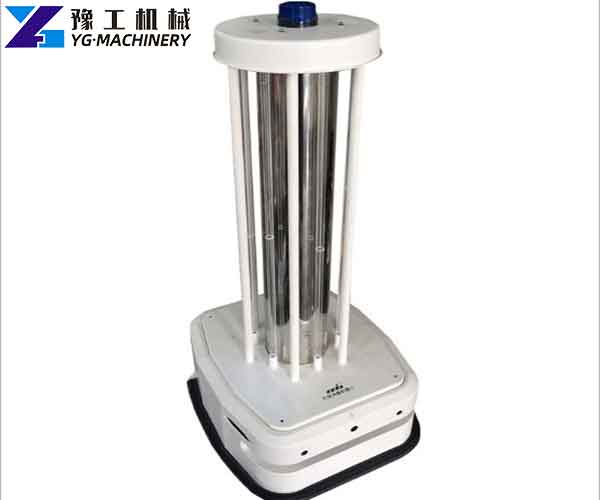 UV Light Disinfection Robot
The UV light disinfection robot uses short-wave ultraviolet with a peak wavelength of 253.7nm for super-strong sterilization, destroys the DNA structure of bacteria and viruses, and achieves a 99.99% germ-killing rate. At the same time, the intelligent disinfection robot has 6 high-illuminance headlamps, scientifically arranged and superimposed, making the same area disinfection faster, and based on the original technology, combined with the SLAM navigation technology that integrates laser and vision to achieve all-round scanning, the narrow and complex roads, and spaces can also accurately locate and sterilize. When the robot detects that it exceeds the safe range of activities, it can automatically stop the operation and intelligently turn off the lights to ensure safety.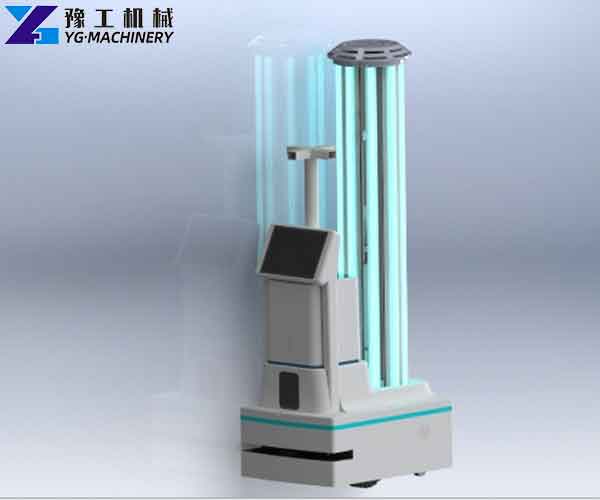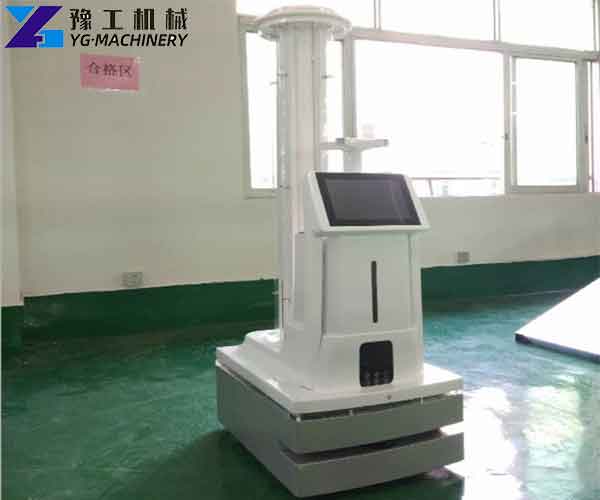 Intelligent UVC Disinfection Robot
This robot is equipped with an atomization disinfection system. The atomization module equipped in it can make the fog production speed reach 3L/h, the atomization particles can reach 3 microns, and the fog is fine and uniform. 15 rooms can be disinfected in 1 hour, effectively improving spray efficiency and coverage. The UVC disinfection robot uses anti-corrosion materials to make the liquid storage tank, which has super corrosion resistance and can support a variety of disinfectants. And with precise navigation technology, unmanned disinfection 7*24h all-weather mission must be reached.
The above two robots have the advantages of precise navigation and adapt to various complex environments; computer, mobile phone, tablet multi-terminal remote control touch screen visual operation; unmanned disinfection 7×24 all-weather mission must be achieved. Significantly increase the disinfection rate, ensure the disinfection effect, especially in high-risk areas, avoid hidden dangers to personnel safety, and protect the health of workers and the public. For more information about disinfection robots for hospitals, you can click on the message box below.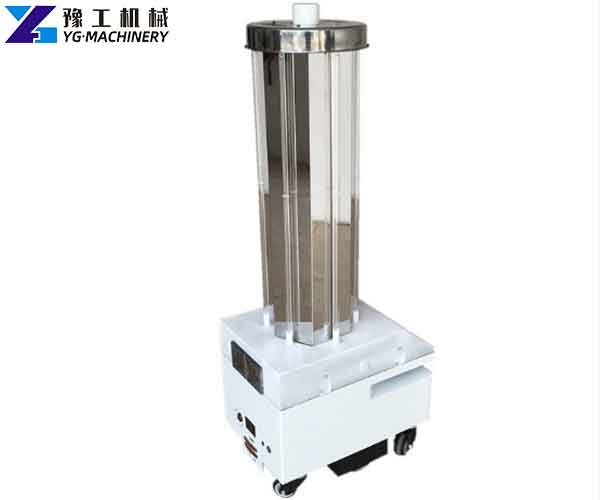 What are the Advantages of the UV Light Disinfection Robot?
Safety and environmental protection: ultra-dry atomized disinfectant, no residue during atomization, safer disinfection process, no adhesion, small particles, and no residue;
Efficient sterilization: short-wave UVC ultraviolet lamp + disinfectant atomization device, dual-mode disinfection without dead ends, so that bacteria and viruses have nowhere to hide;
Autonomous navigation: autonomously complete map navigation, intelligent obstacle avoidance, and autonomously complete disinfection tasks. The disinfection robot can automatically avoid pedestrians when performing disinfection operations through a 360-degree holographic sensing system.
Traceability: Real-time monitoring of the disinfection process, production of a complete work log, and clear disinfection paths;
Wide range of applications: suitable for occasions with the dense flow of people and large areas, which can coexist with man and machine, making disinfection applications in different environments freely.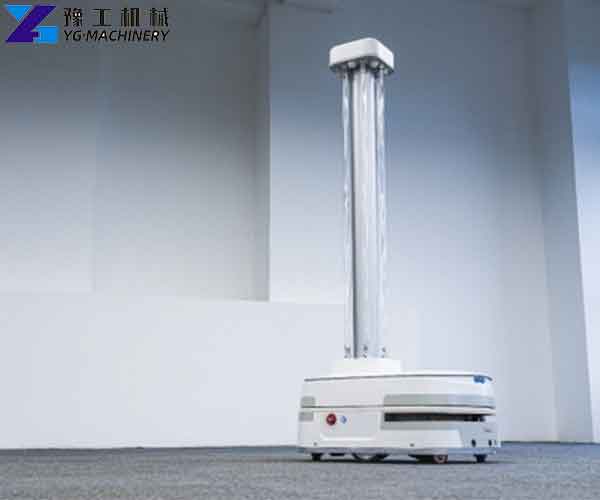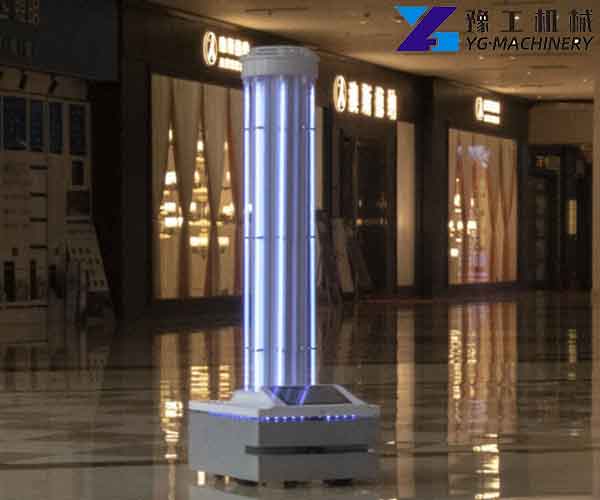 The Place Where the UVC Disinfection Robot is Used:
The robot can adapt to a variety of complex environments and has a wide range of applications. Including hospitals, supermarkets, shopping malls, hotels, schools, factories, airports, stations, etc., and other crowded public places, especially places with large venues and.
What is the Principle of UVC Disinfection robot?
When ultraviolet rays are irradiated to microorganisms, energy transfer and accumulation occur, and the accumulation results in the inactivation of microorganisms, thereby achieving the purpose of disinfection. When bacteria and viruses absorb more than 3600~65000 uW/cm2 doses, they will have strong deoxyribonucleic acid (DNA) and ribonucleic acid (RNA) of bacteria and viruses, which can make bacteria and viruses lose their viability and reproductive power. Eliminate bacteria and viruses to achieve disinfection and sterilization effects.
It can automatically sense the ultraviolet wavelength that needs to be controlled, so as to control the scope and effect of sterilization and achieve high efficiency. The most important thing is that after the UV sterilization robot is used, there will be almost no secondary pollution caused by other sterilants.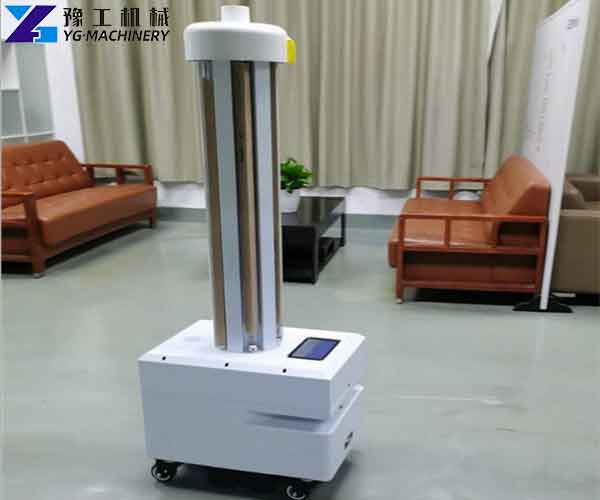 Intelligent Disinfection Robot Manufacturer
The invention of the UVC disinfection robot has brought great benefits to the health and hygiene of human life. It can eliminate indoor bacteria in a short time. We at YG Machinery are fully prepared for epidemic prevention and have a variety of epidemic prevention equipment, such as disinfection door, UV sterilizer tunnel, fog sprayer machine, fogging sanitizer machine, professional backpack sprayer, medical oxygen concentrator, blu ray anion nano spray gun, air disinfection machine, mask making machine, glove making machine, wet wipe machine, etc. can be selected. For more product information, please click on the message box below to answer your questions in time.